ZoomInfo's recent acquisition of Chorus.ai will help it reach more users. Here are the top-line bullets you need to know.
ZoomInfo, a market intelligence platform, has acquired Chorus.ai, a conversational AI startup, for $575M in cash.
WHO ARE THE PARTIES TO THE DEAL?
Chorus.ai: California-based Chorus.ai is a conversational AI platform that assesses sales calls and provide insights to sales and customer success teams. The platform also provides enterprise-wide insights into the customer's preferences. The company caters to several enterprises including Zoom, Mavenlink, Qualtrics, Adobe, TripActions, and GitLab.
ZoomInfo: Washington-based ZoomInfo provides market software, data, and information to over 20,000 businesses across the world. In 2020, the company hit a revenue of $476.2M, growing 62% year-over-year. It employs 1,800 people across the United States.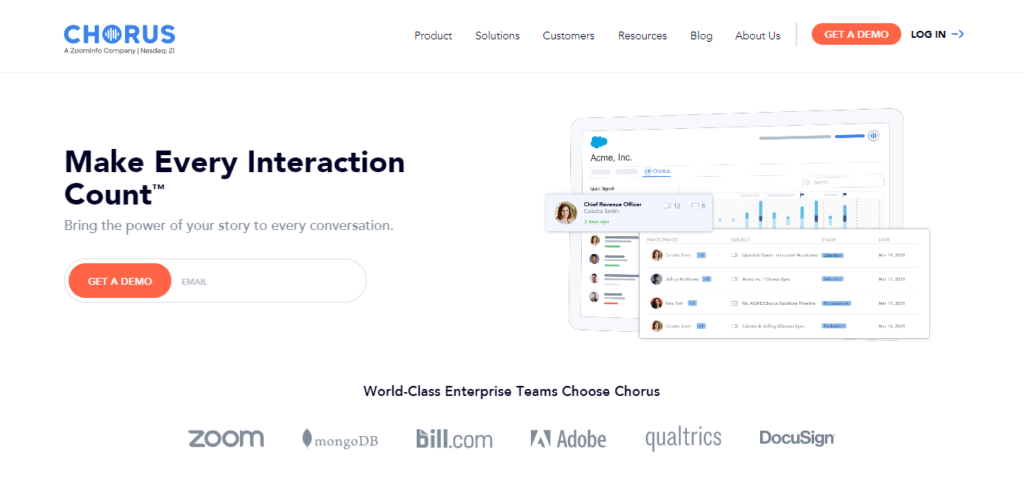 Source:Chorus.ai
WHY DOES THE MARKET MATTER?
The acquisition strengthens ZoomInfo's position in the conversational AI market:
The conversational intelligence market is projected to reach a value of $13.9B by 2025, growing at a CAGR of 21.9%, according to Markets and Markets.
North America is projected to be the largest share of the global conversational AI market by 2025. This is primarily due to the increasing investments and a growing presence of vendors who are exploring the use of AI and machine learning (ML) in various applications.