Zara recently announced it is using its brick-and-mortar stores for online order fulfillment. The news underlines Zara's previous operational strides. We visualize its speedy apparel supply chain below.
This summer, Zara announced it would use its physical stores for online order fulfillment.
To make this happen, Zara has implemented a stock management system that uses RFID garment tracking technology. The system will integrate inventory information between stores and online distribution centers. This will let stores fulfill online orders when traditional fulfillment centers are out of stock.
The initiative is part of Zara owner Inditex's plan to provide online sales globally by 2020.
The development also highlights Zara's previous strides toward supply chain efficiency.
Zara has been able to design, manufacture, ship, and sell new apparel in under 25 days. This allows the retailer to cater to fast-changing consumer tastes, and eliminates its dependence on shipping apparel from Asia (a process which can take many months).
We visualize below.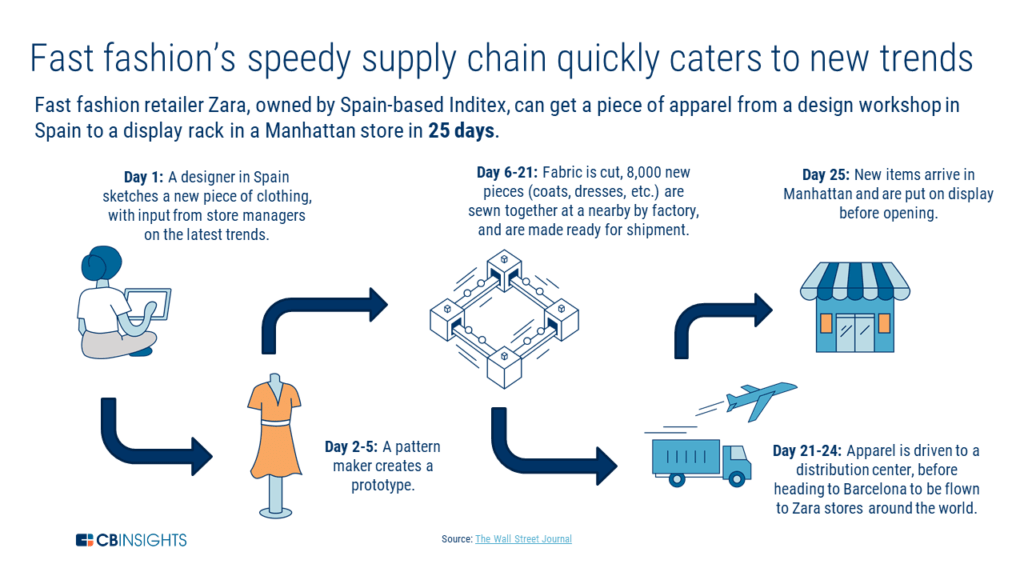 Read more on the fashion supply chain innovation, here.
If you aren't already a client, sign up for a free trial to learn more about our platform.