With the acquisition, Workday will be able to provide a more comprehensive workforce management platform. Here are the top-line bullets you need to know.
Workday, a provider of human capital management, payroll, and financial management solutions, has acquired VNDLY, a contractor and vendor management system, for $510M in cash. The transaction is expected to close in January 2022.
WHO ARE THE PARTIES TO THE DEAL?
VNDLY: Ohio-based VNDLY helps businesses manage contractors and other external workforce personnel. The company's products include Extended Workforce Management, Statement of Work, Total Talent Acquisition, and Independent Contractor Management, among others. The company counts several Fortune 500 companies among its clients, and it operates across North America, the UK, the EMEA region, and Australia.
Workday: California-based Workday provides HR and financial management software. Its client base comprises 8,000+ organizations, including over 50% of the Fortune 500 companies. Workday has been growing organically, acquiring Zimit, Adaptive Insights, Scout RFP, and Peakon ApS in recent years. The company posted $4.3B in revenue in 2021, marking a 19% increase year-over-year. Workday is supported by a team of 12,500 employees, and it maintains operations across 32 countries.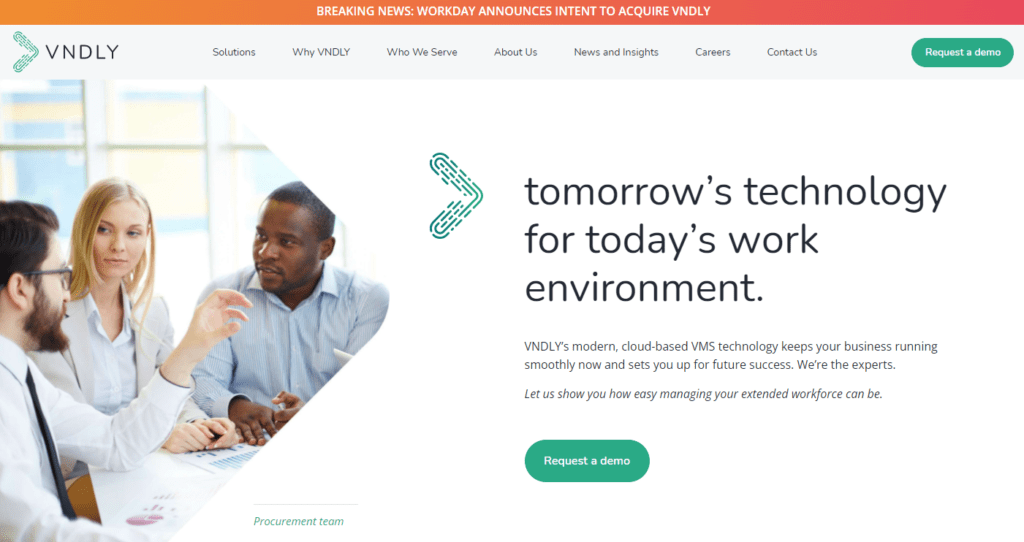 Source: VNDLY
WHY DOES THE MARKET MATTER?
The global workforce management software market is projected to grow at a CAGR of 7.82% and reach a value of $10.6B by 2027, according to ReportLinker.com.
The rising adoption of cloud-based solutions as well as AI and ML technologies has increased the focus on optimizing workforce management, contributing to market growth.
The retail, education, healthcare, BFSI, manufacturing, and TMT industries have been increasingly adopting this technology in order to expedite operations and cut costs.
As work from home and hybrid work systems continue to develop, demand for workforce management software is expected to increase.