PE firm Roark Capital now controls 20 restaurant chains, from Carl's Jr. to Cinnabon to Sonic, with implications for the future of restaurants.
On Sept. 25, Inspire Brands announced plans to acquire drive-in restaurant chain Sonic for $2.3B.
With the acquisition, Sonic joins a growing empire of US fast casual chains controlled by PE firm Roark Capital. (Roark formed holding company Inspire Brands in Feb'18 after facilitating Arby's $2.9B acquisition of Buffalo Wild Wings).
We've mapped out Roark's current food holdings below. The Atlanta-based firm tends to target mid-priced and mall-based fast food and fast casual chains that use a franchise model.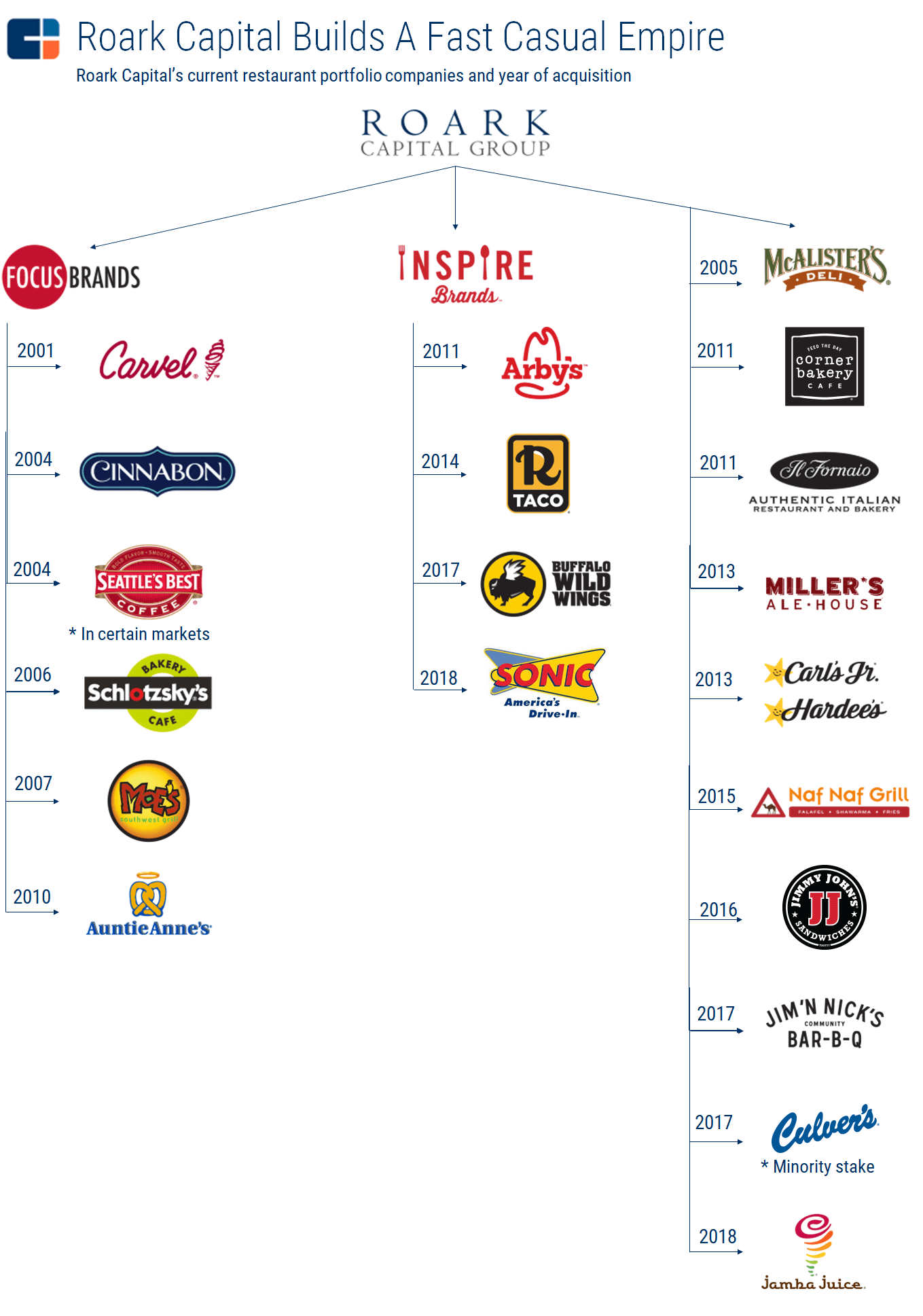 There are likely more deals to come – Inspire Brands CEO Paul Brown told the WSJ he aims to buy up to 10 chains, including chains with annual sales of up to $4.5B.
On Oct. 1, Atlanta Business Journals also reported that Roark Capital had raised nearly $1.4B for a fund.
Roark's consolidation strategy is reminiscent of JAB, the Luxembourg-based holding company that's been snapping up US coffee chains. We've previously covered JAB's growth here.

Meanwhile, unexpected players have moved into brick-and-mortar restaurants through the angle of coffee. Nestle acquired premium cafe chain Blue Bottle in 2017 for $500M, and just last month Coca-Cola acquired Costa Coffee, one of the world's largest coffee chains, for $5.1B.
What does all this consolidation mean?
Some of Roark's targets have been more successful than others, but quick service restaurants (QSRs) could face major, long-term, structural threats, including:
Consumer shifts toward healthier food, including the wellness trend
The decline of centralized shopping locations, which certain quick service chains have used to drive sales
The rise of on-demand delivery, which is particularly threatening to restaurants whose main value proposition is convenience
Spending at QSRs may be on the upswing for now, but fast food chains are struggling to attract low-income shoppers. In parallel to the way the retail apocalypse hit brands targeting middle-income shoppers the hardest, mid-tier QSRs could face major challenges in the next recession
To help their portfolios navigate challenges, PE firms often aim to consolidate certain back-end operations and leverage economies of scale in company supply chains.
Now, we'll likely see an acceleration in restaurant tech initiatives, as Roark supports its companies' modernization efforts and makes it easier for vendors to expand from one portfolio company to another.
Track restaurant tech startups on CB Insights
Hundreds of startups aim to help restaurants manage inventory, analyze guest behavior, support on-demand delivery, install robotic chefs, and more.
Track restaurant tech startups
Areas of focus include:
Driving foot traffic. Buffalo Wild Wings just partnered with fantasy sports platform DraftKings to develop an exclusive mobile app with cash prices. Gambling in particular is probably not a good fit for Roark's other brands, but the DraftKings deal could provide a case study for digitally-enabled, in-restaurant experiences. Startups like Cloud4Wi and Zenreach have also gained traction by helping restaurant franchise owners analyze their foot traffic patterns.
Supply chain efficiency. Some of Roark's portfolio companies have invested here recently – Buffalo Wild Wings works with supply chain transparency startup FoodLogiq, for example, and Jimmy John's has used inventory management startup Bluecart. By encouraging franchise owners to work with specific vendors, Roark could accelerate the use of QR codes, digital labels, mobile auditing, and other new technologies.
Shedding unhealthy brand images. We've seen plant protein startup Impossible Foods launch successfully in Shake Shack and White Castle. Further out, Roark and other PE firms could direct their companies to ride the wellness trend by rolling out meat substitutes.
CB Insights clients can search and filter though hundreds of other restaurant tech companies here.
This content first appeared in our CPG Insights newsletter. Sign up here to get a weekly rundown on the top news & perspectives in CPG.
If you aren't already a client, sign up for a free trial to learn more about our platform.