A new pacemaker the size of a dime has the potential to reduce risks and complications by combining a wireless form factor with a battery-less circuit board.
Pacemakers are one of the most common implantable medical devices, with 2.9 million Americans receiving pacemakers between 1993 and 2009. Yet the life-saving devices also come with significant risks.
Up to 5% of all recipients experience a complication from an implanted pacemaker, with the most common stemming from the wires, or "leads," connecting the pacemaker to the heart tissue. Leads can get dislodged and cause infection, bleeding, even heart perforation.
Now, a new wireless pacemaker could help eliminate some of the most significant risks from pacemakers. At 16 mm high and 3.8 mm wide, the new pacemaker, developed by researchers at Rice University and the Texas Heart Institute (THI), is compact enough to be inserted directly into the heart.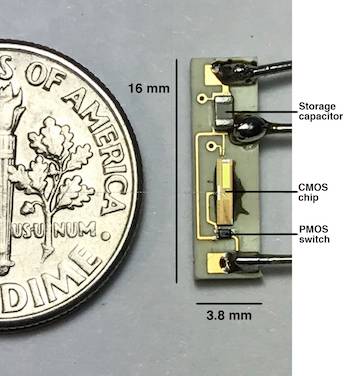 Unlike other pacemaker designs, the new model does not require an integrated battery, and instead draws power from microwaves emitted by an external battery pack. The battery can be implanted under the skin below a patient's armpit. A paper describing the design — authored by Aydin Babakhani and Yuxiang Sun of Rice, Brian Greet, David Burkland and Mehdi Razavi of Baylor College and THI, and Mathews John of THI — was presented at the 2017 International Microwave Symposium.
Traditional pacemakers are implanted between a patient's skin and rib cage, so surgeons can easily access the device to replace batteries as needed. But the electric current that triggers a regular heartbeat must then be transmitted from the battery via leads threaded through blood vessels to each site requiring stimulation in the cardiac tissue. Since some of the most common complications from the pacemaker, including collapsed lung, infection, bleeding, and heart perforation, result from lead dislodgement, more leads creates more opportunity for complication.
With the Rice University design, the battery transmitter is positioned just below the skin and is separated from the pacemaker itself. This means the pacemaker can be implanted directly on the site of stimulation, eliminating the need for leads connecting heart to battery and requiring less invasive surgery for battery replacements.
In addition, because the pacemaker is designed as a compact "capacitor," multiple devices can be implanted at different sites of the heart that require regulation.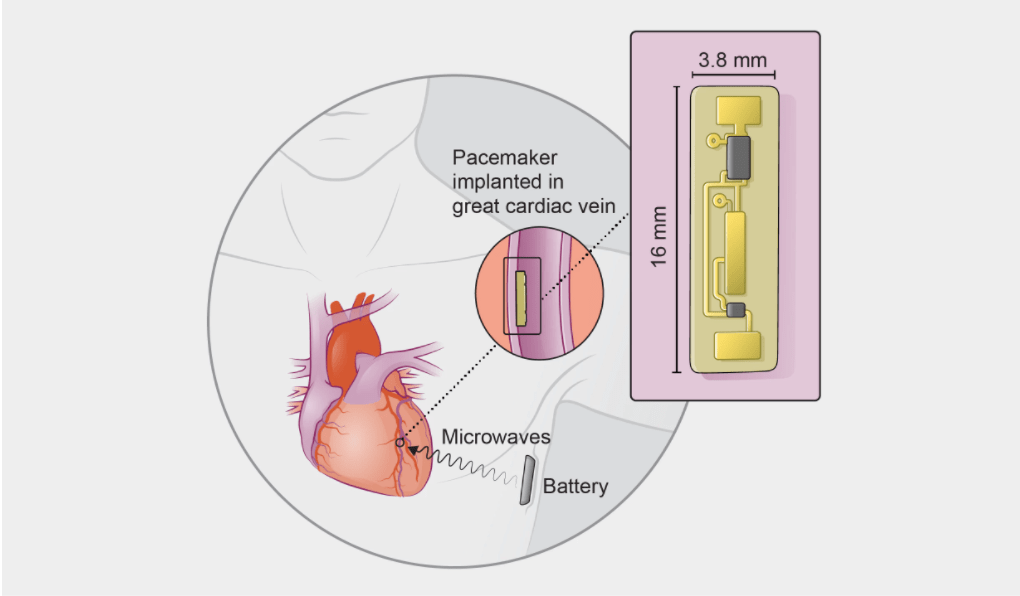 Credit: Tami Tolpa; Source: Mehdi Razavi Texas Heart Institute and Baylor College of Medicine via Scientific American
A 2015 study found that 4 – 5% of all recipients experienced early complications from an implanted pacemaker, while 2.7% experienced later complications, according to the Annals of Translational Medicine.
With pacemakers becoming more common and patient demographics skewing older and sicker, the combination of more implants and potentially frailer recipients have heightened the risks associated with traditional pacemakers. By eliminating the leads entirely, the Rice University pacemaker avoids potentially serious complications without sacrificing functionality.
This is not the first foray into wireless pacemakers. The Food and Drug Administration recently approved a model produced by Medtronic in 2016 that could be implanted inside the right ventricle of the heart. However, Medtronic's wireless pacemaker combined the battery and circuit board into one unit that must be surgically removed in its entirety for battery replacements. The size of these wireless pacemakers also limits them to a single implantation, making them unavailable to patients who require dual-chamber or biventricular pacing.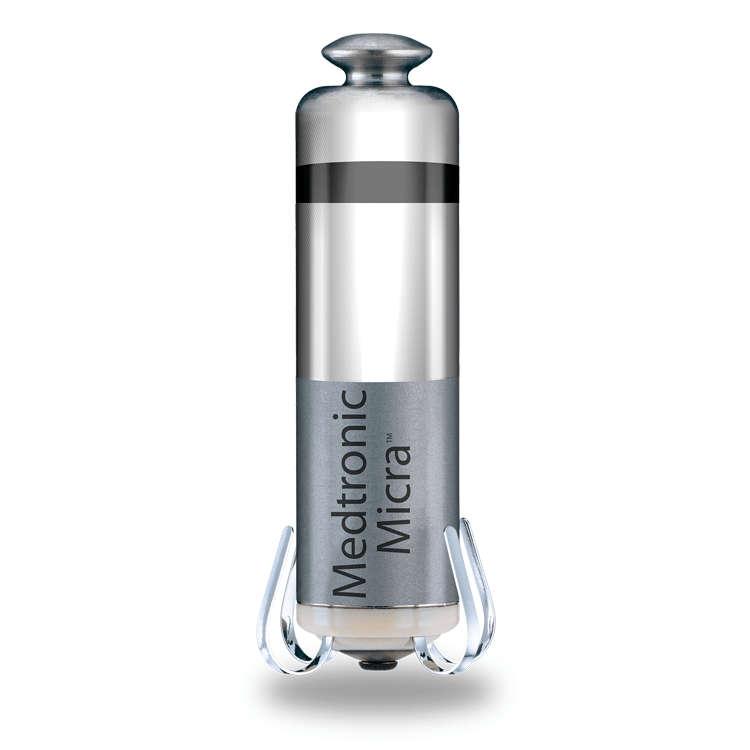 By removing the battery from the central pacemaker circuit board, the Rice University device cuts down significantly on the need for invasive procedures for routine battery maintenance, limits signal interruptions during maintenance procedures, and enables pacemakers to be positioned at multiple locations on the heart.
Dr. Mehdi Razavi, director of clinical arrhythmia research and innovation at the Texas Heart Institute and associate professor at Baylor College of Medicine, as well as a collaborator on the project, declared that the new pacemaker represented the "Triple Crown" of arrhythmia treatment: external powering, wireless pacing, and defibrillation "that is not only painless but is actually imperceptible to the patient."
---
This report was created with data from CB Insights' emerging technology insights platform, which offers clarity into emerging tech and new business strategies through tools like:
If you aren't already a client, sign up for a free trial to learn more about our platform.