Market Map
From organic chocolate bars to single-serve wine bottles, these startups are making sustainability and convenience more delicious. 
This December marks the end of a challenging year during which accelerating tech adoption in retail went hand in hand with changing consumer behavior. 
Several studies have shown an increase in alcohol consumption frequency among adults in America since the beginning of the pandemic, while US sales of premium chocolate rose by 12.5% between March and August, according to the National Confectioners Association.
ALTERNATIVE PROTEINS, FITNESS TECH, AND GAMING SURGED IN Q3'20
Consumer product startup investment activity spiked in Q3'20 as funding reached an all-time high. Download our free report now.
In the spirit of this year — and to help you celebrate the end of it — we used the CB Insights platform to round up over 40 private companies across the wine and chocolate categories, including canned wine, chocolate-based snacks, and wine appliances. See the full category breakdown below.
Our market map includes active, private companies only. They have all raised equity funding since January 2019, with the exception of a few companies that have received Paycheck Protection Program loans (US government-backed loans). Categories are not mutually exclusive.
Please click to enlarge.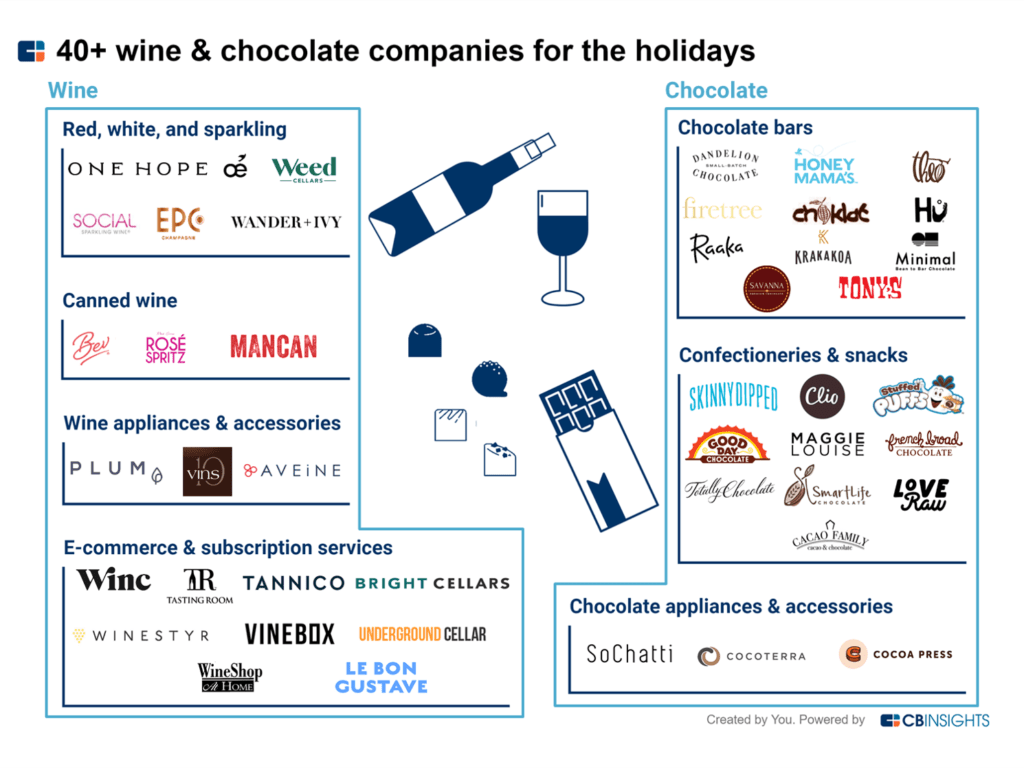 CATEGORY BREAKDOWN
Wine
Red, white, and sparkling: Companies in this category sell their own branded wines online. Some of these brands highlight the purpose-driven aspects of their business models. For example, France-based Oé focuses on sustainability with organic wines and a bottle deposit system while ONEHOPE donates a portion of its sales to charitable causes.
Single-serve formats are also emerging, with Wander + Ivy offering wine bottles the size of a glass.  
Canned wine: As the name indicates, this category includes wine sold in cans, one of the fastest-growing wine segments. Off-premise (outside of bars, restaurants, or hotels) sales of canned wine in the US rose 57% between January and August 2020, according to Nielsen. 
Rosé and white canned wine brand Bev, for example, reportedly experienced triple-digit growth during the first months of the pandemic.
Wine appliances & accessories: These startups develop products to improve wine pouring and serving. Plum and 10-Vins create wine-by-the-glass pouring machines to enhance the way wine is dispensed while Aveine offers connected corks that can aerate wine directly as its poured.
E-commerce & subscription services: This category includes platforms to buy wine online as well as companies offering subscription-based wine delivery services. For example, VINEBOX focuses on single-serve wine bottles sold through quarterly and annual subscriptions. 
Winc — the most well-funded startup in this category, having raised $61.7M — creates a taste profile for users based on how much they like salt, citrus, and other flavors, and then sends them a personally tailored wine selection each month.
Chocolate
Chocolate bars: Startups here are focusing on the confection of chocolate bars. Some brands like Tony's Chocolonely focus on social impact by promising a product that is child labor- and slave-free. Others like Dandelion, Raaka Chocolate, and Minimal are "bean-to-bar" chocolate makers, meaning they work directly with cacao beans as opposed to melting large bars of chocolate produced by other companies.
Confectioneries & snacks: This category includes chocolate-based sweets, candies, and snacks. Several of these companies combine the pleasure aspect of chocolate with functional ingredients. This includes Clio Snacks, which offers Greek yogurt-based chocolate-coated snack bars, as well as antioxidant- and probiotic-infused chocolates by SmartLife Chocolate.
Custom-made chocolates offered by the likes of Maggie Louise Confections and Totally Chocolate are also included in this category.
Chocolate appliances & accessories: These companies offer an at-home countertop chocolate maker (CocoTerra), a chocolate warmer (SoChatti), and a 3D chocolate printer (Cocoa Press). 
If you aren't already a client, sign up for a free trial to learn more about our platform.