Corporations and corporate venture capital funds have contributed to the uptick in construction tech funding over the past 5 years. We use CB Insights data to reveal the most active corporate investors and the startups receiving the most corporate backing.
Construction tech startups are seeing record financing from corporations.
The economic uncertainty stemming from the pandemic did not deter corporate participation in construction tech deals, which reached an all-time quarterly high in Q3'20, with a strong focus on startups developing collaboration and project management tools. Many corporate backers are real estate developers seeking technological advantages in the planning and construction processes. 
Below, we look at investment activity by corporations and dig into what startups and areas are attracting the most interest.
25 Industries & Technologies That Will Shape The Post-Virus World
Get the free download to learn how industries are using tech to reimagine nearly every facet of their operations.
DESPITE the PANDEMIC, DEAL ACTIVITY IN Q3'20 REACHES 5-YEAR HIGH 
The Covid-19 pandemic precipitated one of the least active quarters of the last 5 years in Q1'20, as commercial and residential projects experienced delays and layoffs and corporate investors awaited a return to normalcy.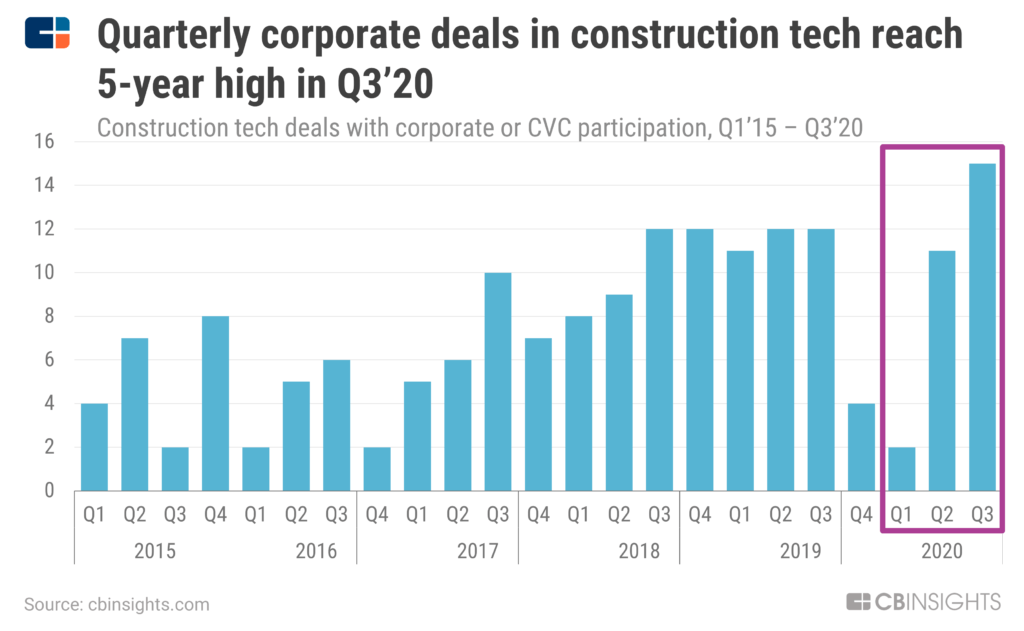 However, deal activity rebounded in Q2'20 and hit a 5-year high in Q3'20 due to long-term optimism for automation tools. Funding saw a dramatic uptick in Q3'20, surging 294% quarter-over-quarter, lifted by deals to drone delivery, 3D printing, and project management startups.
Deal activity over the last 5 years has been concentrated on project management tools. Notable investment has also gone toward robotics and drones, marketplaces for construction equipment and contractors, 3D printing, and digital worksite modeling solutions.