Synthetic media is enabling next-gen customer engagement and personalization at scale. We look at the main applications for brands and retailers, key players in the space, and what's next for the tech.
The Covid-19 pandemic has accelerated brands' and retailers' digital content needs, which can range from product images for e-commerce to virtual try-ons to online videos.
Last month, news mentions relating to digital content reached an all-time high.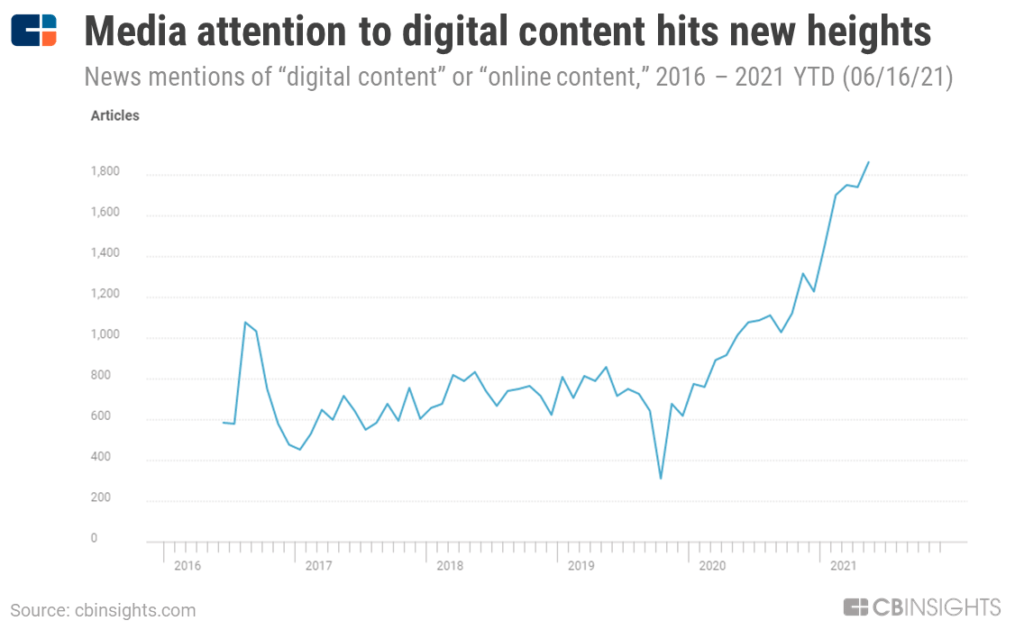 To boost digital content production, some companies have made direct moves into the entertainment space — such as AB InBev, which launched a digital content studio for its Corona beer in November 20 — while others rely heavily on user-generated content (UGC).
But conventional content production techniques may not be the most efficient way for brands and retailers to meet their ever-growing digital content needs while also enabling personalization at scale. 
"[If] you want to have an impactful social media strategy, that's […] very hard because it's not just one platform: you have to adapt your content for Instagram, Facebook, Line in Japan, WeChat in China, and KakaoTalk in Korea. Building relevant content for each of those requires a lot of investment." — Grégory Boutté, chief client and digital officer for Kering
The rising need for more digital content, along with consumers' demand for more personalized digital experiences, is benefiting the synthetic media space.
Synthetic media offers a scalable, affordable, and rapid solution for digital content production, which could greatly benefit brands and retailers. This technology is positioned to have a profound impact on the production of digital content and the way brands and retailers engage with consumers at large.
Below, we address the following questions:
What is synthetic media?

How is synthetic media growing? Who are the key players?

What do brands and retailers need to consider for adoption?

What's ahead?
What is synthetic media?
Synthetic media refers to images, videos, sounds, or any other form of content that has been generated, edited, or enabled by artificial intelligence. In other words, it is content that has been automatically created. This includes hyper-realistic AI-generated images and videos also known as "deepfakes."
The development of AI tools such as generative adversarial networks (GANs) or natural language generation (NLG) is now making it possible to automate content production with the goal of reducing the time, cost, and frictions associated with conventional content production techniques.
Using these machine learning frameworks, researchers, big tech companies, and startups alike have been developing solutions to automatically generate life-like faces of people who do not exist, write online product descriptions, and create avatars in a matter of minutes. Some of these products don't even need any technical expertise to use or implement. 
Synthetic media was first popularized in the late 2010s by face-swapping apps — which allow users to superimpose their face on a photograph, GIF, or video — such as FaceApp in the US or Zao in China, both of which raised significant privacy concerns. Around the same time, deepfakes making their way into political videos and morphed pornography added to the controversy.
As this technology matures and the narrative around AI-generated content becomes less polarized, it is progressively being adopted for commercial uses across multiple industries, including consumer and retail. The chart below summarizes how brands and retailers can leverage different forms of synthetic media to engage, convert, and retain customers: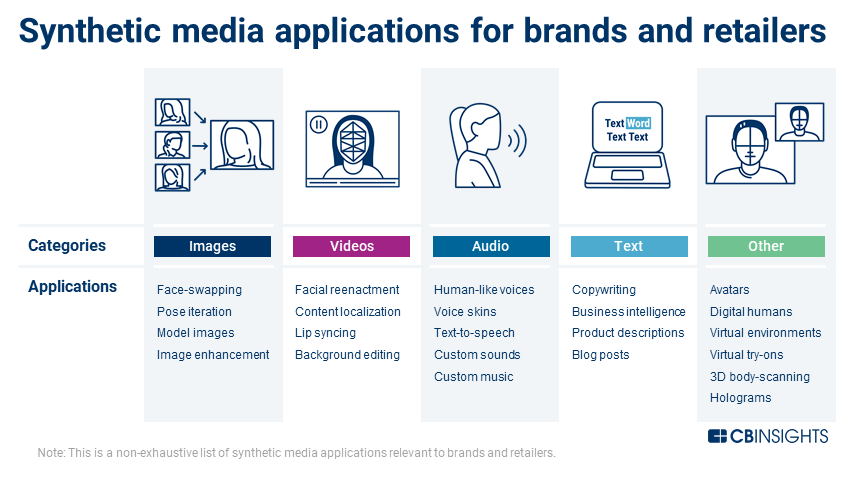 We distinguish between 5 main categories of synthetic media: images, videos, audio, text, and other.