As we head into the 2020 US presidential election in unusual circumstances and more dependent on technology than ever, the so-called "dark arts" of social media and internet marketing are back in focus.
Demographic data — which includes race, ethnicity, religious beliefs, age, occupation, income, social class, and education level — used to be the most valuable kind of information for marketers looking to improve their audience targeting.
Then, in 2016, "psychographics" entered the mainstream. Thanks largely to the Facebook/Cambridge Analytica scandal, targeting people based on how they think instead of their demographics has become one of the most talked-about concepts in marketing.
Psychographics could fundamentally reshape how we collect, analyze, and apply data in digital marketing and beyond. Marketers and analysts can use it to gain deeper insights into their target markets' psychological and emotional motivations, and provide more relevant messaging to those audiences.
However, critics say it could pose a great risk to information privacy. Some experts fear the applications of psychographics could lead to a dystopian future — and that it may already be too late to reverse course.
In this explainer, we break down what psychographics is, the ways in which psychographic data is gathered, how that data is typically applied across industries from retail to real estate, and more.
TABLE OF CONTENTS
What is psychographics?
Psychographics is the study of consumers based on their activities, interests, and opinions (AIOs).
It goes beyond classifying people based on general demographic data, such as age, gender, or race. Psychographics seeks to understand the cognitive factors that drive consumer behaviors. This includes emotional responses and motivations; moral, ethical, and political values; and inherent attitudes, biases, and prejudices.
Gathering and analyzing this data allows marketers, advertisers, and researchers to create detailed "psychographic profiles" of audience segments, which are then used to create relevant messaging for those segments.
This is valuable to marketers and advertisers because, even within clearly defined demographic groups, there is often significant variance between individuals. Just because two people are roughly the same age and earn similar annual incomes doesn't mean they share similar political views or personal values, for example.
As a result, advertising strategies such as direct mail, televised ads, and billboards are very blunt approaches. They can reach vast audiences, but the messaging may be irrelevant to huge swathes of those audiences.
In contrast, a psychographic profile contains information around a person's interests, hobbies, emotional triggers, and lifestyle choices, among other data. This could provide insight into why someone might buy a specific product, support a given cause, vote a certain way, and much more.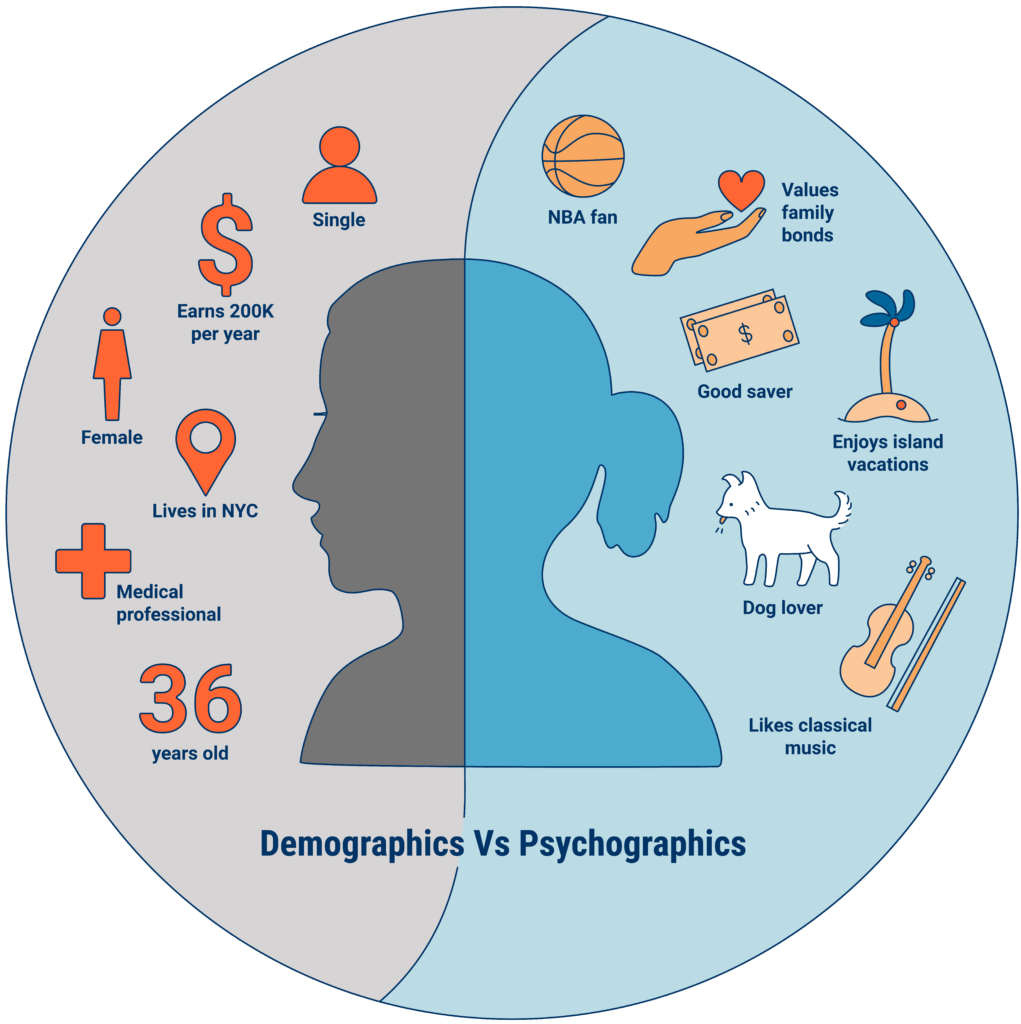 For example, political consulting firm Cambridge Analytica created a psychographic profile that placed people in a particular market segment according to the presence or absence of five personality traits: openness, conscientiousness, extraversion, agreeableness, and neuroticism (popularly known as the OCEAN model of personality).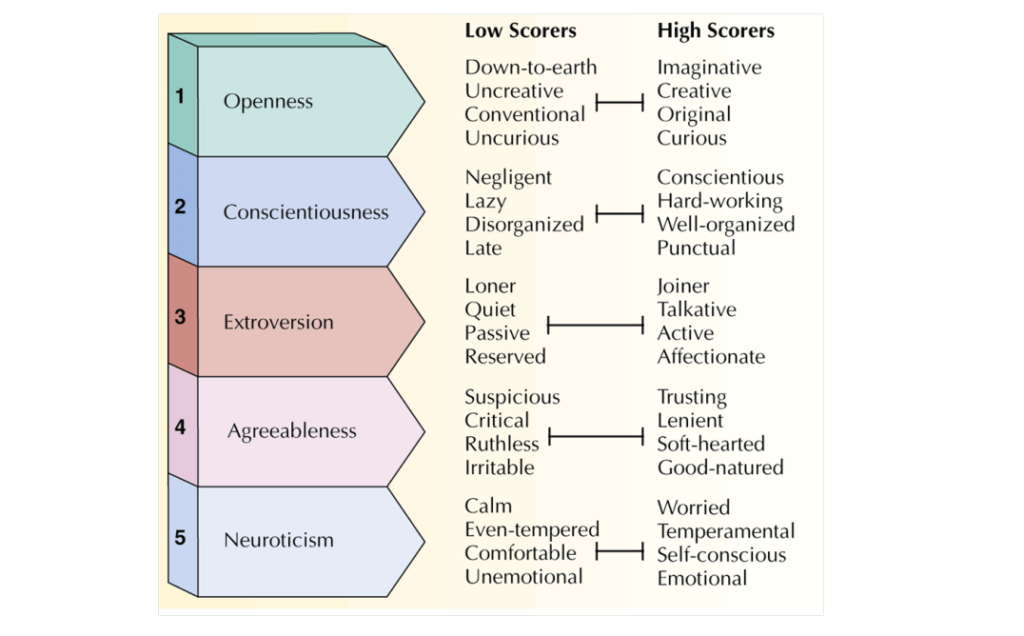 Using this information and more, brands can customize messages and tones accordingly.
Often, marketers will combine both demographic and psychographic data for a more holistic view of a consumer. In doing so, they can provide more tailored messaging and increase their chances of impact.
For example, imagine trying to market a vegan protein bar. You could run a Facebook ad targeted at athletes and fitness enthusiasts, and maybe find some success. But by getting more granular, you could market to a segment of vegans who feel strongly about the mistreatment of animals, or to health-conscious people who feel guilty when they eat sugary energy bars.
In an economy based almost exclusively on clicks, whether on products in online marketplaces or on published content, the time lag between an ad and a purchase or conversion drops to a matter of seconds — and makes every lever count.
Psychographic marketing, which plays on subconscious personality characteristics, is perfectly suited to help advertisers capitalize on impulsive decision-making. According to a 2009 experiment, psychographically-informed behavioral targeting increases click rates by 670%.
A later study, one of the first to test the effectiveness of targeting advertising, showed that because of the "propensity effect" of psychographic marketing to generate clicks, such advertising strategies outperform traditional advertising by a factor of 2 to 1.
But psychographic marketing is only as effective as the data underpinning it. How then, do companies acquire this information?
How psychographic information is collected
A public presentation to the Concordia Annual Summit in September 2016 by Cambridge Analytica's then-CEO Alexander Nix gave the world one of its first glimpses into the psychographic techniques used by the company.
Discussing his company's work on the Ted Cruz presidential campaign in the US, Nix acknowledged his company had acquired "four to five thousand data points on every American citizen." But he gave no details on how the company had acquired it.
There are several different ways to gather and analyze psychographic data. Some methods include the use of:
Traditional focus groups/interviews
Set-top box viewing data
Surveys/questionnaires/quizzes
Psycholinguistic dictionaries
Website analytics (e.g. Google analytics)
Browsing Data
Social media (i.e. likes, clicks, tweets, posts, etc.)
Third-party analytics
With each data source, researchers can gain insight into consumer preferences either directly or indirectly. And while the data collection methods may be time consuming, the trove of information gathered can be game-changing.
For example, the main product Cambridge Analytica sold to its political clients like Cruz and Trump was a cutting-edge advertising strategy. To design and deliver these ads, however, it needed data. Lots of data. And where better to find it than on Facebook, a social network consisting of 2 billion users across the globe.
In 2015, Cambridge Analytica approached Dr. Alexander Kogan, a psychological researcher at Cambridge University's Psychometrics Centre, to develop a Facebook app called "This Is Your Digital Life." The app took the form of an online personality quiz.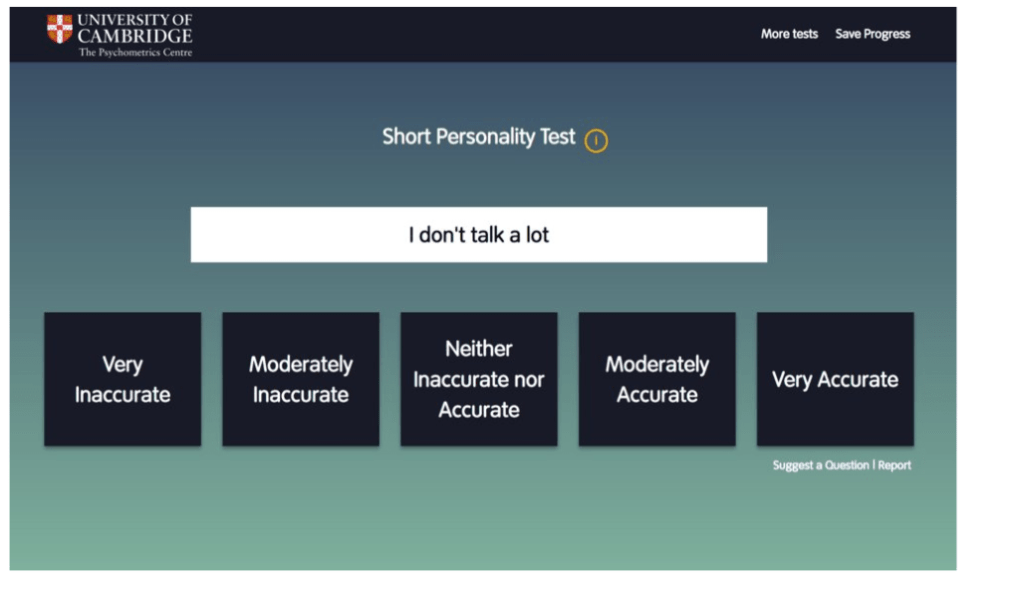 It is now known that Cambridge Analytica harvested user data from Facebook in large part through "This is Your Digital Life," which violated Facebook's terms of service by sharing user data with the firm.
Despite all the attention this sensational incident received, it is hardly the only example of data acquisition with a psychographics flavor. There are plenty of legitimate ways to gather psychographic data.
IBM develops a psychographics tool
Since 2012, IBM has been compiling Linguistic Inquiry and Word Count (LIWC), a psycholinguistic dictionary that uses Twitter as its dataset.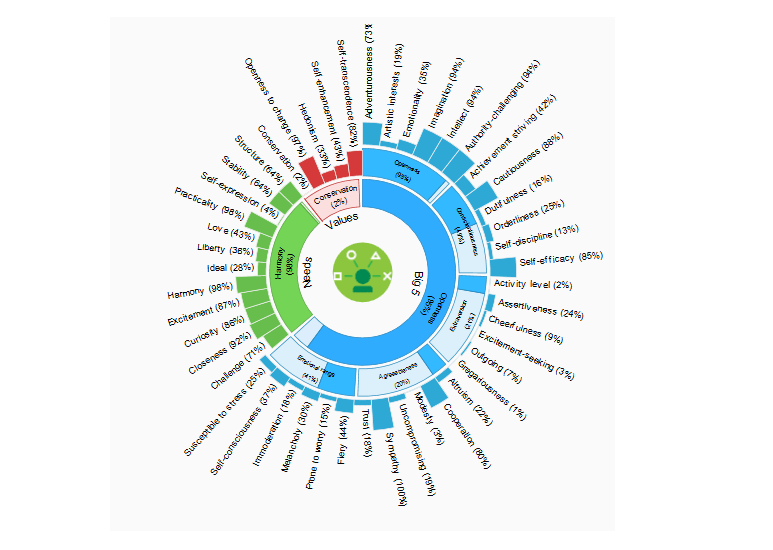 IBM's Personality Insights tool visualized
Using this dataset to train its AI engine, Watson, IBM has been able to program an ever more refined set of "algorithms" to sort and retrieve psychographic information from emails, blog posts, text messages, search histories, online purchases, online reviews and comments, and, of course, social likes and shares.
Businesses can leverage these insights to drive more targeted marketing campaigns, acquire new customers, personalize consumer connections, and more.
Text-based datasets like these are particularly useful: "psycholexical studies" have shown that personality traits often show up in people's word choices. To use one of Nix's examples, because words like "apparently" and "actually" are indicative of a high degree of neuroticism, people whose harvested data frequently featured words like this would be marked as high "N" in their psychographic profile. Other linguistic markers could be mapped to the other Big 5 personality traits (OCEAN).
Another example is a 2018 study led by Simon Fraser University's Sarah Lord Ferguson, in which researchers used LIWC to analyze the writing of 100 different wine blogs according to each one's "analytical thinking, clout, authenticity, and emotional tone." The team used that data to categorize each blog into 1 of 4 specific groups — "Analysts, Agnostics, Authentic Pessimists, and Confident Optimists" — that marketers could segment and target in specific ways.
Companies & industries leveraging psychographics
A number of startups are working on providing psychographic insights to enhance audience outreach.
It's important to note that, even though the potential for misuse exists, this can be done without improperly gathering data on individuals. And often, data collection is "anonymized," meaning the underlying data powering the targeting is scrubbed of individual identifiers.
Many psychographic profiles, as we'll see in industry examples below, are relatively harmless complements to traditional targeting methods.
Television and video advertising company Videology, for example, has developed a platform that incorporates psychographic segmentation to drive greater advertising results.
CaliberMind, which raised $3.2M in a second tranche of a seed round in 2017, builds psychographic profiles using machine learning and human language analysis. The company assesses a person's language using natural language processing (NLP) in order to understand what buyers are talking about.
"There are some cues in the way someone expresses themselves in text, some nuances in language. It's not just the words; it's semantics. We can take 100 words and place you on the emotional vs. analytical side. The adjectives, the verbs, context in the sentence allow us to say someone is more analytical or more emotional.

If you're analytical and I send you a webinar or video, there's a good chance I'll miss you. If you're analytical, I'll send you a return-on-investment calculator or a spreadsheet. If you're emotional, I'm going to use more emotional language." — Raviv Turner, CEO CaliberMind
The company also uses social footprint (e.g. posts on Facebook) as an indicator. These psychographic insights — as well as behavioral and demographic data collected — allow CaliberMind to build out buyer personas that clients can then leverage in their marketing and advertising strategies.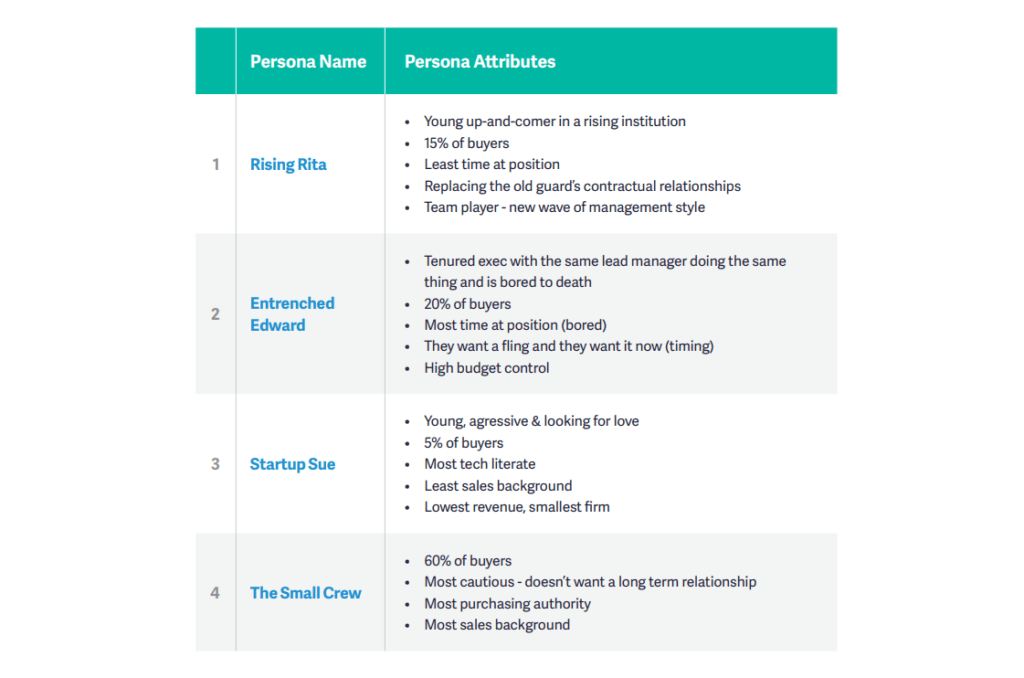 Other early companies that use psychographic tactics include Narratrs, Five, StatSocia, and Merchant IQ, among others.
The combination of data mining, addressable ad tech, and behavioral psychology that make up psychographics can be used to advertise nearly any product or idea.
In fact, these methods are already widespread in a number of commercial sectors.
The auto industry
The auto industry is one of the leading advertising spenders. While auto makers rely on plenty of traditional advertising strategies and metrics, many of them are also leveraging information economy ad techniques like psychographics to reach untapped markets, attract a new generation of potential consumers, and even to create new market segments for their products.
Porsche
Take Porsche, a legendary brand founded in Stuttgart in 1931, now one of the blue chip subsidiaries of Volkswagen AG. To its advertising quiver of demographic and geographic segmentation, Porsche has added the arrow of psychographic segmentation with the goal of targeting "a younger audience and females" — traditionally thought of as demographic segments.
Early on, in an effort to more narrowly target its messaging, Porsche customized a five-factor personality model that included the following psychographic segments. (This is, as we will see, a common tactic for companies that wish to tailor their psychographic models to industry-specific needs.)
The top gun profile consists of an ambitious and driven individual who cares about power and control, expecting to be noticed.
The elitist profile includes an individual from old money (blue blood) who has the attitude a car is just a vehicle and not an expression of a person's personality.
The proud patrons profile sees a Porsche as a trophy, considering it a reward for hard work, with ownership as the main goal, not being noticed.
The bon vivants profile consists of thrill seekers and jet setters, with the Porsche as a means of excitement.
The fantasist profile sees the Porsche as a form of escape and does not care about impressing others.
More recently, Porsche kicked off an "Engineered for Magic. Everyday" campaign, which sought to take the company's appeal beyond just sports cars enthusiasts. According to marketing communications director Scott Baker, potential buyers considered sports cars "too high-performance and exotic to be driven every day."
Porsche wanted to cater to a different psychographic profile that what was traditionally associated with the brand — "consumers who secretly wanted a Porsche, but a sporty two-seater model didn't fit into their lifestyle."
CEO of Porsche America Michael Bartsch said it made the company rethink the visuals used across marketing campaigns. "Instead of the car being on this long winding road, we are focusing on everyday reality driving. What the ads are saying is that Porsche can make the basic and the mundane special."
For example, part of the everyday campaign showcased a yellow 911 vehicle parked outside of a school with copy that read "School bus."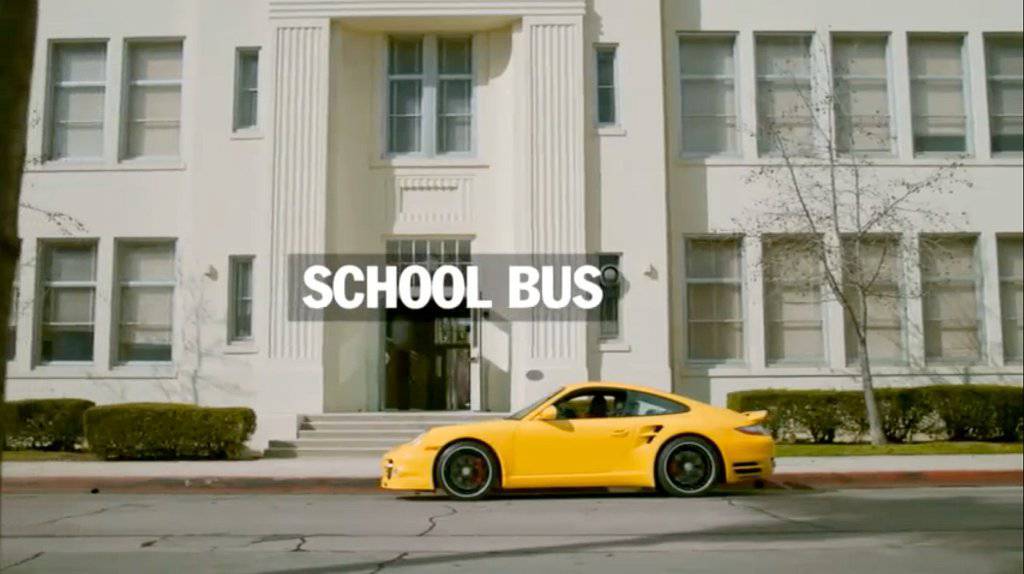 It modified its vehicles into sedan and SUV formats and positioned these hybrid models — the 911, The Cayenne, the Panamera, and the Macan — as cross-over vehicles that would provide all the thrill of a Formula One car, even if someone was just using it to get the groceries.
Did it work?
In the first 2 months of the Every Day campaign, there was a 35% increase in 911 sales.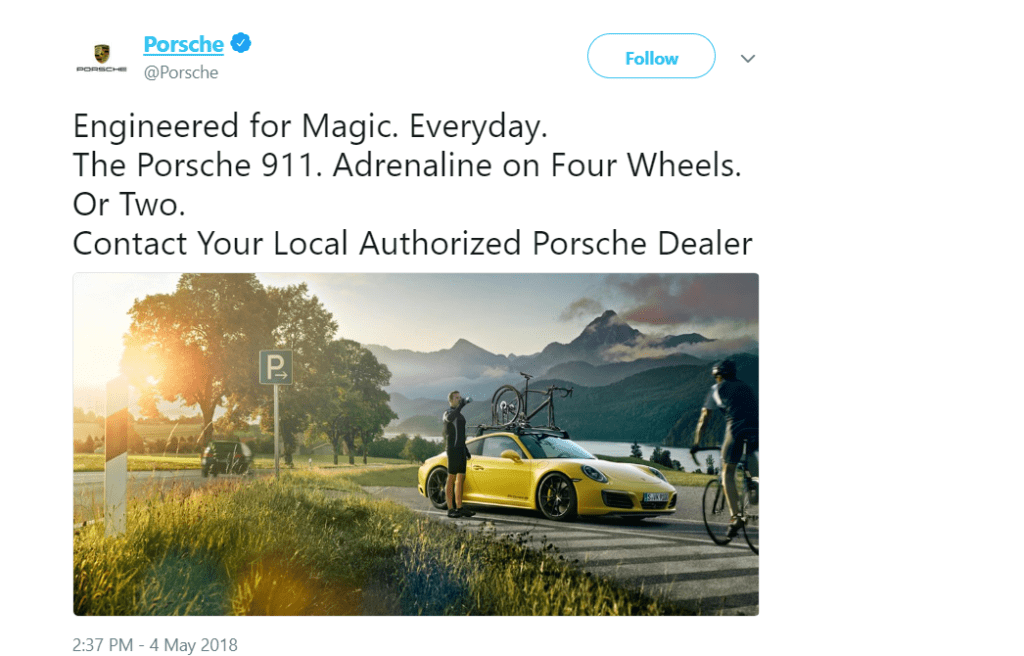 Other automotive companies have expressed the impact of psychographic segmentation across their marketing strategies as well.
According to Alan Bethke, Subaru's Chief Marketing Officer,
"A lot of manufacturers target customers based on pure demographics. We try to go beyond that and find people who are likeminded who have the same interests or needs, the same passion Subaru has, to really find commonalities. That transcends demographics, it's really more psychographics"
Bethke's sentiment illustrates the extent to which the ad techniques a company uses have become an important part of its own messaging campaign. By now, consumers have internalized advertising's message that each of them is different, unique, and individual. But they have also become advertising literate, and know a great deal about how they are being marketed to.
With its emphasis on the individual's personality traits, psychographic marketing reinforces the connection between product and personalization. People see themselves as themselves first — before they see themselves as members of an impersonal demographic group.
A customer's knowledge that advertising is targeted and tailored directly to them increases their confidence that the products they consume directly reflect their own unique combination of personality traits and thus their own individuality.
The healthcare industry
Product industry players like car manufacturers are not the only ones profiting from new psychographic techniques. Service industries are also getting in on the game, devising their own five-factor models, reaching new clients, and improving their services at the same time.
To see how this works in practice, let's look at one company using psychographic modeling to revolutionize the health services industry — an industry that, according to Deloitte, has been moving from volume to value to compensate for revenue pressures and declining margins.
CoreHealth Technologies / PatientBond
CoreHealth Technologies is a corporate wellness software company and platform that provides services to over 1000 companies (including Fortune 500 companies like Cigna and Sun Financial), representing more than 2 million employees worldwide. CoreHealth is a good example of how psychographics is being refined and deployed in the health services sector.
In her annual newsletter, CoreHealth founder and CEO Anne Marie Kirby predicted that artificial intelligence, psychographics, and personalization would be key sites for innovation for companies like her own in 2018. For CoreHealth's business model, it is important to find ways to increase employee participation in its clients' workplace wellness programs, screenings, and health interventions.
To this end, CoreHealth has partnered up with PatientBond, a "platform for driving digital personalized engagement" using email, text message, and Interactive Voice Response. PatientBond promises behavior change by bringing together psychology and technology.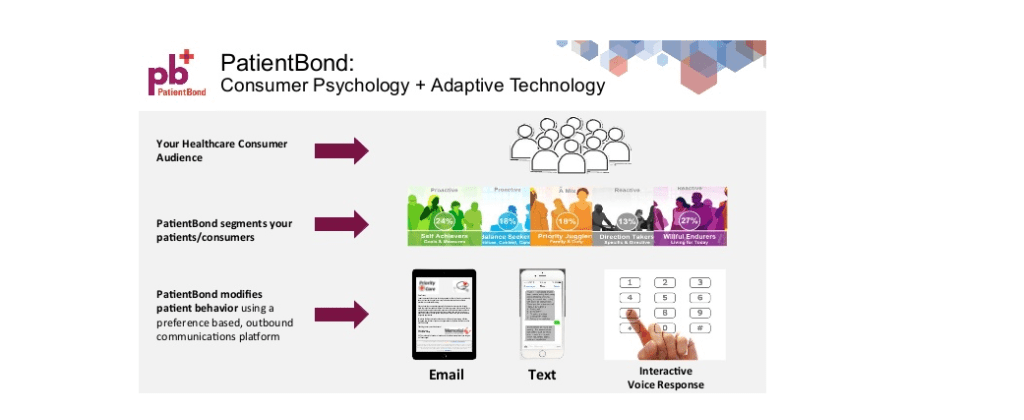 But PatientBond does not rely on the OCEAN model. Instead, like Porsche, PatientBond has customized its own five-factor psychographic segmentation model, categorizing employees as:
Self-achievers
Balance Seekers
Priority Jugglers
Direction Takers
Willful Endurers.
Using its own customized psychographic model, PatientBond can provide each employee with the appropriate behavioral nudge to increase engagement with CoreHealths products and services.
And the company claims to have achieved results: it has increased participation in biometric screenings among blue-collar workers at Midwest employers by 82%, achieved 72% enrollment in a 12-week metabolic syndrome program among eligible employees in Fortune 50 companies, and increased the number of employees among their clients who have chosen a primary care physician by 20%.
The food industry
Is data mining and psychographic profiling only for large multinational corporations, service providers for huge economic segments, and powerful political campaigns? A number of companies are betting otherwise, bringing this form of profiling to the food industry.
The Meatball Shop
With its product Tranzlogic, MerchantIQ wants to bring psychographic techniques to the restaurant space and other areas.
The company uses an Industry Segmentation tool that looks at data around customer interests, attitudes, lifestyle choices, brand preferences, and more. This allows companies to leverage the tool to create customer profiles, featuring demographic, geographic, and psychographic data.

In the example below, the "Established Wealth" cluster is made up of mostly married adults with an average age of 60 and a $200K+ income. Aside from these demographic characteristics, the tool also shows us that this group values material possessions and having a lot of money.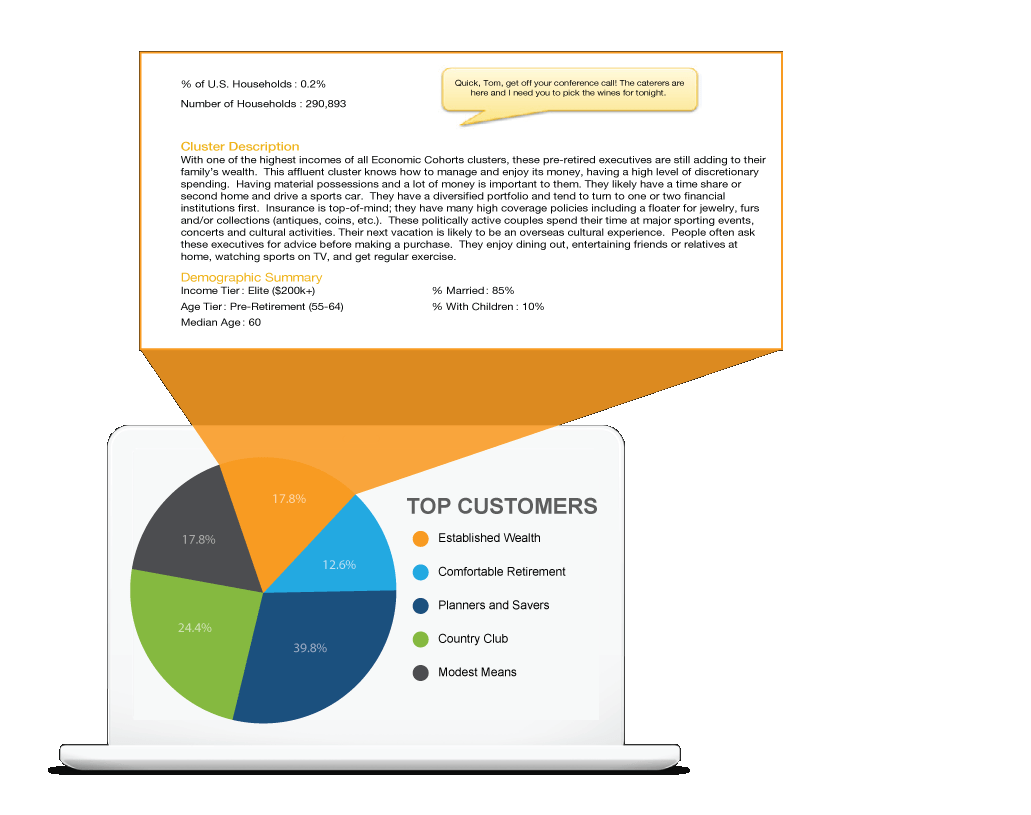 One of Tranzlogic's customers is The Meatball Shop, a restaurant chain in New York City. The Meatball Shop used Tranzlogic to identify its customers at first in demographic terms: age, income, marital status, children, and whether they were primarily tourists or locals. As the company grew from 1 to 6 locations, it realized that it needed a specific ad targeting strategy for each store.
The result was a hyper-localized ad strategy that would produce different content depending not only on demographic data, but also the lifestyle data customers were generating while on the premises.
Through this process of data mining, management identified one store as "Bars and Beers," its name for a marketing segment of people who lived within walking distance of the store, had incomes over $100,000, no children, and whose average age was 29.
These individuals had lifestyle preferences that suggested the demand for an unpretentious after-work establishment where they could enjoy alcoholic beverages, so The Meatball Shop instituted a Happy Hour at this location alone. It concentrated its "Bars and Beers" marketing within the neighborhood where that branch was located.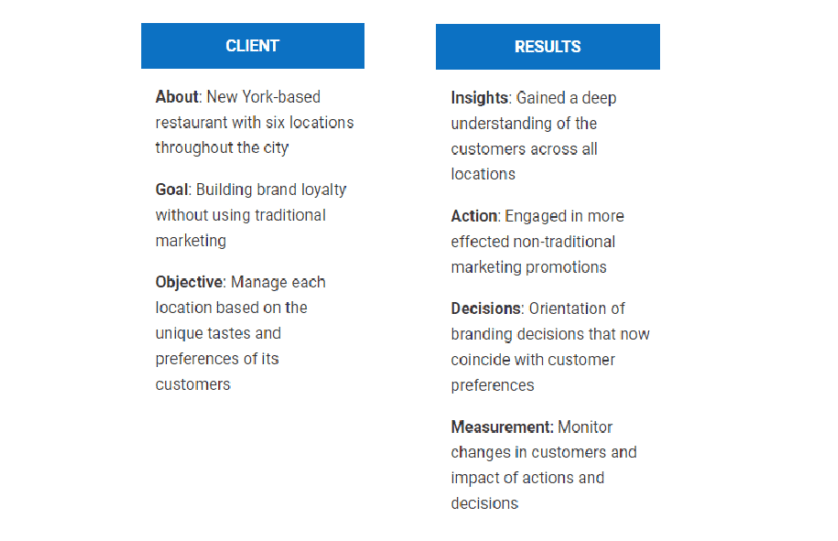 According to Tranzlogic, "nuancing" its ad targeting to this particular psychographic segment produced instant results: "Not only did sales from that target segment increase, so did the frequency of customer visits, as well as the number of new customers."
Shake Shack & Chick-Fil-A
Another company, Baker Capital-backed StatSocial, gathers "essential insights across 60+ social networks and every major blogging platform" to help companies understand their social audiences. While some of these tactics blend with more run-of-the-mill digital marketing, it's easy to see in StatSocial's work how a psychographic flavor has permeated the latest wave of digital marketing tech.
The company claims to have "modeled the entire US population into 200 unique clusters," using inputs from over 120 million US consumers, including personality traits provided by the aforementioned IBM Watson. These "clusters" group people together based on what motivates them, showcasing personalities and preferences throughout.
For example, StatSocial has a cluster labeled "Funny People Make Me Laugh." This group is defined as the following:
"This group of rural-roamers consists of 85% percent women, and they're in their mid-30s-to-early-40s. IBM Watson's Personality Insights® identifies this group as Agreeable lot, but not particularly Open to new experiences. The shared affinities among this assortment include things of a comic nature. While they enjoy lighter and more genial venues, such as Jimmy Fallon's and Ellen DeGeneres' TV shows. They don't shun edgier stuff, such as Chelsea Handler's show on Netflix, or the material one might encounter on the Will Ferrell co-founded website, 'Funny or Die.' Cable news, particularly CNN, also ranks, as do Oprah and President Obama."
Other cluster names include "Infinite Monkeys and a Typewriter," "Kulture Kweens," "Mostly Marvel," "You Nerds Do You," and many others characterized by various different insights.
Although StatSocial gathers demographic and geographic data as well, it leverages personality- and interest-based data to provide a more comprehensive view of consumers. In one example, the company aims to analyze two fast food restaurants representative of "two Americas": New York City-born Shake Shack and Georgia-born Chick-Fil-A.
The data captured on each restaurant's audience ranges from consumer interests to favored brands & TV shows, among other insights. For example, a 2016 analysis on Chick-fil-A fans showed they were 8.28x more likely to be fans of "Duck Dynasty" than the average social media user.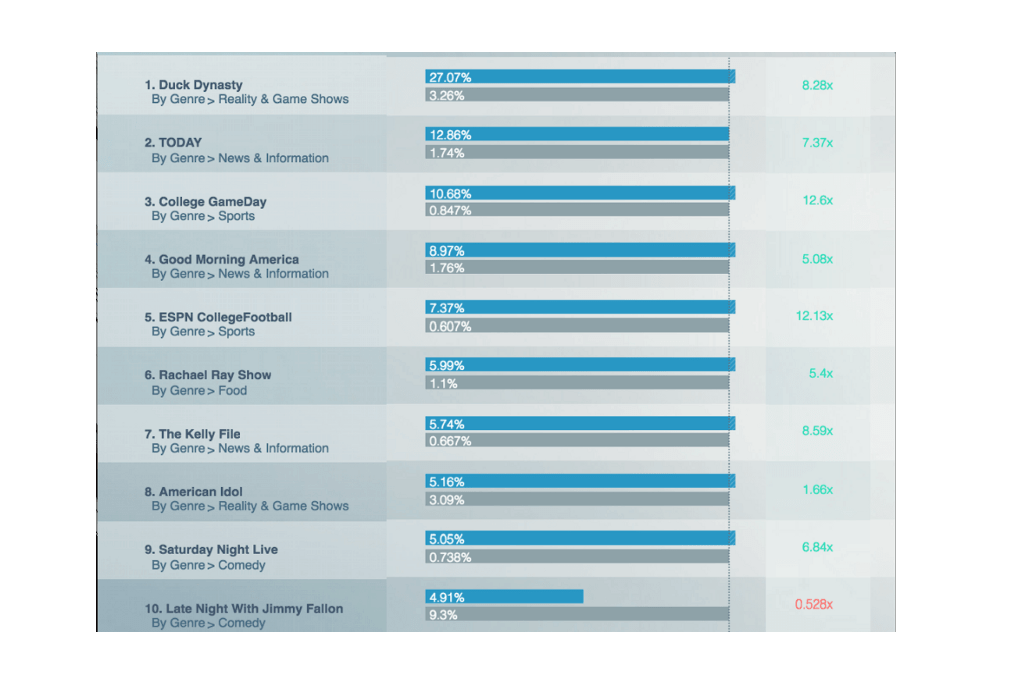 When sorted by multiple (like that 8.28 value from above), we see that 5 Fox News shows appear on the list, along with college football. Additionally, The Bible Series appears in this breakdown, showing Chick-fil-A fans as 12x more interested in the show than average social media users. These are strong indicators of sports and religion being interests for Chick-fil-A users.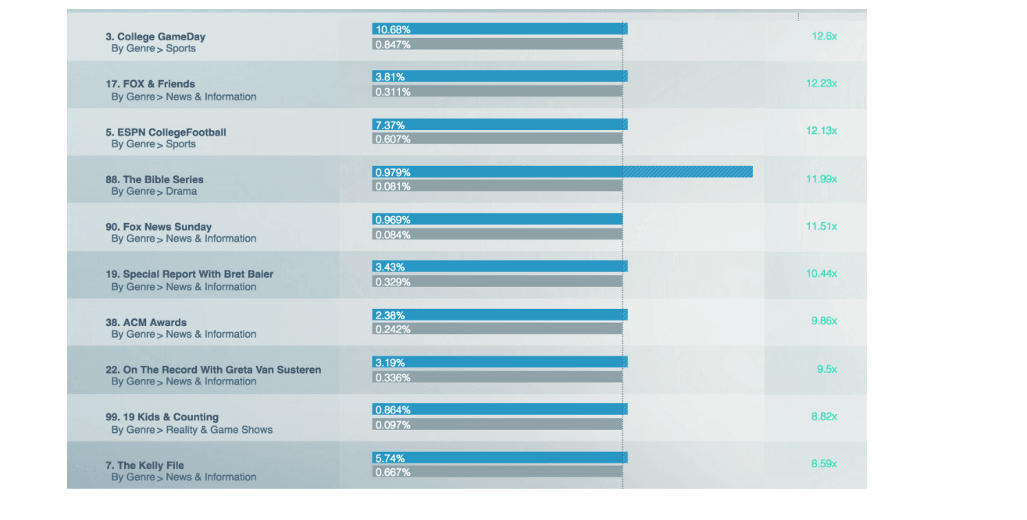 When sorting by multiple for Shake Shack fans, the below appears: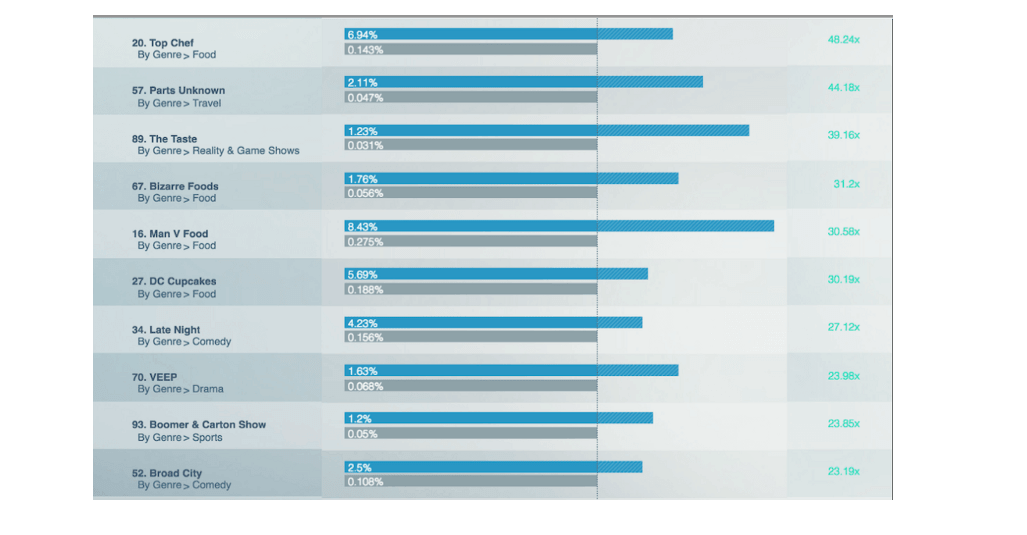 One could infer that Shake Shack fans are "foodies," since 6 of the 10 programs are food-related. And if not foodies per se, these TV viewing habits show that Shake Shack fans enjoy watching people eat.
While the data gathered by StatSocial isn't definitive, it's meant to enhance audience insights and give companies a clearer picture of who they are trying to reach. With more tailored messaging, audience response rates are likely to increase.
The political space
Now that we understand psychographics, we can see why Donald Trump's campaign and the Republican National Convention turned to Cambridge Analytica in 2016. Through the lens of a new political drive to go beyond demographic segmentation — used in American elections and advertising campaigns for decades — we can better understand the pressures and incentives that led to the scandal.
With its four to five thousand individual data points, Cambridge Analytica could form a far more comprehensive picture of its targets and "nuance" its messaging accordingly. And adapting the right messaging method to the right psychographic profile might make all the difference in nudging a consumer or a voter just enough to change their behavior in the desired direction.
To see how this works in practice, let's take a simplified example.
Say there's a potential voter with a high N (for Neuroticism) score in his psychographic profile. Let's call him Jimmy. Jimmy's online purchase history suggests that he's a gun owner, but he also has liked a number of posts on his Facebook Newsfeed that support certain gun control regulations. He's basically a moderate on this issue.
How can targeted advertising help nudge Jimmy into voting for a politician with a much stronger stance on gun rights? By making sure he sees banner ads, television commercials, and direct mailers that use the behavioral messaging method that best correlates with the OCEAN score in his psychographic profile.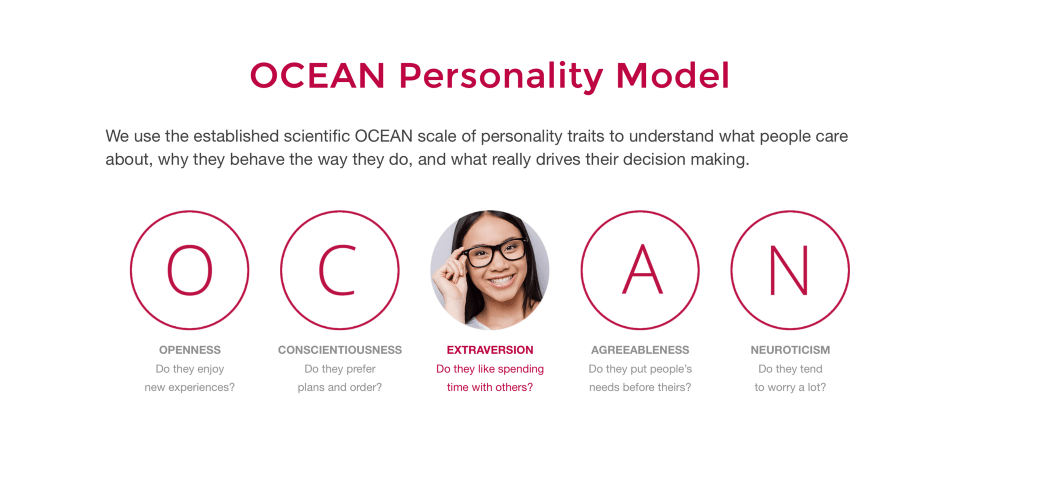 Cambridge Analytica's OCEAN model
As you might expect, people like Jimmy, with neurotic temperaments, tend to be more susceptible to negative emotions, especially anxiety and stress. They are more likely to experience situations and even images and videos as threatening. Ads that play on these emotions — that is, ads whose behavioral messaging induces fear — are likely to resonate with Jimmy at a subconscious level. For highly neurotic audiences, Nix said, Cambridge Analytica designed ads that showed "the hand of an intruder smashing a window."
Those ads should then show how unfettered access to gun ownership provides a sense of security and peace of mind: or an "insurance policy," to use Nix's words. Gun ownership is a solution to Jimmy's anxieties and insecurities.
Republicans, it should be said, weren't the only ones to use psychographics. These techniques were also adopted by Blue State Digital a digital and technology service firm whose clients have included both Barack Obama and Hillary Clinton.
The real estate industry
Psychographics also has applications in real estate. For example, the Oleander residential complex in Brookhaven, Georgia leverages psychographic principles to appeal to potential residents with specific personality traits.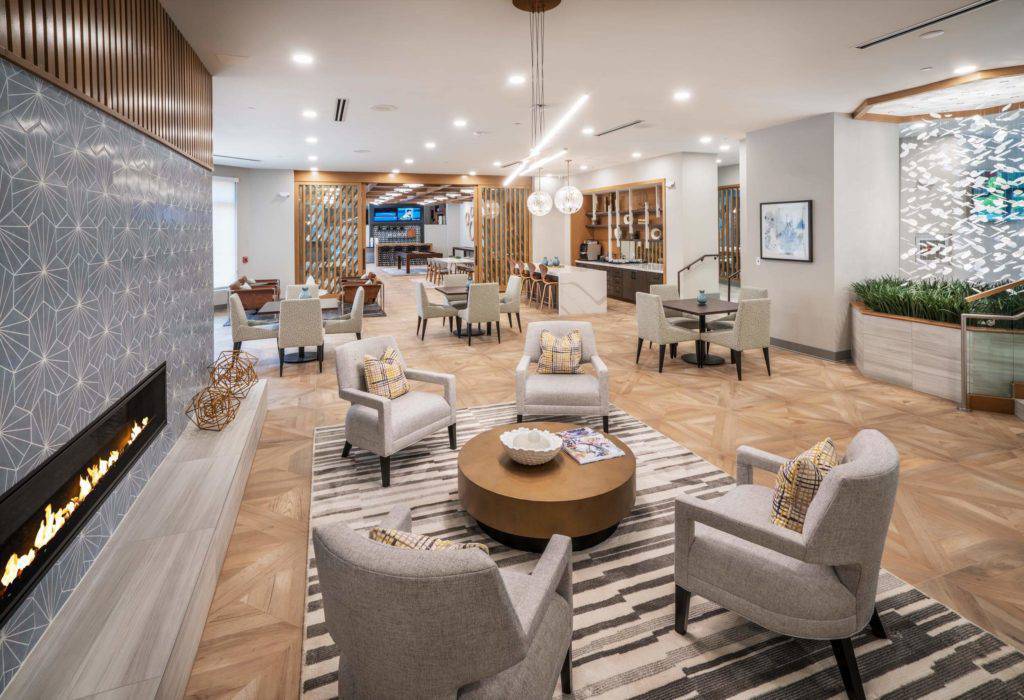 Source: Live Oleander
The 384-unit luxury development was developed by Toll Brothers Apartment Living in partnership with Chicago-based interior design firm Mary Cook Associates. Before beginning construction, Mary Cook Associates conducted psychographic research to identify the values shared by the realtor's target market.
"Our design process really lets us drill down to what motivates residents and how they are most likely to positively interact with spaces, which is invaluable information for developers. In addition to a focus on wellness, psychographics showed that Oleander residents also want flexibility in their amenity spaces, so the common areas are designed with this in mind. For example, the library does triple duty as it can also be easily converted to a private conference or dining room, complete with smart screens and video capabilities for the former and a catering kitchen for the latter." — Mary Cook, president and founder of Mary Cook Associates
Using psychographic data as a factor in the design and development of contemporary living spaces is becoming more common as developers seek to appeal to affluent urban residents. This is perhaps best exemplified by the emergence and popularity of "wellness communities."
Already a $52B industry in North America alone, wellness communities are among the hottest trends in luxury residential development. Having realized that generic wellness amenities such as on-site gyms are no longer enough to tempt wealthy young urbanites into the suburbs, many developers are using psychographics to appeal to a new generation of homeowners.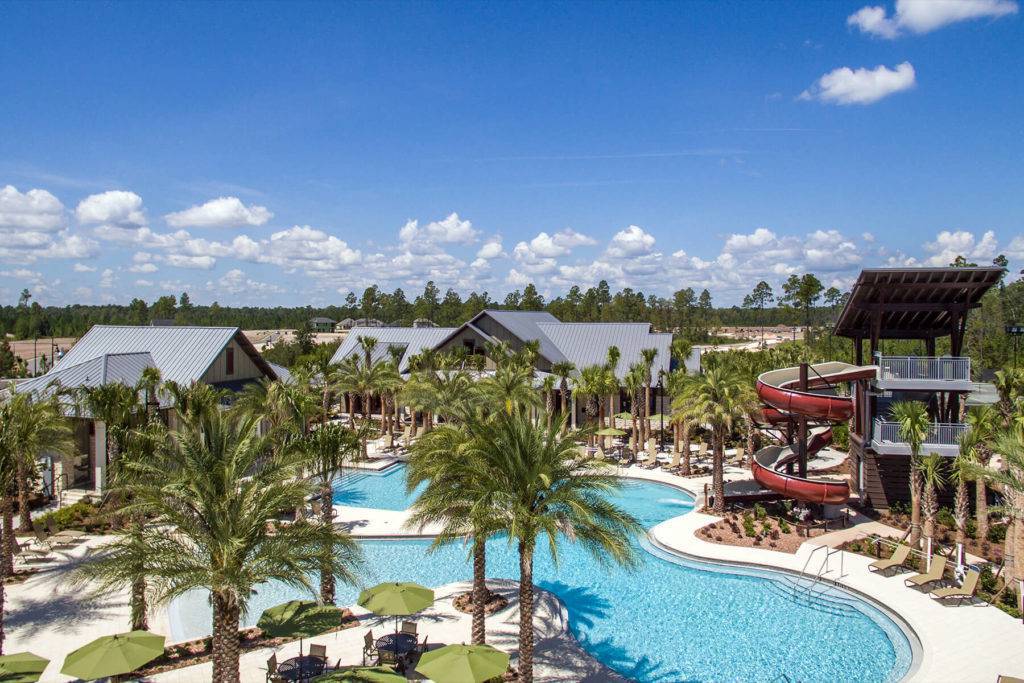 Source: Shearwater Living
Some communities, such as Shearwater in Jacksonville, Florida, are built around specific activities such as hiking, kayaking, and swimming. The Pinewood Forest in Atlanta, Georgia targets filmmakers and creative talent drawn to Atlanta's television and film production industry.
With more than 1.5M units planned for development across 740 wellness communities in the coming years, it seems likely that consumer values, attitudes, and interests will play an increasingly important role in how and where housing developments are built.
The retail industry
Retailers are also exploring psychographics as a means of identifying prospective customers more effectively.
One example is L.L. Bean. In an attempt to better understand the next generation of customers, the company launched a research project to identify commonalities between various demographic groups.
However, that demographic data revealed little meaningful insight about who L.L. Bean's prospective customers were, what they wanted, or what they valued.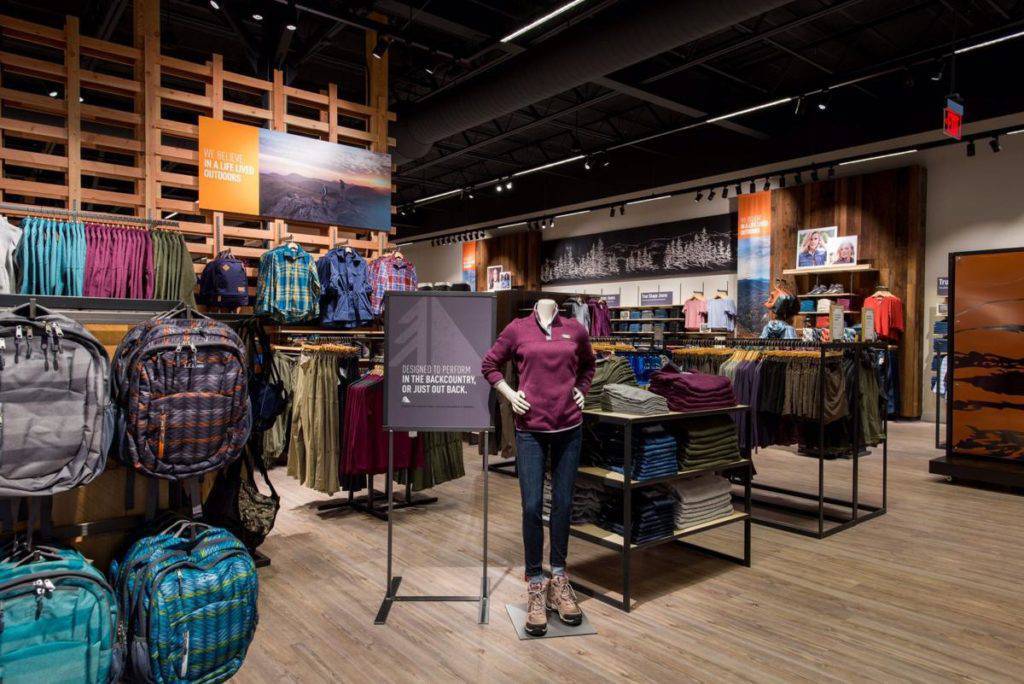 Source: Wall Street Journal
"Our customer file was aging so we reassessed our target audience," said Director of Brand Engagement Kathryn Pratt, speaking at the Association of National Advertisers' 2019 Brand Activation Conference. "We did an enormous undertaking, looking at different customer segments, trying to understand who the right fit for us was. What matters is your connection to the outdoors. That's the link that connects all of the people within this target audience."
According to Pratt, the company quickly realized that it occupied a potentially large niche between "extreme" outdoor retailers that focus on performance, and more casual, fashion-oriented outdoors apparel brands.
L.L. Bean's psychographic research revealed that its target market's top priority was not beating their personal best or following fashion trends — they wanted to share their experiences and the joy of the great outdoors with those closest to them.
"We really wanted to make sure that we were capturing that shared joy, whether that's with your family, whether that's with your friends, or whether that's with your four-legged friends," Pratt said.
Does psychographics actually work?
Significant media coverage has been dedicated to the role that psychographic marketing — particularly on social media platforms — has had on political activity in the US and beyond since 2016. While there is little doubt that many interested parties have sought to sow division and uncertainty online using psychographic profiling, the actual impact of these efforts is not always clear.
Several studies have been conducted in an attempt to determine the efficacy of psychographic targeting. Some, including a paper authored by researchers at Stanford University's Graduate School of Business in 2017, reveal that psychographic targeting can make certain advertisements more persuasive. Psychologically tailored advertisements resulted in 40% more clicks and 50% more purchases — but only when those advertisements aligned with viewers' existing levels of extroversion and how open viewers were to new experiences.
Persuasion vs. prediction
In general, traditional political advertising — particularly on television — tends to have very little tangible impact on viewers' political opinions. It may remind prospective voters of certain issues within a candidate's platform, but is unlikely to have a significant impact on their political affiliation or underlying beliefs. A study conducted by researchers at the University of California found that most political campaigns have zero discernible impact on voters' political opinions.
It can be tempting to assume that a higher degree of granularity in targeting prospective voters can offset the shortcomings of political advertising; however, there is little data to support this.
"What evidence do we have out there that microtargetting is highly persuasive? There isn't much," Travis Ridout, author of The Campaign Power of Political Advertising, told Mashable. "We can know which magazines you subscribe to, and which type of car you drive, and all of that information, and you can do the fancy stats on that. And it really isn't going to gain you much more than knowing if the person is registered as a republican or a democrat."
Ultimately, the precise impact of psychographic marketing will be hard to quantify, especially when it comes to its effect on political behavior. But it should be said that the same skepticism about the effectiveness of psychographic marketing has been leveled at political advertising in general.
"There is very little evidence that ads make much of a difference in a presidential campaign," says Dr. Diana Mutz, a political scientist at the University of Pennsylvania. In the 2012 election, about $1000 in advertising was spent on every persuadable voter, despite the fact that there was a "shockingly small bang for the buck," in the words of Ken Goldstein, a political media analyst.
The theory of comparative advantage explains why, despite this fact, political campaigns and other advertisers are willing to spend the money. The same may be true of psychographic modeling. As long as it is believed by advertisers that this way of microtargeting customers could be effective, every advertiser will feel the need to achieve a comparative advantage relative to its competitors by acting as if it is.
There is also reason to believe that psychographic marketing may be even more effective in non-political than political advertising. Moreover, there is a relatively enormous time lag between ad and "purchase" (voting) in political campaigns.
Thus, despite recent negative press for companies like Facebook and Cambridge Analytica, psychographic marketing will likely be a key part of the multi-billion dollar ad market for years to come.
The refinements and customizations of Big 5 factor analysis, IBM's Linguistic Inquiry and Word Count psycholinguistic dictionary, and the large number of advertisers across diverse industries that use the term as a buzzword in interviews about their ad strategies just goes to show psychographics is already making an impression.
But as it's gaining popularity, is psychographics something that will eventually be regulated across industries?
Regulation of data collection
Even the strictest regulatory regime will certainly still allow the collection of significant amounts of individual user data, as this is a major source of revenue not only for social networks, search engines, and online marketplaces, but for wearables, ride-sharing services, online delivery services, and more.
And although the Cambridge Analytica scandal showcased the abuse of data, psychographic modeling will still be considered an important method of analyzing data in order to more efficiently advertise to customers.
In 2017 the FCC rolled back privacy laws that would prevent internet service providers like Comcast and Verizon from selling web browser histories, demonstrating that there is little appetite in Washington to address data privacy concerns.
Facebook launched a tool in Ireland and Canada called View Ads in late 2017, which allows users to access more information about the ads they receive, including how many people saw the ad, how much money was spent on it, and a broad swath of demographic — though not psychographic — information about the ad's intended audience.
Although advocates for greater transparency in online advertising welcomed the move, the View Ads tool had several major drawbacks. While users could see which Facebook pages had paid for specific advertisements on the platform, they could not identify specific individuals who had paid for those ads. In addition, this information could only be viewed while the advertisements were live.
Comparable to provisions in place for TV advertising, View Ads was developed in response to the Honest Ads Act, one of the few pieces of regulations on advertising passed by the 115th Congress. Critics of the tool say that it is extremely difficult to use and that the information it provides is no match for the kind of direct and instantaneous persuasion techniques employed in psychographic marketing.
On the distribution side, Facebook blocked foreign ad investment ahead of the Irish Abortion referendum in May 2018 in order to curb "astroturfing," which creates the illusion of widespread support for an issue in order to influence other people to support it. However, the move did little to satisfy Facebook's critics, many of whom claimed the company's belated efforts to prevent foreign meddling in domestic political issues were designed primarily to preempt governmental regulation, rather than to protect users or verify the integrity of advertisers on the platform.
Facebook's efforts to offer greater transparency into its advertising policies was further undermined in December 2019, when an internal memo from company executive Brian "Boz" Bosworth was leaked to The New York Times.
The memo acknowledged that, left unchecked, Facebook's position on political advertising could lead to the reelection of Donald Trump — which directly disputed Mark Zuckerberg's previous assertions that company's influence in the 2016 presidential election had been overstated. Notably, Bosworth's memo also derided Cambridge Analytica's psychographic targeting capabilities as "snake oil."
In January 2020, Facebook doubled down on its position, stating it would not follow the lead of Twitter and Google by banning political advertising on its platform in the run-up to the 2020 US presidential election.
"Ultimately, we don't think decisions about political ads should be made by private companies, which is why we are arguing for regulation that would apply across the industry. The Honest Ads Act is a good example — legislation that we endorse and many parts of which we've already implemented — and we are engaging with policy makers in the European Union and elsewhere to press the case for regulation too. Frankly, we believe the sooner Facebook and other companies are subject to democratically accountable rules on this the better." — Rob Leathern, Director of Product Management, Facebook
Conclusion
Regardless of the recent events that have brought psychographic marketing into focus, the method is likely here to stay.
While Cambridge Analytica and its parent company SCL Group ostensibly shut down in 2018, the group's sprawling networks remain intact, with over 15 companies and affiliates in the UK and the US.
As the US prepares for what is expected to be a bitterly contested presidential election later in 2020, Donald Trump's decision to hire Cambridge Analytica's former Head of Product, Matt Oczkowski, has caused alarm among data transparency advocates. The Trump campaign maintains that it did not rely on Cambridge Analytica's data in 2016 and insists it will not do so for the reelection campaign — a promise that rings hollow to many, especially in light of the Trump campaign's heavy reliance upon Facebook as part of its broader digital strategy.
However, most of the regulations that are currently being contemplated as a result of the Cambridge Analytica scandal have more to do with data mining practices than psychographics per se. And, as we've seen, psychographic segmentation is a key component in a number of sectors — including the auto industry, health services, and food — that have nothing to do with elections.
Even if the kind of "third-party aggregation" that Cambridge Analytica exploited to get its huge cache of data is regulated, advertisers will still have a number of data mining strategies at their disposal.
Where psychographic segmentation of this harvested data is concerned, this future is also bright. The Cambridge Analytica scandal may have introduced the strategy to the public, but that doesn't mean the game is up. Short-term outrage in this case will not necessarily lead to long-term backlash against companies that use this technique.
Meanwhile, for the remaining holdouts, the knowledge that a company's competitors are using psychographic segmentation to reach untapped markets more efficiently will make it a more, not less, necessary tool to have and use.
If you aren't already a client, sign up for a free trial to learn more about our platform.