Inclusive beauty is becoming table stakes for the beauty industry. From gender-neutral makeup to male personal care, we break down the niches creating huge opportunities for corporates and new beauty brands alike.
Since Fenty Beauty's launch in 2017, "inclusive beauty" has become an industry buzzword, encompassing nontraditional and new markets that are becoming increasingly important for the beauty industry to target.
get the free beauty trends report
Find out the 14 trends changing the face of the beauty industry, from "waterless" beauty to virtual try-ons.
For example, the men's personal care market is expected to reach $166B by 2022, while the Black haircare industry alone reportedly represents a more than $2.5B market. 
With consumers demanding products that are more tailored to them, beauty incumbents from Unilever (which has eliminated the word "normal" from its branding) to indie startups like Fluide (which offers gender-neutral makeup) have a financial incentive to tap into these underserved markets.
As the trend continues to gain traction, understanding the difference between "niche" and "underserved" audiences remains crucial, as there exist many demographics with untapped potential. 
Below, we outline a few of these markets, which are becoming integral to defining the future of inclusive beauty — and that should remain a high priority for brands looking to capitalize on the movement.
Table of contents
What is inclusive beauty, and why does it matter now? 
Inclusive beauty refers to beauty that caters to all individuals, regardless of their gender, age, religion, skin tone, skin type, etc..
From the models featured in advertisements to the brands carried in retail stores, inclusivity in beauty is meant to draw in a wider range of consumers than the beauty industry has traditionally targeted. This also includes beauty product formulations (e.g., halal-certified ingredients) and packaging (e.g., makeup tools designed for individuals with motor disabilities) that make beauty more accessible.
Why now
When Fenty launched in 2017 with an unprecedented 40 different foundation shades, it "sparked a shift in the makeup industry," writes Maya Allen for Byrdie. "This revolutionary time in beauty made other brands realize that diversity is a priority, rather than an afterthought." 
Now, as consumers increasingly seek out products that look like them, or are even personalized to them, and demand accountability from companies around their diversity and inclusion practices, inclusive beauty has become more important than ever.

News mentions related to "beauty" and "inclusive" or "inclusivity" or "diversity" spiked in June 2020 and have remained elevated since.
In the wake of the 2020 Black Lives Matter protests, the "beauty for all" movement has seen increasing buy-in from global beauty brands, moving beyond greater foundation shade ranges to support for Black-owned brands and more. Other trends — such as the growing support for LGBTQ+ individuals in the US and eroding gender norms — have also put the onus on beauty incumbents to show their support. Otherwise, they risk losing out on a new generation of customers, especially as a growing crop of direct-to-consumer (D2C) brands rise to fill the gaps. 
For example, major retailers like Sephora, Macy's, and Bluemercury have committed to the 15 Percent Pledge — a promise to commit 15% of shelf space to Black-owned businesses. Ulta Beauty also pledged to double the number of Black-owned brands carried by the retailer by the end of 2021, committing more than $25M to the push for greater diversity.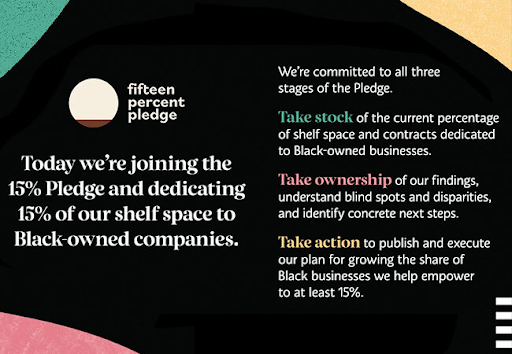 Source: Sephora
Others have switched up their advertising strategies to be more inclusive. 
Already in 2018, ASOS dropped the word "beauty" altogether from its cosmetics line, renaming it as Face + Body to make its offerings more gender neutral. In a similar move, Unilever recently said it would ditch the word "normal" in its messaging for its beauty and personal care brands like Dove and Axe, while Ilia Beauty launched a marketing campaign in September 2020 that featured women between the ages of 20 and 70. 
Ultimately, as consumers demand new options — across categories like male grooming, gender-neutral cosmetics, children's skincare, and more — brands have a financial incentive to target markets that the beauty industry has traditionally left behind.
The markets defining the future of inclusive beauty
Male personal care & beauty routines
Male grooming has expanded beyond face washes, moisturizers, and basic hygiene products to include eye creams, face masks, sunscreen, makeup, and more over the past few decades. 
Many of today's brands, such as Stryx, Shakeup Cosmetics, and War Paint, are employing D2C distribution and refreshed packaging to attract a new generation of male consumers. 
Since Unilever's $1B acquisition of Dollar Shave Club in 2016, M&A of men's personal care brands has spiked, with deals including: 
In late 2018, P&G bought

Walker & Company Brands

, the parent company of beauty and grooming brands focused on people of color.

In September 2019, SC Johnson purchased men's skincare brand

Oars + Alps

for a reported $20M. 

Edgewell acquired men's grooming brand

Cremo

for $235M in August 2020.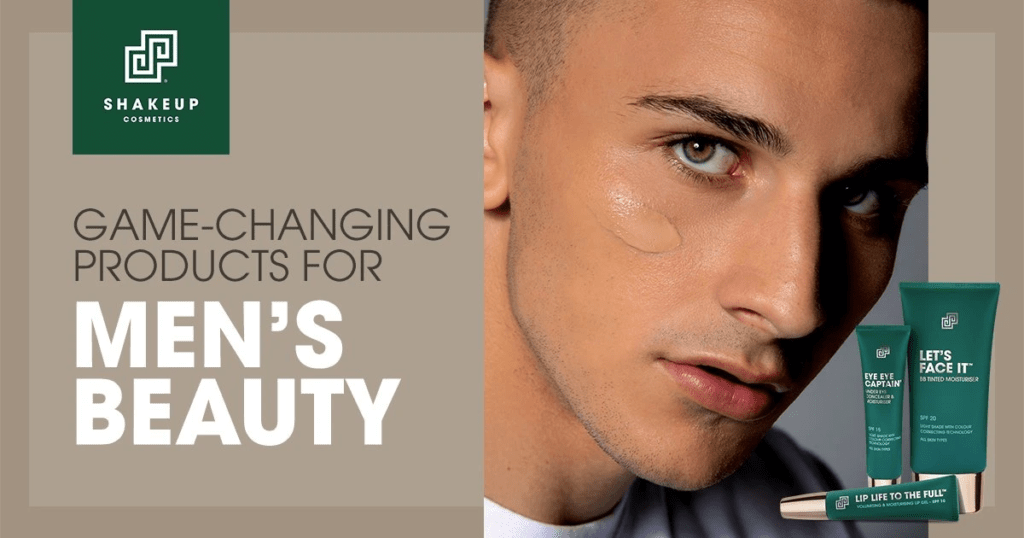 Source: Shakeup Cosmetics
In Asia, men's skincare and makeup has been a burgeoning trend for years now, with the US catching up only fairly recently, which some attribute to "quarantine boldness" and younger male consumers' openness to exploring skincare.
South Korea has been a trendsetter in this category, with men in South Korea accounting for a fifth of global spend on men's skincare in 2018 — a trend often attributed to the rise in popularity of K-pop idols.
Furthermore, China represents one of the fastest-growing markets for men's beauty and grooming products: the country's male skincare market was more than twice the size of South Korea's and more than 3 times the size of the US market as of last year, per Euromonitor.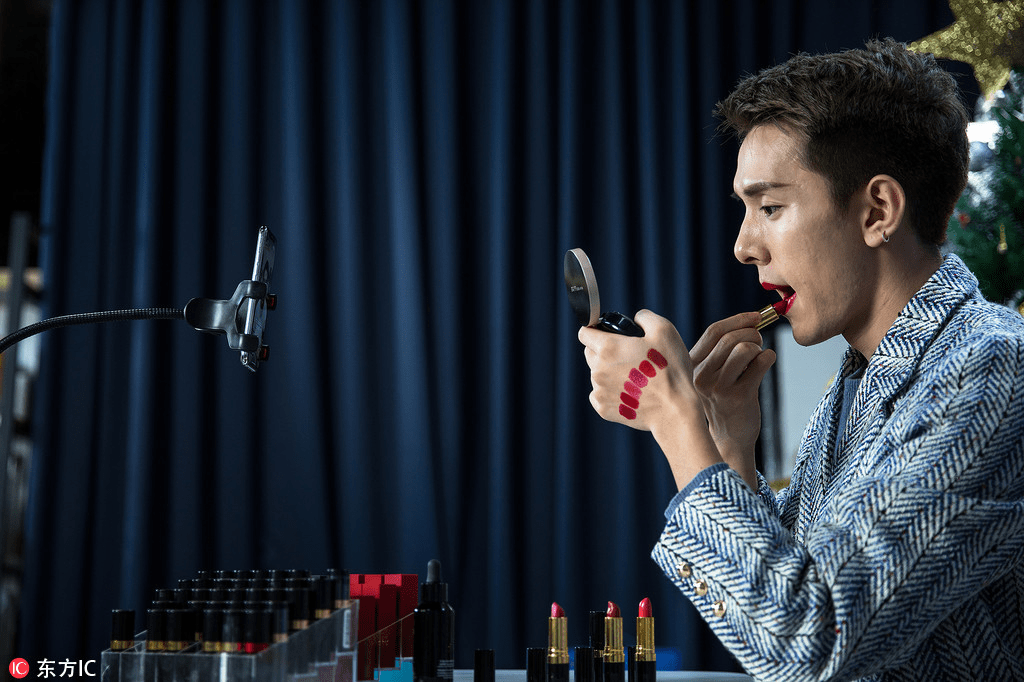 Source: IC
Meanwhile, global brands have already rolled out men's cosmetics lines. Chanel first launched Boy de Chanel in South Korea, while Shiseido said its male makeup line saw double-digit growth amid the pandemic, bolstered by Japanese businessmen in their 40s. 
Gender-neutral beauty products
Gender-neutral makeup lines are the next step in inclusive beauty, as younger generations erode traditional gender norms and stigmas. More than half of Gen Zers say that gender is nonbinary and encompasses a spectrum.
As a result, brands are rolling out beauty products that aren't targeted at one specific gender. Skincare brands from Aesop to Ursa Major to Non Gender Specific have ditched gendered marketing, opting to package and sell unisex products that focus on specific skin concerns or conditions instead. In makeup, examples include Fenty and Milk Makeup, as well as indie startups like Fluide and Jecca Blac.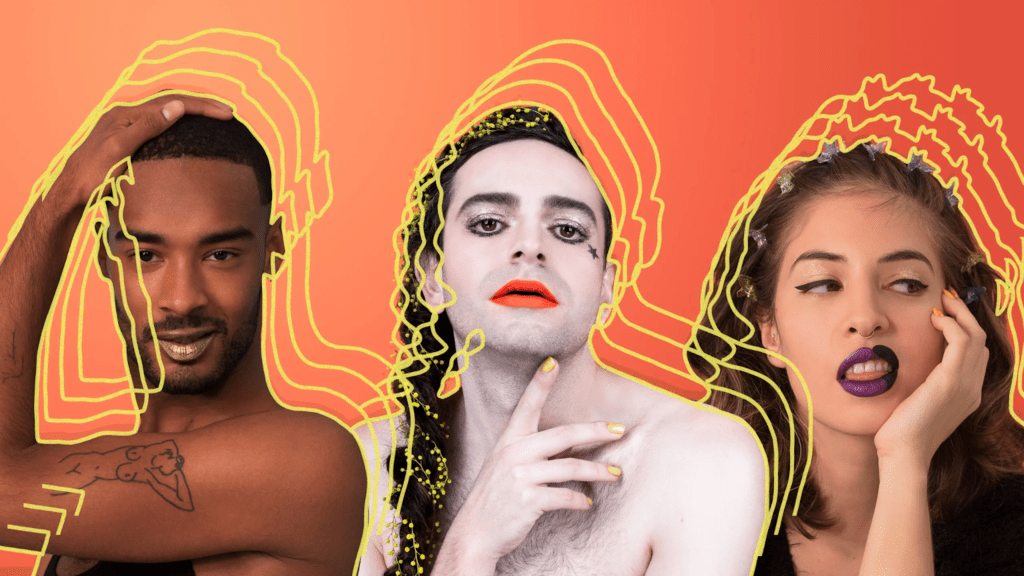 Source: Fluide
Corporates are already taking note. Clean, gender-neutral fragrance company Phlur was acquired by Los Angeles-based beauty incubator The Center in February 2021. 
Incumbent brands including MAC Cosmetics, Tom Ford, Gucci, and Marc Jacobs have all launched gender-neutral lines across makeup, fragrance, and clothing as well. 
People of color
Though there's been a lot of buzz around more effectively targeting people of color in the beauty sector, there's still much to be done.
Beyond Fenty, a number of inclusion-focused brands like Mented Cosmetics, Urban Skin Rx, and Live Tinted have forged partnerships with larger retailers like Ulta Beauty, Target, and CVS to roll out their products nationally. 

Source: Mented Cosmetics
Existing corporations have focused on growing brands founded by people of color to target disparities in traditional beauty products and cater to underserved markets. Black consumers account for $1.3T in buying power, and the Black haircare industry reportedly represents a more than $2.5B market. 
To tap into this massive market, among others, grants and accelerators for founders of color have emerged over the past year, including Glossier's and L'Oréal's grants to Black-owned businesses and Sephora's recent accelerator cohort, which included only founders of color. 
Lack of representation reaches beyond foundation shades and marketing. Black dermatologists make up just 3% of the field in the US, which has marked effects on beauty product development. Darker skin reacts differently to skin conditions like acne, eczema, and keloids, and it is more susceptible to hyperpigmentation due to higher amounts of melanin. But many products are tested on lighter skin tones, ignoring their efficacy for people with different skin tones entirely.
In November 2020, Unilever-owned Vaseline launched the Equitable Skincare for All program in conjunction with actress Regina King and startup Hued to offer more training for dermatologists and resources for people of color.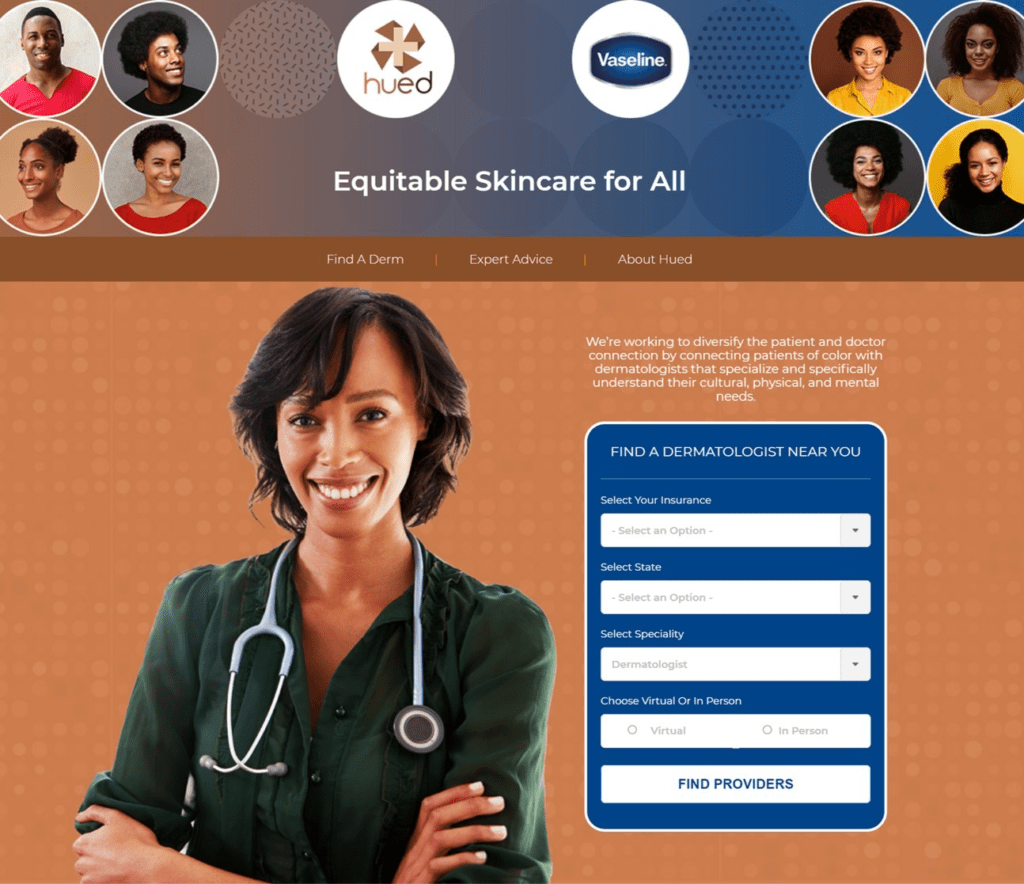 Source: Vaseline
Beauty across generational cohorts
Major opportunity exists in meeting the needs of cohorts beyond the young adult (ages 18 to 35) segment. 
Ageless beauty
A few brands are working to cater to older consumers, such as Gen Xers or baby boomers. In particular, perimenopausal concerns have seen increasing attention in skincare, for example:
AbsoluteJOI

is a skincare brand that makes products for women of color, with a core customer group of women in their 40s and up.

Pause Well-Aging focuses on menopausal skincare products that address perimenopausal concerns such as hot flashes, night sweats, and skin elasticity. 

Arfa

's (now Chord) State Of brand also markets products that target menopausal concerns, from cooling spray to hand and joint cream.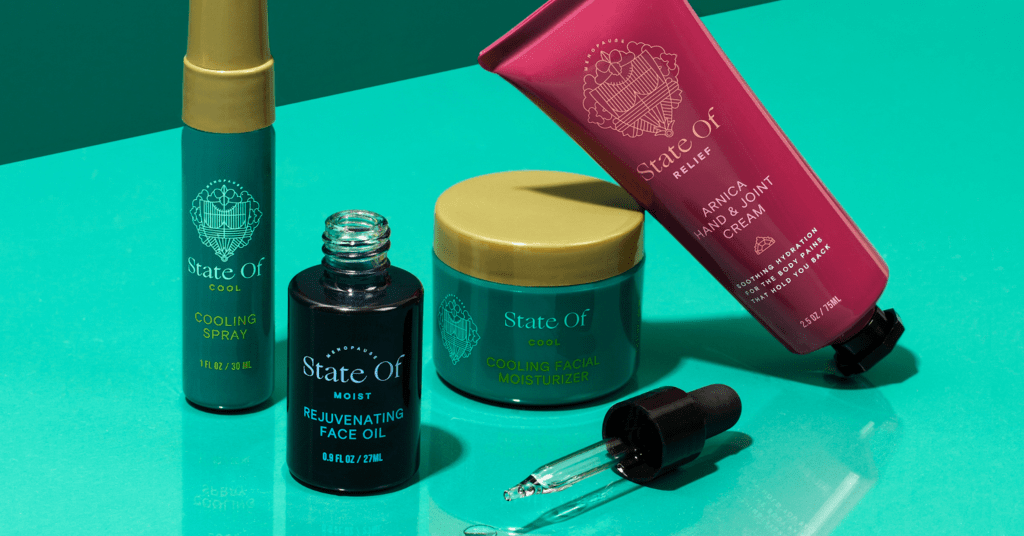 Source: State Of
Other companies are catering to aging adults by making their product packaging and design easier to use, with larger fonts, pumps, and ridged tops. 
Examples include D2C beauty startups like Victorialand Beauty, which features raised symbols on its beauty packaging to make identifying items easier, particularly for the visually impaired, and Kohl Kreatives, which sells makeup tools designed for individuals with motor disabilities.
Baby and children's skincare products
Beauty brands are also looking to babies and children for untapped opportunities, with examples like:
Jessica Alba's The Honest Company, which got its start in baby care, recently went public, raising more than $412M in its debut. 

Amyris brand Pipette, which was launched in 2019, expanded into Target in February 2021.  

Baby care brand Mini Bloom was launched in December 2020.
Luxury skincare brands such as Pai Skincare, Dr. Barbara Sturm, and others have expanded into baby and children's skincare products as well.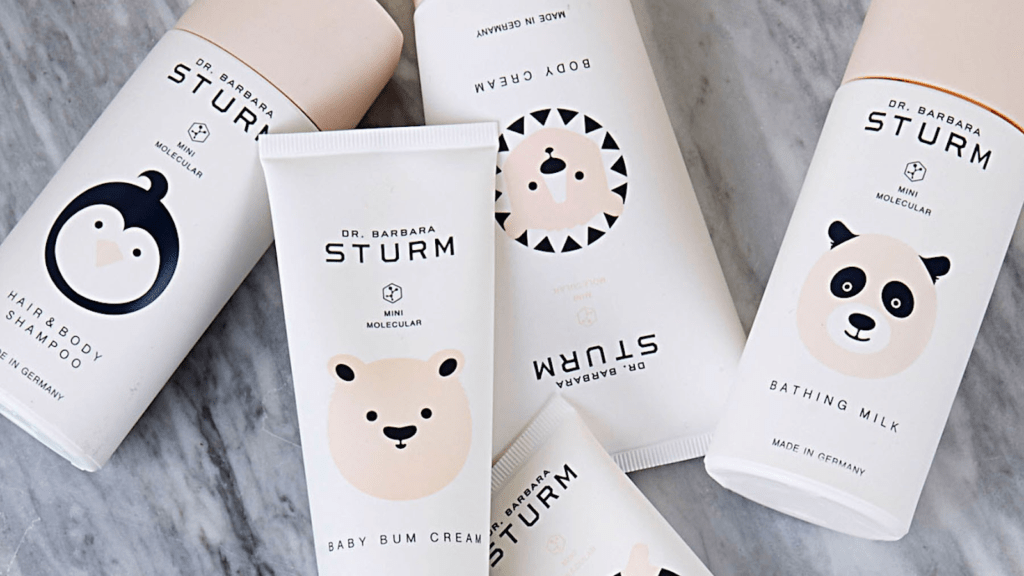 Source: Dr. Barbara Sturm
As parents purchase skincare products for themselves, they are looking to do the same for their children — with an emphasis on safety and efficacy. As such, ingredient transparency will be key for companies stepping in to appeal to this category.
Gen Z-focused brands
Gen Z-focused brands such as UK-based Plenaire and Bubble have also been on the rise. Meanwhile, incumbent brands like Chanel, YSL, and others are revamping their product launch and marketing strategies to attract younger shoppers. 
Social media has become a critical way for teenagers to find the trendiest products in line with their clean beauty needs and beyond — "edutainment" for beauty and skincare products. 
TikTok, in particular, is a massive opportunity for brands, driving viral sales and reshaping consumer preferences. 
CeraVe, e.l.f. Cosmetics, and The Ordinary have moved up in the rankings, becoming some of the top skincare brands for teens over the past year, largely thanks to influencers on the platform. Meanwhile, Peace Out Skincare saw sales for its pore strips quadruple in just 24 hours after it was endorsed by TikTok "skinfluencer" Hyram Yarbro, while another teenager's viral video drove nearly $850K in sales for The Ordinary.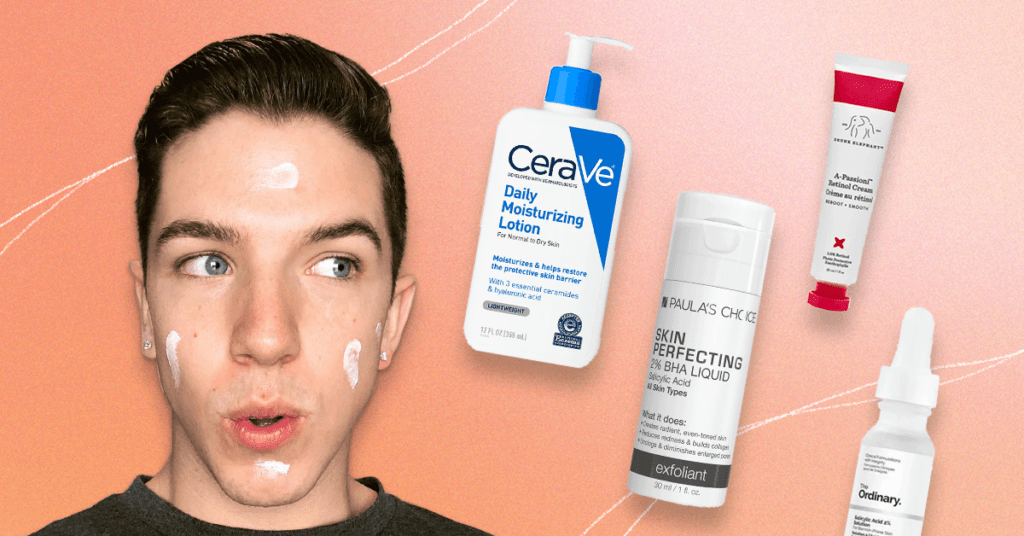 Source: Hyram Yarbro
Of course, to get into the hands of teens, parents must also be convinced that these products meet a real need and are safe for regular use. 
Ingredient transparency and nontoxic options will be crucial for this category to see sustained growth. According to DECA, 80% of female teens said they were willing to spend more for "clean" beauty. 
Looking forward
Inclusive beauty will remain vital for companies looking to stay competitive and acquire new customers in the beauty market.
In the near term, expect to see brands placing a continued emphasis on ingredient transparency, as the inclusive beauty and clean beauty movements intersect. We also anticipate corporates to continue looking to Asian markets for inspiration, especially in male personal care, as the global beauty landscape becomes more connected and accessible.
Meanwhile, consumers will be increasingly aware of brands' commitments to inclusive beauty initiatives. At the height of the summer 2020 Black Lives Matter protests, social media posts from 70 beauty brands featured darker skin tones in nearly 25% of their images, but by August that had dropped to 16%, raising questions about how much progress toward diversity actually occurred in the beauty industry. And while niche beauty labels have launched to provide tailored products for the 61M adults in the US living with disabilities (and 1B individuals globally), there are few mass market options. Follow-through on diversity and inclusion commitments will be key to maintaining customer loyalty — and gaining new customers. 
Ultimately, brands that can cater to new demographics without oversimplifying the nuanced dynamics of their communities will be more likely to succeed in the increasingly saturated beauty market.
If you aren't already a client, sign up for a free trial to learn more about our platform.