CRISPR. What is it? And why is the scientific community so fascinated by the potential applications of this gene-editing technology? Starting with its definition, we explain how this technology harnesses an ancient bacteria-based defense system — and how it will impact the world around us today.
Imagine a future where parents can create bespoke babies, selecting the height and eye color of their unborn children. In fact, imagine that all traits of life forms can be customized to one's preferences: domestic pet size, plant longevity, and more.
It sounds like the backdrop of a dystopian science fiction novel. Yet some of this is already happening.
Since the discovery of its gene-editing capabilities in 2012, scientists have marveled at the applications of CRISPR (also known as Cas9 or CRISPR-Cas9).
CRISPR could revolutionize how we tackle some of the world's biggest problems, including cancer, food shortages, and organ transplant needs. Recent reports even examine its use as a highly efficient disease diagnostics tool. But, as with any new technology, it may also cause unintended problems.
Changing DNA — the code of life — will inevitably come with a host of far-reaching consequences. But society and industry can't have this conversation without understanding the basics of CRISPR.
In this explainer, we dive into CRISPR, from a simple explanation of what it is to its applications, limitations, and future.
TABLE OF CONTENTS
What is CRISPR?
CRISPR is a defining feature of the bacterial genetic code and its immune system, functioning as a defense system that bacteria use to protect themselves against attacks from viruses. It's also used by organisms in the Archaea kingdom (single-celled microorganisms).
The acronym "CRISPR" stands for Clustered Regularly Interspaced Short Palindromic Repeats. Essentially, it is a series of short repeating DNA sequences with "spacers" sitting in between them. 
Bacteria use these genetic sequences to "remember" each specific virus that attacks them.
They do this by incorporating the virus' DNA into their own bacterial genome. This viral DNA ends up as the spacers in the CRISPR sequence. This method then gives the bacteria protection or immunity when a specific virus tries to attack again.
Accompanying CRISPR are genes that are always located nearby, called Cas (CRISPR-associated) genes.
Once activated, these genes make special enzymes that seem to have co-evolved with CRISPR. The significance of these Cas enzymes is their ability to act as "molecular scissors" that can cut into DNA.

Generalized CRISPR locus. Source: Lee S, et al. Journal of Cellular Biotechnology
To recap: in nature, when a virus invades bacteria, its unique DNA is integrated into a CRISPR sequence in the bacterial genome. This means that the next time the virus attacks, the bacteria will remember it and send RNA and Cas to locate and destroy the virus.
While there are other Cas enzymes derived from bacteria that cut out viruses when they attack bacteria, Cas9 is the best enzyme at doing this in animals. The term CRISPR-Cas9 refers to a Cas variety being used to cut animal (including human) DNA.
In harnessing this technology, researchers have added a new step: after DNA is cut by CRISPR-Cas9, a new DNA sequence carrying a "fixed" version of a gene can nestle into the new space. Alternatively, the cut can altogether "knock out" of a particular unwanted gene — for example, a gene that causes diseases.
One way to think about CRISPR-Cas9 is to compare it to the Find & Replace function in Word: it finds the genetic data (or "word") you want to correct and replaces it with new material. Or, as CRISPR pioneer Jennifer Doudna puts it in her book A Crack In Creation: Gene Editing and the Unthinkable Power to Control Evolution, CRISPR is like a Swiss army knife, with different functions depending on how we want to use it.
CRISPR research has moved so fast that it's already gone beyond basic DNA editing. In December 2017, the Salk Institute designed a "handicapped" version of the CRISPR-Cas9 system, capable of turning a targeted gene on or off without editing the genome at all. Going forward, this kind of process could ease some of the concerns surrounding the permanent nature of gene editing.
How does CRISPR work?
These are the 3 key players that help the CRISPR-Cas9 tech work:
Guide RNA: a piece of RNA (a genetic cousin of DNA) that locates the targeted gene. This is engineered in a lab.
CRISPR-associated protein 9 (Cas9): the "scissors" that snip the undesired DNA out
DNA: the desired piece of DNA that is inserted after the break 
Below, we illustrate how these parts come together to create a potential therapy.
Please click to enlarge.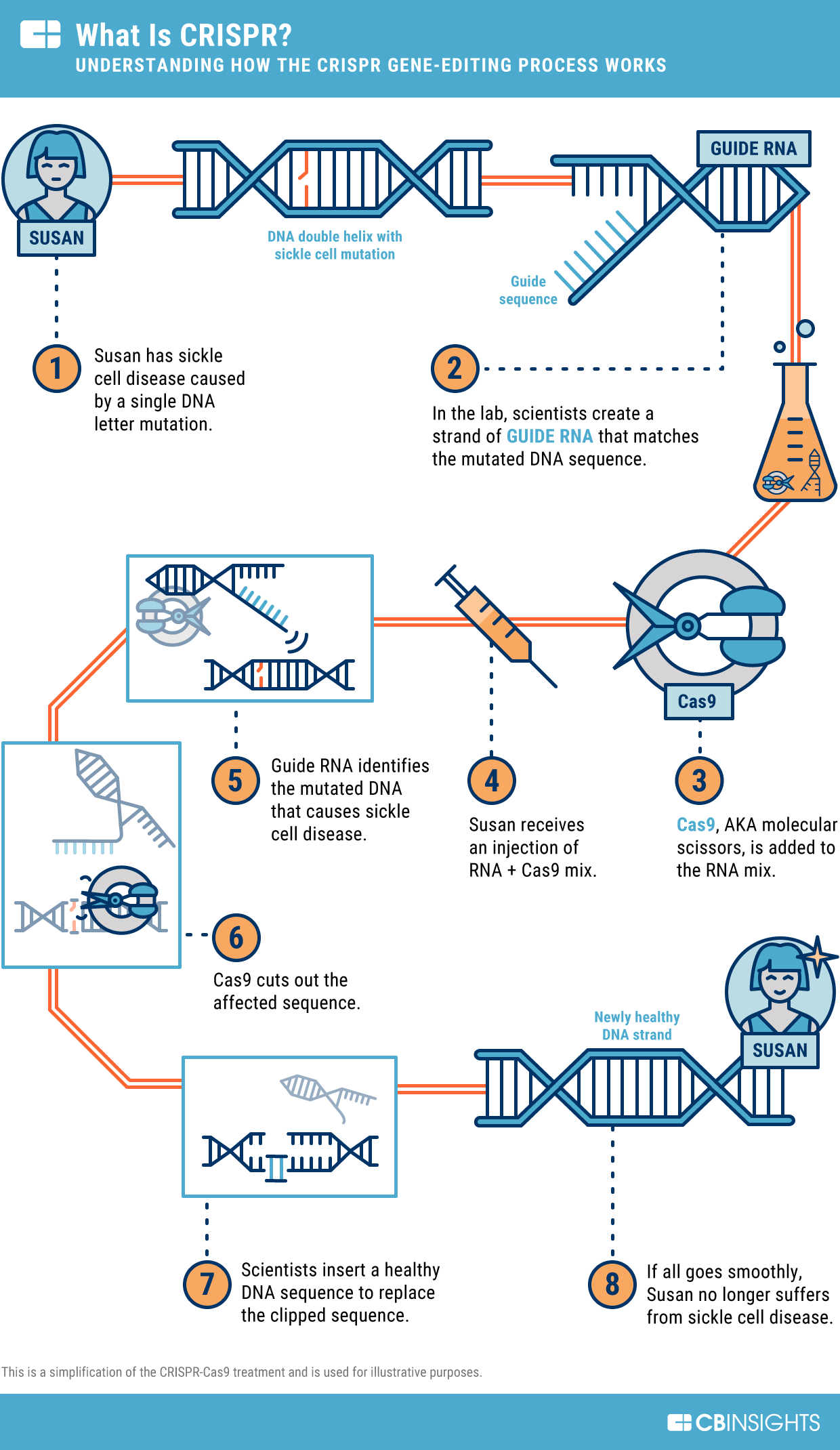 The guide RNA serves as the "GPS coordinates" for finding the piece of DNA you want to edit and zeroes in on the targeted part of the gene. Once located, Cas9, the scissors, makes a double-stranded break in the DNA, and the DNA you want to insert takes its place.
The implications for this are vast.
Yes, this technology will disrupt medical treatment. But beyond that, it could also transform everything from the food we eat to the chemicals we use as fuel, since these may be engineered through gene technology as well.
Feng Zhang, PhD, from the Broad Institute of MIT and Harvard, described CRISPR using a helpful nursery rhyme. We can imagine a certain DNA sequence that is fixed in this way:

Twinkle Twinkle Big Star → Twinkle Twinkle Little Star
In this process:
Guide RNA locates the error or the mutation: the word "Big."

Cas9 enzyme makes the break before and after the word "Big."

A bioengineered vehicle inserts an alternative piece of DNA, in this case, the word "Little."
When was CRISPR discovered?
The CRISPR sequence itself was first discovered in 1987. More than 20 years later, in 2008, microbiologist Luciano Marraffini coauthored a generalized paper about CRISPR with Erik Sontheimer of Northwestern University — but a patent filed by the two scientists was rejected at that time, due to the researchers' inability to conclusively demonstrate any specific applications of their findings.
CRISPR's function — and its incredible potential — would not be discovered until 4 years later, in 2012. Key people involved in the initial discovery of the bacterial CRISPR-Cas9 system's function include Jennifer Doudna, PhD at the University of California, Berkeley, and French scientist Emmanuelle Charpentier, PhD. Through their strategic collaboration, these researchers helped usher in a new era of biotechnology. They jointly won the 2020 Noble Prize in Chemistry.
Another important figure is Feng Zhang, PhD, who was instrumental in figuring out CRISPR's therapeutic applications using mice and human cells in 2013. Harvard geneticist George Church, PhD also contributed to early CRISPR research with Zhang.
These 4 researchers went on to play crucial roles in setting up some of the most well-funded CRISPR therapeutic startups, including Editas Medicine, CRISPR Therapeutics, and Intellia Therapeutics. All 3 of these companies went public in 2016 and are in various stages of testing CRISPR therapeutic candidates for various human diseases.
Gene editing before CRISPR-Cas9
Before CRISPR was heralded as the gene-editing method, 2 other gene-editing techniques dominated the field: Zinc Finger Nucleases (ZFNs) and Transcription Activator-Like Effector Nucleases (TALENs). Research efforts using these tools are still ongoing.
Like CRISPR, these tools can each cut DNA. Though they are generally more difficult to make and use, these tools do offer their own advantages: 
ZFNs have an easier delivery process to the targeted gene of choice.

TALENs appear to have a higher precision rate than CRISPR and may cause fewer "off-target mutations" (i.e., unintended consequences) as a result of gene editing.
Each also has vital therapeutic applications.
Biotech company Cellectis uses the TALEN gene-editing technology to make CAR-T therapies for leukemia, while Sangamo BioSciences makes ZFNs that can disable a gene known to be key in HIV infection. Notably, both of these companies hold key IP rights to these specific gene-editing methods, which could make it difficult for other biotech companies to use these tools.
Meanwhile, CRISPR has certainly stolen the spotlight as of late, due to its efficiency, flexibility, and cheap price tag. It's plausible that CRISPR could face similar IP issues — and there are already some IP controversies going on — but with such vast applications for this system, research on multiple fronts seems to be moving forward fast.
Applications of CRISPR
Pretty much every industry can harness CRISPR as a tool in some way: it can create new drug therapies for human diseases, help farmers grow pathogen-resistant crops, create new species of plants and animals — and maybe even bring back old ones.
CRISPR animal testing & research
Since the initial discovery of CRISPR as a gene-editing mechanism, the list of applications has grown rapidly. Though still in early stages, "animal models" (lab animals) have provided key insights into how we may be able to manipulate CRISPR.
Mice have been especially telling when it comes to CRISPR's therapeutic potential. As mammals sharing more than 90% of human genes, mice are good test subjects.
Experiments on mice have shown that CRISPR can disable a defective gene associated with Duchenne muscular dystrophy (DMD), inhibit the formation of deadly proteins involved in Huntington's disease, and eliminate an HIV infection.
In 2015, Chinese scientists created super muscular beagles by disabling the myostatin gene, which directs normal muscle development. In the absence of the gene, the beagles displayed "muscular hypertrophy," creating dogs that were visibly much more muscular than non-genetically modified ones.
Other CRISPR animal trials have ranged from genetically engineering long-haired goats for higher production of cashmere to breeding hornless cows to avoid the painful process of shearing horns off.
CRISPR human-related research
Compared to research involving animals, CRISPR trials that edit human DNA have moved more slowly, largely due to the ethical and regulatory issues at play.
Given the permanent nature of altering a human's genome, regulatory bodies like the FDA are approaching CRISPR cautiously. Some scientists have even proposed a moratorium on CRISPR trials until we have more information on the potential impact on humans.
The United States & Europe
In May 2018, the FDA ordered CRISPR Therapeutics to suspend its plans for the first human CRISPR trials until the company answered questions about the specifics of its treatments. In October of that year, the FDA lifted the clinical hold and accepted CRISPR Therapeutics' Investigational New Drug Application for the treatment of sickle cell disease.
Around the same time, researchers at the University of Pennsylvania began a study evaluating the safety of using CRISPR for patients with multiple myeloma, melanoma, and sarcoma. Early results from the study showed that editing immune cells of cancer patients appear safe. Researchers didn't notice any side effects from CRISPR-altered cells binding to their tumor target. The study was focused on assessing whether using CRISPR in this way could be safe — the intervention wasn't designed to cure the patients. From a safety perspective, it was "a Rubicon that has been decisively crossed" and the study has answered "questions that have frankly haunted the field," says Fyodor Urnov, a professor at the department of molecular and cell biology at the University of California, Berkeley.
Researchers at the University of Pennsylvania have also reported several other breakthroughs in CRISPR research. A team led by William Peranteau used gene-editing tech to fix a gene mutation that leads to Hurler syndrome in prenatal mice. This disease is triggered by a single gene mutation that can cause heart disease, muscle abnormalities, and other problems. The syndrome usually leads to death in childhood. The study showed that CRISPR can correct the cells in several organs of the mice before birth. The treatment also slowed the progression of the disease when deployed in 10-week-old mice. The team plans to conduct further studies to assess the treatment approach for humans.
CRISPR is also gaining traction for treating other diseases. For example, US-based biopharmaceutical company Seelos Therapeutics acquired the rights to the SLS-004 gene-editing therapy for Parkinson's disease. The company is financing proof-of-concept preclinical studies at Duke University School of Medicine. Initial results look promising. The therapy applied to the brains of healthy mice decreased the production of alpha-synuclein, a protein whose toxic buildup triggers nerve cell loss in Parkinson's disease. 
In Europe, another CRISPR Therapeutics study has focused on a blood disorder known as beta-thalassemia, which results in abnormal red blood cell production. Alongside Boston-based Vertex Pharmaceuticals, CRISPR Therapeutics officially commenced the first clinical trial of its beta-thalassemia therapy in September 2018.
While groundbreaking, these studies were not the first to use CRISPR to manipulate human genetic material. In August 2017, a team led by reproductive biologist Shoukhrat Mitalipov of Oregon Health and Science University received private funding to use CRISPR-Cas9 to target a mutation in viable human embryos that causes the thickening of heart muscles. The altered embryos came back 72% mutation-free in the lab (higher than the usual 50% chance of inheritance).
In the US, testing involving editing the genes of human embryos does not currently receive federal funding but instead relies on private donor funding.
China
On the other side of the world, Chinese researchers operate under a different regulatory framework. Some hospital ethics committees can approve studies in as little as one day, with no need to seek approval from a federal agency. China's medical regulatory environment is also unique in that state guidelines concerning clinical trials carry the same weight — and legal penalties — as official laws.
Since 2015, China has been conducting human trials using CRISPR to combat various cancers, HIV, and HPV.
There have been several CRISPR therapy trials in China in recent years, targeting advanced cancers like stage 4 gastric and nasopharyngeal carcinomas. So far results are only anecdotal, and while some participants' tumors shrank, no formal results have been made available.
Although possible long-term side effects aren't fully understood, CRISPR is already an option for some patients in China who have exhausted all of the conventional treatments.
In November 2018, reports surfaced that He Jiankui, a Chinese scientist, had created the world's first CRISPR-edited human babies, twins dubbed "Lulu" and "Nana." He allegedly edited the twin embryos during an IVF treatment, modifying the CCR5 gene to enhance resistance to HIV.
While He did not provide physical proof of his work, he presented data at the Second International Summit on Human Genome Editing in Hong Kong that appeared to support his claims. He also posted several videos on YouTube highlighting his work.
Shortly after He's announcement, rumors began to circulate that he was under house arrest. The New York Times published a report in December 2018 that stated that He was living under armed guard supervision in an apartment on the Southern University of Science and Technology campus in Shenzhen, where his genetics laboratory is located.
Chinese officials formally recognized He's work — and the potential sanctions he could face as a result — for the first time in January 2019. Chinese state media reported that officials were investigating He, with the Xinhua News Agency reporting that the research "will be transferred to public security authorities," and that the people involved with this research will be "severely dealt with according to the law." Southern University of Science and Technology, which had previously denied knowledge of He's work, confirmed that his employment at the university would be terminated as a result of the investigation. And in December 2019, Jiankui was sentenced to 3 years in prison and fined over $400,000. The court in Shenzhen found him guilty for violating medical practices and "[crossing] the bottom line of ethics in scientific research and medical ethics."
Chinese scientists are also using CRISPR in agricultural research. The number of CRISPR-focused agricultural papers published in China is roughly double the number published in the US, according to Science. The government hopes that CRISPR-modified plants may help to provide food for the country's huge population. Li Jiayang, a geneticist and China's vice minister of agriculture, says: 
"We want to get the highest yield of production with the least input on the land from fertilizers and pesticides, and breed supervarieties that are pest and disease resistant as well as drought and salt tolerant. All this means we need to find the key genes and to work with them."
The acquisition of foreign companies is part of this long-term strategy. In 2016, state-owned industrial conglomerate ChemChina bought Switzerland-based agricultural company Syngenta for $43B. Syngenta's large research and development team is now working with Chinese partners on CRISPR research in the agricultural field.
Affected industries
Potential high-impact industries for CRISPR include medicine, food, agriculture, and the industrial biotech space. Because the CRISPR-Cas9 gene-editing system is so easy to make and use, researchers from a range of scientific disciplines can access it to genetically engineer the organism of their choice.
Pharmaceuticals & biotechnology
The future of medicine will be written with CRISPR.
The current drug discovery process is long, given the need to ensure patient safety and gain a thorough understanding of unintended effects. Moreover, current US regulatory policies often result in a decades-long development process.
However, teams using CRISPR can bring customized therapies to market more quickly than was previously dreamed, speeding up the traditional drug discovery process.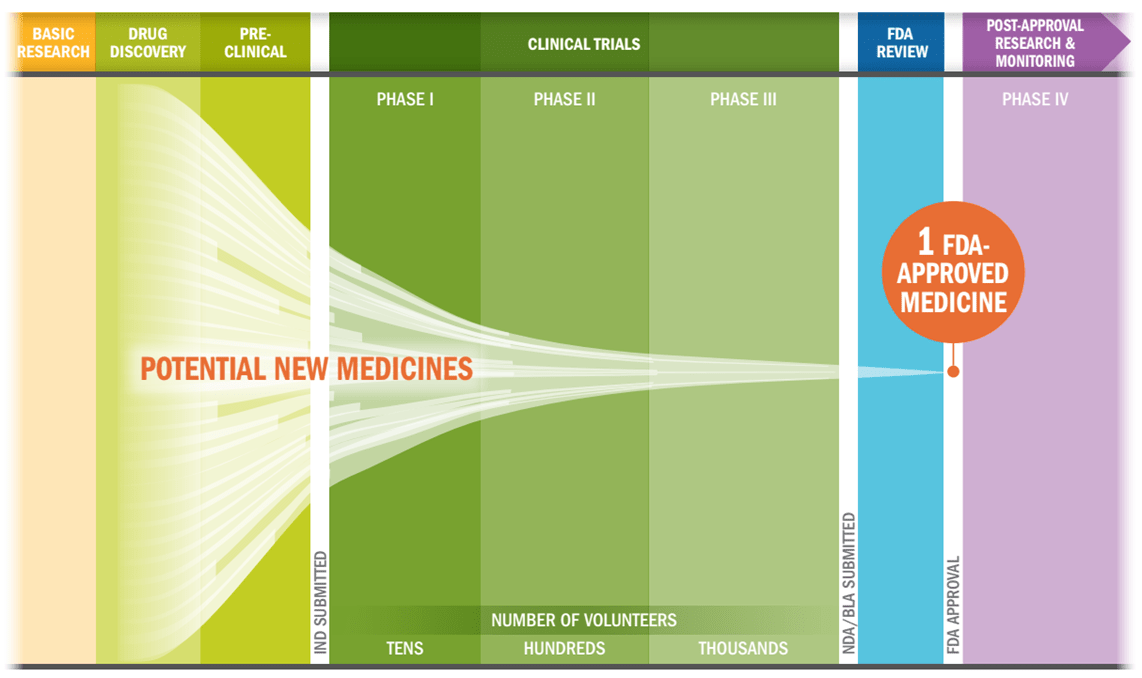 Timeline of drug development. Source: PhRMA
CRISPR's cheap price tag and flexibility allows accurate and fast identification of potential gene targets for efficient pre-clinical testing. Because it can be used to "knock out" different genes, CRISPR gives researchers a faster and more affordable way to study hundreds of thousands of genes to see which ones are affected by a particular disease.
Of course, along with providing a more streamlined drug development process, CRISPR offers the possibility of new ways to treat patients.
For example, monogenic diseases — diseases caused by a mutation in a single gene — present an attractive starting point for CRISPR trials. The nature of these illnesses provides an exact target for the treatment: the problematic mutation on a single gene.
Blood-based, single-gene diseases like beta-thalassemia or sickle cell are also great candidates for CRISPR therapy, because of their ability to be treated outside of the body (known as ex-vivo therapy). A patient's blood cells can be taken out, treated with the CRISPR system, then put back into the body. 
Biopharmaceutical companies Vertex Pharmaceuticals and CRISPR Therapeutics, for instance, are developing CTX001, a CRISPR-Cas9 therapy for treating blood disorders, such as sickle-cell disease (SCD). Initial trials show promising results. In one clinical trial, Dr. Haydar Frangoul has been using CTX001 to treat Victoria Gray, a 34-year-old woman from Mississippi, who has SCD. Gray was the first person in the US to take this treatment, and her condition improved substantially. Frangoul says that Gray is now "functioning as somebody who does not have sickle-cell disease. I believe this is absolutely, totally transformative therapy." If eventually approved by healthcare authorities around the world, CTX001 could benefit millions of people who suffer from SCD, including around 100,000 people in the US.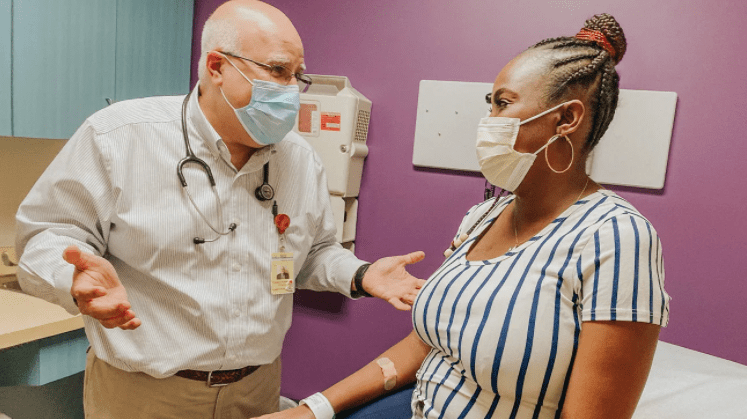 Dr. Haydar Frangoul and Victoria Gray. Source: Healthline
Biotech firms Intellia Therapeutics and Regeneron have also trialed a promising CRISPR-Cas9 therapy in 2021. The treatment is infused into the bloodstream to reduce the body's production of a protein called TTR. This protein is linked to transthyretin amyloidosis, a fatal disease that forms fibers that interfere with various organs and causes pain and death. Six people were treated with the new therapy. All of them subsequently experienced a reduced level of TTR production, with those taking two doses experiencing an 87% drop. The trial also demonstrated that genes could be edited directly in the body and don't necessarily have to be removed and reinfused back. Researchers plan to continue the trial with more participants and monitor the TTR protein over a longer time frame.
Caribou Biosciences, a California-based biopharmaceutical company, has made recent progress in CRISPR research as well. In 2021, the company dosed patients suffering from relapsed non-Hodgkin's lymphoma with a CRISPR-based treatment called CB-010. This intervention is designed to enhance the effectiveness of anti-tumor activities in targeted Car-T cells.
Prime Medicine is another company with big plans for CRISPR. The company, founded by serial biotech entrepreneur David Liu and scientist Andrew Anzalone in July 2020, is developing a technology called "prime editing." This tech improves on existing CRISPR methods by making it possible to insert and delete genes without breaking the DNA double-stranded helix, which causes unwanted mutations in other sections of the genome. It's estimated that prime editing could potentially be used to correct 89% of the 75,000 known genetic mutations. And scientists could also use this tech to develop more personalized treatments for multiple mutation diseases — CRISPR is currently used primarily for single mutation diseases. Prime Medicine has raised $315M funding so far in 2021 and is valued at over $1.2B.
US biotech firm Biogen is also building up its gene therapy capabilities. In May, the company announced a partnership with Ginkgo Bioworks to help develop treatments for slowing and curing various neurological and neurodegenerative diseases.
A study carried out by the gene-editing company Editas Medicine is using CRISPR to edit genes inside patients' bodies. Researchers made small incisions in patients' retinas and infused billions of harmless virus copies to treat Leber congenital amaurosis (LCA), an eye disorder that leads to vision loss. Four volunteers have already received this treatment. Eric Pierce, a doctor at the Boston-based hospital Mass Eye and Ear, says:
"It sounds a bit like science fiction to be injecting billions of tiny little virus particles under the retina so that they can go make spelling corrections of the gene inside a patient's own retinal cells. But it's really happening."
CRISPR is also being used to develop better versions of existing medicines, including antibiotics.
Despite significant advances in the development of antibiotic medications in recent years, many strains of bacterial infections have become highly resistant to conventional antibiotics. According to the CDC, antibiotic-resistant pathogens infect more than 2M people every year and kill around 23,000 patients annually.
Professor of pharmaceutical sciences at the University of Wisconsin-Madison Jason Peters has developed a new method to analyze the antibiotic function of a range of pathogenic bacteria. The technique, known as Mobile-CRISPRi, reduces the amount of protein produced by specific genes, allowing scientists to more precisely study how antibiotics inhibit the spread of bacterial pathogens.
Unlike the majority of CRISPR techniques, which cut DNA strands, Mobile-CRISPRi merely prevents proteins from accessing and activating specific genes. Peters' technique has already been applied to a range of common bacterial infections, including listeria, salmonella, and staphylococcus, and may help researchers better understand how to overcome these pathogens' resistance to existing drugs.
Food & agriculture
An early application of CRISPR was pioneered by yogurt company Danisco in the 2000s when scientists used an early version of CRISPR to combat a key bacterium found in milk and yogurt cultures (streptococcus thermophilus) that kept getting infected by viruses. At that point, the ins and outs of CRISPR were still unclear.
Fast forward to today, when climate change will further increase the need to use CRISPR to help the food and agriculture industries adapt. For example, cacao is becoming more difficult to farm as growing regions get hotter and drier. This environmental change will further exacerbate the damage done by pathogens.

"If you've eaten yogurt or cheese, chances are you've eaten CRISPR-ized cells."

— Rodolphe Barrangou, former Danisco scientist & Editor-in-Chief of The CRISPR Journal
To combat this issue, the Innovative Genomics Institute (IGI) at UC Berkeley is applying CRISPR to create disease-resistant cacao. Leading chocolate supplier Mars is supporting this effort.
Meanwhile, scientists at the University of Florida have found a solution to what was for years a tricky problem: gene editing sugarcane plants. This plant has a complex genome, and filtering various genetic traits takes years. But researchers successfully used CRISPR to conduct precision breeding. The first variety of sugarcane they produced had light green to yellow leaves, which needs less fertilizer to produce as much biomass as ordinary varieties. The second variety was genetically edited to be more resilient to herbicides.
Gene editing can make farming more efficient. It can curb global food shortages for staple crops like potatoes and tomatoes. And it can create resilient crops, impervious to droughts and other environmental impacts.

Regulators have so far shown little resistance to crops gene-edited using CRISPR.

In 2016, the white button mushroom, modified to be resistant to browning, became the first CRISPR-edited organism to bypass the USDA. In October 2017, it was announced that agriculture company DuPont Pioneer and the Broad Institute would collaborate for agriculture research using their CRISPR-Cas9 intellectual property.
In September 2017, biotech company Yield10 Bioscience got approval for its CRISPR-edited plant Camelina sativa (false flax), which has enhanced omega-3 oil and is used to make vegetable oil and animal feed.
More recently, a paper published by Brazilian and Irish researchers claimed that the genetic editing permitted by CRISPR could help farmers grow tomatoes as spicy as chili peppers. The paper focuses on the genetic manipulation of capsaicinoids — the component that gives chili peppers their uniquely spicy heat — as an example of properties that can be cultivated in other foods, including tomatoes.
While capsaicinoids are a highly valuable compound — used in products ranging from pepper sprays used by law enforcement to certain kinds of anesthesia — they are difficult to cultivate, due to the highly specific growing conditions chili peppers require. Using CRISPR, the researchers hope to reactivate a gene in tomatoes (which shares a genetic ancestor with chili peppers), a plant that grows in a much broader range of locations and agricultural conditions.
These examples are indications that new breeds of crops could reach markets much faster than previously thought. Without USDA oversight, these items and other food products could go into production relatively quickly.
This will directly impact the food we eat, as food items are edited to carry more nutrients or to last longer on grocery shelves.
Improving the properties of seeds is also a focus of CRISPR research. Benson Hill, a St Louis-based genomics startup is working on using CRISPR to develop seeds with desirable properties like herbicide resistance. The startup is set to go public via a SPAC merger valuing it at $1.4B.
Inari is another agtech company focusing on seeds. It uses CRISPR-based tools to genetically modify seeds of corn, wheat, and soy. The goal is to produce crops that need less water and fertilizer to grow while offering higher yields — properties that could help make farming more sustainable.
Another area currently generating buzz is the production of leaner livestock.
In October 2017, scientists at the Chinese Academy of Sciences in Beijing used CRISPR to genetically engineer pig meat that had 24% less body fat by inserting a mouse gene into pig cells in order to better regulate body temperature.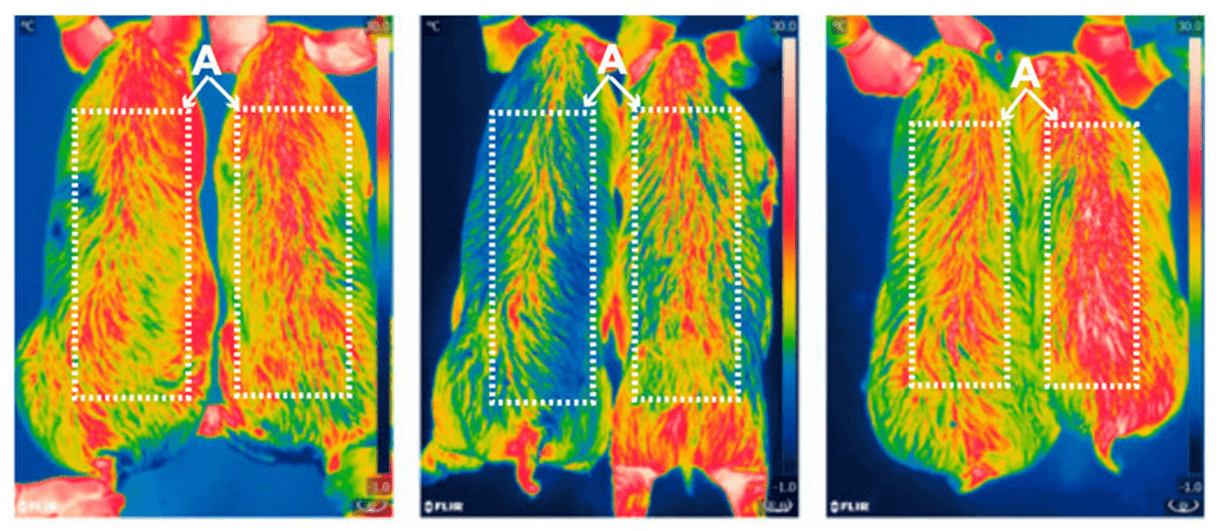 Infrared pictures of 6-month-old pigs at 0, 2, and 4 hours after cold exposure. Gene-edited pigs are on the right side of the images. Source: Zheng et al./PNAS
US and UK scientists have also made recent breakthroughs in this space. A team led by Jon Oatley, a reproductive biologist at Washington State University, has developed a method for producing male mice, pigs, cows, and goats whose sperm contains the genetic traits of another male donor. Scientists use the CRISPR gene-editing tool to remove fertility genes in the animal embryo. The animal is born sterile but healthy. Researchers then insert stem cells from a male donor into the animal's testes, at which point the surrogate starts producing sperm that contains the donor's genes. And these genes are then passed to the offspring through a natural breeding process.
Ranchers could potentially use this technology to produce animals that have better resistance to diseases or heat. There are many other implications, as Oatley points out:
"This can have a major impact on addressing food insecurity around the world. If we can tackle this genetically, then that means less water, less feed, and fewer antibiotics we have to put into the animals."
Future versions of this technology applied to human nutrition will be a major area to look out for.
Industrial biotechnology
Another key, but less obvious, use of CRISPR lies is in the industrial biotech space. By re-engineering microbes using CRISPR, researchers can create new materials.
How is this relevant to society at large?
From an industrial standpoint, this is big for modifying and creating new chemical products. We can alter microbes to increase diversity, create new bio-based materials, and make more efficient biofuels. From active chemicals in fragrances to those involved in industrial cleaning, CRISPR could have a great impact here by creating new and more efficient biological materials.
For example, ExxonMobil and Synthetic Genomics are working on industrial biotech research and are exploring the use of CRISPR in generating biofuel from algae. Scientists from these companies have found a way to genetically modify algae and double the production of fatty lipids. As a result, the amount of biofuel that can be produced from algae doubles as well. The companies are optimistic that the next phase of their research program could enable the production of 10,000 barrels of biofuel per day by 2025.
Companies innovating using CRISPR

Outside of research institutions, advances in CRISPR are being driven by the investments of a broad array of companies. We highlight a selection of companies innovating using CRISPR below:

Editas Medicine, which was founded in 2013 and went public in 2016, is developing a range of gene-editing medicines. One of Editas' products is in vivo medicine that can edit genes inside the body. The second type is ex vivo medicine, in which gene editing happens outside the body and is then administered to patients. The company doesn't have any approved drugs yet. But it says it has made substantial progress on developing EDIT-101, a treatment for LCA, which causes blindness in children. Editas will start testing this therapy in children after it safely completes tests on adults.
CRISPR Therapeutics is another company primarily focused on CRISPR-Cas9 treatments. Co-founded by Nobel prize winner Emmanuelle Charpentier in 2014, the publicly-traded company was valued at around $10B as of August 2021. It has 4 therapies in clinical trials for treating sickle-cell disease, myeloma, the blood disorder beta thalassemia, and diabetes. The CTX001 therapy for sickle-cell disease and beta thalassemia will be jointly developed and commercialized with biotech giant Vertex Pharmaceuticals. The first results for this therapy are encouraging, with several patients free of these diseases after receiving CRISPR treatment.
Intellia Therapeutics was also co-founded by a Nobel prize winner, Jennifer Doudna, in 2014. The company, which has a market cap of about $11B, has several in vivo and ex vivo therapies in its pipeline for treating diseases such as transthyretin amyloidosis, hemophilia, SCD, leukemia, tumors, and several others. In June 2021, Intellia announced that its NTLA-2001 therapy for treating transthyretin amyloidosis showed encouraging data in the first human trials. The therapy is delivered through a vein and inactivates genes in liver cells that produce transthyretin protein that accumulates and hurts organs.
Caribou Biosciences was co-founded by Jennifer Doudna in 2011, making it one of the oldest CRISPR companies. The company went public in July 2021, raising over $300M. The IPO was larger than the IPOs of other CRISPR companies such as Editas Medicine, CRISPR Therapeutics, and Intellia Therapeutics. Headed by CEO Rachel Haurwitz, Caribou is developing several potential treatments for various diseases. One of these is CB-010, which fights B-cell non-Hodgkin's lymphoma. This therapy is in phase 1 study, with initial data expected to be released in 2022. Caribou's technology, called chRDNA, is claimed by the company to be more precise than other CRISPR alternatives with a lower chance of causing off-target gene edits.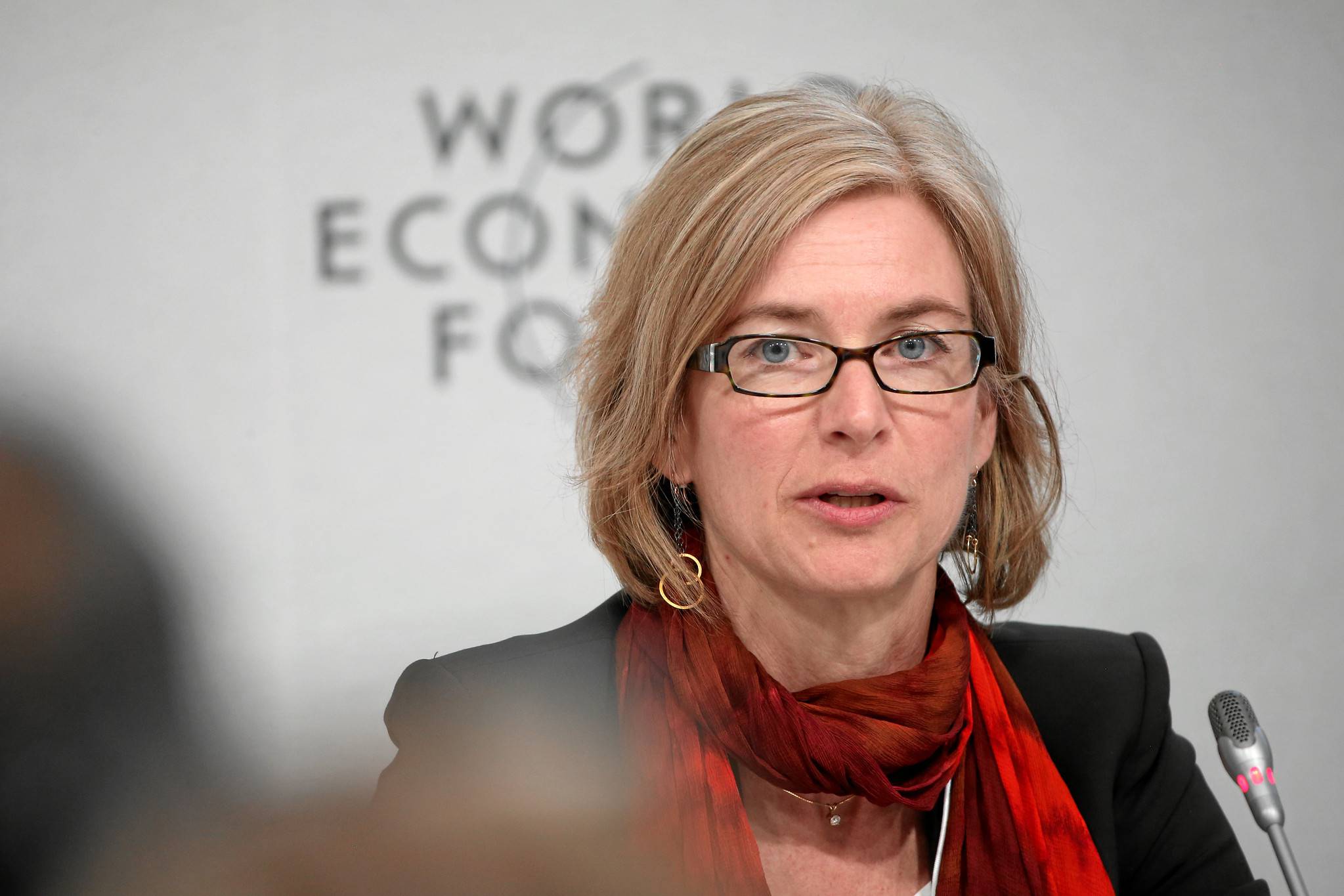 Jennifer Doudna, a scientist and founder of several CRISPR startups. Source: WEF
Mammoth Biosciences, founded in 2017 by a group of scientists including Trevor Martin, Janice Chen, Lucas Harrington, Ashley Tehranchi, and Jennifer Doudna, has built a CRISPR-based disease detection platform called DETECTR. Mammoth's platform programs the Cas14 protein to find specific targets and change the color of the solution to show a positive or negative test result within 20 minutes. 
Ginkgo Bioworks, founded in 2009 and set to go public through a SPAC merger in 2021, runs a platform that designs and prints DNA using CRISPR, synthetic biology, machine learning, and various other technologies. Ginkgo provides microbes that companies can use for different purposes, such as growing plant-based proteins, producing cheaper perfumes, and more. The company's ability to program microbes for various goals makes it useful for a range of companies, including CRISPR startups. Y Combinator partner Jared Friedman, an early backer of Ginkgo Bioworks, says that "What Amazon's AWS did for software companies, Ginkgo is doing for bio companies."
Zymergen is also involved in biomanufacturing. The US-based company, founded in 2013, uses machine learning, robots, CRISPR, and other technologies to engineer microbes that can then be used across various industries, such as electronics, agriculture, and healthcare. Together with the Japanese chemical giant Sumitomo Chemical, Zymergen developed and launched a super-thin film — its first commercial product — for use in touch sensors, printable electronics, and flexible circuits. Zymergen relies on CRISPR to accelerate the engineering of microbes and achieve higher throughput.
Limitations of CRISPR technology
CRISPR's list of potential benefits is a long one. But the technology also brings with it a number of limitations. 
Possible unintended effects and all the unknown variables are some of the drawbacks to this new technology, while ethical questions and controversies are also emerging.
Side effect limitations
When using CRISPR for human therapies, safety is the biggest issue. As with any new form of technology, researchers are unsure of the entire range of CRISPR's effects. 

Off-target activity is the main concern here. A single gene edit could cause unintended activity somewhere else in the genome. A possible consequence of this is an abnormal growth of tissues, leading to cancer. As more research uncovers new details, this could result in more refined, precise gene targeting.
A 2020 study published in the scientific journal Cell showed that applying CRISPR-Cas9 to the cells of human embryos can lead to serious side effects. Scientists used the gene-editing tool to repair a mutation that leads to hereditary blindness. But the treatment shocked the cells, with half of them unable to repair the damage inflicted to their DNA. CRISPR-editing embryos is thus still a distant reality. "At this point, it's too dangerous. We're just not sure which way things are going to go," says Maria Jasin, a geneticist and one of the study authors.
Another issue is the possibility of mosaic generation. After a CRISPR treatment, a patient could have a mix of both edited and unedited cells — a "mosaic." As cells continue to divide and replicate, some cells may get repaired, while others won't.
Finally, immune system complications mean that these interventions and therapies may trigger an undesired response from a patient's immune system. Early research shows the immune system may dispose of Cas enzymes before they achieve their purpose or may have an adverse reaction resulting in side effects like inflammation.
However, all 3 of these limitations have some possible solutions.
Different enzymes ("molecular scissors") or more precise delivery vehicles can reduce off-target activity.
Mosaics can be avoided by editing stem cells in eggs or sperm (stem cells can become any type of cell in the human body).

With the immune system issue, researchers might be able to circumvent an unwanted immunity response by isolating Cas proteins from more obscure bacterial strains that humans don't already have an immunity to. Additionally, ex-vivo therapies, where scientists take a patient's blood cells out of the body and treat them before infusing them back in, can also help bypass the immune system.
So-called "anti-CRISPRs" are also seen as a potential solution to some side effects. Discovered by microbiologist Joseph Bondy-Denomy, these proteins can be delivered after CRISPR therapy to help suppress off-target edits and turn off the enzyme. Bondy-Denomy co-founded Acrigen Biosciences to further develop anti-CRISPR technologies. But more research is needed to determine the safety of anti-CRISPRs and the extent to which these proteins may themselves trigger harmful immune responses in humans.
Biological alternatives
One potential big limitation for CRISPR is that the CRISPR-Cas9 system lacks surgical precision. The Cas enzyme cuts both strands of the DNA double helix, and this "double-stranded break" creates worries over the precision of the cut.
"Repairing a defective gene would be like finding a needle in a haystack and then removing that needle without disturbing a single strand of hay in the process." — Jennifer Doudna
While the Cas9 enzyme gets the most attention as the enzyme doing the "cutting," scientists are actively pursuing alternatives to find better candidates.
Alternative options include a smaller version of Cas9, or a different enzyme entirely: Cpf1, for example, has become popular due to its ability to be easily transported to the targeted DNA location.
Besides using other Cas enzymes, alternate delivery vehicles for therapeutic genes are another option. Harmless engineered viruses can carry therapeutic genes to the site of mutation, while lipid nanoparticles can avoid immune system detection, avoiding an immune reaction. Both options present promising avenues of research.
CRISPR-Cas9 controversies
When technology can alter the code of life, its implications are far-reaching — as are its controversies. Here we outline a few of the main controversies surrounding CRISPR.
Design-your-own-baby?
If we know where a certain gene is located, CRISPR allows us to change it.
By this logic, pet owners could order a dog with a specific coat color or the genes associated with growing to a particular size. What's more, parents could hypothetically tinker with the genes that control features like height or eye color to "design" their children. If we could isolate the genes associated with intelligence, that too could be manipulated.
While critics say this technology should only be reserved for therapeutic needs, the fast-paced development of CRISPR doesn't seem to be slowing down any time soon, and gene-edited organisms have already been created for non-therapeutic purposes.
In 2015, the Beijing Genome Institute (BGI) created "micro-pigs" by removing a gene associated with growth. At just 30 pounds, this was quite a departure from pigs' normal weight of 100 pounds. BGI originally wanted to sell each micro-pig for an estimated $1,600, with customized size and color options for consumers. Plans were eventually scrapped in 2017. 
Although BGI used TALENs and not CRISPR to edit the pigs' genes, CRISPR poses a similar concern when it comes to "designing" future pets. This designer application could represent a permanent, irreversible turning point in the direction of animal and human evolution.
More recently, the aforementioned instance of He Jiankui, the Chinese scientist who allegedly used CRISPR to create the world's first gene-edited babies, spurred the debate around CRISPR's applications to the human genome.
Although the ethics of He's work took center stage in the global media, the science behind his research is also of great concern to many scientists.
He's research focused on the CCR5 gene, which the human immunodeficiency virus (HIV) uses to access and spread through healthy cells throughout the body. Although the twin subjects' father was HIV-positive, neither child carried the infection. Despite this, He proceeded to edit the babies' CCR5 genes using CRISPR, introducing 3 new genetic mutations to the girls' CCR5 genes. At least 2 of the 3 mutations introduced into the twins' genetic sequence are significant enough in nature that the precise effects of the genetic variants remain unclear, according to the Atlantic.
While the future could tell a different story, for now, the much-discussed topic of "designer babies" carries with it serious ethical implications and scientific uncertainties, as much of the research surrounding prospective commercial gene therapies made possible by CRISPR is still highly experimental.
Preserving at-risk species

Climate change, logging, farming, and other human-caused disasters and interventions have put over 1M species at risk of extinction, according to the UN. And despite conservation efforts, the risk of extinction for mammals, birds, amphibians, and many other creatures isn't decreasing. Can CRISPR offer a solution and help countries preserve at-risk species?
The Genetic Biocontrol of Invasive Rodents program is one attempt to tackle this question. The initiative brings together scientists from around the world to explore using gene-editing tech to protect native bird species on oceanic islands. These species at the center of the program have been devastated by invasive rodents introduced by humans.
One way to approach this is using an approach known as "gene drives" — tweaking DNA in such a way that it affects the probability of certain features being passed onto offspring. The Genetic Biocontrol of Invasive Rodents program is looking at the option of altering small snippets of DNA and inserting them into rodents to ensure that these animals mostly give birth to male offspring. The offspring would inherit the modified genes, spreading them further, and the lack of females would eventually cause the population of rodents to crash. Although this technology is still being developed, its use raises several controversial questions.
For one, rodents may be invasive species in one region, but they're an important part of ecosystems in other areas. If modified genes spread to non-target sites, the extinction of a rodent species could have harmful consequences. Also, any moves to eradicate a species would likely face opposition. For example, removing a species from a region entirely could have a negative impact on local and indigenous communities — these groups may depend on a species for their livelihoods or value them for cultural reasons. Furthermore, scientists lack the necessary data to determine how many CRISPR-based interventions into local ecosystems would play out. The conservation geneticist Helen Taylor says:
"So many things have been done with the best possible intention, and we find that there's just been unforeseen consequences."
But CRISPR can be used for conservation initiatives in other ways as well.
A group of US scientists published a study in the Molecular Ecology Resources journal that details their detection platform SHERLOCK (Specific High-sensitivity Enzymatic Reporter Unlocking). The platform uses CRISPR to genetically distinguish between 3 similar-looking fish species: California endangered Delta smelt, California threatened longfin smelt, and the non-native wakasagi. Identifying these species in a traditional way by rubbing a swab over the fish and shipping it to a lab may take at least 4 hours.

The SHERLOCK platform uses CRISPR to offer a simple, quick way to detect species. Source: Genomic Variation Laboratory
But SHERLOCK involves using a simple flow strip that changes color to show whether the target species are present in the area. And if these species are present, water exports by state and federal water pumping projects will have to be reduced to ensure that Delta smelt or longfin smelt are not sucked into the pumps.
SHERLOCK could be useful in various ways. For example, depending on how many species it can recognize, the platform could be used to monitor poaching, tackle illegal animal trading at borders, and more.
Irreversible genetic changes for generations
Using CRISPR for "germline modifications" is making the scientific community nervous.
Somatic modifications are done on body cells such as skin, brain, muscle, and heart cells, and the modifications do not get passed on to future generations. Germline modifications, on the other hand, are done in genes carried in reproductive egg or sperm cells — and thus will be inherited by future generations.
Working with germline cells raises the question: can we ethically choose the genetic changes we want for future unborn generations?
The consequences of making genetic changes to germline cells were one reason why, until recently, researchers were only using non-viable human embryos for CRISPR studies. Then, in March 2017, the first CRISPR experiment on viable human embryos was conducted on 6 embryos in China. Notably, the experiment showed a higher success rate of gene editing than previous experiments with non-viable embryos.
Despite the controversy surrounding the issue, the clear benefit of altering germline cells is that a disease can be contained or prevented from expressing itself as an individual develops. Germline therapies are also guaranteed to reach every cell in a patient's body. 
Through a germline CRISPR gene edit, an adult could hypothetically never suffer from cancer, even if he or she has a genetic predisposition to it.
Biohackers
Biohackers say they want to leverage CRISPR to move the traditionally lengthy R&D process along on a faster timeline, raising the question of whether — and how — they should be regulated.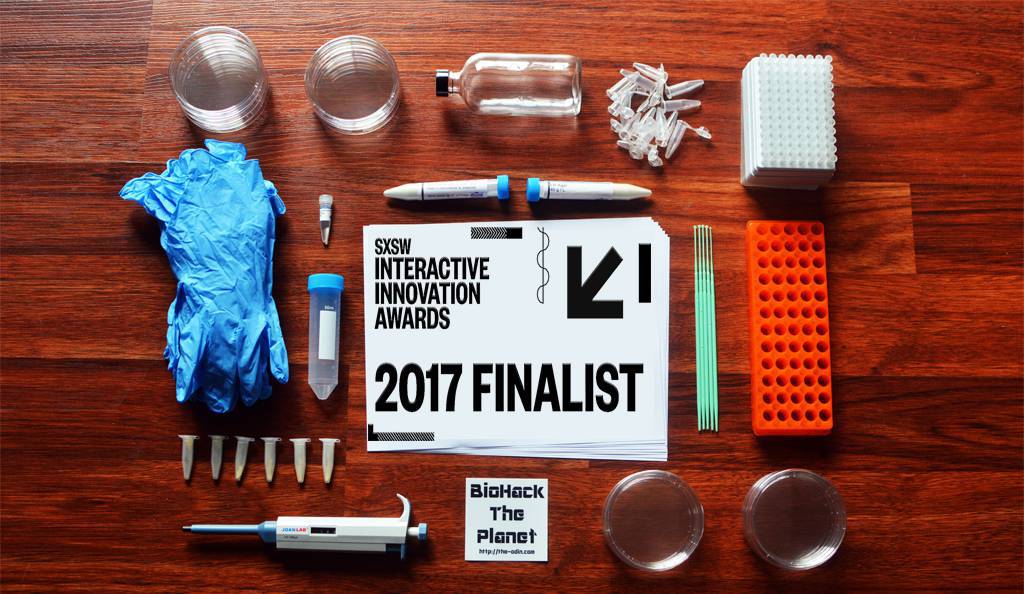 DIY Bacterial Gene Engineering CRISPR Kit. Source: The Odin
Recent crowdfunding campaigns by Do-It-Yourself (DIY) biohackers have received a lot of attention. The Odin, a biohacking startup, even sells DIY Bacterial CRISPR Kits. Odin's CEO, Josiah Zayner, self-injected himself with a CRISPR-modified muscle growth gene at a synthetic biology conference in San Francisco in October 2017.
For the moment, this type of biohacking remains unregulated, as it was self-injection and not experimentation on other people. However, the FDA does prohibit sales that tout this kind of self-injection for therapeutic purposes.
Unpredictable mutation behavior
Even in carefully controlled clinical environments, genetic mutations can be unpredictable. In July 2018, molecular biologist Lydia Teboul wrote about the significant potential for unpredictable outcomes when working with CRISPR reagents, particularly when using certain types of genetic material.
"Whilst our recent study focuses on the use of long single-stranded donors, we and others have previously shown unpredictable events arising from the use of CRISPR/Cas9 reagents alone or in combination with oligonucleotides. As such, an increasing body of evidence is being compiled to indicate that model validation is the newest challenge for the genome editing community."
However, while the unexpected side effects of genetic editing using CRISPR remain a serious concern among many geneticists, even conclusively demonstrating the potential risks has proven problematic.
In May 2017, researchers at Columbia University Medical Center published a now-retracted paper that claimed CRISPR could potentially introduce hundreds of unintended genetic mutations in edited genomes. The researchers were forced to retract the paper in March 2018 after failing to reproduce their initial results, leaving many questions about CRISPR's potential side effects unanswered.
Another report, produced in 2020 by experts convened by the US National Academy of Medicine, warned against editing genes in human embryos. The report noted that technologies such as CRISPR-Cas9 could introduce unwanted changes to genes. Chinese biologist Haoyi Wang said that scientific advances, such as a better way of sequencing a human genome, are needed before moving forward with heritable genome editing. Even then, the report recommended that gene editing should initially only be used to treat otherwise untreatable genetic disorders caused by a DNA mutation in a single gene.
Inequality of access
CRISPR itself is an inexpensive technology. However, the research and development of specialized applications of CRISPR can cost drug companies and commercial laboratories millions of dollars, raising serious questions about the financial feasibility of such treatments and their accessibility by patients.
In his 2018 end-of-year blog post, Microsoft founder Bill Gates expressed cautious optimism about CRISPR's potential in combating disease, while also highlighting the potential for CRISPR genetic editing to exacerbate inequality of access to medical treatments.
So far, such concerns seem valid. The first commercial gene therapies approved in 2017 cost upward of $500,000, and the first gene therapy approved for commercial applications by the US Food & Drug Administration, a treatment branded as Luxturna that treats a rare hereditary retinal disease, costs $850,000. These prices would put the kind of genetic editing treatments made possible by CRISPR technology far beyond the reach of many healthcare consumers.
And in 2019, Novartis released the world's most expensive gene therapy to date, called Zolgensma. The one-time medicine costs more than $2M and treats spinal muscular atrophy (SMA), an inherited disease that kills most of its victims before the age of 2. Novartis argues that the price is fair and is better value than other options in the long run — another treatment for SMA, Spinraza, costs $750,000 for the first year and $375,000 each year after that.
Gates' concerns have been echoed by many scientists in recent years. In an opinion piece published by The Guardian in 2017, Dr. David King, founder of scientific watchdog organization Human Genetics Alert, wrote:
"Once you start creating a society in which rich people's children get biological advantages over other children, basic notions of human equality go out the window."
However, while the barriers to commercial gene therapies will be insurmountable for many patients, consumers aren't the only ones trying to understand how CRISPR will change the landscape of commercial healthcare, particularly in the United States. Because of the one-time nature of many gene therapies, these treatments defy the traditional health insurance model of paying for ongoing treatment over time — a problem that raises significant questions for insurers.
As Janet Lambert, CEO of the Alliance for Regenerative Medicine, explained during a presentation on cell and gene individual therapy, "the products in this space create reimbursement challenges to the normal way of doing business."
In April 2018, at least 4 separate commercial gene therapies had been discontinued due to their financial infeasibility, according to a report published by The Independent. One treatment, a therapy branded as Glybera that was developed to treat a highly rare hereditary disorder known as lipoprotein lipase deficiency, was approved for commercial use in Europe in 2012 but discontinued in 2016 after being used to treat just one patient.
The future of CRISPR-Cas9
Future applications of CRISPR technology are essentially as unlimited as the potential for different forms of life. While current initiatives are mostly geared toward therapeutics or food, there are some less prominent — but very real — applications of the CRISPR-Cas9 system already on the horizon.
Xenotransplantation
Xenotransplantation is the act of transplanting another animal's cells, tissues, or organs to a human recipient.
With the high demand for organ transplants and no supply to match it, xenotransplantation could be a solution for many sick patients waiting for an organ transplant.
The process could look something like this:

Scientists inject human stem cells inside a living pig.

These human stem cells grow and differentiate into a specific type of cell inside that pig.
The stem cells are "educated" through Cas9 and directed to become a certain cell type (e.g., a human heart, liver, pancreas, etc.).
The California-based Salk Institute created a lot of noise in the scientific community when it announced that it had made a chimera organism, made of both pig and human cells, in January 2017.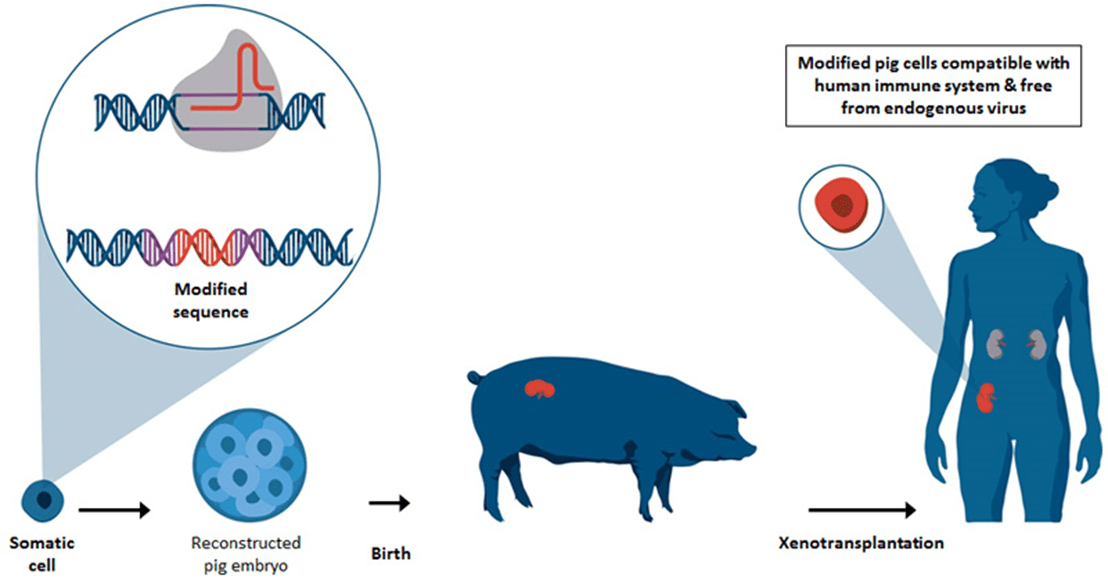 Xenotransplantation. Source: eGenesisredit: eGenesis
Xenotransplantation has been previously tested in mice with rat stem cells: CRISPR-Cas9 was used to turn off the gene that makes pancreas in mice and instead, rat stem cells were inserted into mouse embryos. The mice, as programmed, went on to grow rat pancreas.
Later on, researchers inserted human stem cells (known as inducible pluripotent stem cells, or iPSCs) into pig embryos. The study was stopped at 4 weeks due to safety and effectiveness concerns. Researchers did note that some of the stem cells in these pig embryos had turned into the beginnings of human tissues. While this happened at a lower success level than was seen with rat pancreases in mice embryos, it was still quite a scientific feat.
Co-founded by George Church, eGenesis is also working in this area, with the goal of creating pig organs for human use. In August 2017, scientists modified over 60 genes in pig embryos to get rid of retroviruses that human bodies would reject in a transplant scenario.
Church hoped pig organs could get transplanted into patients by 2019. But that was an overly optimistic scenario. Instead, eGenesis is testing pig organs in monkeys to collect further data. But these experiments haven't yet yielded consistent data, as some monkeys live with pig organs for months while others die quickly.
If researchers figure out a way to grow human cells in a living animal, they could create organs exactly matched to a patient. Each patient's stem cells could give rise to his or her own engineered organ constituted of his or her own unique DNA, reducing the risk of rejection and other consequences of organ failure.
Gene drives to slow the spread of lethal diseases could also cause evolutionary chaos
A future without mosquitoes is also a future without malaria, Zika virus, chikungunya virus, dengue fever — the list goes on and on. Without these insects to spread disease, millions of lives would be saved around the world.
CRISPR offers a potential pathway. But what seems like a compelling idea from the surface could have catastrophic consequences from an evolutionary standpoint.
In general, each gene has a 50% chance of being passed down. But gene drives offer a way to make a certain inheritance outcome more favorable.
If scientists use CRISPR for gene drive techniques, they could create a fast track for evolution.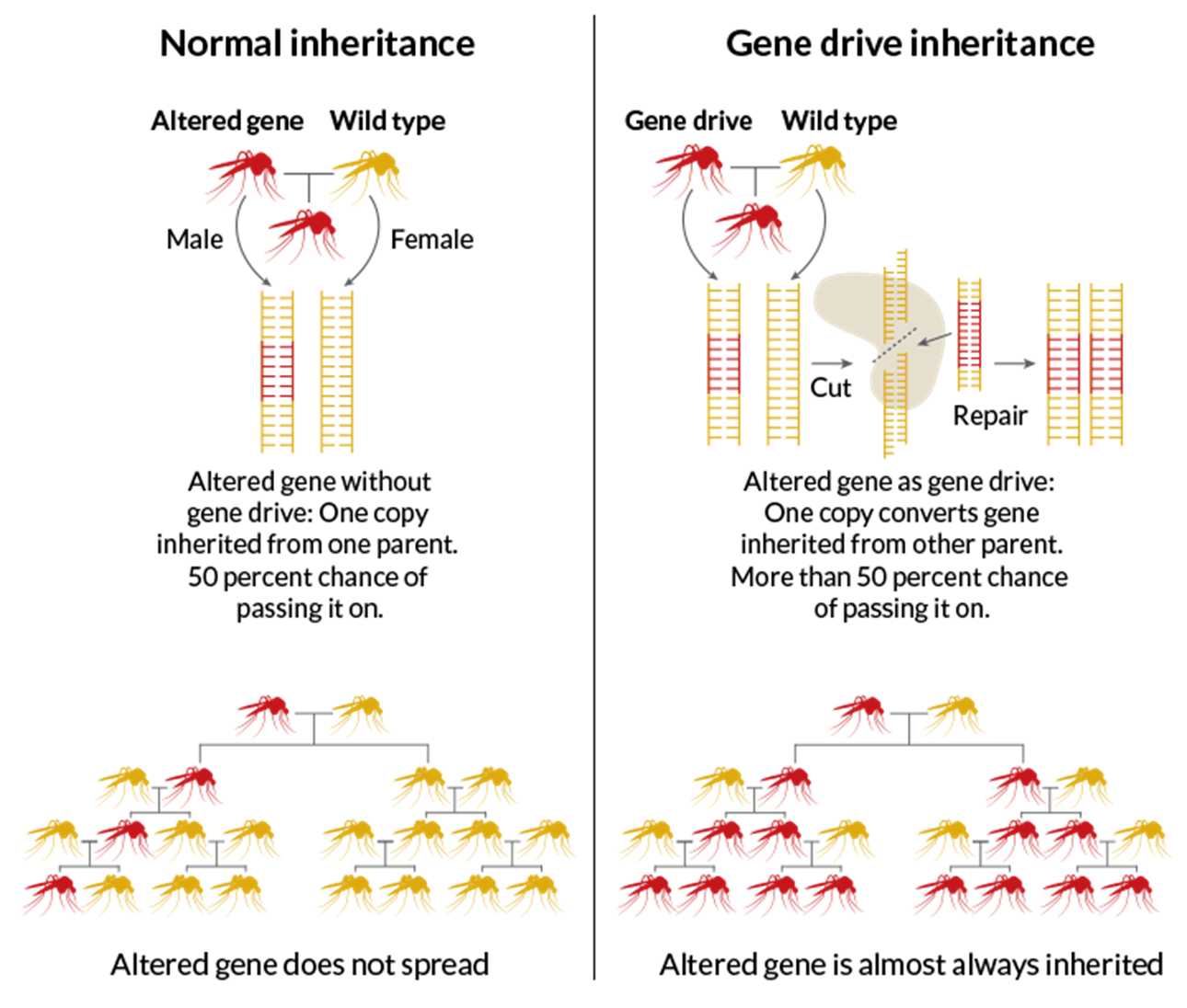 Source: E. OTWELL AND M. TELFER, ScienceNews.org
In December 2016, researchers at Imperial College London envisioned a way to eliminate the whole mosquito population that carries the malaria parasite. The plan involved using CRISPR to add in a DNA sequence that would ensure biased inheritance in malaria-free mosquito embryos. As these disease-free mosquitoes developed and matured into adults, they would mate with other wild mosquitoes in the population, and eventually stop carrying malaria.
Another similar experiment is taking place in a high-security lab in Terni, Italy. Scientists, led by entomologist Ruth Mueller, released large numbers of engineered mosquitos into a number of big cages. These mosquitos have a genetic mutation that causes their female offspring to have deformed reproductive organs and mouths. As a result, the female offspring of engineered mosquitos can neither bite to spread malaria nor lay eggs to reproduce.
Scientists at Terni created a hot and humid environment in the cages to resemble the conditions in Africa where this type of mosquito lives. Mueller and her team want to study how the insects will behave if released in African villages. But the project has faced criticism from some activists concerned about the knock-on environmental impact.
Scientists have also begun to explore gene drives as a means of reducing the population of other common pests known to spread disease. Geneticists at UC San Diego, for instance, have explored the use of gene drives to control the inheritance of certain genetic qualities in laboratory rodents, according to an article published in Nature in 2018.
Another group of scientists at UC San Diego succeeded in developing the world's first CRISPR-based gene drive in plants. This pioneering effort uses gene-editing tech to transmit specific traits of a single parent of Arabidopsis plants to subsequent generations. The technology could be used in many different ways. For example, scientists could ensure that genes responsible for fighting diseases or surviving drought conditions are passed to future generations of a specific plant. Such an approach could help farmers better prepare for the impact of climate change.
Although the technology shows promise, gene drive techniques are not yet fully understood. For example, some experts fear that prematurely releasing animals whose genetic sequence has been altered by gene drives into wild populations could inadvertently give already problematic pests more time to develop evolutionary resistances.
What seems like such a great idea in the short term could also disrupt the natural and often delicate balance of wild ecosystems. The domino effect of consequences through ecosystems is impossible to predict.
Genome editing as a weapon of mass destruction?
In the February 2016 report of Worldwide Threat Assessment of the US Intelligence Community prepared by James Clapper, former Director of National Intelligence, "Genome Editing" was listed as a potential natural security threat outlined under "Weapons of Mass Destruction and Proliferation."
Genetic watchdog groups like EcoNexus and ETC Group caution that gene editing can be misused. CRISPR could give rise to a new generation of bioweapons through the engineering of new pathogens or serve as inspiration for bioterrorists. If an insect can carry and deliver toxins, this technology could be weaponized by rogue groups.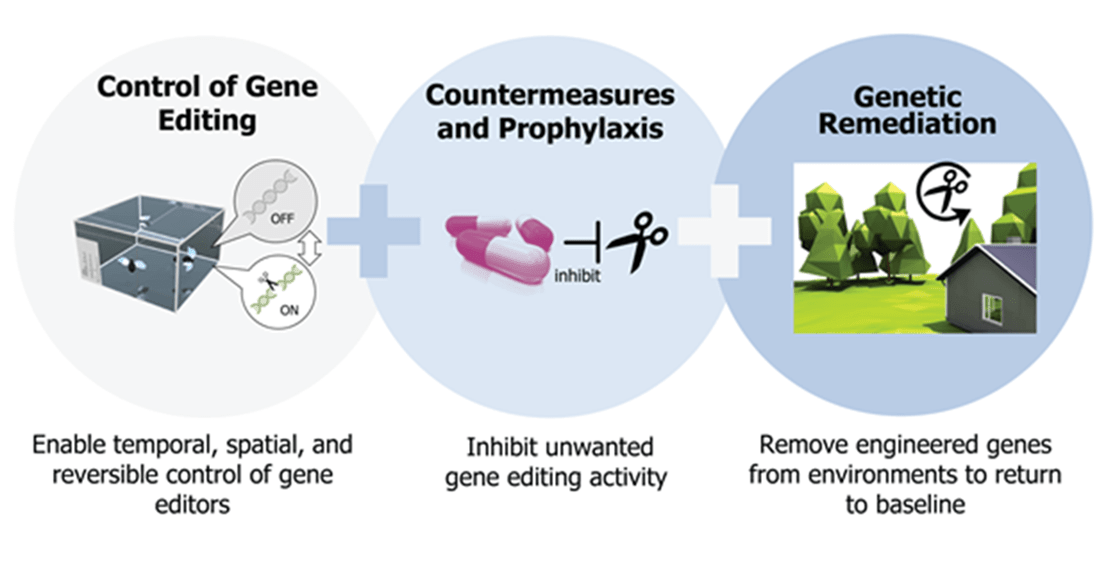 Defense Advanced Research Projects Agency (DARPA)'s Safe Genes program. Source: DARPA
Defense Advanced Research Projects Agency (DARPA), an agency of the Department of Defense, is already preparing for such scenarios and developing antidotes as they work to find solutions that could reverse harmful gene drive effects.
CRISPR could be deployed to adapt to climate change
Gene-editing technologies like CRISPR could play a role in countering climate change. From making more resilient crops to strengthening coral reefs to protecting trees, there are many examples of how scientists might use CRISPR to help mitigate some of the effects of rising greenhouse gas emissions.
The Information Technology & Innovation Foundation, a think tank focused on tech innovation and public policy, says that CRISPR-based solutions could increase agricultural productivity by 50% by 2050. In addition, the organization argues that gene editing can also make plants last longer to reduce food waste — which it says is responsible for 1.9B tons of CO2 emissions each year.
Karen Massel, a biotechnologist at The University of Queensland, has conducted a study that shows it's possible to climate-proof sorghum and barley. She explains that her team "edited the plant's genes to unlock the digestibility level of the available protein and to boost its nutritional value for humans and livestock." The team also used gene-editing to modify the canopy architecture of both plants and improve their water use efficiency. Around 90% of the world's food calories are provided by just 15 plant crops, such as wheat, rice, and maize. Making these crops more resilient would go a long way in helping to feed a world facing adverse climate conditions.
CRISPR technologies can also protect coral reefs from rising sea temperatures. Warming oceans are causing corals to expel photosynthetic microbes, called Symbiodinium, that make their food. These microbes typically can't photosynthesize when it's warm. But molecular biologist Rachel Levin has discovered a type of Symbiodinium that survives in warmer weather. Using CRISPR, its genes could be copied and transferred across to microbes from temperate areas to make them more resistant to heat.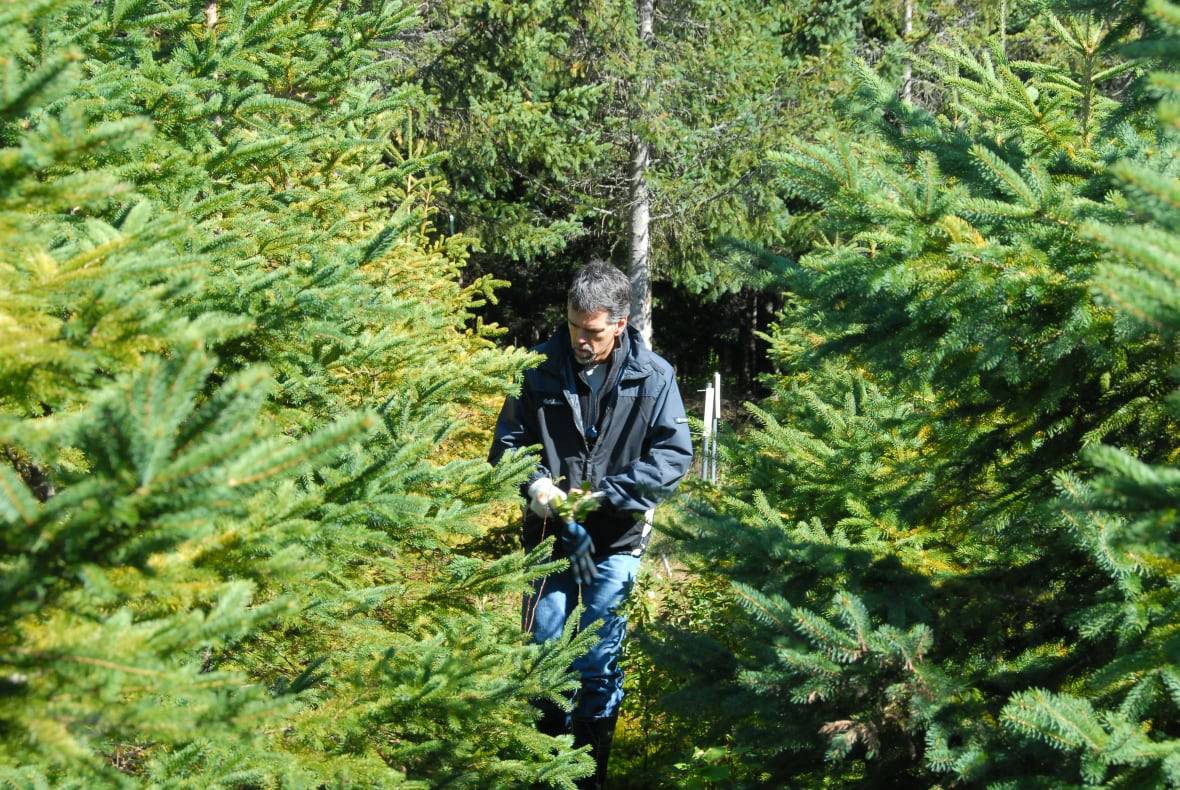 Armand Séguin, a forest genomics scientist with the Canadian Forest Service. Source: CBC
And Canadian scientists have already shown that it's possible to successfully grow genetically edited trees. Some 20 years ago, Armand Séguin, a forest genomics scientist with the Canadian Forest Service, planted hundreds of spruces designed to be immune to spruce budworm — CRISPR could allow new and more expansive applications of this approach. Making trees immune to pests and insects allows them to stay healthy longer while also capturing and storing more carbon dioxide.
Pest control is not the only application for gene-edited trees. Older trees are better at absorbing carbon than younger ones, but instead of waiting for decades professor Charles DeLisi from Boston University proposes using gene-editing tech. He says that trees could not only be made to grow and absorb CO2 twice as fast but could also be set up to convert carbon into a powder made of calcium carbonate, providing an additional way to keep more carbon out of the atmosphere.
CRISPR-based biosurveillance is being eyed as a way to defend against future pandemics

Rapid detection of diseases and viruses is vital for giving hospital staff enough time to treat patients before their conditions take a turn for the worse. But rapid diagnostics is also important for groups that risk biohazard exposure, such as soldiers, firefighters, or lab scientists. CRISPR-based diagnostics solutions are seen as a potential way forward.
DARPA, for instance, is funding the "Detect It with Gene Editing Technologies" (DIGET) program. The objective is to build a hand-held device that can detect at least 10 pathogens and host biomarkers across 5 disease categories: febrile illnesses, gastrointestinal illnesses, respiratory illnesses, vector-borne illnesses, and sepsis.
Mammoth Biosciences is one of the subcontractors in this program. The company is using its DETECTR platform to develop a CRISPR-based diagnostics and biosurveillance device. According to DARPA, the device "is intended to enable early threat detection, assess disease severity, and improve situational awareness." Mammoth was also granted $23M in contracts through The National Institutes of Health's (NIH) Rapid Acceleration of Diagnostics (RADx) initiative. Last year, Mammoth also applied its tech to work on a handheld, disposable Covid-19 test that aimed to produce results on-site in as little as 20 minutes.
Researchers at the Wyss Institute for Biologically Inspired Engineering at Harvard University are also developing Covid-19 tests using gene-editing tech. The team has built biosensors that can be integrated into a facemask to detect "dangerous substances including viruses, bacteria, toxins, and chemical agents," says research scientist Peter Nguyen. The biosensor for detecting Covid-19 consists of 3 different reactions, with the last reaction using CRISPR-based SHERLOCK tech to detect virus gene fragments. The mask provides results within 90 minutes, operates at room temperature, and doesn't require any additional instruments. But these biosensors could be used in many different ways, as Nina Donghia, a staff scientist at the Wyss Institute, points out:
"This technology could be incorporated into lab coats for scientists working with hazardous materials or pathogens, scrubs for doctors and nurses, or the uniforms of first responders and military personnel who could be exposed to dangerous pathogens or toxins, such as nerve gas."
And CRISPR technology can even be used to block the spread of the Covid-19 virus in infected human cells. Researchers in Australia, led by Sharon Lewin from Peter Doherty Institute for Infection and Immunity, have discovered that the CRISPR-Cas13b enzyme can be made to bind to the novel coronavirus. The enzyme then destroys the genome that the virus needs to replicate. The technique can also be adjusted to fight other viruses such as Ebola, influenza, and even HIV.
In the future, CRISPR-based technology could become vital for detecting diseases and preventing future pandemics.
CRISPR may play a role in shuttling humans safely through deep space
Space is a new frontier of CRISPR research. In 2021, findings were released from an experiment where astronaut Christina Koch and a group of scientists successfully used CRISPR-Cas9 to damage DNA in a yeast cell culture aboard the International Space Station and then monitor how it repairs in microgravity.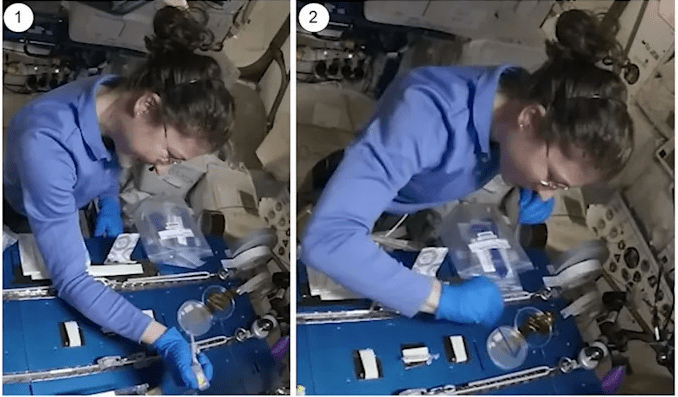 Christina Koch conducting a CRISPR experiment in space. Source: NASA
The experiment will help NASA to understand the genetic damage that radiation and other adverse space conditions can inflict upon astronauts' DNA and better understand how the human body repairs its DNA while in space.

Building on these insights, NASA is looking to work on technologies that will protect astronauts and make deep space exploration safer.
CRISPR could even be set to play an important role in helping humans reach Mars.
Patent wars
Jennifer Doudna is widely credited with inventing the original CRISPR technology alongside her colleague Emmanuelle Charpentier, now Director of the Max Planck Institute of Infection Biology in Berlin. The 2 scientists filed their first patent with the US Patent and Trademark Office (USPTO) in May 2012. In August 2012, Doudna and Charpentier published what is considered the first academic paper on CRISPR-Cas9 in the journal Science.
Six months later, the Eli and Edythe L. Broad Institute of MIT and Harvard filed patents with the USPTO for the use of CRISPR-Cas9 as a means of modifying the DNA sequences of eukaryotic cells, a procedure developed by molecular biologist Feng Zhang.
Later, UC Berkley filed a complaint with the USPTO alleging that Zhang's patent infringed upon Doudna and Charpentier's work, and asked that Zhang's patent be invalidated. This sparked a fierce battle over the intellectual property ownership of CRISPR that lasted more than 3 years.
The contentious fight for a key CRISPR-Cas9 patent was finally awarded to Zhang at Broad Institute by the US Patent and Trademark Office in February 2017. However, the European Patent Office (EPO) revoked one of Broad's patents in January 2018 on the basis that the patent did not include the contributions of microbiologist Luciano Marraffini of The Rockefeller University in New York. That omission prevented the Broad Institute from claiming the priority date of the earliest patent filings in the US, meaning that the Institute's researchers' claim to be the first to use CRISPR in eukaryotes patent did not meet EPO standards.
The matter of intellectual property ownership of fundamental CRISPR technologies appears to be settled for the time being. However, similar legal battles may be fought over variations and specializations of CRISPR gene-editing techniques as the technology becomes more sophisticated and widespread.
Closing remarks
The landscape of gene editing could look completely different in 100, 50, or even 10 years.
In the future, it might be standard to tweak or design genes in plants, animals, and even human beings, irrevocably affecting the gene pool and the course of evolution.
While some ideas presented above may seem far-fetched at the moment, that could easily change. After all, CRISPR isn't an expensive, inaccessible form of technology. It's available and in use now. From farmers to doctors to researchers, CRISPR is set to have a massive impact on our world.
If you aren't already a client, sign up for a free trial to learn more about our platform.