For temperature-sensitive products from food to vaccines, cold chain technology enables temperature control and monitoring throughout the supply chain. 
Cold chain encompasses a suite of technologies and processes that are used to preserve integrity across manufacturing, storage, and transportation for temperature-sensitive products. The cold chain plays an important role across the pharmaceutical, chemical, and food and beverage industries, and will be critical for safe distribution of Covid-19 vaccines.
Companies can minimize supply chain risk by leveraging solutions that maintain temperature, provide data in real-time via internet-of-things (IoT) technology, and enable agile responsiveness with artificial intelligence (AI). 
Cold chain solutions are estimated to have a total addressable market of $286B, growing at 19.5% annually, according to CB Insights' industry analyst consensus.
FREE DOWNLOAD: THE COMPLETE DIGITAL HEALTH 150 LIST
Get an Excel file with the entire Digital Health 150, CB Insights' annual ranking of the 150 most promising digital health startups in the world.
COMPONENTS OF A COLD CHAIN
A cold chain is comprised of three core components.
The first component consists of technology to regulate a product's temperature within its packaging or transport container. Second are IoT sensors (or sometimes barcodes) connected to the product or packaging. These provide real-time data on product conditions. Third, visibility platforms provide access to product conditions data and identify risks or gaps in the cold chain.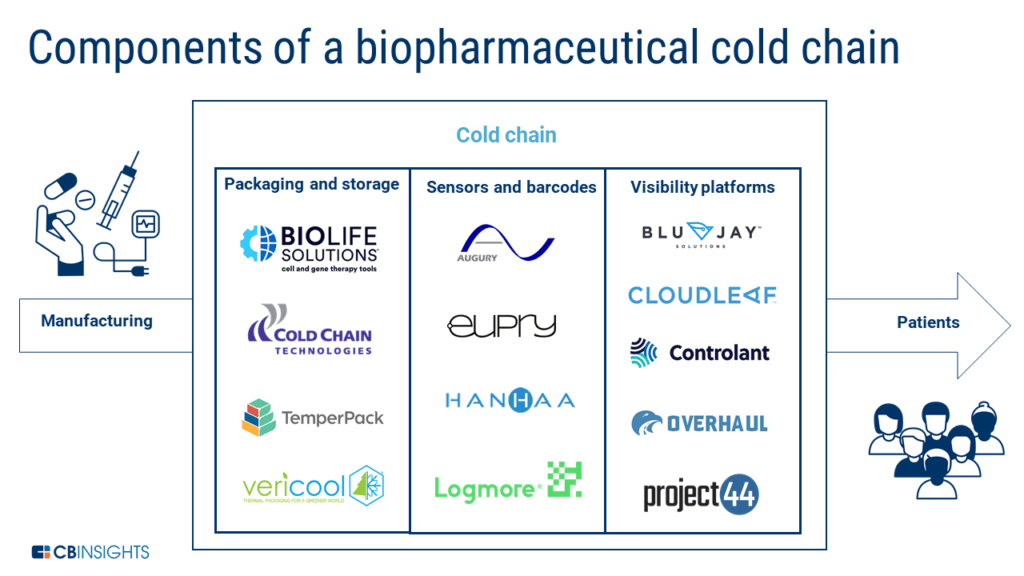 Note that vendors may combine cold chain components in their offering. For example, Temperpack only offers packaging solutions, while Controlant offers both IoT sensors and a visibility platform.