As clinical trials ramp up, we dig into how mRNA therapies help the body combat infections, genetic diseases, and even cancer.
The ongoing Covid-19 pandemic has highlighted the potential for mRNA therapies, with both of the current Covid-19 vaccines approved for emergency use by the FDA leveraging mRNA. But the potential for mRNA spans beyond that, to treating other infectious diseases, genetic diseases, and even cancer. 
Cells use mRNA to translate DNA into proteins, which then can be used to replace abnormal or deficient proteins or to prepare a patient's immune system to fight against infections or cancerous cells. 
In the context of Covid-19, mRNA vaccines instruct cells to create proteins that induce an immune response, creating antibodies that provide protection against future Covid-19 infection.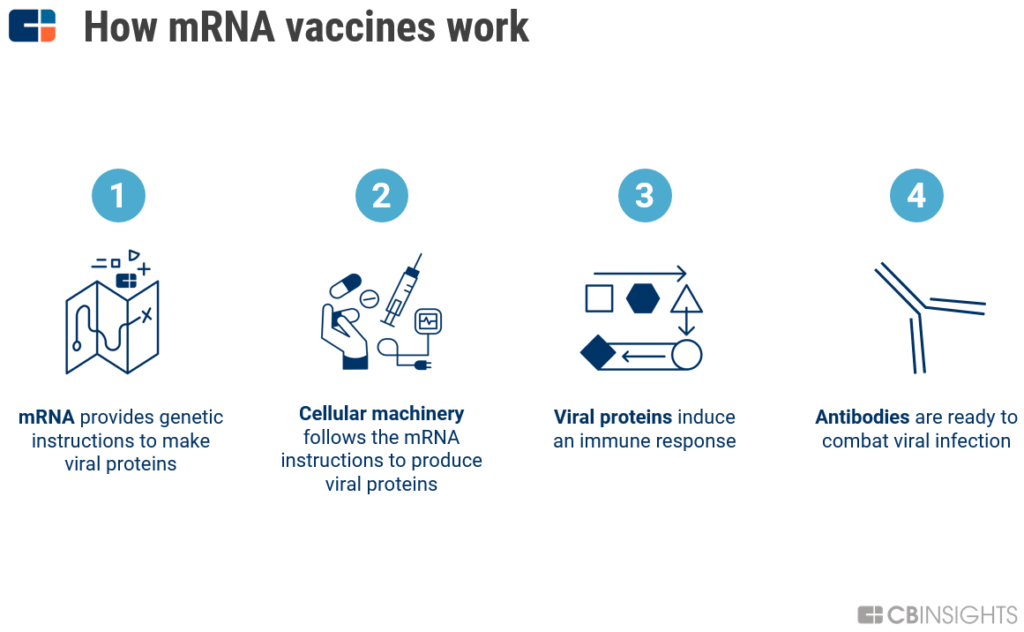 As interest in mRNA therapies grows, we dig into some of their top applications today's health landscape.
mRNA GOES VIRAL
Prior to the Covid-19 pandemic, mRNA vaccines and therapeutics were estimated to reach a market size over $6B by 2025, per CB Insights' industry analyst consensus. 
There are currently 520+ ongoing clinical trials testing mRNA across more than 20 disease categories. Many major pharmaceutical players — including Johnson & Johnson, AstraZeneca, GlaxoSmithKline, and Merck & Co. — have partnered with emerging mRNA vaccine and therapeutics companies to pursue this technology.
As trials and partnerships grow, mRNA discovery and manufacturing companies, such as ARCH Venture Partners-backed Nutcracker Therapeutics, could see a massive opportunity.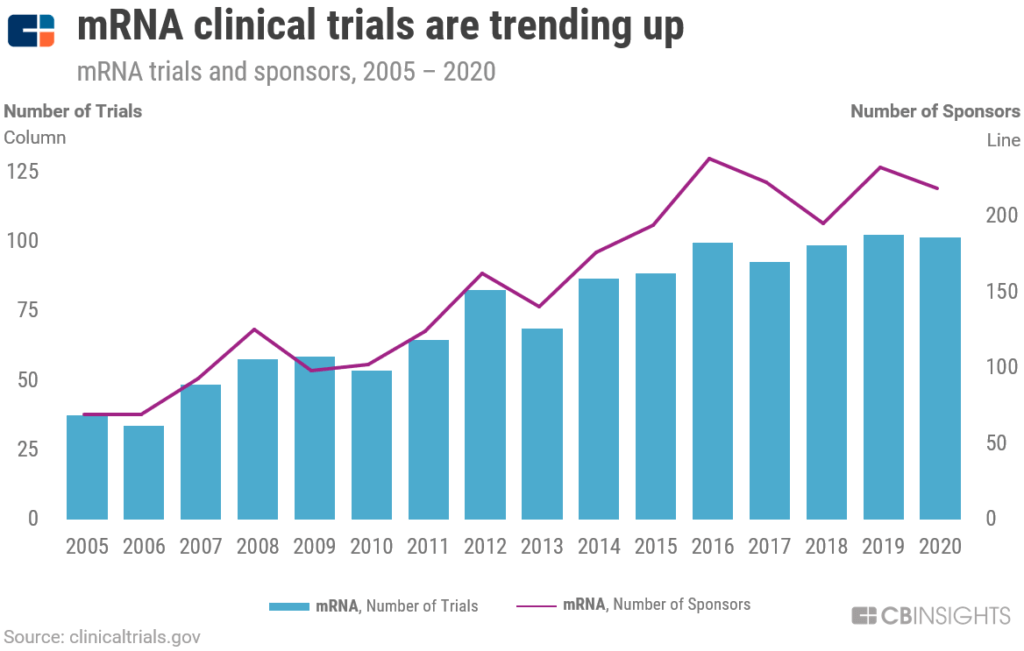 Certain obstacles remain for commercializing mRNA therapies. For example, mRNA-based therapies are temperature sensitive (the Pfizer/Bi'oNTech vaccine must be kept at -70° Celsius, while the Moderna vaccine requires -20°). Developing a robust pharmaceutical cold chain will be a critical component to widespread mRNA therapeutic adoption.
WHAT CAN mRNA BE USED FOR?
Therapies leveraging mRNA can potentially treat a variety of conditions. Currently, three categories with significant ongoing mRNA therapeutics development are vaccines, rare genetic diseases, and cancer.
mRNA vaccines for infectious diseases
Traditionally, vaccines use fragments of proteins to train the immune system to attack viruses that show similar proteins. However, manufacturing these protein fragments can take months — a particularly challenging timeline in the midst of a pandemic. 
In contrast, mRNA vaccines encode protein fragments into a single strand of mRNA, then rely on cellular machinery to produce the proteins. This cuts manufacturing time to a number of weeks.
Moderna Therapeutics, with a Covid-19 vaccine approval under its belt, is already developing 3 new mRNA-based vaccines for HIV, seasonal flu, and the Nipah virus. Another major player in the space, CureVac, has partnered with the Bill and Melinda Gates Foundation to develop vaccines for Rotavirus and malaria.
Therapies for rare genetic diseases
Many rare genetic diseases are caused by dysfunctional or deficient proteins. Mutations in DNA can result in abnormal mRNA sequences, resulting in protein abnormalities. 
By providing the correct genetic information, mRNA therapies can regulate protein expression to improve or restore health. 
For example, cystic fibrosis (CF), which is caused by broken CFTR proteins, is a leading focus for clinical studies of mRNA therapies. Translate Bio, which went public via IPO in 2018, is currently conducting a clinical trial for CF — just one of 145+ ongoing mRNA trials for rare diseases.
Cancer immunotherapies
mRNA may be the key to unlocking personalized cancer therapies. By combining genetic screening, liquid biopsies, and artificial intelligence, healthcare providers can design and manufacture mRNA therapies specifically made for patients' unique tumor genetics. Similar to vaccines, mRNA can be used to encode cancer-specific proteins that teach the immune system to recognize and target only a tumor (and not healthy tissue).
There are currently 150+ mRNA-focused clinical trials ongoing for blood cancers, melanoma, brain cancer, prostate cancer, and more.
BioNTech, whose joint Covid-19 vaccine with Pfizer was approved in late 2020, began as a cancer-focused mRNA therapeutics company. The company now has 19 disclosed drug candidates in its pipeline for pancreatic cancer, breast cancer, prostate cancer, melanoma, ovarian cancer, head and neck cancer, and other solid tumors. With pharmaceutical partners including Sanofi, Genentech, and Pfizer, it is well-positioned to leverage mRNA therapeutics to treat cancer and other diseases. 
If you aren't already a client, sign up for a free trial to learn more about our platform.