WeWork is increasingly coming up in discussions by publicly traded companies. We analyze the real estate companies that frequently mention the coworking giant on earnings calls.
WeWork splashed into the news recently with a $702M debt financing. As part of the debt raise, WeWork revealed a view into its internal finances, showing substantial growth in revenue, and potentially alarming growth in costs.
Outside of the news, WeWork is increasingly coming up in conversation among real estate incumbents on earnings calls.
Surprisingly, a fair majority of these conversations paint the company in a positive light, expressing enthusiasm for WeWork as a tenant. Others grudgingly admit WeWork as a competitor, or have recalibrated their enthusiasm for the company over time.
We used the CB Insights Earnings Transcripts tool to analyze mentions of WeWork across earnings calls.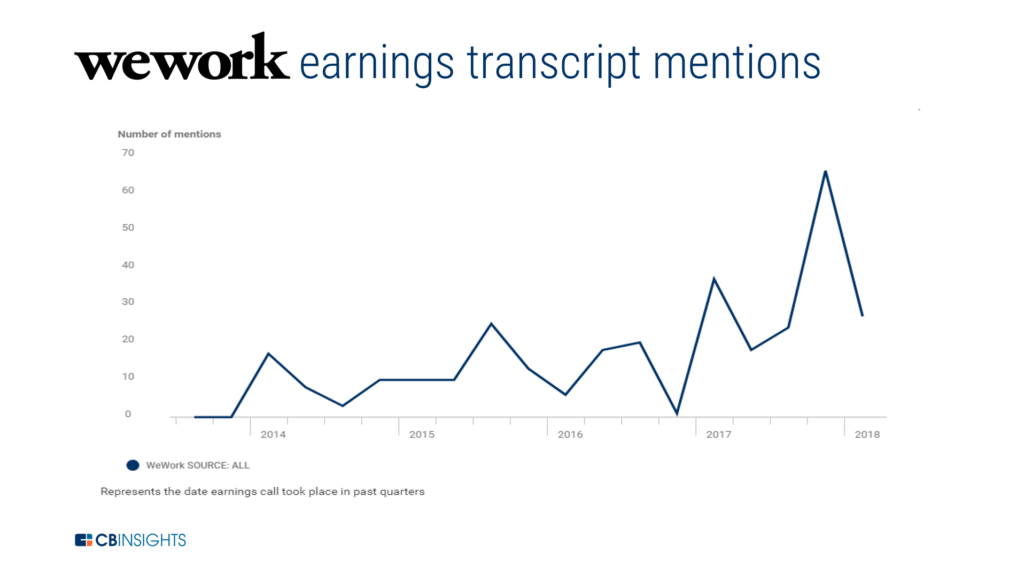 In Q4'17, the company was mentioned a record high of 66 times in earnings calls, up from 24 times the quarter before.
After Ooma, a telecom company and official service partner to WeWork offices in the US and Canada, real estate companies mention WeWork the most.
Some tout the company's positives as a tenant. WeWork attracts technology industry tenants and aids in the design of common areas and amenities.
But others tip-toe around the company as a competitor, expressing reserved skepticism for the coworking model. Some are concered about the effect of WeWork on their portfolios of large square footage, single-tenant-occupancy office spaces.
Here are five real estate companies that frequently mention WeWork on earnings calls.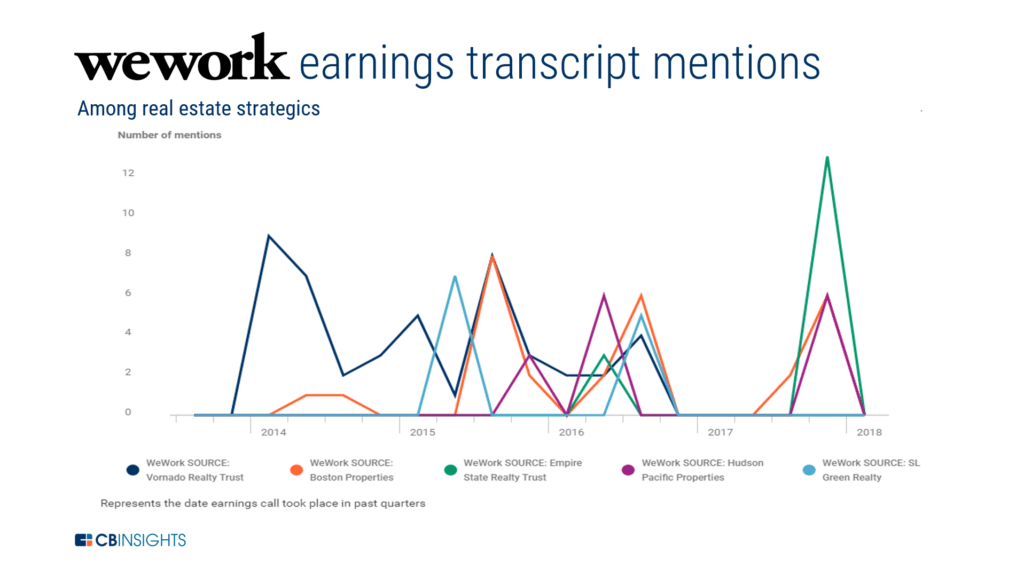 We took a look at the context of some these conversations and others to see how the real estate industry and public companies are more broadly thinking about WeWork.
Vornado Realty Trust: all quiet when WeLive flat-lines
Commercial real estate developer Vornado Realty Trust has a particularly interesting outward demeanor to WeWork.
Vornado's earning calls show an early enthusiasm for WeWork's tenancy and plans for a WeLive residential building in Washington D.C. However, over time that enthusiasm has waned.
In its Q4'13 earnings call, Vornado touted its plans to "venture with WeWork to repurpose an existing 164,000 square-foot office building at 2221 South Clark Street into approximately 300 rental residential units."
The company pointed to the fact that "these apartments are designed for today's mobile and collaborative workers. They will combine small, furnished units, a full technology package and dynamic social spaces like shared dining and lounge areas."
As underlined in the call, the WeWork partnership was to serve as a lynchpin in its properties in Crystal City, a neighborhood south of Washington D.C.
"We believe that WeWork will add an important new layer to our Crystal City neighborhood, and their residents will be a magnet for others like them."
The following quarter (Q1'14), Vornado provided an update and affirmed its interest in the partnership:
"By the middle of next year, they will open 250 community style residential units, with an imaginative design and dynamic shared social space. We believe this concept will attract a whole new dynamic demographic to Crystal City, complementing our tech creative cost initiatives, that I will elaborate on shortly…With its live-work-play infrastructure, we see enormous potential for Crystal City to become a new hub for the tech and creative community. These smart millennials are in high demand by employers and infuse fresh energy into neighborhoods."
When pressed on the call as to what a WeWork residential building would look as a stark departure from WeWork's commercial office buildings, founder and chairman Steven Roth again pointed to the potential for the residential units to act as a magnetic and "transformative" attraction, albeit one that acted as a loss-leader.
"It looks kind of like a loss leader. But let me tell you the way our management team looks at this. Number one, this is a scant 2% of our inventory down there. Number two, it's transformative. It's really important that we get this kind of clientele coursing through Crystal City. We believe we have been dancing with the WeWork management team for several years now. We believe these are — these folks are extraordinarily gifted. They have great ideas, great execution…this is going to be their launch of a residential WeLive kind of a project. We believe it will attract the same demographic as the WeWork project — the WeWork office counterparty. And we think it's essential to our strategy of changing slightly or even more than slightly, the major complexion and — of Crystal City's demographic…we think that this is an enlightened transaction, which is important."
Vornado mentioned WeWork a handful of times after the residential units opened in early 2016, and in its Q2'16 earnings call established that 80% of the units had been occupied.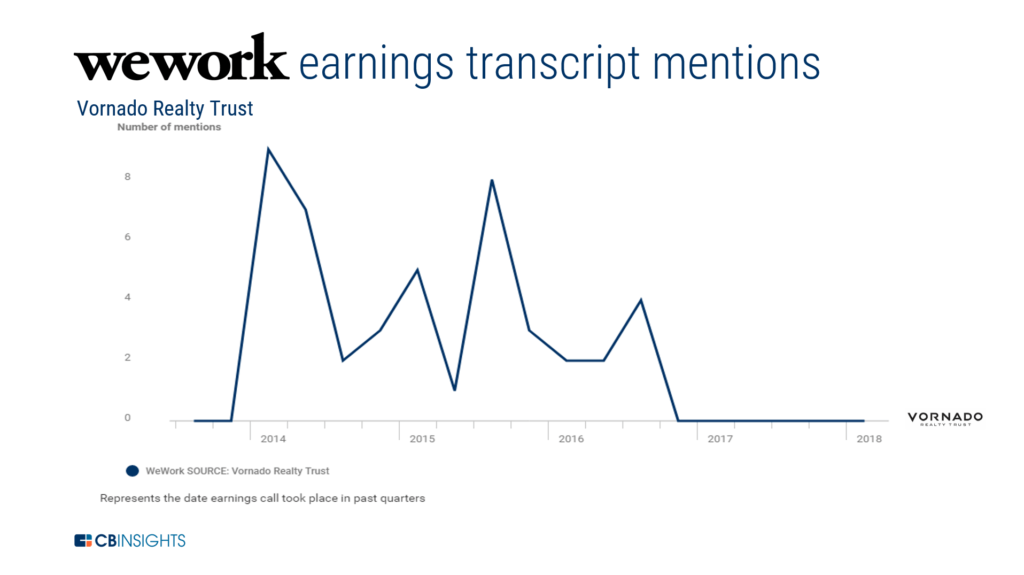 But since then, Vornado hasn't mentioned WeWork or WeLive on any of its calls. This comes amidst what appears to be a pullback in the WeLive business since its debut.
As discussed in our teardown, WeWork still only has two WeLive locations.
CBRE: "…and in some places they compete with us"
Commercial real estate services provider CBRE considers WeWork both a client and a competitor.
Speaking on CBRE Group's Q3'17 earnings call, CEO, President, and Director of CBRE Robert Sulentic replied to a question about coworking and WeWork's property purchasing in New York:
"WeWork is a client of ours. WeWork is a place where we send a good number of our clients. And in some places, they compete with us. We think they're a very good company. They're here to stay. The concept is here to say. And I think we're really well positioned to compete in an environment where that's part of the environment. We have a number of capabilities that serve us well to address that circumstance, and we're investing significantly in ways that'll help us address it more in the future."
SL Green Realty: it's different this time
Major New York City landlord SL Green Realty considers WeWork a departure from coworking companies before it and a "prime tenant."
In 2016, when asked whether coworking companies "present[ed] incremental risk in the market" similar to coworking tenants that failed during the dot-com crash, CEO Marc Holliday drew a distinction between WeWork and other coworking companies in the past.
"It is a different company with a different model, a very successful model and a model that is attracting an enormous amount of financial support.

I think that if any of these companies are capitalized properly and WeWork looks to be like they are, then these downturns in New York tend to be short-lived. [A] downturn doesn't mean things like go to zero. Downturns in [New] York may just be marginal rent reductions of 10%, 15%, 20%. I think that the model we have seen them execute in this market is sort of best of class and I think that is generally perceived to be such when you look at the landlords that are doing business looking to WeWork is sort of in many cases a prime tenant.

So it doesn't [make] us concerned, 3 million square feet for any tenant on a 400 million square foot inventory; I don't want to be too dismissive but it is not like 3 million square feet in a 100 million square foot market. This market is four times that size. And therefore we don't — it is not something that keeps us up at night."
This certainly tracks with the company's earlier statements on WeWork. When asked about its comfort level with the company as a tenant in 2015, SL Green's Chief Accounting Officer Matthew Diliberto described WeWork positively.
"Well, look I mean we are pretty excited about WeWork as a tenant and as a business," Dillberto said.
"We have spent a lot of time with their principles and their people and at their facilities looking at their business model, which caters to this co-working community and the types of tenants out there that have high demand today, these TAMI-type and technology tenants. And their menu…value-add services, we think differentiates them from a lot of other companies we see in that space. It's a unique offering. They have substantial amount of cash in the bank. They have substantial institutional backing. And we got comfortable that for this kind of building, where we think their community of people want to be in this building, it was a perfect fit."
Boston Properties: WeWork as a partner AND a competitor
Like SL Green, real estate developer Boston Properties has similarly bought in on WeWork and has formed partnerships to work collaboratively with the company.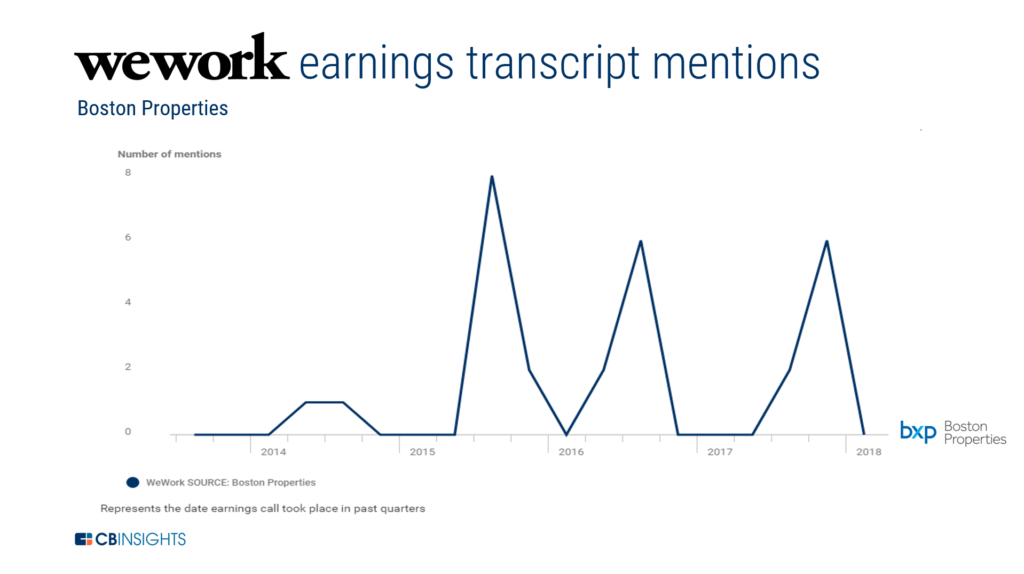 In Q3'15, Boston Properties held its earnings call for Q2'15 and discussed a newly announced development in the Brooklyn Navy Yard called Dock 72 (discussed in our teardown).
CEO of Boston Properties Owen Thomas described the Brooklyn Navy Yard project and WeWork's tenancy within the building as an exciting partnership with the potential to expand within Brooklyn, particularly among "technology and creative tenants."
SVP of New York John Powers expanded on the notion, pointing to WeWork's active role in the design of Dock 72 as a positive in attracting other technology industry tenants.
"We're going to have significant amenities space there. We're going to have a very interesting food offering, we will have a basketball court, we will have a lawn for our different activities. We have conference space, we have a very, very large wellness center and they are curating all of that on our behalf under an arrangement. So we think that that is going to add something. They are very good at doing this. And we think that also their input and impact to the development is going to be a positive in terms of other tech tenants and when they look at WeWork, many of them think they are like-minded and want the same things and I think they have been very, very successful doing a curation of different parts of their member base, dealing with parts of their member base."
Fast-forward a few quarters and analysts on Boston Properties Q2'16 earnings call probed for any backpedaling on WeWork after media reports of leaked documents showed growth projections revised downwards.
President of Boston Properties Doug Linde claimed that despite media reports to the contrary, "all evidence that we have points to the fact that the facilities that they have opened are very successful. They are fully let and they are creating [an] attractive margin to WeWork."
Later underlining this comment, Linde said:
"And again from reading the same press, a reduction in the projections that they are projecting for their overall company, but as it relates to the performance of the individual installations we are evidence I think [to] suggest that they are doing well."
In Q2'17, analysts pressed Boston Properties executives on their comfort level around coworking tenants more broadly. Linde reaffirmed his support for coworking, remarking "we are affirmatively believers that co-working and the aggregation of small tenant users is a good thing for the market, and it's a good thing for our properties." But he followed up by clarifying that they are deliberate about their own exposure, saying:
"We are thoughtful about our exposure and there's clearly a limit in terms of how much we would have, no different than I think, there's a limit and how much we would have lot of different types of tenants, particularly ones that are in their more nascent origination as opposed to a company that's been around for 15 or 20 years."
Through the end of 2017, Boston Properties maintained this stance despite evidence WeWork was moving into real estate purchases themselves.
On the Q3'17 earnings call, Owen Thomas remarked "our posture hasn't changed on coworking or on WeWork. As I think we have all described in different ways, we have felt that coworking and, therefore WeWork, has been a positive factor for the office business this cycle."
Whether WeWork was buying properties wholly or in partnership with other investors, Thomas said they "certainly haven't run into a situation where we are competing with them for investing in a particular building."
Cousins Properties: a cautious approach
Other companies like Cousins Properties have just started discussing WeWork and are less receptive to the broader implications it brings to the market.
For example, Cousins Properties first mentioned WeWork in its earnings call published in Q1'18, amidst a modest push into coworking.
Chairman and CEO Larry Gellerstedt and President and COO Colin Connolly described their leasing relationship with WeWork as being additive, but tempered their expectations for how much of their portfolio would be devoted to coworking.
Gellerstedt claimed that "co-working in the right building at the right location is an important amenity to our portfolios and our customers, potential customers to go in. We don't think it works everywhere."
Connolly chimed in:
"I would just add in terms of co-working, we do continue to spend a lot of time with WeWork, Spaces, Industrious, and really getting to know them…I think there hope is that transaction with WeWork is going to allow a broader universe of underlying customers to access Terminus. We typically aren't in the business of leasing, 500 feet or 1000 feet to some individuals or small organizations. So I think we work to build it at aggregate some potential space takers who otherwise can't be in office building, like trophy office building of Terminus' stature and rent profile, we think it's going to be a positive.
"And as we continue to look around the portfolio as Larry mentioned, we are looking at other opportunities to add co-working and view it as [a] positive for those particular assets. As we sit today…co-working [in] our traditional executive suites, would account for about 250,000 square feet of our portfolio, a little bit under 2% of the total. So still really a relatively modest amount, but one that we think would grow and marginally over time."
For more on WeWork's strategy read our deep-dive teardown.
If you aren't already a client, sign up for a free trial to learn more about our platform.