After a couple of years of largely positive coverage, recent WeWork news reports have turned much more negative.
WeWork's news coverage is increasingly volatile.
Up until mid-2018, co-working giant WeWork enjoyed increasingly positive news around the development of new partnerships, new investments, growing revenues, and more. The company saw peak positive coverage in July 2018 following the release of its first financial report.
However, the company has recently seen a sharp downturn in news sentiment. For one, SoftBank announced a $2B investment into WeWork in January 2019, which was significantly lower than the initially planned $20B and sparked speculation about trouble ahead for the company. Furthermore, news broke on the potential conflicts of interest for CEO Adam Neumann, who is part owner in properties that he rents back to WeWork for a profit.
See below for CB Insights' proprietary analysis of WeWork news sentiment.
Note: Our sentiment analysis algorithm rates positive stories as 1, negative stories as -1, and neutral stories as 0.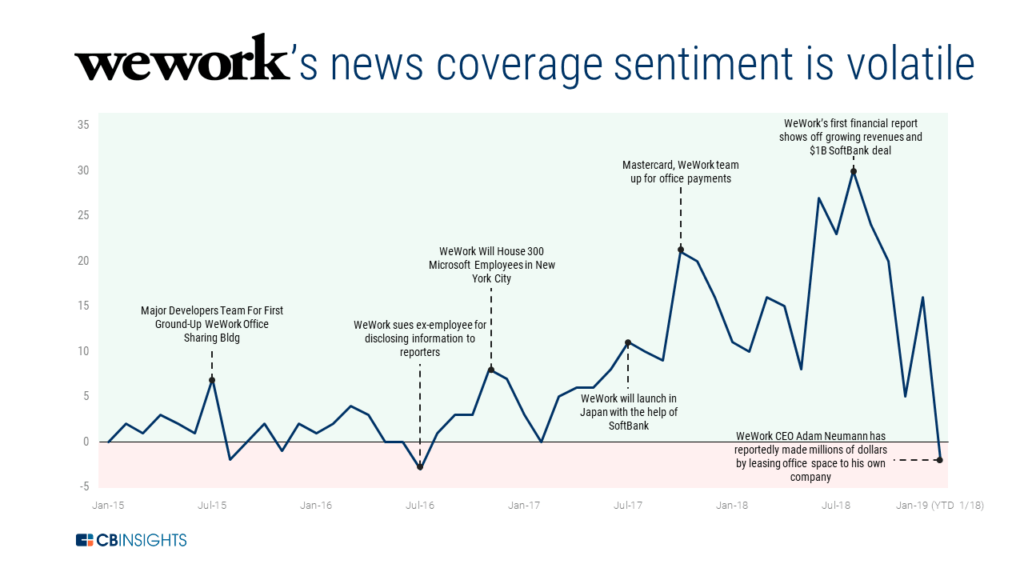 For more on how WeWork has built a $47B real estate business, and what it has planned next, check out our WeWork Strategy Teardown.
If you aren't already a client, sign up for a free trial to learn more about our platform.