The company was last valued at $3.3B in May 2021. Here are the top-line bullets you need to know.
WeRide, an autonomous vehicle startup, has raised $400M in an extended Series C. The round drew participation from China-Arab Investment Funds, GAC Group, The Bosch Group, and The Carlyle Group.
HOW'S THE COMPANY PERFORMING?
China-based WeRide designs and manufactures L4 autonomous vehicles, including robotaxis, robovans, and mini robobuses.
WeRide's AVs have traveled over 10M kilometers on public roads — 2.5M of which were completed in a fully autonomous manner.
The startup is currently supported by a team of over 800 employees globally.
The company is headquartered in Guangzhou and has offices and R&D centers in Beijing, Shanghai, Nanjing, Shenzhen, Wuhan, Anqing, Zhengzhou, and San Jose, California.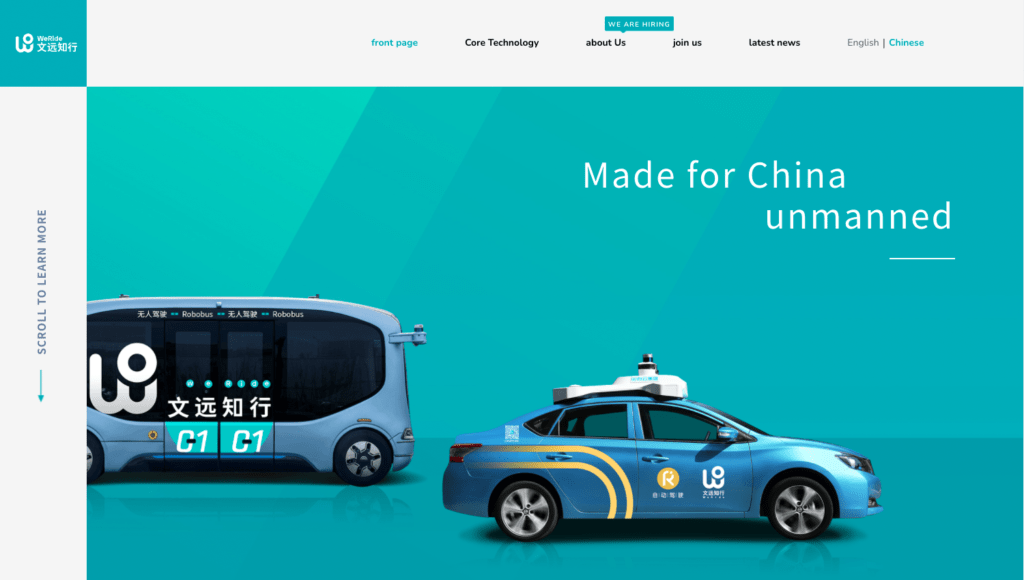 Source: WeRide
WHY DOES THE MARKET MATTER?
The global advanced driver assistance system market is expected to reach a value of $77.8B by 2027, growing at a CAGR of 18.8%, according to Global Industry Analysts.
Autonomous vehicle tech is expected to go mainstream over the next 2 decades — and 40+ major corporates, including Google, Apple, and Mercedes Benz, have already launched self-driving vehicle initiatives.
The Covid-19 pandemic has given autonomous driving technology a boost, as it can serve as a contactless, safe option for personal mobility and delivery services.