Wellness is cutting across sectors ranging from real estate to healthcare to retail.
The $3.7T global wellness economy is exploding.
As interest rises, consumers, startups, and corporations are placing broad bets across the wellness industry space.
Modern-day "wellness" refers to holistic healthy living characterized by physical, mental, social, and spiritual well-being — and the buzzy trend is gaining traction across multiple industries.
CPG corporates like PepsiCo, Coca Cola, Kellogg's, and Campbell, for example, have invested in and acquired a number of brands focused on healthy snacking, while personal care incumbents like P&G and Unilever have backed natural and organic beauty brands.
But wellness initiatives go far beyond the food and personal care industries. The wellness trends is affecting everything from the way gyms operate to how retailers design clothing to how smart cities are designed.
Below, we look at the factors contributing to the rise of the wellness industry as well as the top 10 areas for wellness initiatives, including real estate, smart cities, cannabis, and more.
The rise of wellness
Many factors are contributing to the growth of wellness.
Notably, millennials are more lifestyle-focused, placing a greater value on health and wellness over material goods than ever before. According to Eventbrite data, 78% of millennials would choose to spend money on a desirable experience over buying physical goods.
Additionally, there are broad concerns over the US healthcare system — specifically that traditional medicine is gender-biased and that patients aren't always treated holistically.
Simultaneously, wellness has become a kind of religion for some consumers, leading to the rise of nontraditional sources for creating healthier, happier, and more balanced lifestyles.
As consumer demand rises, businesses are buying into the trend.
Brands are leveraging social media to advertise "aspirational lifestyles," making it easier than ever to buy into the wellness mentality. They tout the potential benefits of, for example, plant-based milk, fitness apps, and skincare regimens, among many other products.
Beyond "aspirational lifestyles," brands are emphasizing authenticity and enjoyment.
SoulCycle, for example, recently launched a branding campaign telling consumers to forget about their resolutions and indulge in areas that make them happy.
Outdoor Voices was founded on authenticity and experiences. Its "#doingthings" motto looks to encourage consumers to get active and try new activities without pressure.
Authenticity as a marketing tool has now taken off among feminine care and sexual wellness brands looking to destigmatize taboo topics.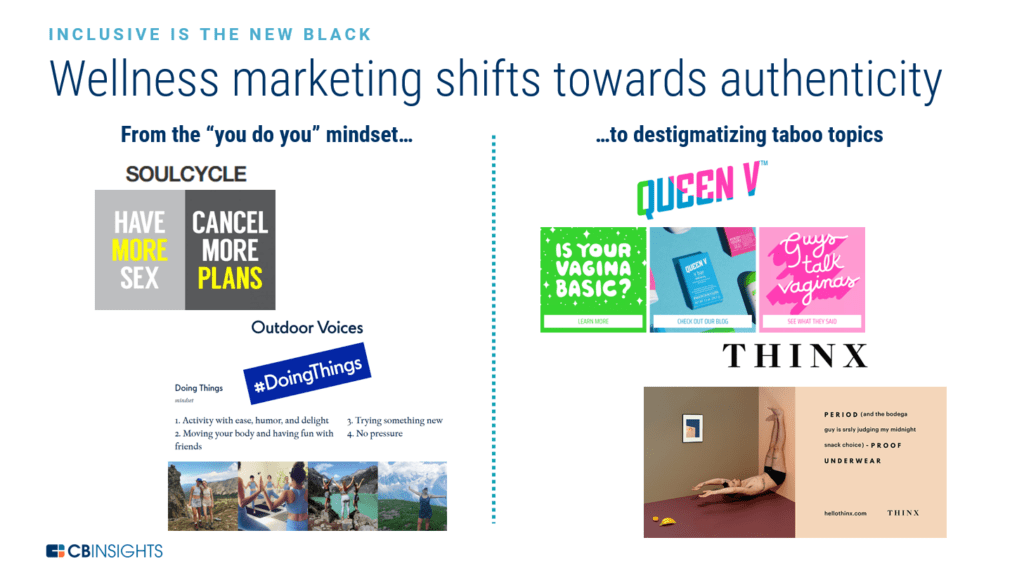 While still an emerging space, wellness is becoming increasingly prominent across different areas. We dive into how wellness is now having an impact on every facet of a health-focused consumer's day — and each of the industries this touches.
The wellness economy's top industries
Meet Maya, our hypothetical wellness-focused millennial consumer. We look at a day in the life of Maya, from waking up to falling asleep to see how wellness impacts nearly all aspects of her life.
While most individuals likely only incorporate wellness into certain facets of the day, we wanted to underscore just how pervasive wellness has rapidly become.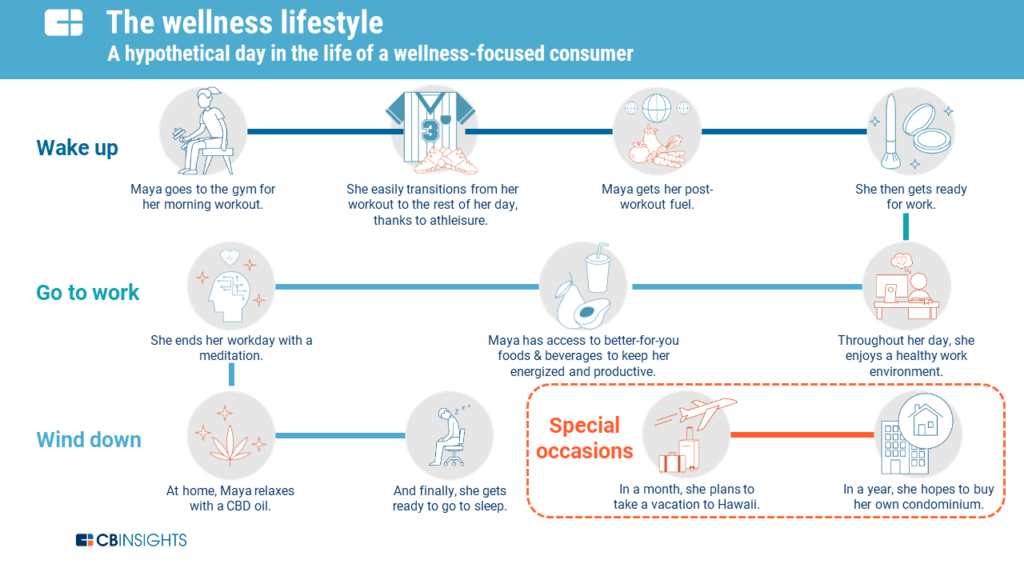 Fitness
At the start of her day, Maya wakes up and decides to go to the gym before heading to work.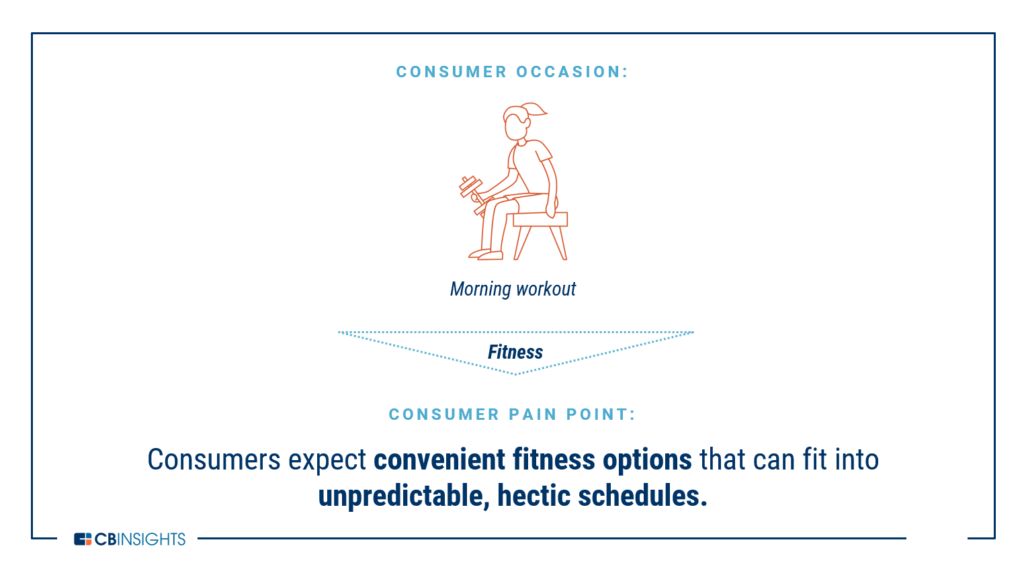 Fitness has become a staple of today's wellness economy, and consumers increasingly expect fitness to be available on-demand.
Fitness is transforming multiple industries from gym chains & equipment providers to apparel & beauty brands to smart cities.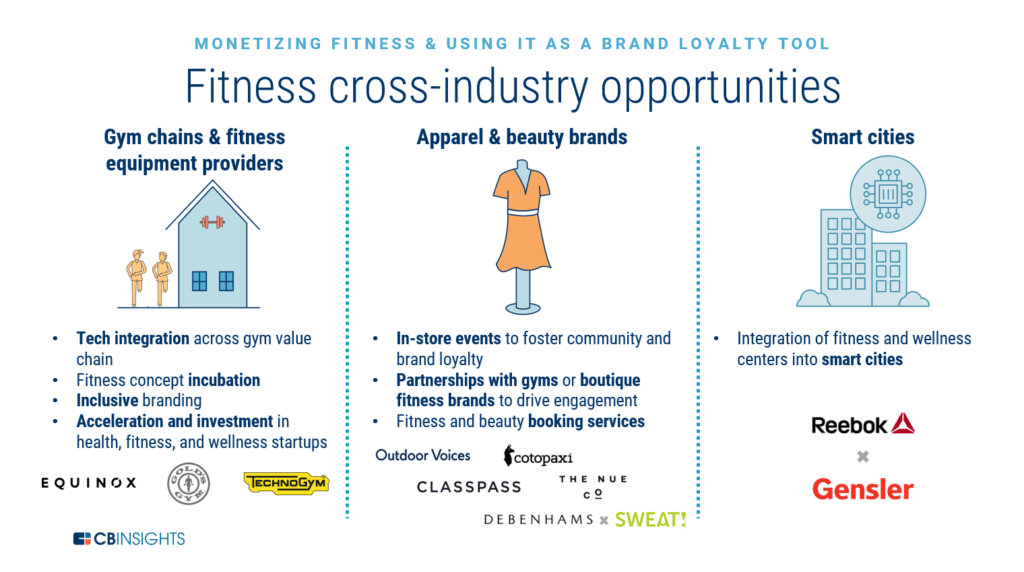 On-demand fitness revolution brings wellness into the home
On-demand and subscription technologies coupled with bundling hardware and software are fueling at-home fitness products and services.
Startups are increasing their at-home fitness offerings with a focus on making workouts increasingly efficient, exciting, and —of course — tech-enabled.
For example, Peloton launched a connected treadmill at the beginning of the year and has indicated near-term plans to IPO. ClassPass raised an $85M Series D round in July 2018 and recently expanded to Asia. Similarly to the retail apocalypse, investors, media, and consumers are questioning whether a "gympocalypse" is brewing.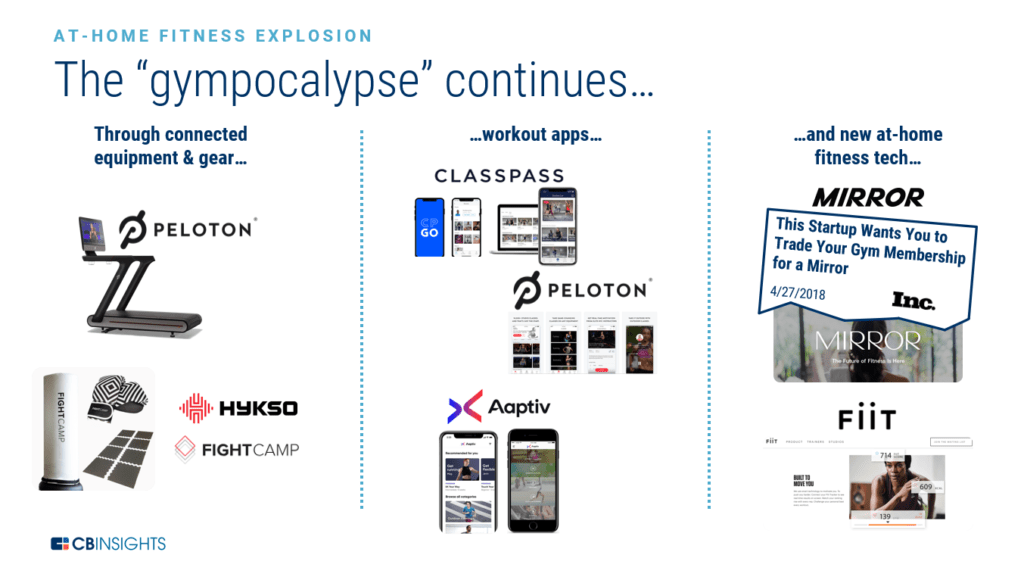 But gyms are not giving up just yet. Equinox and Gold's Gym, for example, are incorporating tech and wellness throughout the gym experience.
Equinox offers tech-enabled spin classes, a chatbot embedded within its mobile app that offers reminders, and has experimented with tracking members' movements while working out.
Gold's Gym has focused on more inclusive branding to appeal to consumers that may be fitness novices and offers free 3D body scanning for clients to help them track their fitness journeys over time.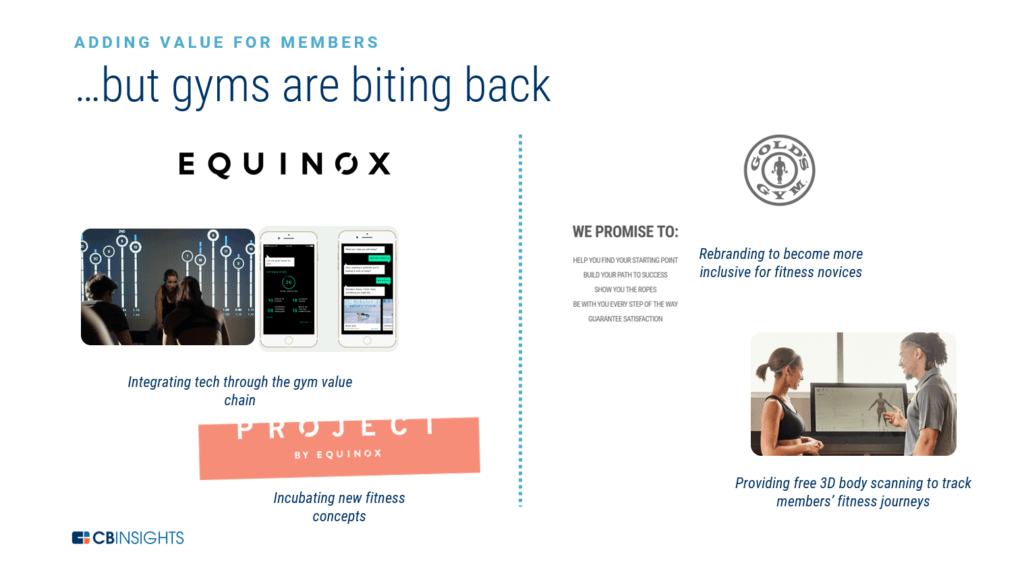 Retailers hope fitness will increase customer engagement and boost profit
Gyms are also being leveraged as retail partners.
Department stores, including British retailer Debenhams, are looking to integrate gyms within their stores to increase customer engagement as well as boost profitability. Though there are concerns over how successful this tactic may be, fitness and wellness amenities could be used as a brand loyalty tool for struggling retail spaces.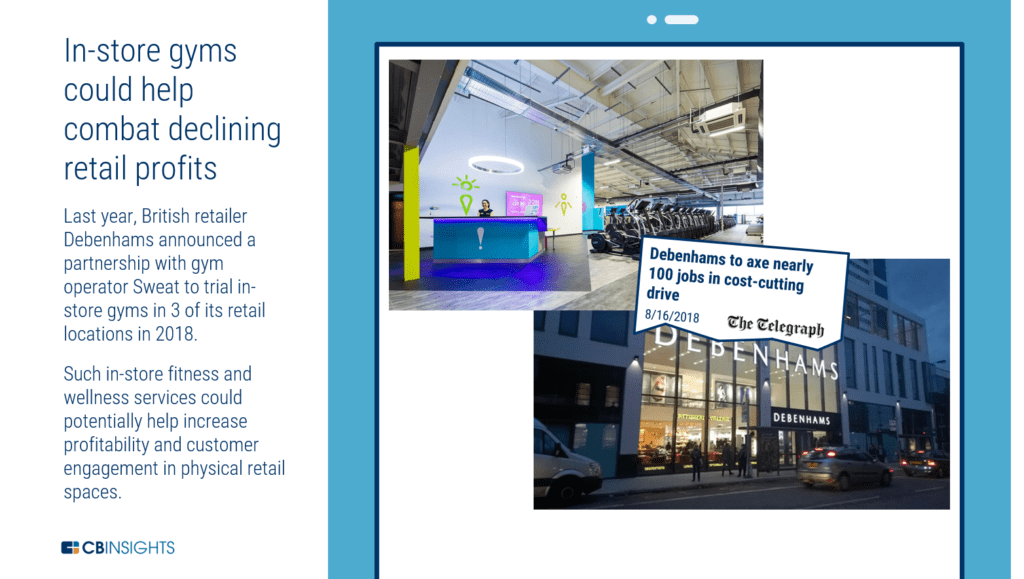 Smart cities incorporate fitness into our built environments
Beyond gyms, fitness could play a much bigger role in the development of smart cities.
In February 2018, architecture firm Gensler and sportswear retailer Reebok partnered to develop a concept to convert American gas stations into fitness and wellness centers that generate energy.
These gas stations would be converted into "recharge zones" that could offer trendy wellness amenities for consumers on-the-go such as juice bars, meditation pods, farm-to-table restaurants, and more.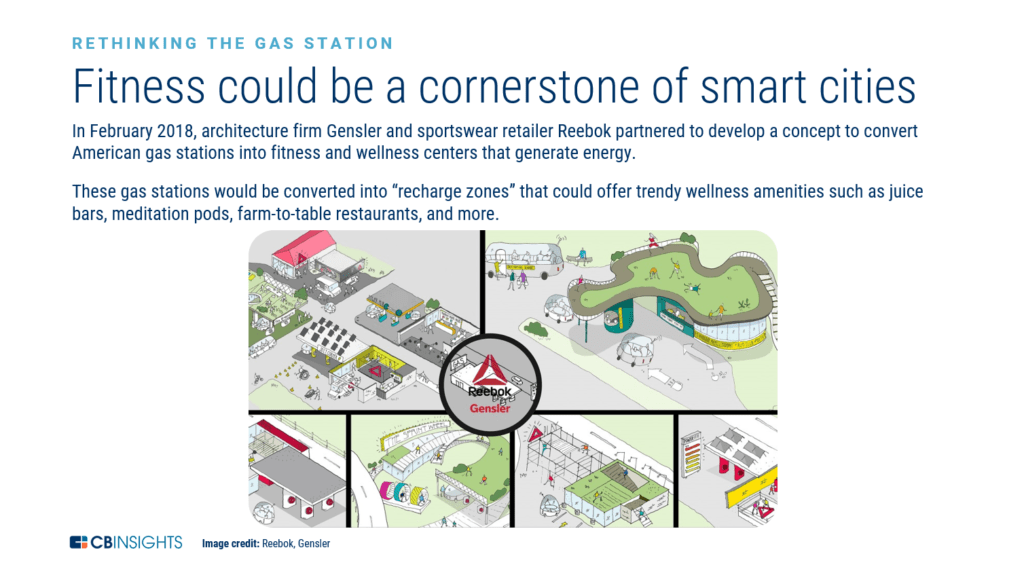 Other companies are working to integrate fitness into physical environments by powering recreation in smart cities.
For example, startups such as Playsight ($26M) and Wingfield ($1M) are developing connected court technologies that are making sports courts more responsive and predictive in providing feedback for players.
Overall, wellness has increasingly inspired an evolution across the fitness space, transforming everything from gyms to real-world workout environments.
Athleisure & Apparel
Getting dressed is increasingly about wellness. When Maya gets ready to work out, she chooses an outfit that can transition from the gym to the rest of her day.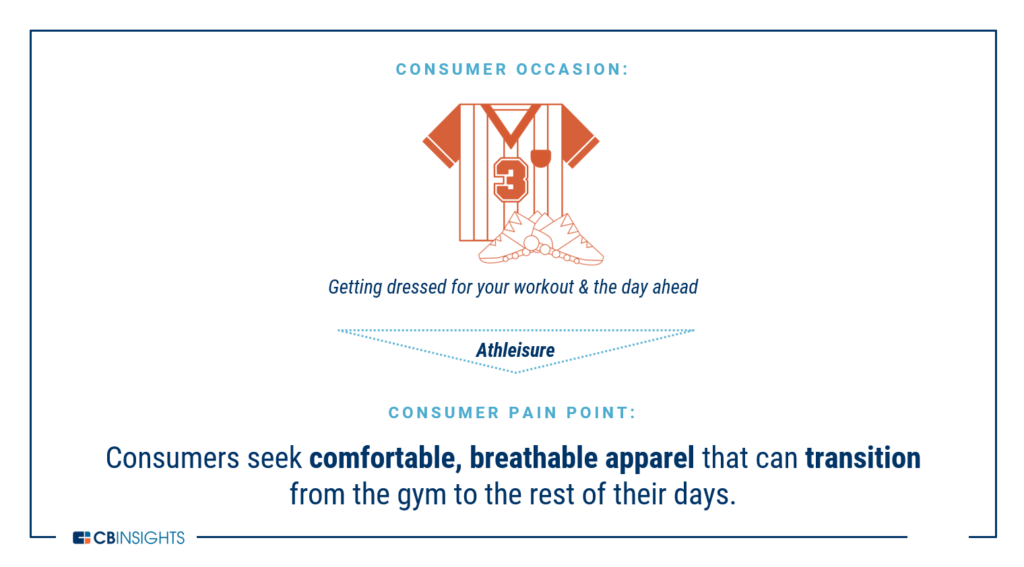 It's been widely debated whether athleisure — clothing designed for workouts that can be worn in casual settings (like school or work) — is a fad or here to stay. But the trend has become ubiquitous as consumers seek to balance both comfort and style throughout their days. 
As wellness takes priority, athleisure is seeing applications across the broader apparel, fitness & beauty, and travel sectors.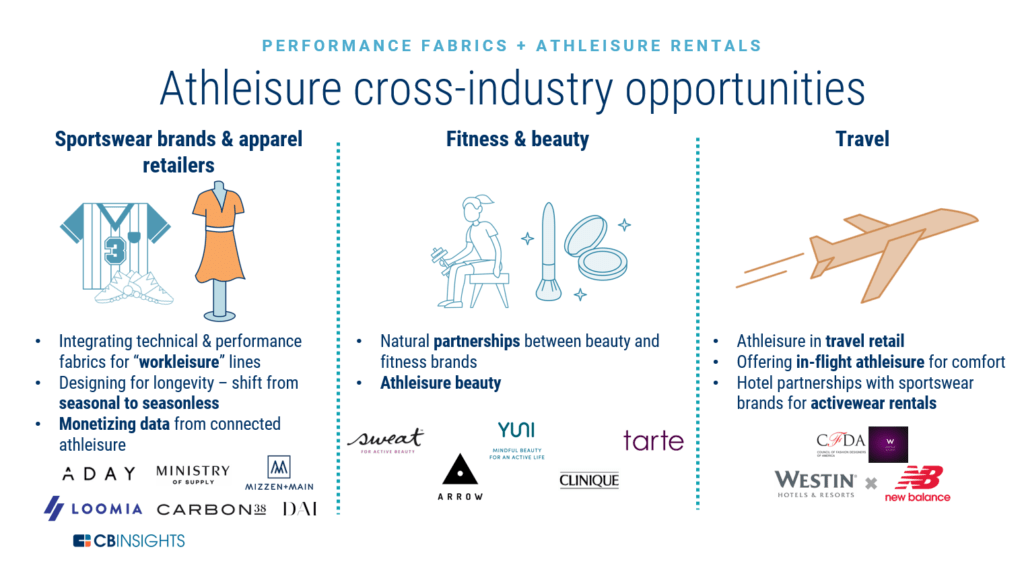 "Workleisure" integrates comfort and style
The notion of being both comfortable while stylish is extending beyond athleisure into work wear as consumers seek to seamlessly transition from work to gym to other activities. 
Men's shirt brands like Ministry of Supply and Mizzen+Main have incorporated high-tech fabrics into dress shirts while the newly launched Dai aims to bring technical materials into work wear for women — inspiring the "workleisure" concept.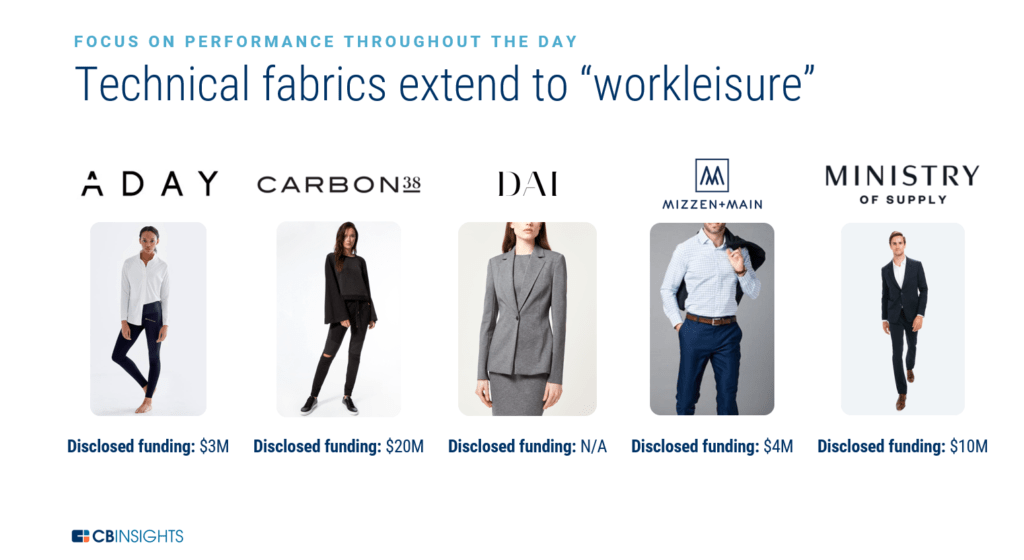 Activewear brands like Carbon38 as well as Gap-owned Athleta and Lululemon have expanded beyond activewear to create athleisure-inspired workwear.
Beyond activewear brands, connected apparel lines are using Internet-of-Things hardware and software to offer performance-tracking features embedded within clothing.
For example, brands like Sensoria offer smart garments with heart-monitoring capabilities while Wearable X produces connected yoga pants that vibrate to alert users to different yoga postures and sequences.
Athleisure rentals encourage fitness on-the-go
Athleisure is also extending into the travel industry to make it easy for travelers' to work out while on-the-go.
Activewear rental programs, such as Westin's long-standing partnership with New Balance, are creating convenience for consumers to help them pack light while traveling.
Though this isn't a new concept, such programs are being extended to other parts of the travel journey such as airports. Airlines could begin to offer similar services to encourage traveler comfort and overall wellness. Such programs could also help hotel brands increase customer loyalty and better compete with Airbnb.
Active Nutrition
After leaving the gym, it's time for Maya to find something healthy to eat after her workout.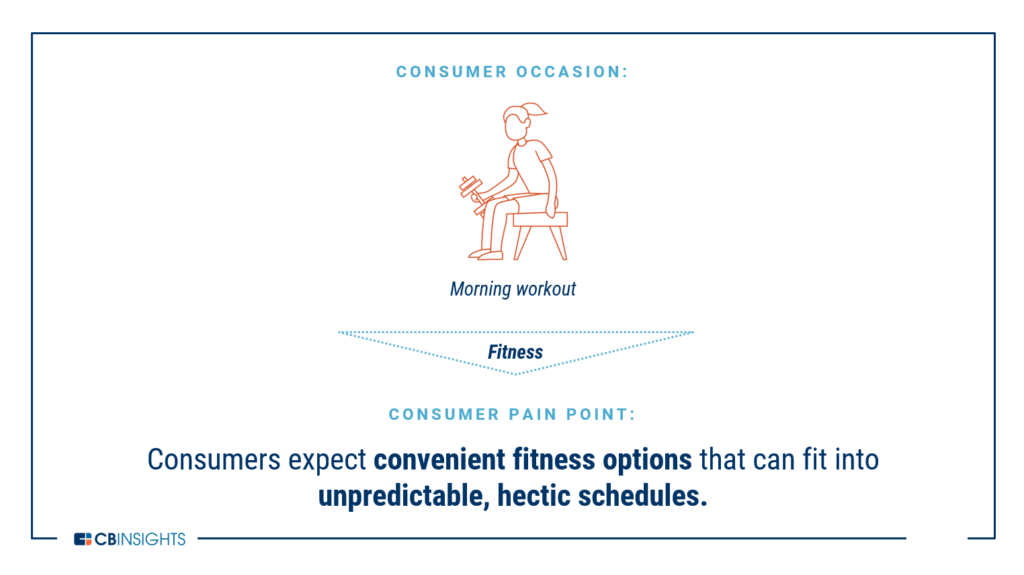 Traditionally marketed towards elite athletes, sports nutrition products have historically been part of a niche market.
But thanks to the wellness movement, sports nutrition is gaining mainstream interest. Fitness is booming, followed by an increased demand for pre- and post-workout fuel.
Enter active nutrition. Active nutrition products, such as vitamins and protein shakes, tend to emphasize better-for-you ingredients and are increasingly tech-enabled. Such products are moving beyond traditional athlete marketing to cater to average fitness enthusiasts or those who want to partake in the lifestyle.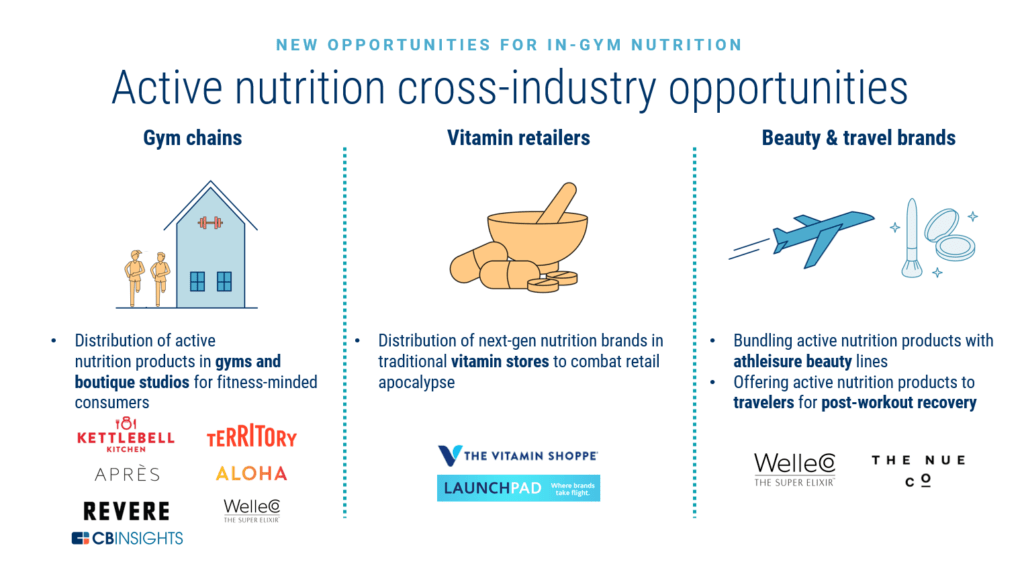 Active nutrition sees new distribution channels
With the proliferation of brands and consumers being more mobile than ever, new distribution channels are making active nutrition products accessible and convenient.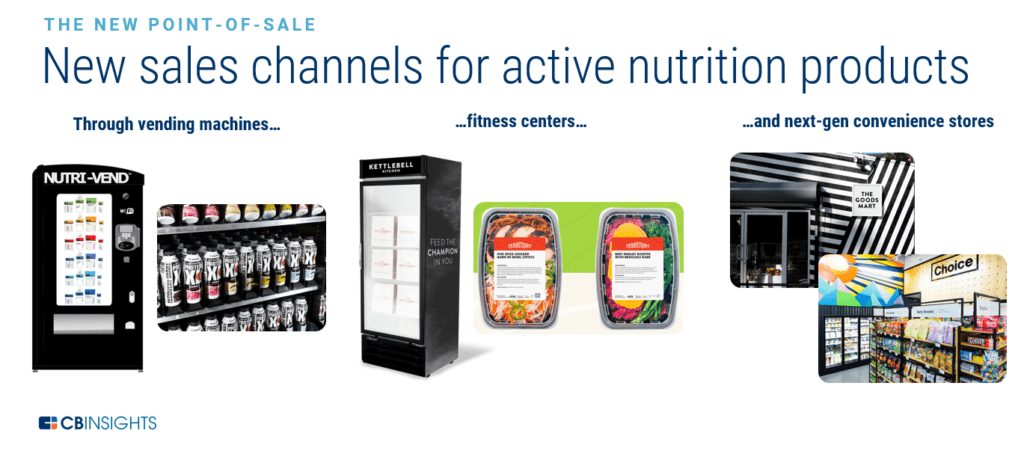 Brands like UK-based Nutrivend provide sports nutrition vending machines to fitness centers and gyms across the United Kingdom.
Though not a new concept, gyms have similarly partnered with brands like Kettlebell Kitchen and Territory Foods to bring healthy, pre-portioned meals for fitness-focused consumers. Aforementioned Après partners with select boutique fitness studios to distribute its protein shakes.
Vitamin retailers, which have been struggling from the retail apocalypse, are looking to modernize their product assortment and bring customers into their stores.
The Vitamin Shoppe, for example, launched a vendor incubation program called Launchpad in July 2018 to find emerging vitamin and supplement brands for Vitamin Shoppe customers.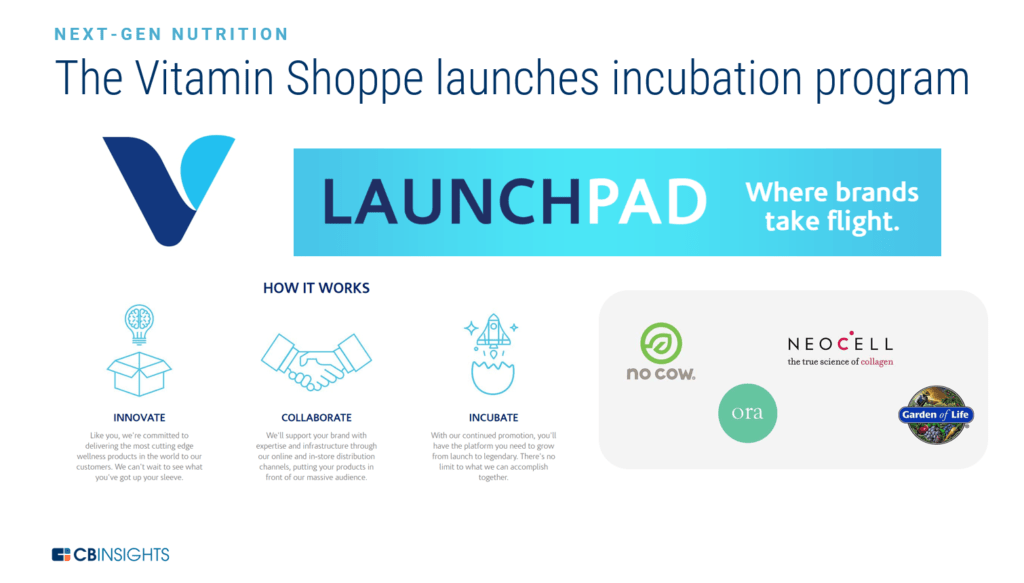 Next-gen convenience stores are also focusing on offering healthier products to keep up with the wellness movement.
Though small, new better-for-you convenience stores like The Goods Mart and Denver-based Choice Market are seeking to create tech-enabled convenience stores with healthier products than those found in regular stores.
As wellness invades nontraditional outlets, active nutrition companies could consider partnering with brands beyond gyms such as co-working spaces, travel and hospitality brands, and pop-ups to distribute better-for-you fitness foods and beverages.
Brands could also consider bundling active nutrition with athleisure beauty products.
If clothing and cosmetics support post-workout appearance, supplements could be incorporated to promote post-workout recovery. Hotels that offer fitness programs could also offer complementary active nutrition products to enable travelers' post workout recovery.
Inner beauty brands offer premium experiences
Beyond fitness, inner beauty brands with a focus on vitamins are emphasizing premium experiences.
Packaging, marketing, and light personalization are helping brands position their products as more luxurious.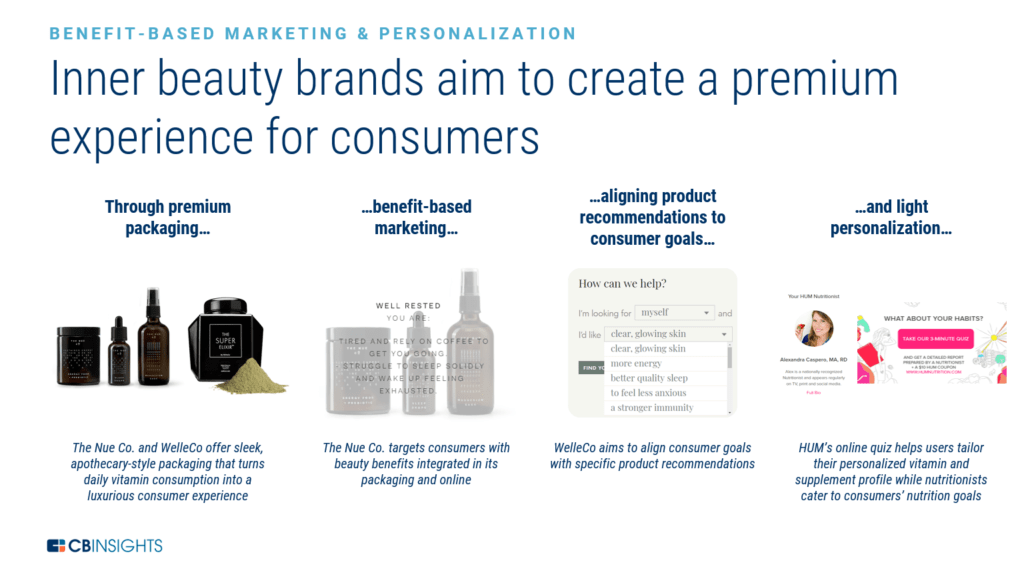 Beauty & Personal Care
After eating, it's time for Maya to get ready for work. She may reach for her personal care or beauty products, which are increasingly likely to be organic, vegan, or cruelty-free.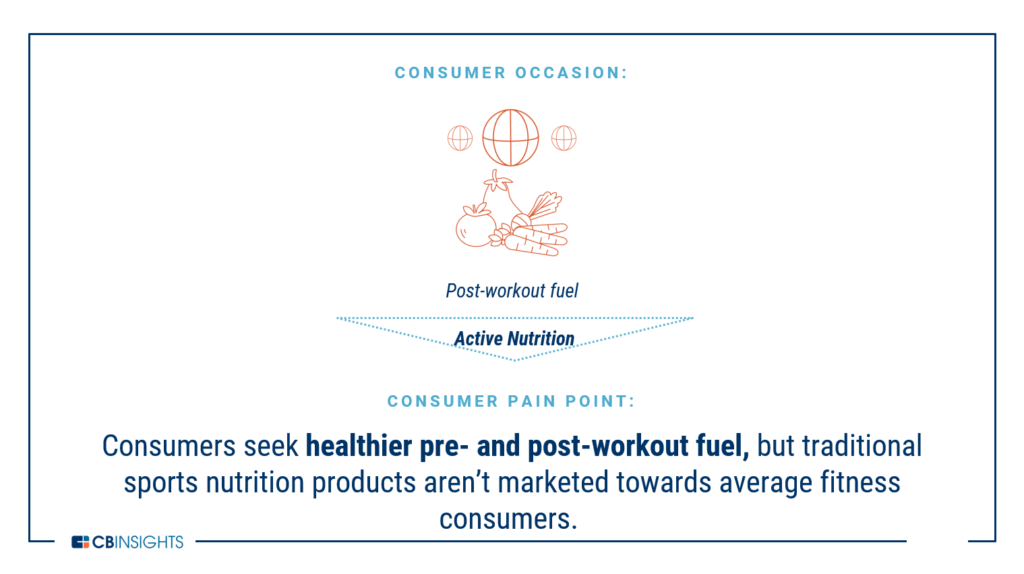 Better for you, non-toxic personal care products are intersecting with the wellness space as part of a larger consumer movement towards healthier lifestyle choices.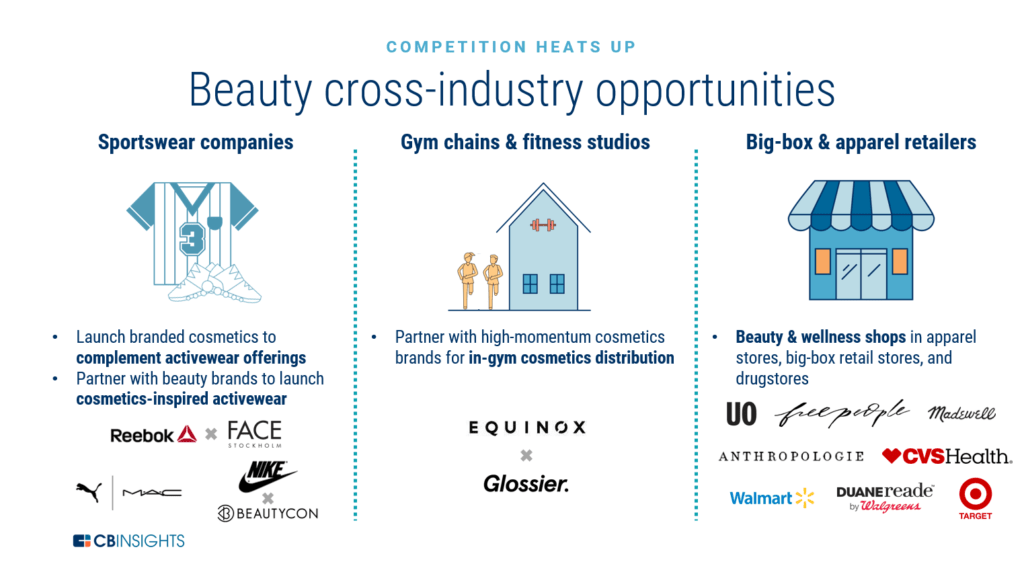 Athleisure and beauty integrate for post-workout wellness
"Athleisure beauty" highlights the beauty fitness overlap: In-studio products can make consumers' fitness experiences feel more enjoyable and premium.
For example, Equinox partnered with Glossier in early 2018 allowing Equinox members to try on Glossier products after the launch of a new group fitness class.
Both brands offer a similar ethos, advertising "aspirational lifestyles" to consumers.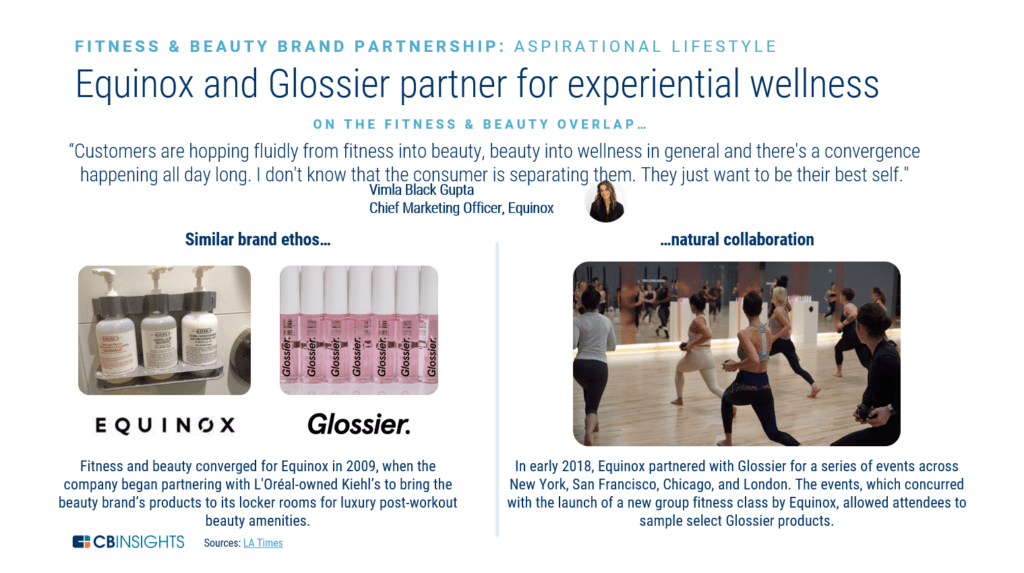 Wellness shops spread to apparel retailers, home goods
Wellness-focused products have been featured in "wellness shops," which retailers have pursued in an effort to revitalize their brands as a whole.
Beauty, wellness, and fashion present complementary product offerings and can promise a holistic lifestyle for consumers. Selling clothes, beauty products, and other wellness-focused items in the same shop can also help brands boost their bottom line.
This same trend is spreading to other areas such as home goods companies, which are looking to wellness to inspire new growth areas.
IKEA, for example, launched a limited edition wellness collection in March 2018 while Whole Foods came out with a wellness-inspired home goods store in the same month.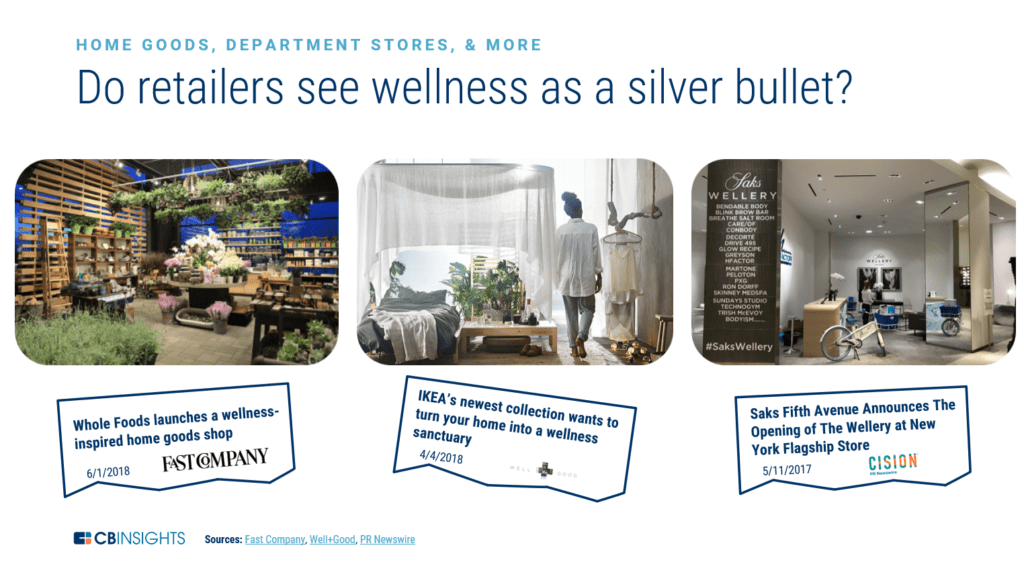 Beauty and health overlap for holistic wellness
Beauty is increasingly overlapping with health.
Tech-enabled beauty devices such as L'Oréal-owned La Roche-Posay's UV Sense helps measure individuals' UV exposure, which can offer anti-aging benefits and prevent skin cancer.
Other systems such as the HiMirror, which offers an "at-home beauty and health consultant," have partnered with Amazon Alexa to track skin, body measurements, and more.
Corporate wellness
After finishing her morning routine, Maya goes to work at a company that encourages wellness.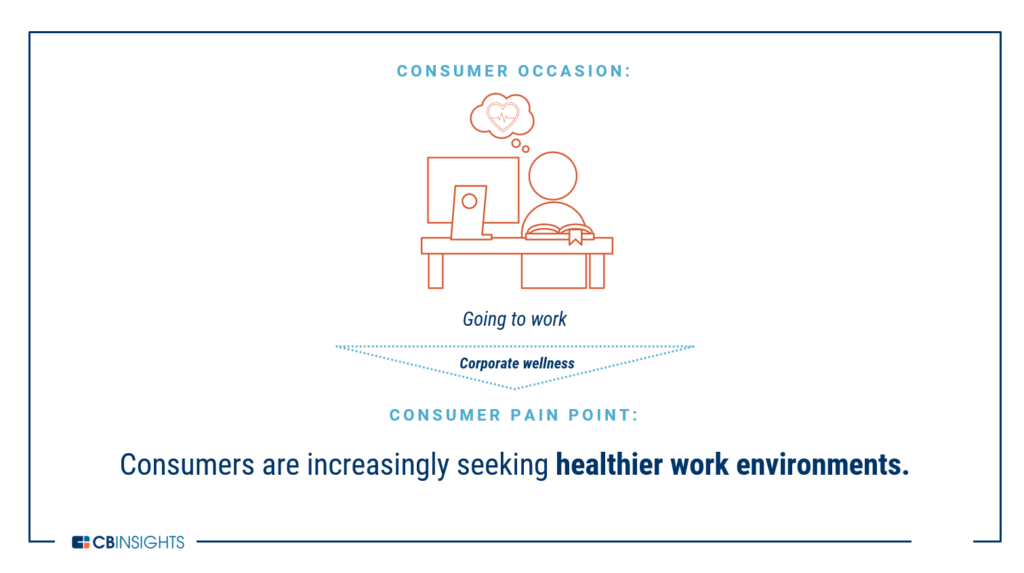 Consumers are seeking healthier work environments. Simultaneously, employers want healthy employees and can use workplace wellness initiatives to attract and retain employees. This can also help reduce companies' healthcare costs.
Though there have been questions over the efficacy of these programs, corporate wellness is extending into new areas such as sleep, mental wellness, and even co-working spaces.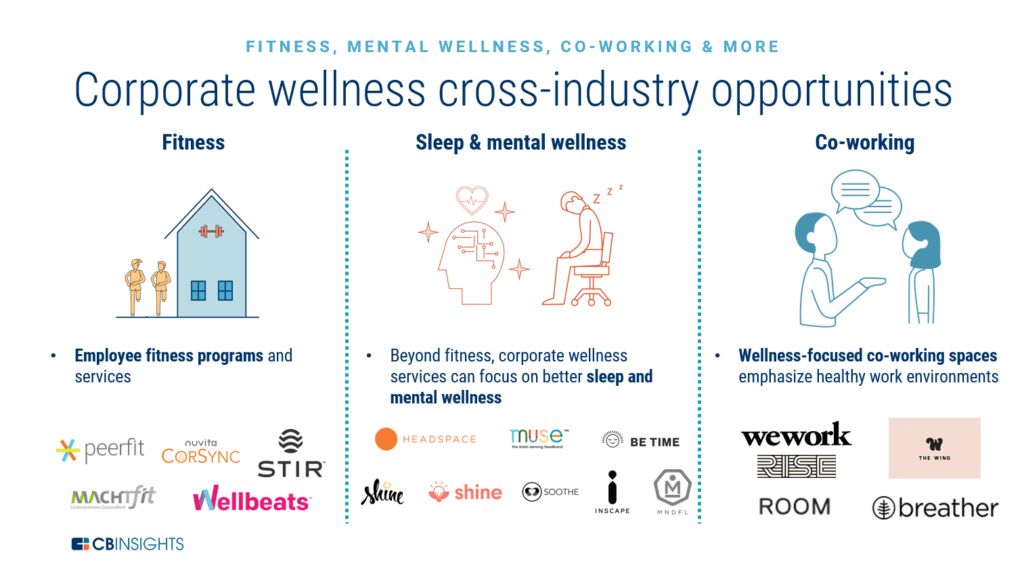 New corporate wellness services & co-working spaces promote wellness
Beyond fitness, new relaxation services such as massages are entering the workplace. 
Soothe, which has raised $78M, offers on-demand massages and its "Soothe At Work" program provides corporate wellness benefits. Co-working brands are also stepping up their wellness game.
Co-working giant WeWork jumped into wellness by launching workplace wellness programs such as Rise by We in 2017. Rise By We is advertised as a wellness club, beyond just a gym, that offers wellness-focused amenities for members.
Wellness communities are also being emphasized in female-focused co-working spaces such as WeWork-backed The Wing ($42M) and The Riveter ($5M).
Both companies offer a variety of amenities that aim to create comfortable, enjoyable, and productive work environments, supporting the idea of office spaces as places for wellness and community.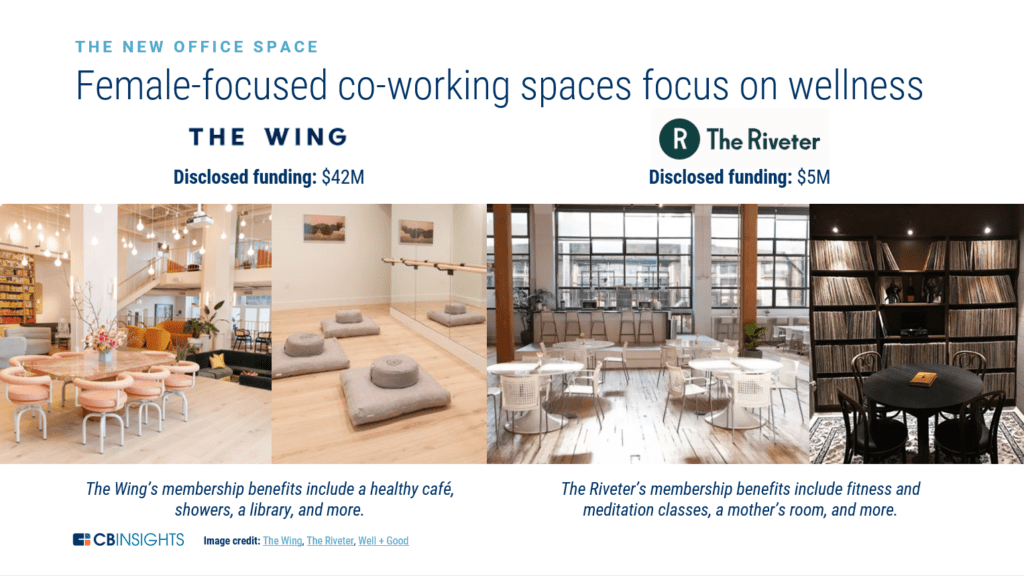 Wellness is also being optimized in new co-working formats that aim to offer privacy and personal space at work.
For example, Breather offers on-demand private rooms that are accessible through its app, and Room produces individual phone booths that can fit into office spaces. 
Mental Wellness
Maya has finished her workday and is looking to unwind after work with meditation or other mental wellness services.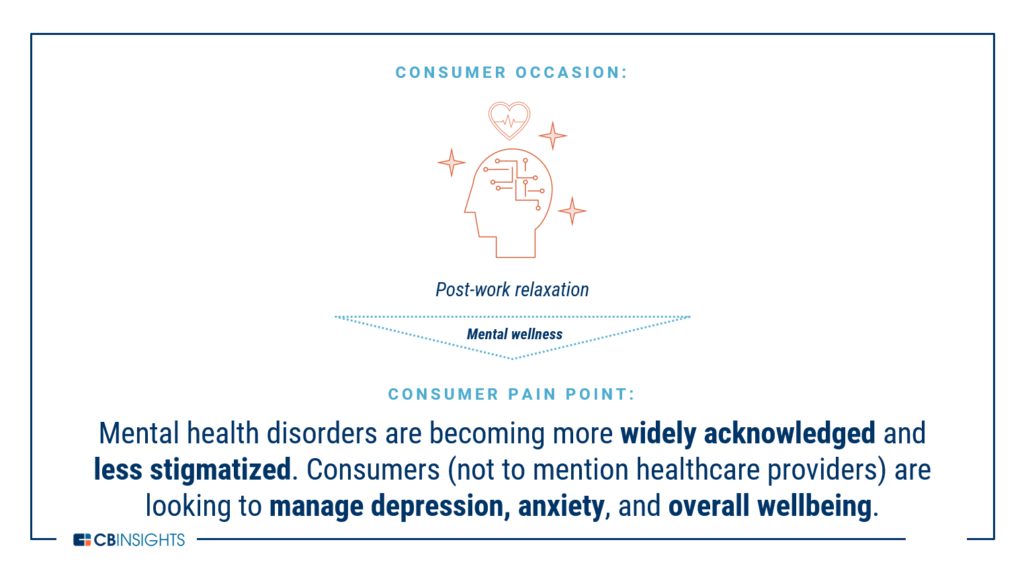 Thanks to decreasing stigmas around mental health disorders, more startups are cropping up to manage depression, anxiety, stress and overall well-being.
Mental wellness is hitting areas ranging from corporate wellness to travel and hospitality.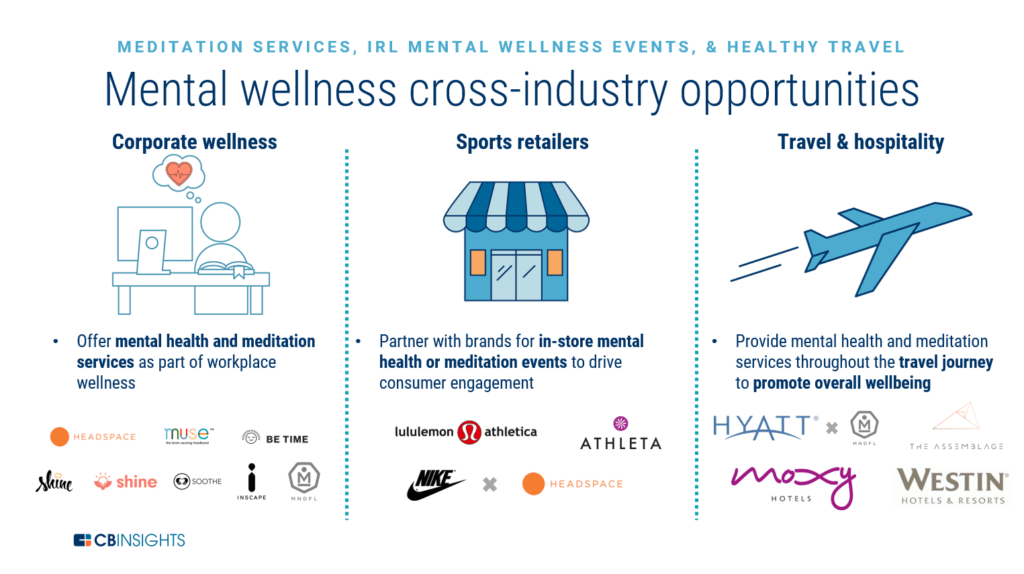 "IRL" meditation gains ground
The lines between meditation and fitness are being increasingly blurred.
For example, in March 2018, Nike announced a partnership with meditation app Headspace for mindful audio-guided runs.
The fitness industry's boutique effect is seeing similar traction with physical meditation studios. Brands like Inscape and MNDFL offer in real life (IRL) meditation studios while Be Time brings a mobile meditation clinic to consumers.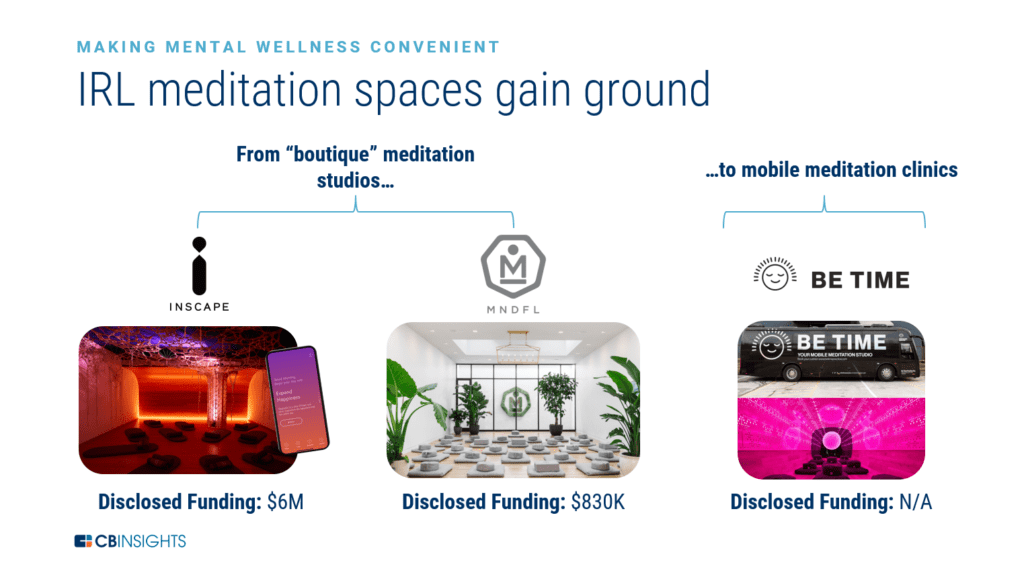 Travel and hospitality brands promote mental wellness throughout the traveler journey
Meditation services have been featured in hotels for some time, but now hotels are moving beyond partnerships to carve out more dedicated meditation space in hotels, as seen with Marriott-owned Moxy, and others.
Beyond hotels, airports and airlines could place greater emphasis on mental wellness throughout the travel journey.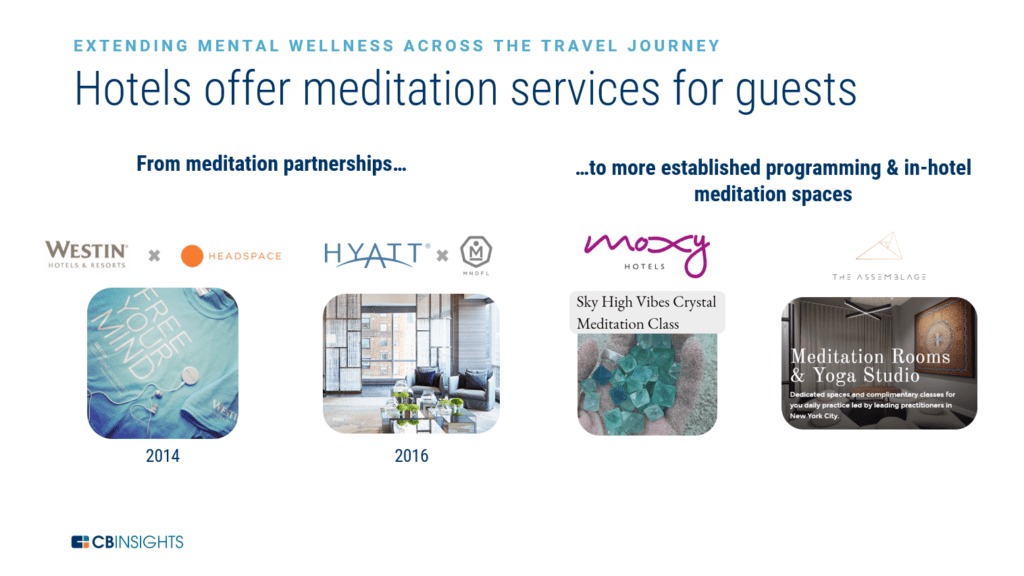 Cannabis
Perhaps Maya wants to continue relaxing after work or maybe she's looking to manage pain or anxiety. She could use CBD products to help.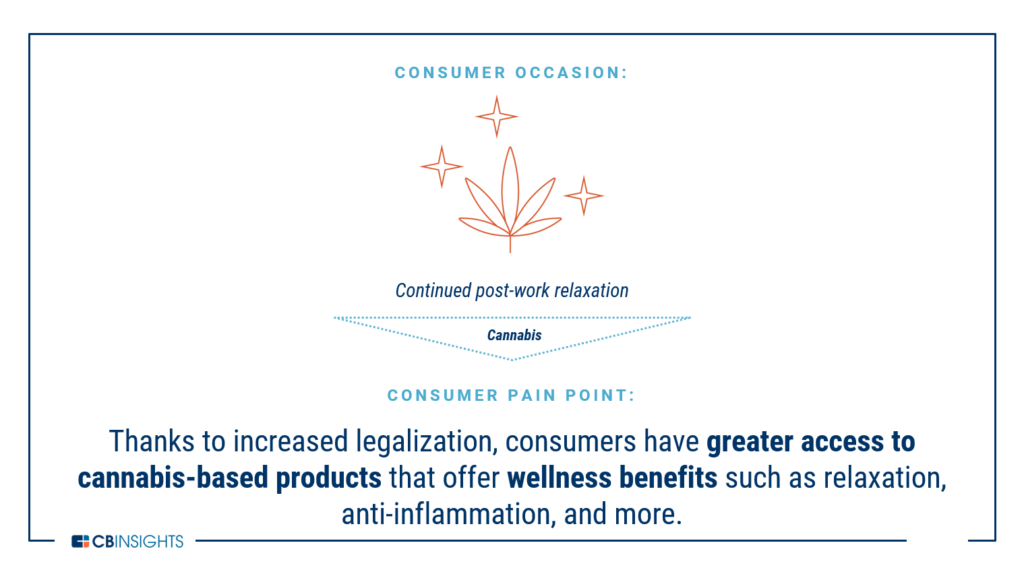 Cannabis is becoming more openly integrated in consumer products ranging from beauty to food and beverage to active nutrition, thanks to increased legalization.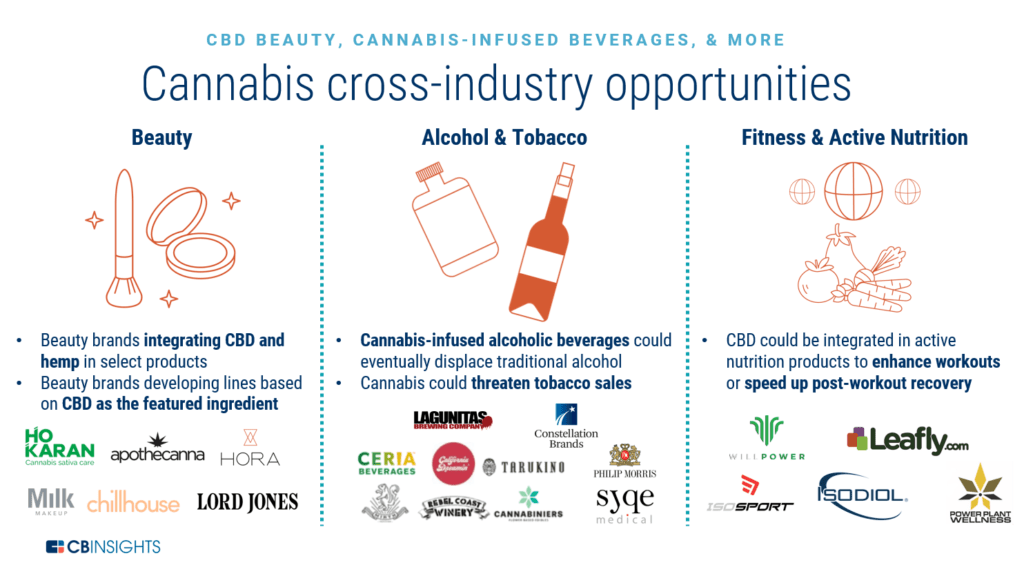 Alcohol industry gears up for cannabis
Alcohol brands are realizing the opportunities in cannabis.
Constellation Brands, which is the parent company of brands like Corona, Modelo beer, and Svedka vodka, upped its stake in Canadian cannabis company Canopy Growth to $4B of total investment in August 2018.
With beer sales falling and cannabis increasingly perceived as healthier than alcohol, beer and spirits brands are exploring new products beyond their traditional market.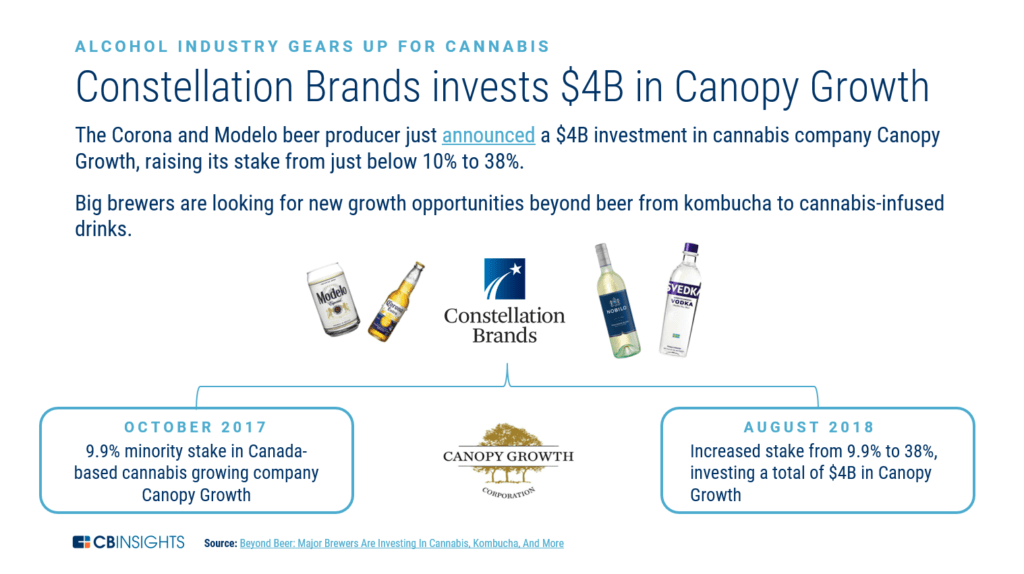 Fitness and active nutrition intersect with cannabis
Beyond the alcohol industry, gyms are becoming increasingly cannabis-friendly.
Two gyms in San Francisco and Denver popped up last year as two of the first "cannabis gyms."
These spaces could help ward off the aforementioned "gympocalypse" by giving consumers more reasons to go to the gym beyond exercise, by offering other benefits that align with their lifestyles.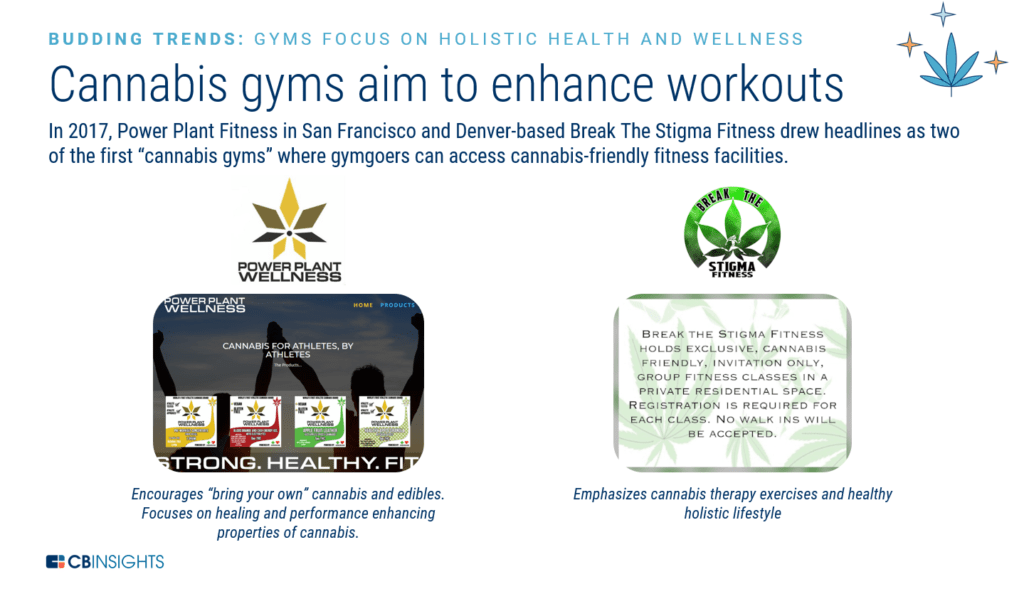 Active nutrition products integrate cannabis
With gyms becoming a point-of-sale for active nutrition products, a few early entrants are incorporating cannabis for pain relief, anti-inflammation, and post-workout muscle recovery.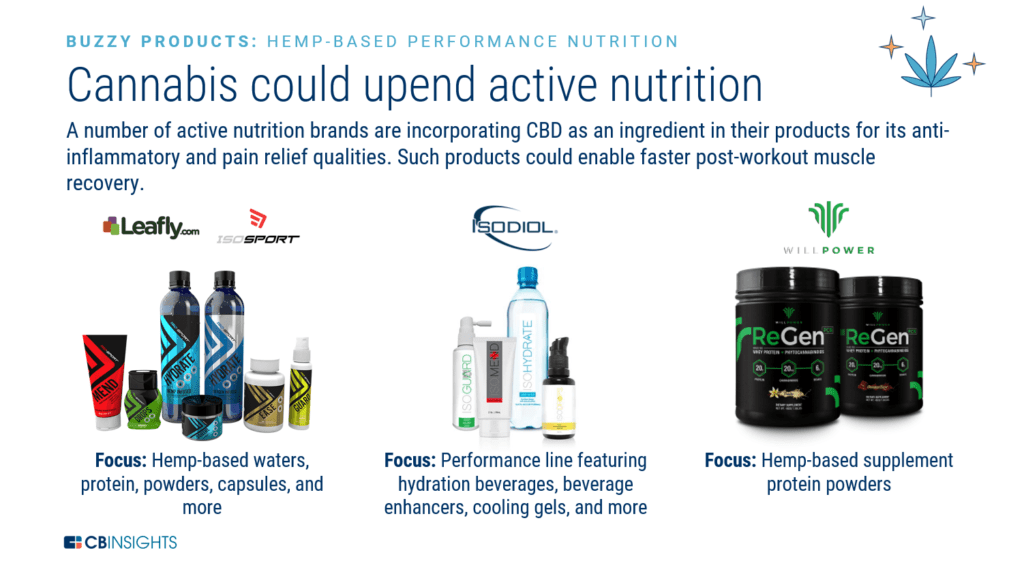 Sleep tech
After the end of a long day, it's probably time for Maya to go to sleep — which is linked to wellness.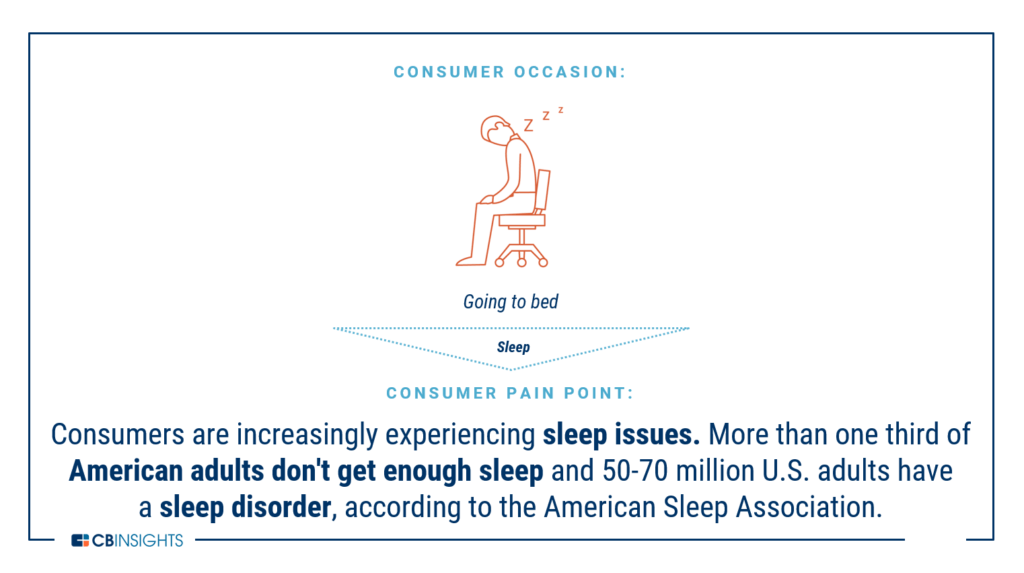 Lack of sleep is increasingly seen as a public health epidemic in the United States, with over one-third of American adults not getting enough of it.
To solve this, a variety of sleep tech brands are cropping up promising products or services that will promote deeper rest. 
Fitness and wellness clubs, beauty and apparel, and travel brands are just some of the businesses seeing cross-industry opportunities with sleep tech.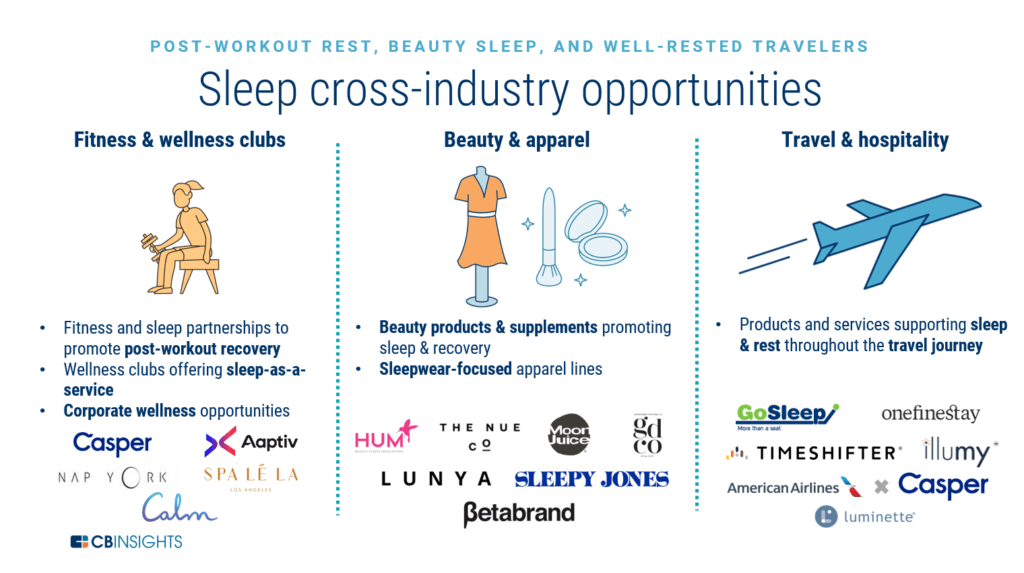 Sleep partnerships & centers promote post-workout recovery, destigmatize rest
Natural partnerships between fitness and sleep providers are emerging to promote post-workout rest and recovery.
For example, direct-to-consumer mattress brand Casper and audio fitness app Aaptiv partnered last year to offer workouts designed to help users achieve better sleep.
Sleep and relaxation centers are also offering services designed to destigmatize the idea of napping and help city dwellers relax and unwind.
Casper, for example, recently launched "The Dreamery" — a nap lounge featuring nap pods, complimentary beverages, and other post-nap amenities.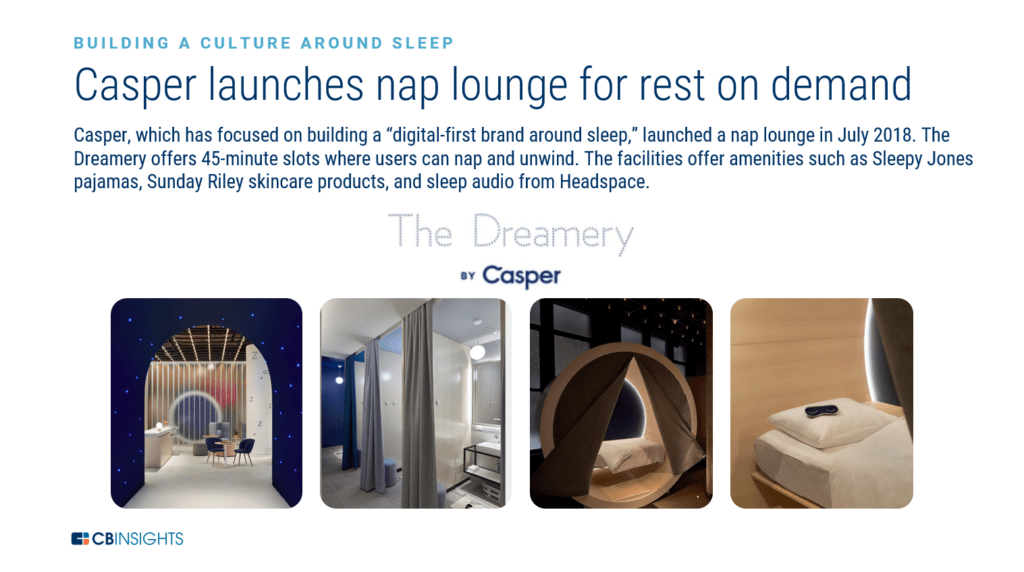 Travel industry emphasizes sleep throughout travel journey
The travel and hospitality industries are also placing increased importance on sleep throughout the travel journey.
As airports seek to become premium destinations, they are dedicating more space for travelers to rest with amenities such as sleeping pods.
Beyond airports, airlines are improving the passenger sleep experience in flight, as seen in American Airlines' partnership with Casper to upgrade its complimentary sleeping products on longer flights for first-class and premium-economy fliers.
More products are also aiming to offset the negative effects of jet lag with mobile apps like Timeshifter, which uses sleep and circadian neuroscience to help long-distance travelers fight lethargy and make the most of their vacation time.
Other brands are offering light masks and light therapy goggles to reduce jet lag. Hotels are also looking to create more sleep-friendly experiences for travelers, providing connected hotel rooms promoting better sleep as well as sleep-enhancing foods.
Additionally, hotels are also capitalizing on room availability during off-hours with apps like Recharge and Dayuse that allow travelers to reserve short-term, marked-down stays at participating hotels to catch up on sleep.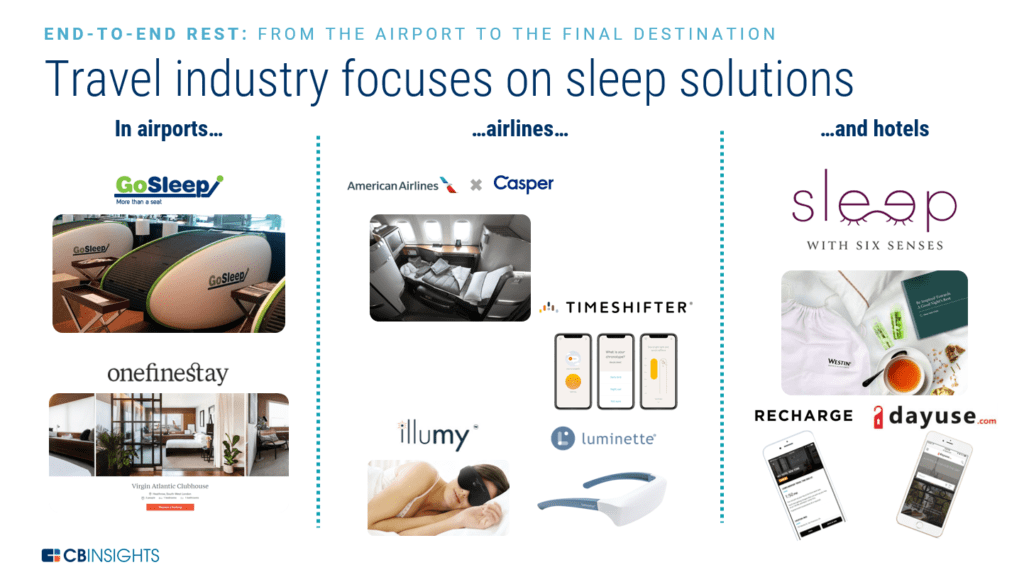 Travel & Hospitality
Beyond the day-to-day consumer journey, wellness is moving into special occasions.
Perhaps Maya is looking to take a vacation next month, or business travel is part of her regular routine and she wants to maintain her health and wellness despite a hectic lifestyle.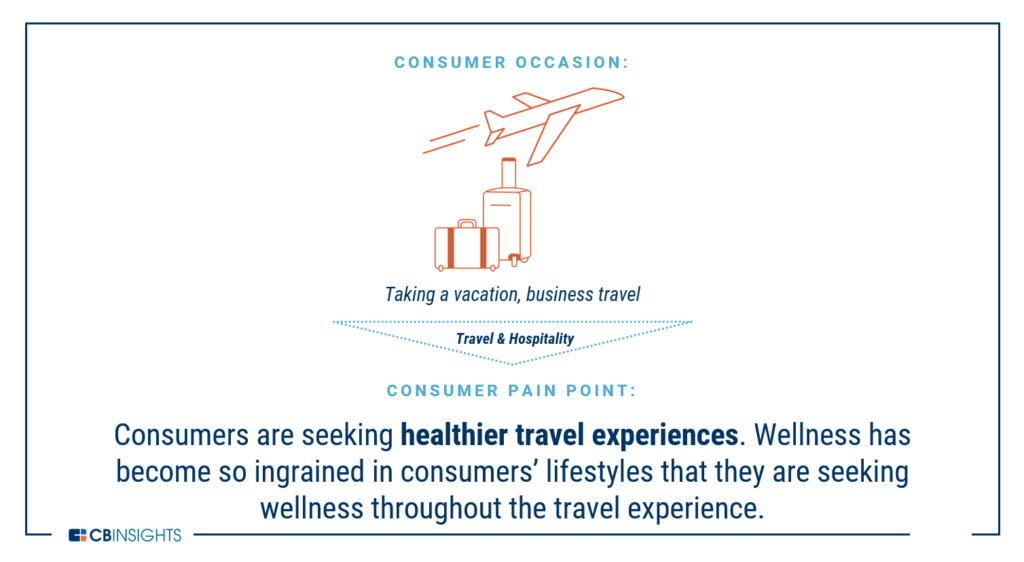 Ultimately, consumers are seeking healthier travel experiences to mimic their desire for wellness in their daily lives.
Wellness is being infused across the travel experience from airport check-in through the entire stay.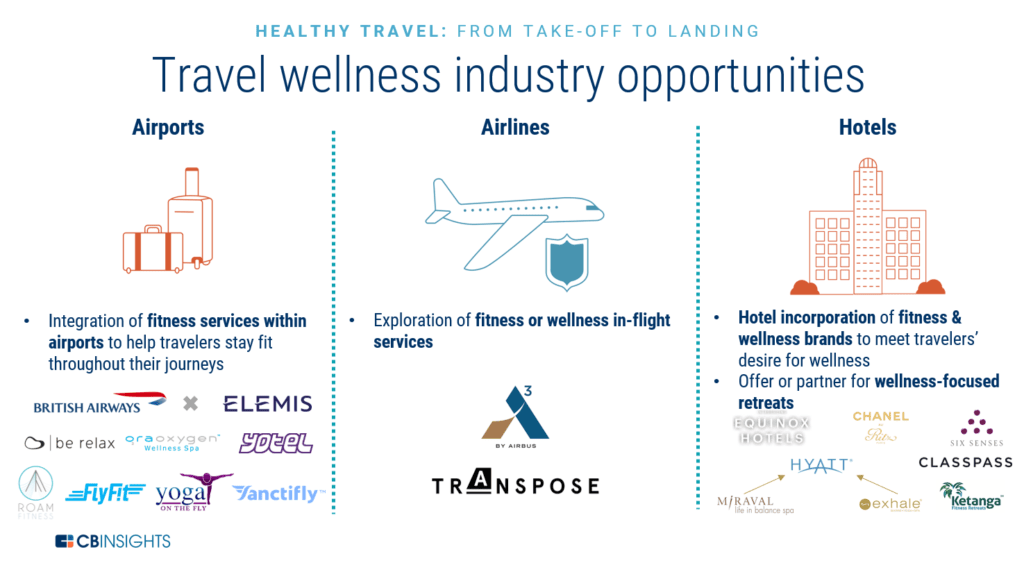 Fitness & relaxation services visit the airport
Fitness services are targeting business travelers by meeting them directly at airports with brands like ROAM Fitness, which offers workout facilities behind airport security, and Sanctifly, which provides a members club for travelers to book airport hotel gyms and other wellness facilities.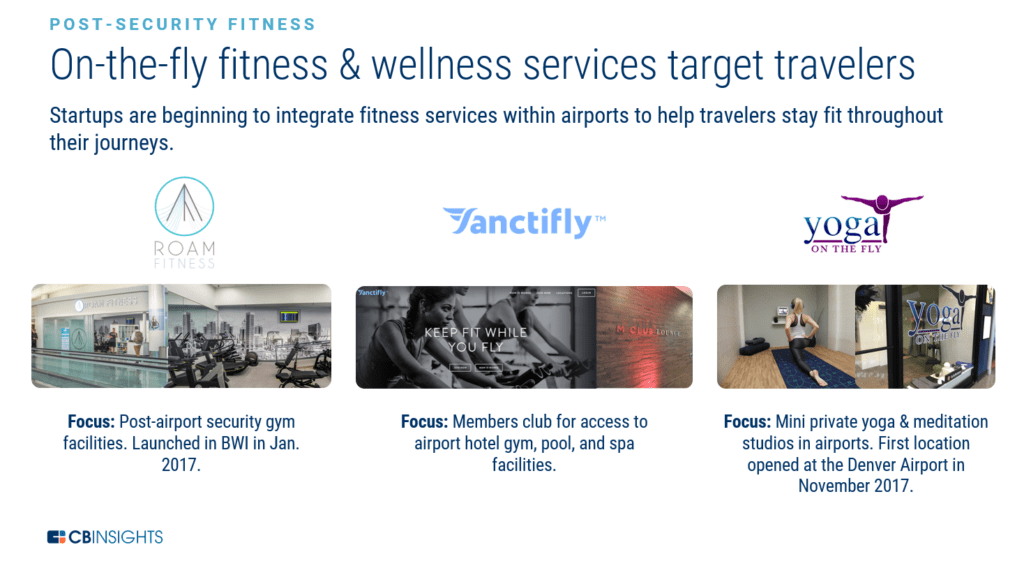 Beyond fitness, beauty and relaxation services are coming to airports.
For example, BeRelax has raised $24M for post security relaxation and beauty treatments, ultimately supporting the idea of airports becoming shopping malls.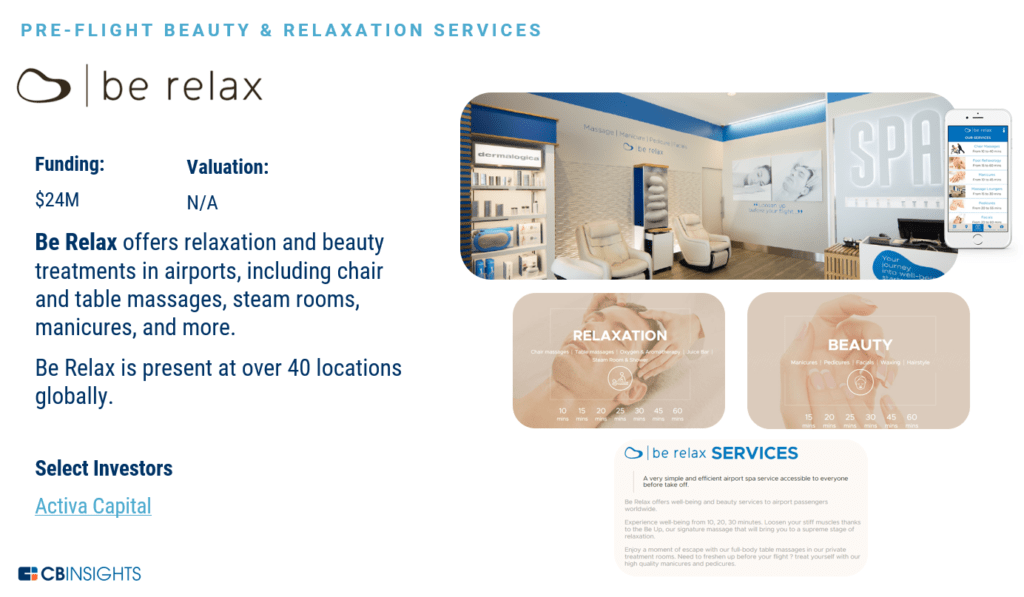 Wellness travel gains ground
Fitness is extending through the travel journey with an increase in fitness retreats or fitness-focused vacations with brands like bstoked and Ketanga Fitness Retreats.
Most recently, ClassPass (which moved into the wellness space earlier this year with the launch of beauty and wellness booking services) expanded into the travel wellness market with its recent launch of "ClassPass Getaways," which are day-long wellness experiences ranging from workouts to spa services and more.
ClassPass could further foray into the travel industry and become good partners for hotel chains, home-sharing, and travel services players like Airbnb, and more.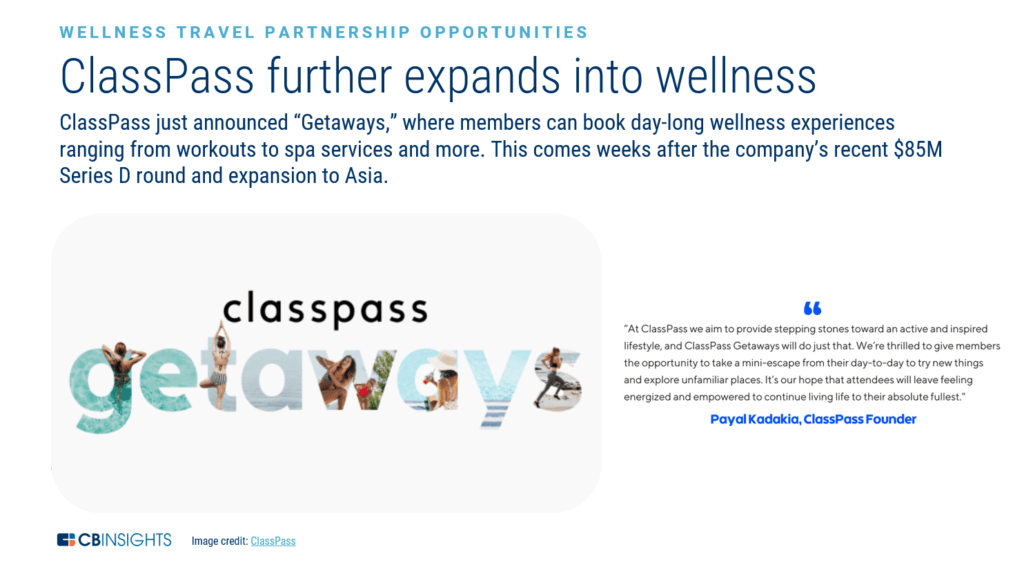 real estate
Moving on to our last special occasion, perhaps Maya is among the subset of millennial consumers well positioned to buy a house.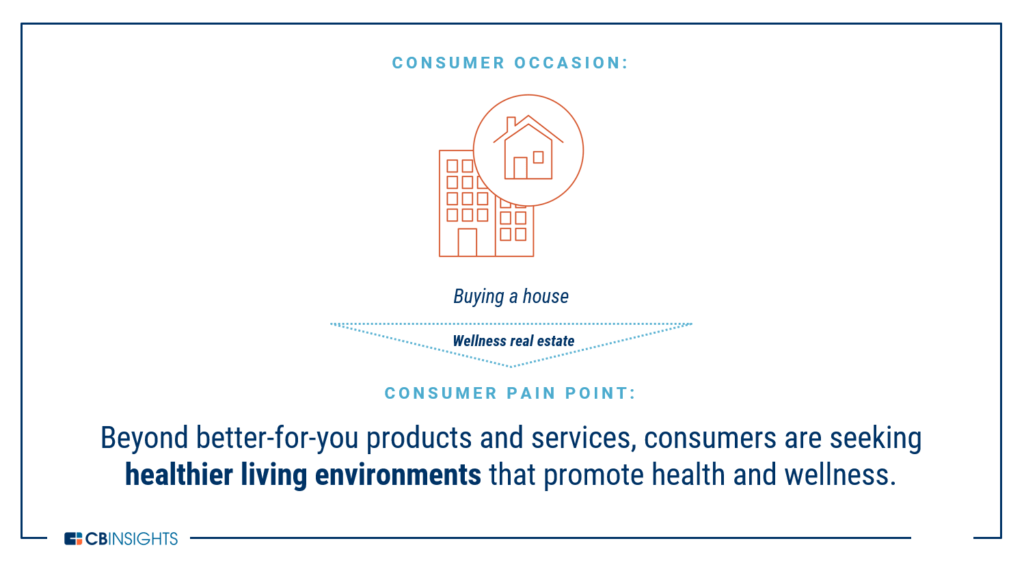 With the rise of wellness real estate, wellness is extending into our living environments which will affect industries ranging from smart cities and mobility to healthcare and more.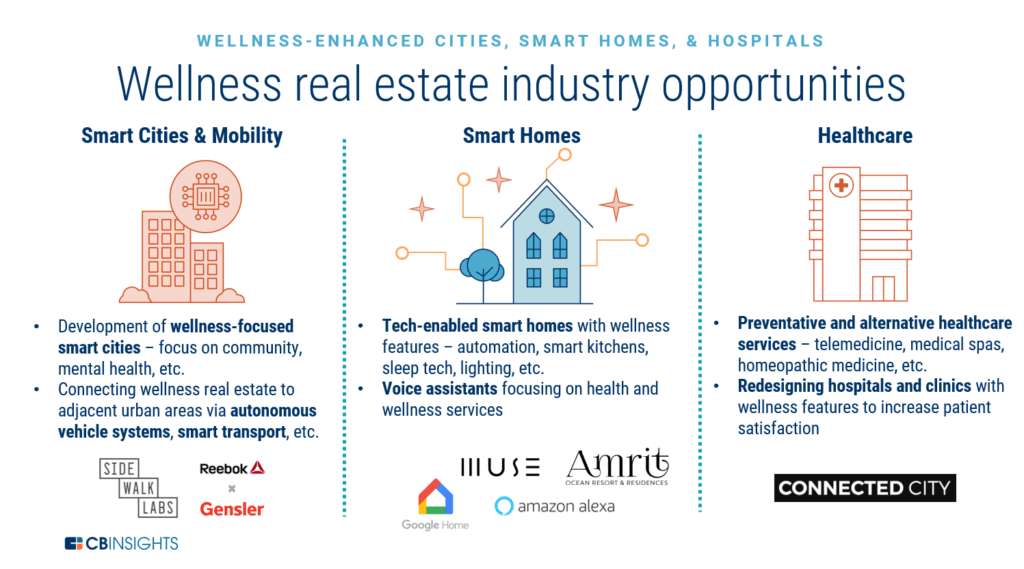 Wellness real estate communities proliferate
Based on research from the Global Wellness Institute, wellness real estate is defined as "homes that are proactively designed and built to support the holistic health of their residents."
This includes features such as greater walkability in cities, more bike lanes, cleaner air, and healthier food options. Serenbe, for example, is one of the most well-known holistic wellness-focused communities.
Located 25 miles outside of Atlanta, the community emphasizes access to nature as well as urban amenities such as a spa, yoga studio, school, and more.
Beyond access to nature, tech-enabled wellness amenities are being featured in spaces like Miami-based Muse Residences, which offers heat reflexology floors, vitamin C-infused showers, aromatherapy emitted by remote-controlled walls, and advanced air and water purification systems.
Healthcare services are also playing a prominent role in wellness real estate.
The Connected City, which is being developed just outside of Tampa, plans to leverage technologies such as telemedicine, an autonomous vehicle system, and preventative healthcare amenities such as a health/performance institute and a hospital with a medi-spa.
These wellness real estate brands, and more, could serve as partners for retailers, food companies, and many of the other sectors being reshaped by wellness.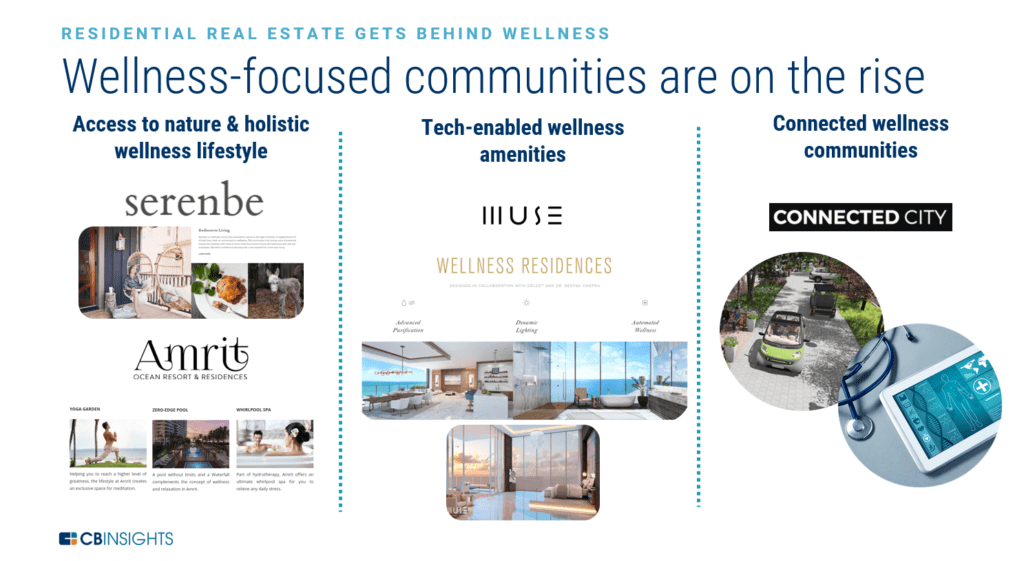 Could wellness real estate become more affordable?
The wellness real estate trend goes beyond these more lavish offerings geared towards the wealthy.
New York houses a few mixed-income communities where health-focused features are being integrated into affordable housing. Meanwhile, startups like Lyvly, which has raised $4.6M, offers a shared living management platform that aims to be more affordable for renters.
Outside of residential real estate, there are initiatives to revamp our larger city environments.
Google's Sidewalk Labs, which is focused on the future of cities, has backed a variety of urban health and wellness startups demonstrating that the future of cities will be focused on integrating health and wellness features into our built environments.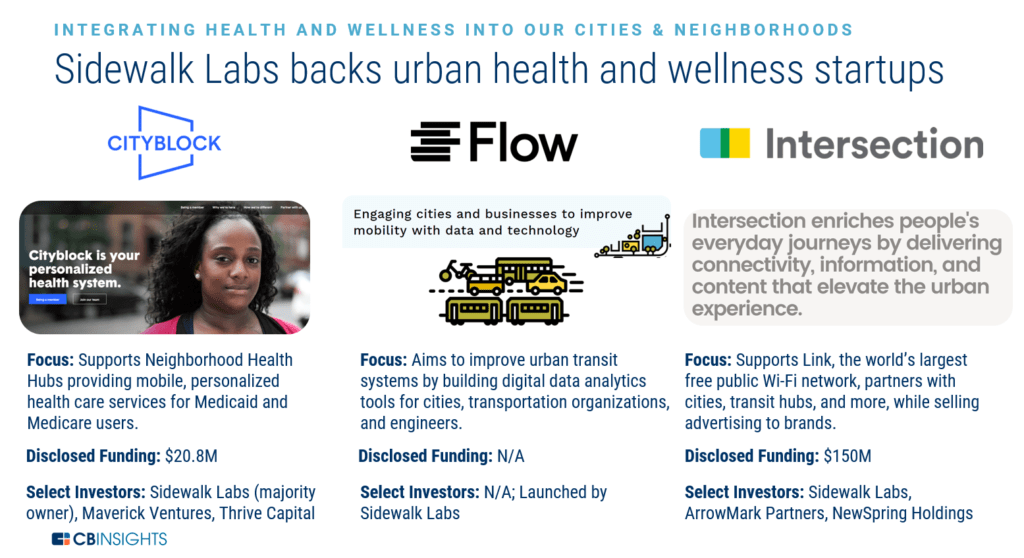 Looking ahead
From food & beverage to personal care, wellness is impacting virtually every industry and will continue to shape our communities and environments.
Beyond some of these more obvious overlaps, the conversation is extending to areas such as financial services, mobility, energy, healthcare, and more.
From AI-powered nutrition apps to sleep wearables to biotech-powered sugar replacement startups, tech will continue to play a pivotal role in infusing wellness across new industries.
Even big tech companies are pushing into the wellness space.
For example, Facebook and Instagram have proposed initiatives to combat digital addiction while Amazon Alexa and Apple Health are making a bigger push into health and wellness voice-activated devices and wearables respectively.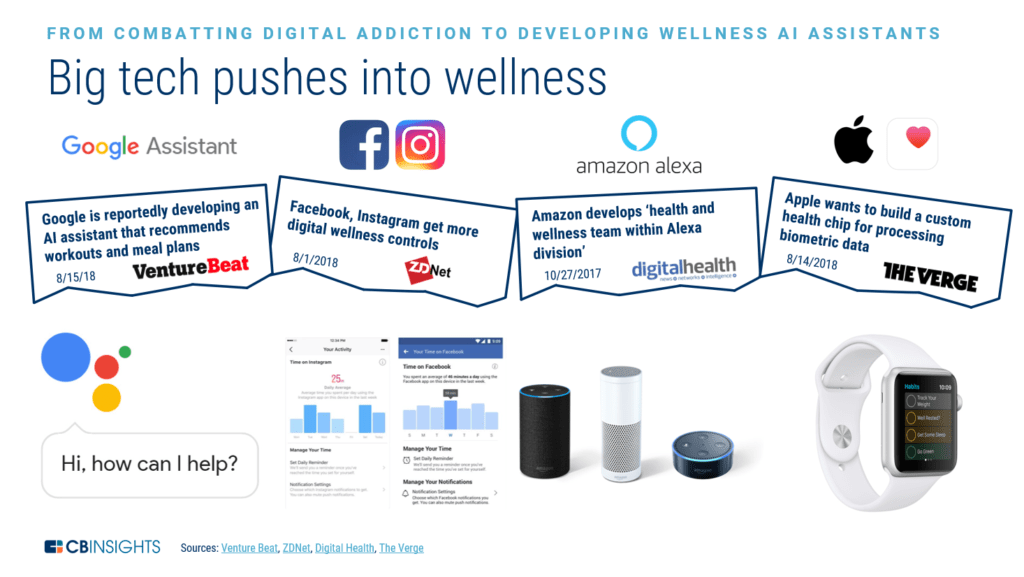 The industry has also seen its share of controversy.
From debates over goop's wellness lifestyle suggestions to the infamous death of connected juicer startup Juicero, the obvious question is whether solutions crafted by these wellness brands actually work.
More broadly are concerns about the accessibility and affordability of wellness beyond the privileged few.
From $200 serums to $4K treadmills, a majority of these wellness-focused products and services are positioned as premium offerings, unavailable to the average consumer.
But as the space expands, it will likely evolve and influence product development and marketing aimed at the broader population. Wellness could become more than a trendy, nice-to-have feature, and instead become part of an overall healthy lifestyle.
If you aren't already a client, sign up for a free trial to learn more about our platform.