What's next for wellness? Our analysts examined different industries to identify 18 of the biggest wellness trends, from wellness tourism to boutique meditation.
From personalized vitamins to connected fitness devices to products infused with CBD oil, wellness is now a multi-market opportunity estimated to be worth over $4T.
Our anaysts evaluated signals across industries to identify the top 18 wellness trends to watch in 2019.
Fitness In The Post-Covid World
Download the free report to learn how technology is changing the way we work out.
1. Premium Beverages
The beverage industry is embracing wellness. A new era of health-conscious beverages are touting benefits such as enhanced productivity, greater calm, and simply "feeling better." One of the top wellness trends of 2019 will be new offerings from beverage incumbents and new wellness beverage "occasions."
2. Performance Fashion
Athleisure has taken the apparel world by storm. But wellness is playing a bigger role in fashion, from workleisure to connected apparel to eco-friendly clothes. Companies are exploring concepts around clothing that can boost wearers' well-being, like smart jewelry that can monitor vital signs.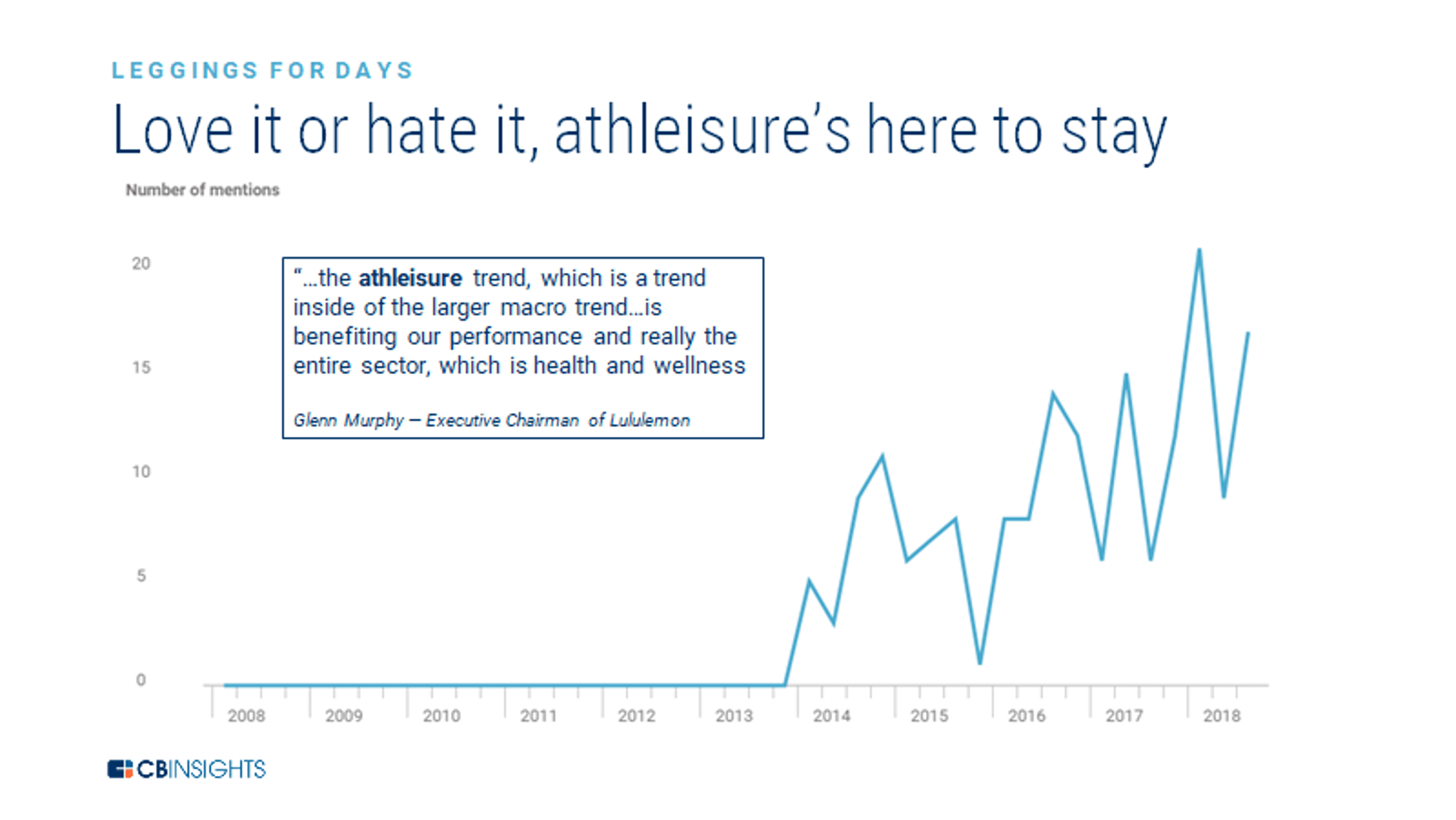 3. Grocery Store Private Labels
Grocery stores are using private labels to test new diet trends and launch wellness products. As more chains embrace private labels to cut costs and cater to consumer needs, wellness is becoming a major focus. One of the top wellness trends to watch this year will be better-for-you private labels dominating grocery store shelves.
4. Financial Health
New tools and fintech platforms are emerging to provide more financial options to consumers. Benefits programs are also trying to tap into the wellness trend by integrating more health and well-being benefits for employees. Going forward, expect to see more financial wellness companies continue to focus on financial services for underserved populations.
5. Wellness Tourism
Wellness travel is taking flight as travel, hospitality, and well-being are converging in the broader wellness tourism market. Industry spend is expected to reach $919B by 2022, and airports are becoming wellness destinations in their own right. However, new wellness travel options also bring with them the risk of overtourism. This year, expect to see more efforts around sustainable tourism.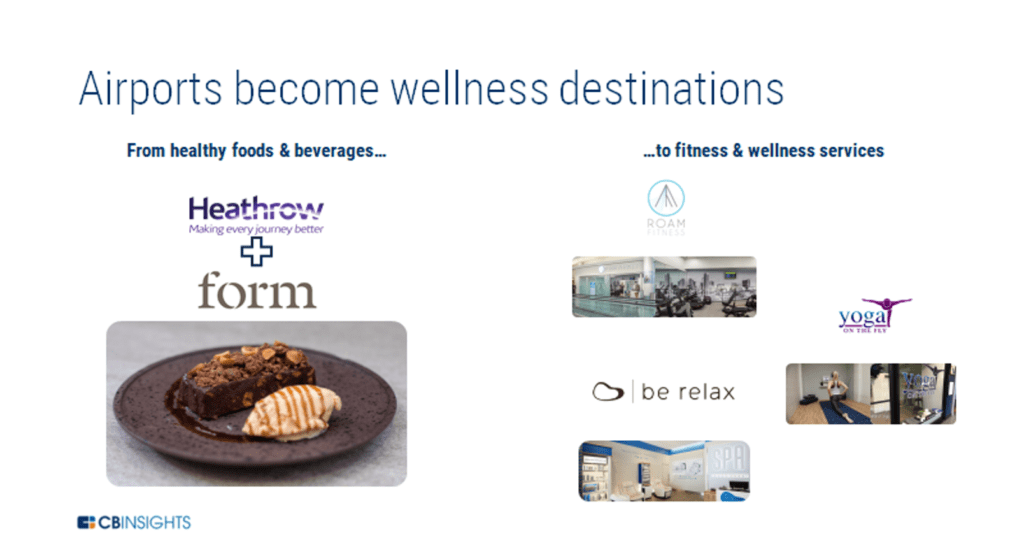 6. Alternative Offline Points-of-Sale
From mobile-operated kiosks in cars to smart refrigerators in offices, alternative offline wellness point-of-sales are emerging. These new points-of-sale could also increase the likelihood that consumers will be able to conveniently access wellness products. One of the top wellness trends to watch will be the spread of alternative points-of-sale and partnerships with distribution channels.
7. Fast Casual Health Restaurants
The global fast casual market is expected to grow to $67B by 2020. Within the segment, restaurants have notably leaned into healthy dining. Moving forward, tech will help making restaurants more efficient and helping them stand out in a sea of healthy options.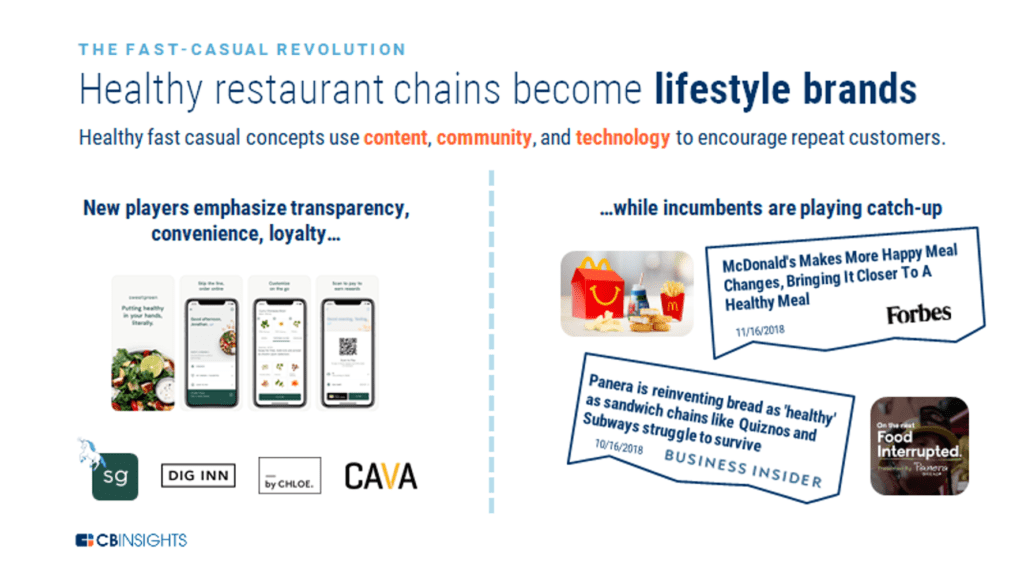 8. Energy Efficient Buildings
Energy efficiency is playing a bigger role in promoting comfort, ultimately well-being, to inhabitants. One key wellness trend this year will be more companies and initiatives around making buildings cleaner, smarter, and safer. Office buildings, in particular, will be pivotal in this movement.
9. Aspiration & Authenticity Branding
74% of consumers aged 18-34 believe that it's important for brands to embrace wellness as part of their core mission. 62% believe that all brands will need a wellness angle to survive in the future, according to Deep Focus. Unsurprisingly, the business of wellness branding has exploded as a result. But under this broad characterization, brands are debating aspirational lifestyle and authenticity marketing. This year, look for brands to clearly define the type of wellness marketing they want to promote.
Wellness Tech
Consumers are increasingly seeking products and experiences that promote well-being and healthy habits, with modern-day "wellness" referring to holistic healthy living characterized by physical, mental, social, and spiritual well-being. Look for Wellness Tech in the Collections tab.
Track wellness tech startups
10. Active Beauty
Athleisure and beauty have integrated to form a new product category: post-workout wellness. Startups and incumbents alike are experimenting with body, skincare, and other cosmetic products targeting consumers with active lifestyles. As beauty brands cater to consumers' exercise regimens, fitness brands are also moving into beauty. Moving forward, look for more non-Western players jump on the trend and experiment with active beauty products.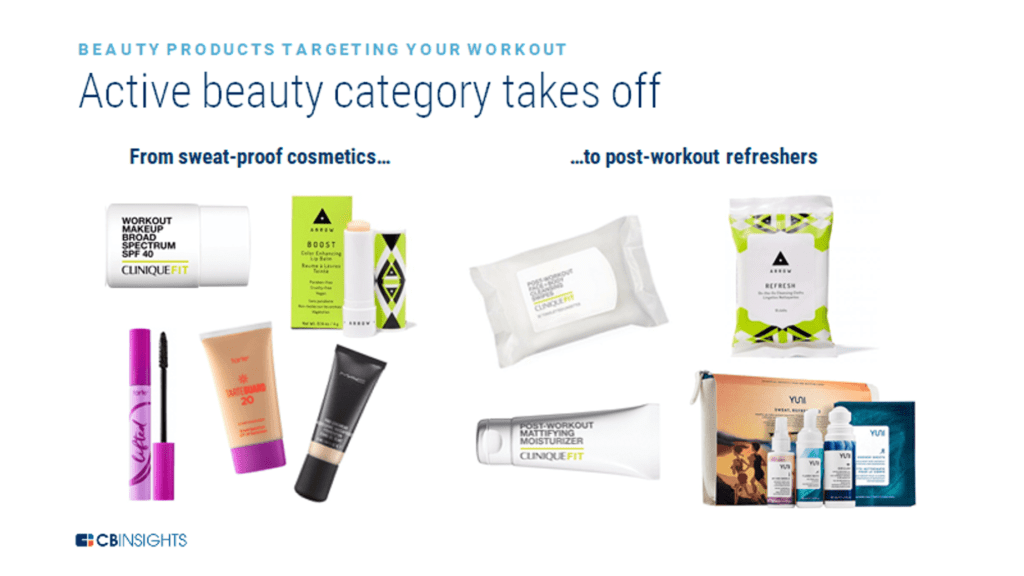 11. Feminine Care & Sexual Wellness
Startups are transforming the feminine care and sexual wellness space with better-for-you ingredients, product innovation, and inclusive branding. Also feeding into this trend are women's health clinics, which are increasingly offering more personalized and holistic healthcare for women.
12. Pet Pampering
Wellness is now manifesting in the pet world across high-grade food, pet health, fitness trackers, cannabis-based supplements, and more. One of the top wellness trends will be the integration of buzzy wellness products and services across the pet space.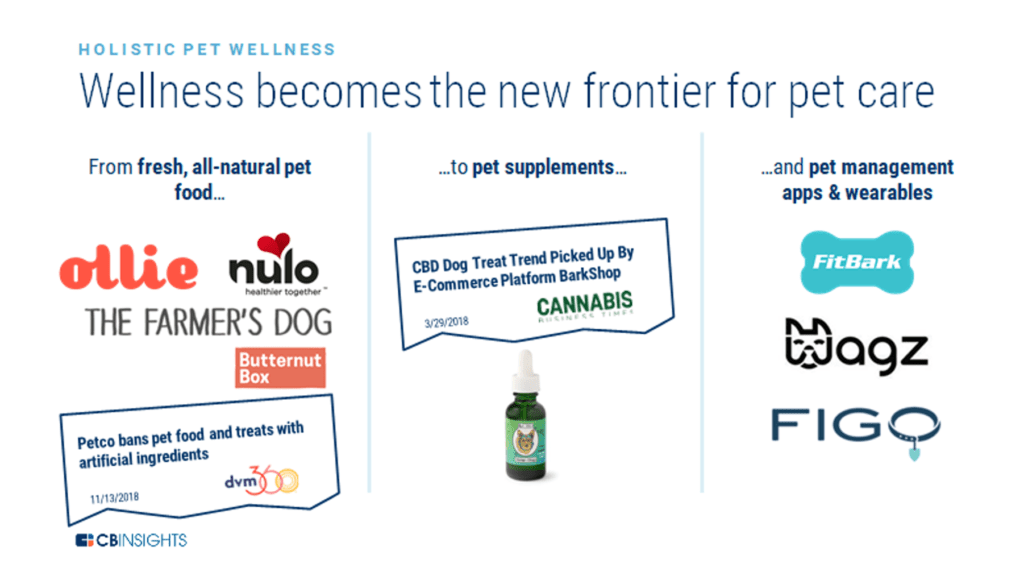 13. Boutique Meditation & Mental Health
Mental wellness is hitting areas ranging from workplaces to travel & hospitality. Reflecting the decreasing stigma around mental health disorders, more startups are cropping up to manage depression, anxiety, and overall well-being through boutique meditation studios, mental wellness apps, and more.
14. Wellness Real Estate
Real estate communities focused on holistic health and well-being are rising, with implications for urban planning, transportation, healthcare, and more. Many of these communities aim to attract specific demographic groups or residents. But the wellness real estate trend goes beyond lavish offerings geared towards the wealthy.
15. Wellness Retail & Pop-Ups
Retailers are using wellness products, shops, and pop-ups to revitalize their brands. For example, big box retailers and drugstores have taken steps to turn themselves into beauty destinations. Beyond beauty shops, this trend is also spreading to home goods companies, which are looking to wellness to drive growth. One of the top wellness trends of 2019 will be new shops and concepts emerging as brands look to monetize the wellness opportunity.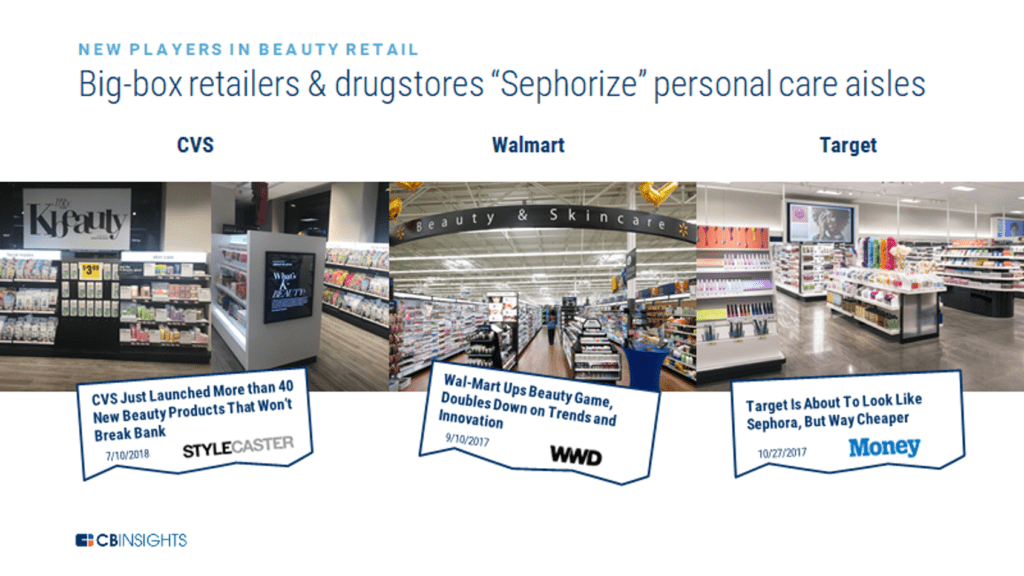 16. Personalized Nutrition
Next-gen nutrition companies are using tech to offer personalization. Many personalized nutrition companies are focusing on mobile-first approaches, chatbots, and a holistic emphasis on wellness. Investment to the space is surging, and Big Food has also been experimenting with genomics-based nutrition.
17. Anti-Aging Therapies
Startups are leveraging new technologies and therapies to tackle mortality and increase the human lifespan. And it's not just biotech and pharma looking to combat mortality — wellness companies are working in the space, too. This year, one of the top wellness trends will be new anti-aging research efforts and technologies gaining traction.
18. Connected Advertising
Though shoppers are still adapting to voice commerce and IoT-enabled devices, connecting advertising is helping brands advertise wellness products and services to new markets. Despite challenges, voice commerce is likely to become mainstream in CPG before other sectors. And as consumer preferences change, connected advertising could ultimately lean towards more healthy CPG products.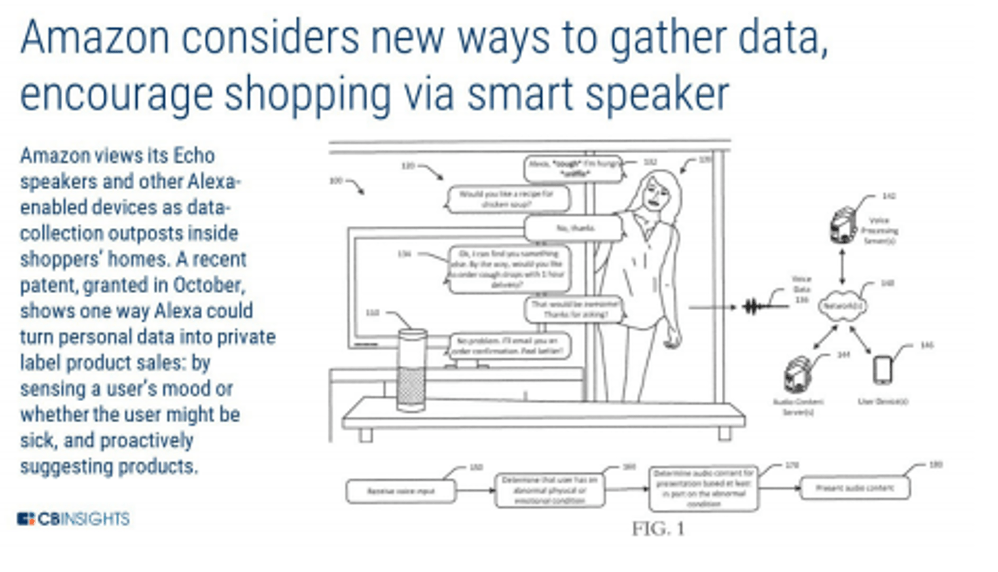 Fitness In The Post-Covid World
Download the free report to learn how technology is changing the way we work out.
If you aren't already a client, sign up for a free trial to learn more about our platform.