The wellness space saw deals and dollars plunge year-over-year in the first half of 2020. We take a look at the 4 major themes that continued to attract investor interest despite the pullback.
Overall investment in wellness was down in the first half of 2020 compared to the same period last year, as the pandemic impacted the global economy. 
Fitness In The Post-Covid World
Download the free report to learn how technology is changing the way we work out.
Wellness companies collected $4.6B in funding across nearly 500 deals during H1'20, down 24% and 16% year-over-year (YoY), respectively.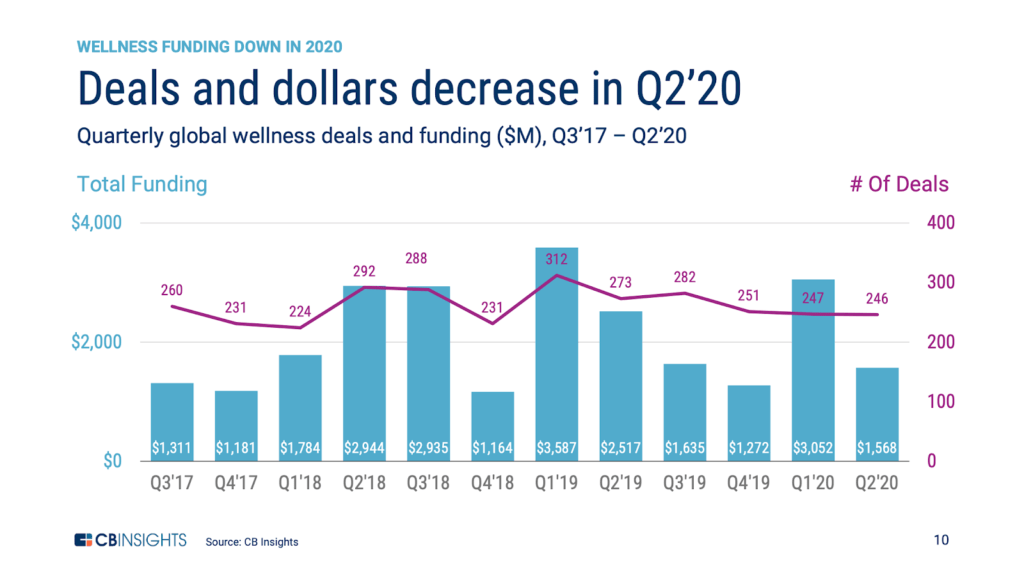 The mental health space, meanwhile, drew the most funding and deals out of any wellness category, aggregating more than $1B across 106 deals in H1'20. 
Below, we dig into 4 underlying investment themes across wellness during the first half of the year.
We define wellness technology companies as those developing products and services that aim to help consumers improve their physical, mental, or social well-being. Categories range from beauty & personal care to fitness tech, but we exclude travel, restaurants, and food & beverage companies, with the exception of those that fall into other featured Collections (e.g. baby food subscription services) and alternative protein companies.
1. At-home tools: Enabling consumers to do more from their homes 
Digital platforms and apps aren't the only winners amid the pandemic. At-home tools gained traction as Covid-19 shut down physical branches and consumers sought to reduce risk of infection from visiting stores.
For example, sleep health and wellness deals ticked upward in Q2'20, as the development of medical grade wearables continues to enable and popularize at-home sleep treatments. Sleep testing companies Tatch, Onera, and Cerebra Health all raised funding in H1'20.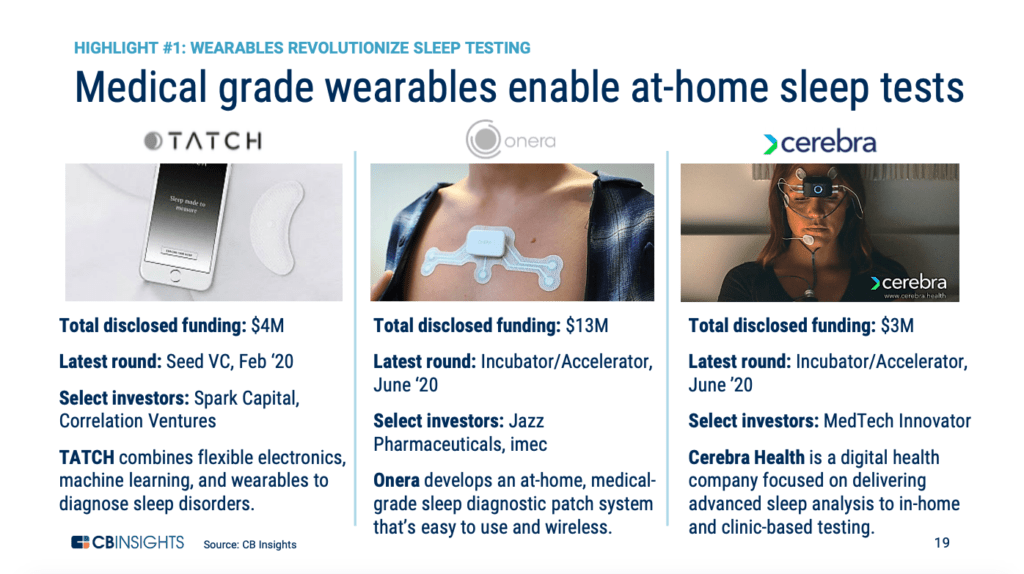 Furthermore, fitness tech saw both funding and M&A activity: Home rowing machine companies Hydrow and Ergatta raised dollars in June and July, respectively, while lululemon acquired at-home fitness device maker Mirror for $500M in June.
Fitness wearables also grabbed the spotlight. Wellness ring maker Oura drew headlines for its Covid-19 symptom-tracking capabilities and its partnership with the NBA. Other wearables startups that garnered funding this year include UK-based Nurvv and India-based GOQii.
Within the self-care category, at-home lab tests also grew more popular, given the added benefits of privacy and convenience. For example, Elysium Health offers an at-home saliva test to determine biological age to indicate physical health. QRfertile, which raised a seed round in June, provides at-home tests for male fertility.
2. Community: Connecting individuals digitally while physically distanced 
Wellness solutions emphasizing community are emerging as consumers look for connection online.
China-based Keep hit unicorn status in May after raising an $80M Series E from investors including GGV Capital and Tencent Holdings. The social fitness app offers community-oriented fitness classes, boasting 40M monthly subscribers. 
Social communities for women, in particular, are on the rise. Peanut offers a mobile app that connects women in similar life stages, such as pregnancy or parenthood, while Revel fosters an online-to-offline community for women aged 50+ by hosting regular events or facilitating small group conversations.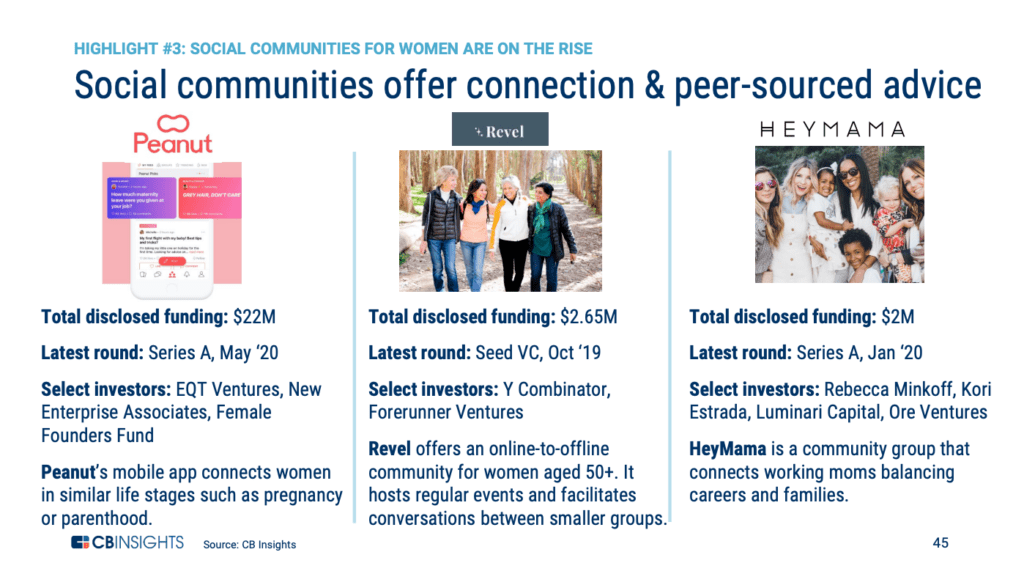 3. Sustainability: Ensuring sustainably sourced inputs and excluding harmful ones
Wellness categories from skincare to baby food are continuing to emphasize sustainability, though Covid-19-induced economic uncertainty may set back the trend as consumers look for cheaper products and routines. 
Beauty brands in particular are focusing on clean ingredients in an attempt to differentiate product offerings. Biotech company Geltor, for one, is producing sustainably cultivated, lab-grown collagen products for skincare.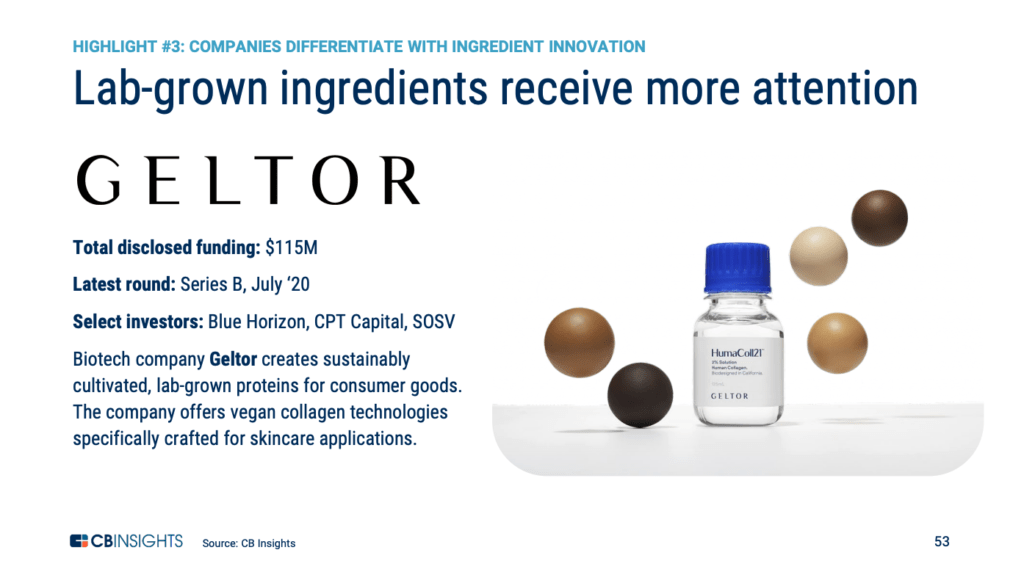 The sustainability trend has also extended to infant nutrition. ByHeart, which develops baby formula made from sustainable ingredients, closed a Series A round in April.
4. Inclusivity: Reaching consumers across different demographics
Companies across all wellness sectors are fostering inclusivity by targeting specific demographics that may be otherwise overlooked.
Within fitness tech, targeted fitness programs are gaining traction. One such example is Every Mother, which provides exercise programs for moms. 
In mental health, early-stage startups are differentiating their content offerings and addressing specific mental health needs. For example, Enable My Child provides teletherapy for children, Real focuses on women and nonbinary patients, and Henry Health caters its self-care support to people of color.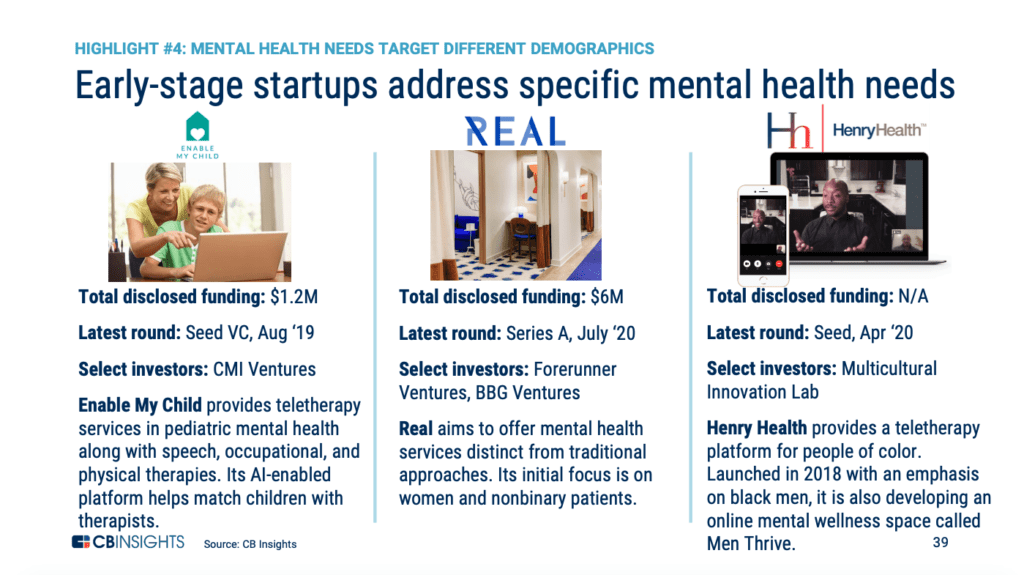 Take a look at all the underlying data and insights in CB Insights' State Of Wellness H1'20 Report: Sector And Investment Trends To Watch.
If you aren't already a client, sign up for a free trial to learn more about our platform.