Our map infographic shows the top tech startup in every US state, based on funding totals. Companies include JUUL Labs, Epic Games, and Magic Leap.
The tech boom has diffused beyond the traditional hotbeds of California, New York, and Massachusetts, spreading across the entire US.
In our latest map of the most well-funded tech startup in each state, some companies with the deepest pockets were found in Florida (Magic Leap, $3B), North Carolina (Epic Games, $3.4B), and Washington (Convoy, $675M). 
Using CB Insights data, we identified the most well-funded technology startups by state based on total disclosed equity funding. The full list of startups is included below the map.
Our analysis ranks private tech companies based on total disclosed equity funding. Companies included have raised at least $1M in equity funding since January 2015. All companies on our map are VC-backed, with the exceptions of companies in Alaska, Mississippi, and West Virginia.
Please click to enlarge.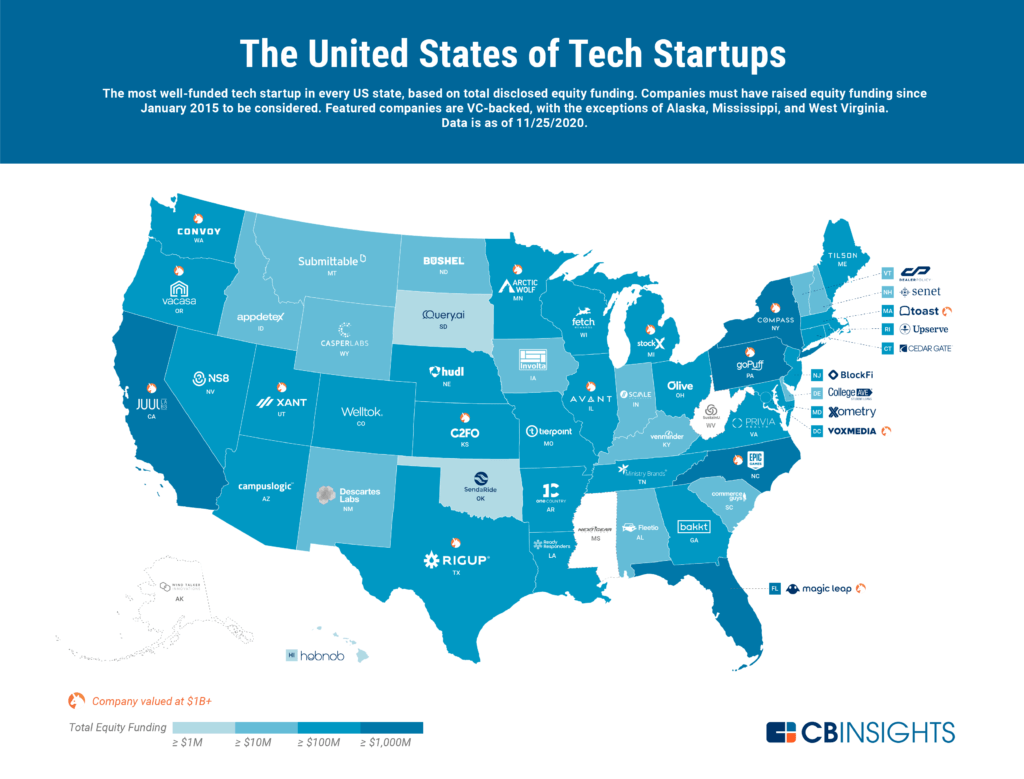 KEY TAKEAWAYS 
The most well-funded US tech startup is California-based e-cigarette company

JUUL Labs

, with a whopping $15B in disclosed equity funding.

After JUUL, the most well-funded startups on our map are North Carolina-based video game developer Epic Games ($3.4B in equity funding) and Florida-based AR/VR company Magic Leap ($3B).

Our map features 15

unicorn companies

valued at $1B+, including real estate platform Compass (NY, $6.4B valuation), restaurant management system Toast (MA, $4.9B), and delivery service GoPuff (PA, $3.9B).
Minnesota-based Arctic Wolf Networks is the most recently minted unicorn on our map: the cybersecurity company reached a $1.3B valuation following its Series E round in October 2020.

5 startups on the map have raised over $1B in total disclosed equity financing: JUUL Labs, Epic Games, Magic Leap, Compass, and GoPuff. All of these are valued at over $1B. 

Including the 5 startups mentioned above, 32 companies on the map have raised $100M or more in equity funding.

16 of the startups on our map have raised $50M or less in equity funding. The VC-backed startup with the least funding on the map is Oklahoma's

SendaRide

($1.7M).
Since our last update of the map in March 2020, 3 previously featured startups have exited:
*Company is not VC-backed 
---
This report was created with data from CB Insights' emerging technology insights platform, which offers clarity into emerging tech and new business strategies through tools like:
If you aren't already a client, sign up for a free trial to learn more about our platform.