From assisting in chronic disease management to gamifying aesthetic medicine, we identify how Tencent-owned super app WeChat is becoming a vital component of healthcare in China. 
WeChat, developed by Chinese tech giant Tencent, is the digital town square for Chinese consumers.
Launched in 2011, the app first blew up when it allowed people to send digital "red packets" (monetary gifts exchanged during holidays or special occasions) during the Chinese Spring Festival in 2014. As of Q1'19, WeChat boasted over 1.1B monthly active users, who make over 1B daily transactions through the app's WeChat Pay feature.  
Today, the WeChat app ecosystem has evolved beyond payments, allowing consumers to complete a wide range of day-to-day tasks — hail rides, read the news, look for apartments, invest in ETFs, buy movie tickets, and much more — without ever leaving the platform.
And now, the super app is turning to a new frontier: healthcare.
Below, we identify 9 ways that Tencent's portfolio companies or owned healthcare assets are leveraging WeChat's ecosystem to upend various parts of Chinese healthcare.
Why use WeChat?
WeChat's Official Accounts and Mini Programs products make it easy for companies to create WeChat-native apps and interactions. 
First introduced in 2012, the Official Accounts feature, similar to Facebook's Pages, allows companies to create digital channels to share content and interact with users. There were over 20M Official Accounts on WeChat as of 2018. 
Mini Programs, launched in 2017, takes this one step further by allowing developers to create WeChat-native applications across iOS and Android. Users can open Mini Programs right from their WeChat home screens to access apps and pay for products and services. As of 2018, there were over 1.2M Mini Programs and 200M daily active users. 
With its large user base and the wide proliferation of Official Accounts and Mini Programs, Tencent's WeChat is increasingly connecting healthcare services and products with consumers.
A whopping 38,000 healthcare service providers have opened Official Accounts on WeChat, as of December 2019. Around 24,000 (2%) of the 1.2M Mini Programs are health- and wellness-related, according to data firm iResearch.
Tencent has also been building its own healthcare assets on WeChat, as well as investing continuously in the healthcare space. Tencent's investment portfolio includes numerous healthcare companies, such as Shuidi Huzhu and We Doctor, that could profit from having access to Tencent's user base and technology infrastructure.
9 areas where WeChat is influencing healthcare
1. Appointment booking & telehealth
We Doctor, previously known as Guahao.com (which means "booking" in Chinese), was one of Tencent's first healthcare portfolio companies. 
Through the We Doctor Mini Program, users can schedule appointments with doctors for free. The company also offers a virtual assistant to help patients identify the appropriate hospitals and doctors for their issues.
As of June 2019, We Doctor had integrated with 290,000 doctors and 2,700 hospitals. 
While scheduling appointments is free, We Doctor makes money through its multi-specialty, multi-modality telehealth offerings, which users can access directly through the Mini Program.
(To learn more about the telehealth landscape, clients can view our telehealth Market Map here.)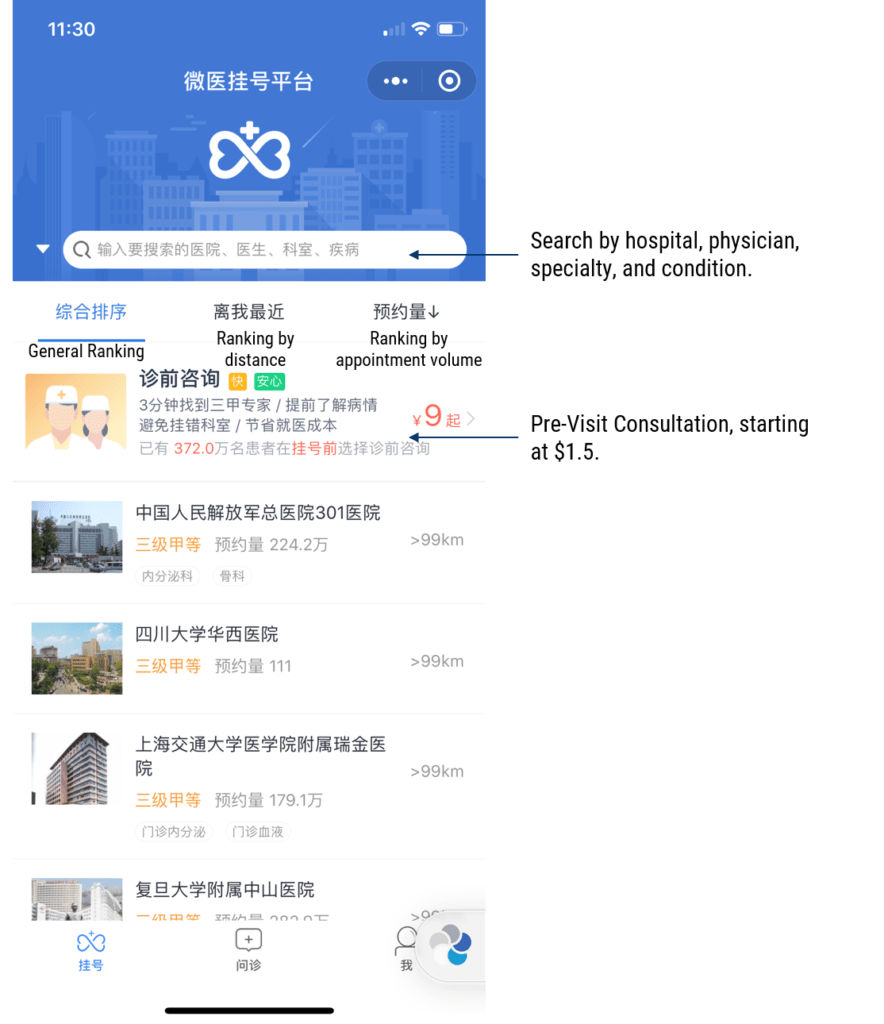 Source: We Doctor Mini Program
2. Personal Health Records management 
Tencent has partnered with hospitals and some local governments to create an integrated healthcare experience for patients. 
For example, through a partnership with Fudan University Shanghai Cancer Hospital, users can pay hospital bills, check diagnostics reports, and check personal health records via WeChat's Public Services function.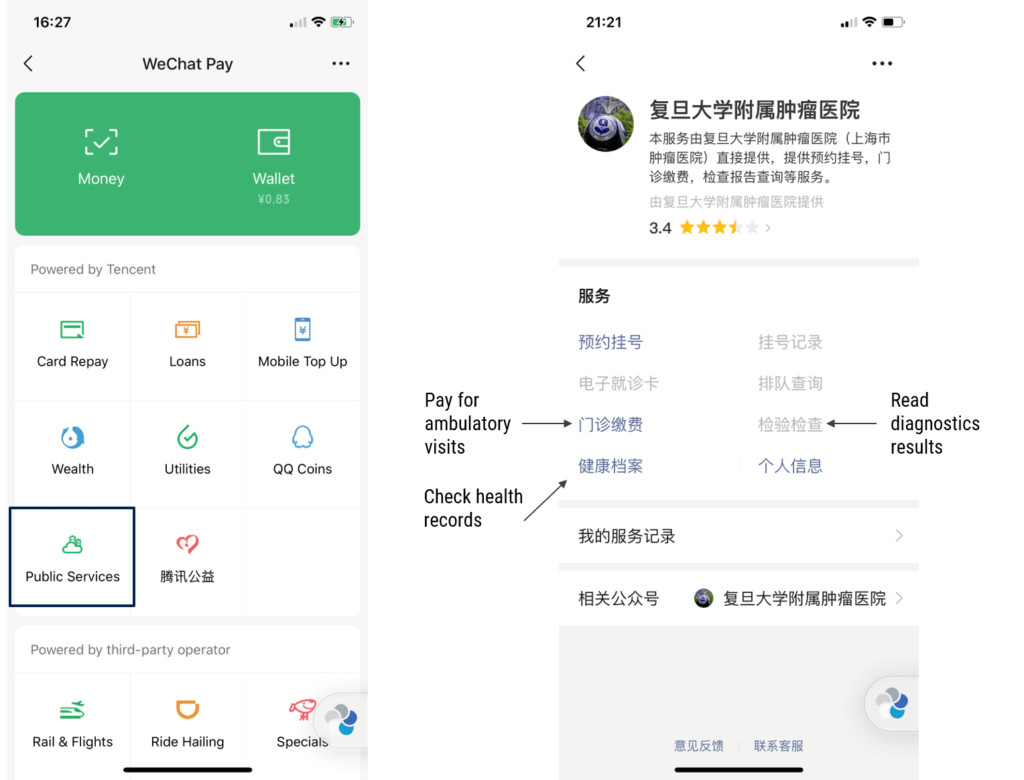 Source: WeChat Public Services page for Fudan University Shanghai Cancer Hospital
3. Primary Care Access
Tencent Trusted Doctors (TTD), an ambulatory care platform, aims to tackle two major problems in Chinese healthcare: lack of primary care resources and overcrowding of hospitals.
Through TTD's Mini Program, users can access primary care through a subscription model and can take advantage of primary care services, such as medication refills, both virtually and in person.
Users can also access their health records, medication lists, and treatment plans using the TTD Mini Program. 
TTD raised $250M in a Series A round from Tencent, Sequoia Capital China, and others.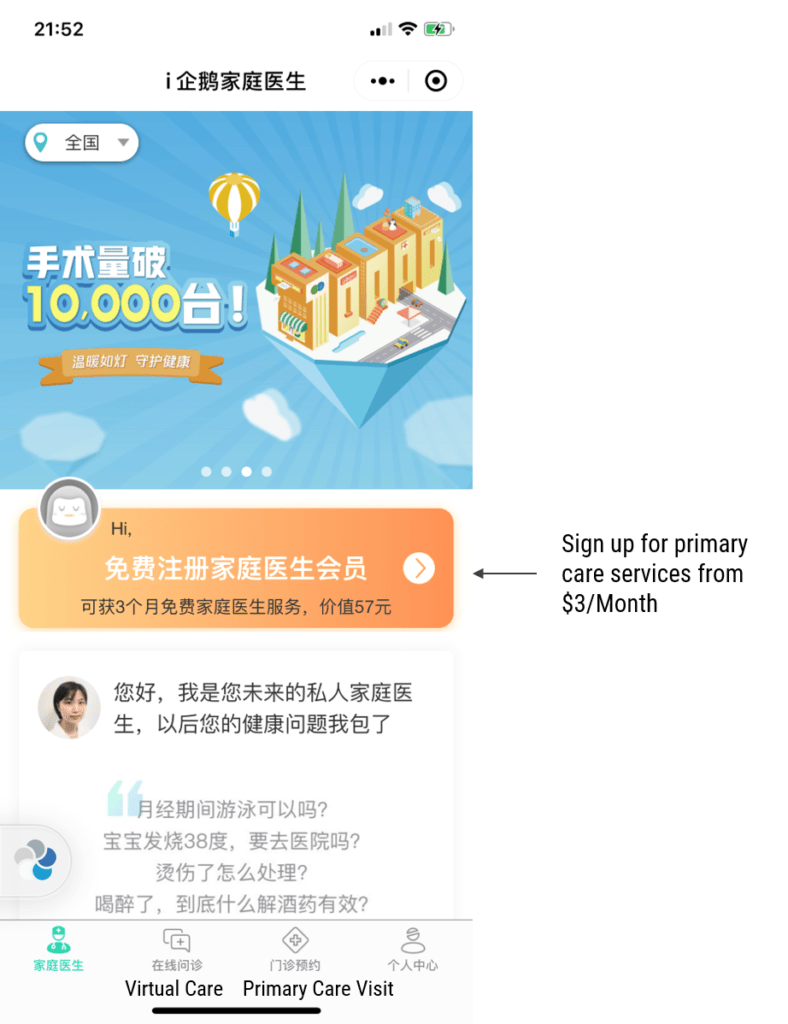 Source: TTD Mini Program
In addition to offering primary care, TTD is building out other ambulatory offerings, including outpatient surgery, ophthalmology, and dentistry. 
4. Chronic disease management
Tencent entered the chronic disease management space in 2015 with the launch of Tencare Doctor Tang, a connected glucose monitoring device for diabetics. 
The device is linked to a companion program on the WeChat Official Account, which records the data automatically. Data can then be shared with family members and providers. Patients can also connect with providers for care management services through a WeChat-sponsored subscription program.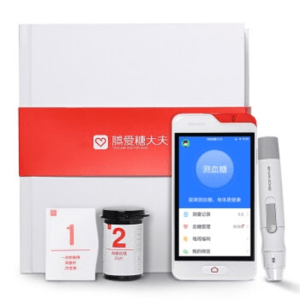 Source: Tencare Doctor Tang
Tencent also linked up with Novartis in 2019 to launch a long-term health management platform for patients with heart disease. This platform will sit within a Mini Program in WeChat. Tencent will likely continue to create infrastructure for the long-term management of other chronic diseases.
5. Consumer-Facing Knowledge Platform
In 2017, Tencent launched Tencent Medical Knowledge Bank (Tencent Yidian), a WeChat-native healthcare knowledge platform featuring vetted, consumer-facing educational content. 
The Mini Program allows consumers to look up medications and check for vaccine integrity. The vaccine integrity check is especially relevant in light of a slew of fake vaccine scandals in 2018 and 2019, and has been implemented in partnership with the National Medical Products Administration, China's FDA-equivalent regulatory body.
The Knowledge Bank platform also allows users to upload diagnostic reports, such as complete blood count and urinalysis, and to compare their personal data to a benchmark.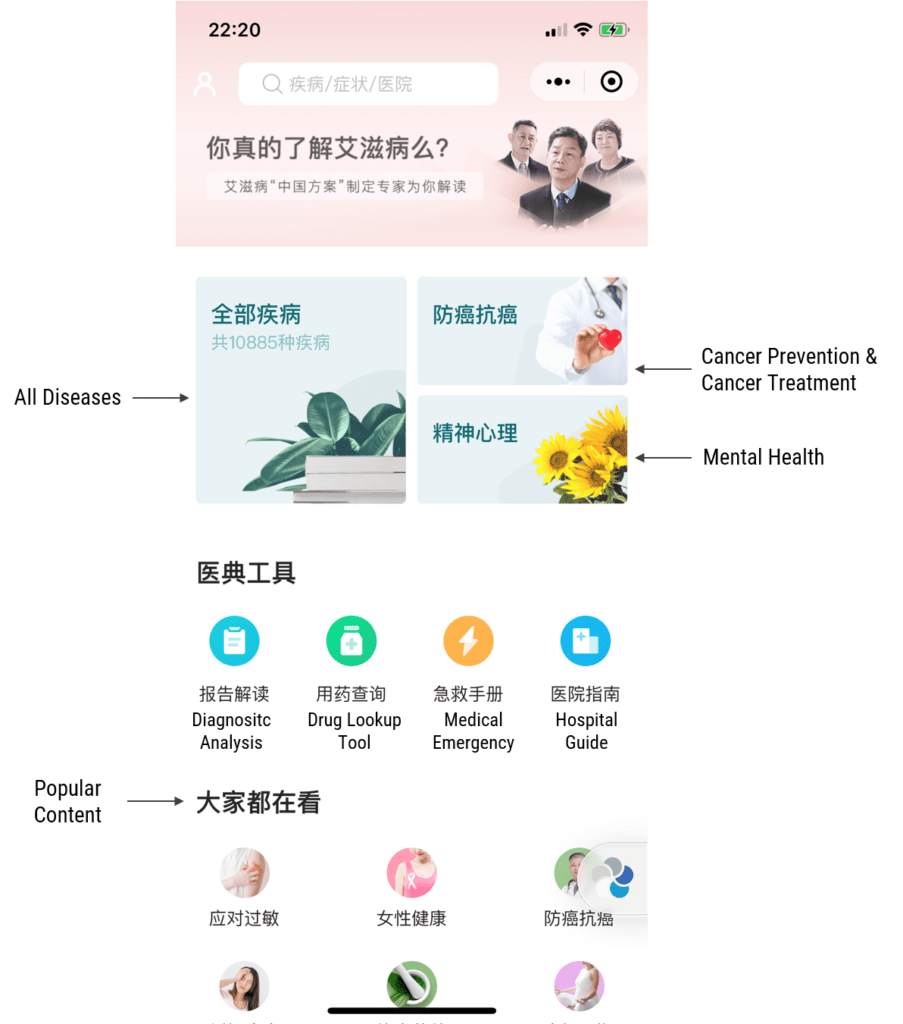 Source: Tencent Medical Knowledge Bank Mini Program
Furthermore, Tencent has recently signed partnerships with medical publishers, such as WebMD and New England Journal of Medicine (NEJM), to improve consumer access to medical knowledge. It has also paired up with medical information and solutions provider Elsevier to accelerate the dissemination of health news and studies to medical professionals. Finally, Tencent's partnership with Springer Nature Group supports scientific research, discovery, and knowledge-sharing.
6. Provider-Facing Knowledge & AUTHENTICATION Platform
With 4.6M members, the Chinese Medical Doctor Association (CMDA) is China's largest medical association. In August 2019, CMDA signed a partnership with Tencent to build a WeChat-native app to offer its members continued education opportunities and a digital "Provider Card" that is tied to the provider's credentialing. Providers can also publish educational content on the platform to build their brands and earn money. 
Once rolled out, the Provider Cards will be searchable on WeChat and via QR codes. Provider Cards will allow users to identify providers' credentials, specialties, publications, and other information, which helps to establish authentication and trust between providers and patients.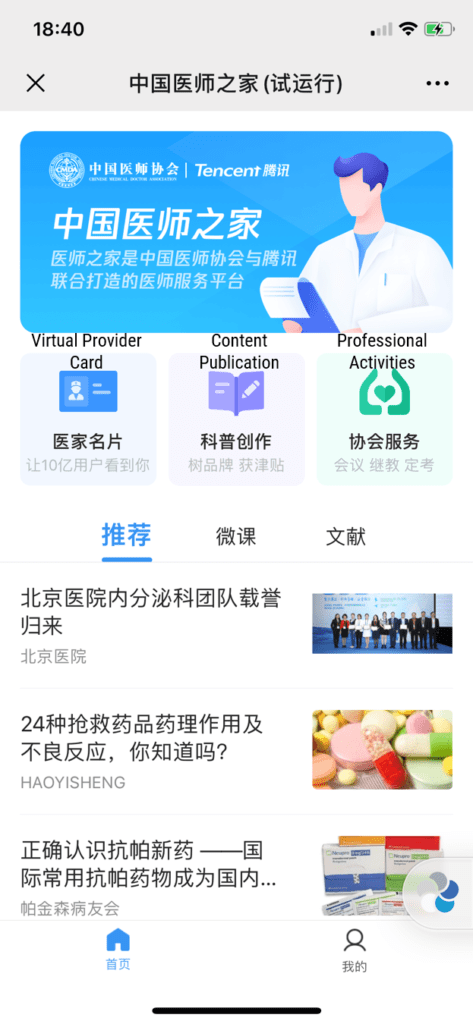 Source: CMDA Mini Program
The Card could eventually become a virtual credentialing system to facilitate healthcare payment and monitor provider performance. 
7. Group-buying healthcare products & services
The Nasdaq-listed JD.com is China's second-largest e-commerce company. After investing $215M in 2014, Tencent took a minority stake of over 20% in JD.com, and WeChat has since become an essential channel for users to access the e-commerce platform. As of 2017, 24% of JD.com's new users came from WeChat and QQ (another Tencent-owned communication asset geared toward a younger audience).
This number could continue to climb, as JD.com recently announced a partnership with Tencent to offer group-buying options through a WeChat Mini Program. Group-buying allows users to form groups to access volume discounts and buy items in bulk. 
JD.com's health unit JD Health uses this Mini Program to offer group-buying for certain healthcare products. For example, through group-buying, consumers enjoy a 13% discount off of the popular weight-loss drug orlistat (shown in the graphic below).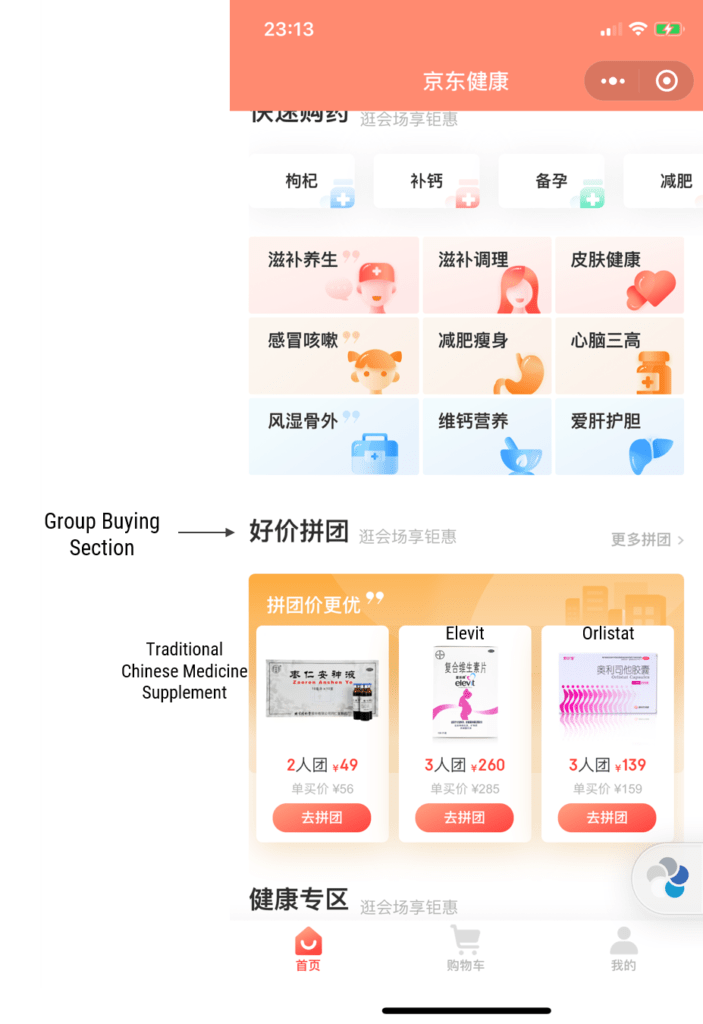 Source: JD Health Mini Program
8. Crowdfunded health insurance 
Although 95% of the Chinese population is covered by some form of government-sponsored basic health insurance, coverage is typically shallow. Close to 29% of total healthcare expenditure is still borne out-of-pocket by patients, compared to close to 10% in the US. 
Commercial insurance providers are rushing to close this gap. Shuidi Huzhu, which raised $250M across four funding rounds featuring Tencent (among others), uses crowdfunding to provide catastrophe insurance, through which emergency medical fees are shared by the platform's users.
Through Shuidi Huzhu's WeChat Official Account, users can purchase insurance with a low minimum commitment. Shuidi Huzhu hedges against the insurance death spiral by offering a low cost to participate and by using WeChat to assemble a broad pool of participants.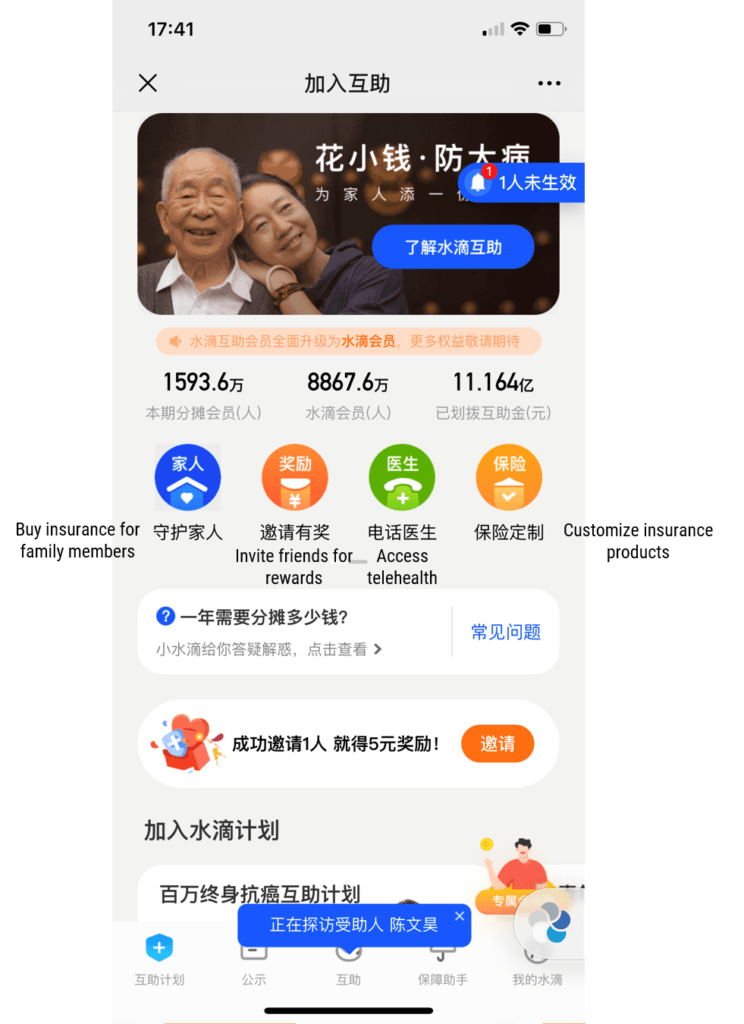 Source: Shuidi Huzhu Official Account
As of December 2019, 88M users have participated in Shuidi's programs, which has paid out $157M in claims. The company has expanded to offer telehealth services and insurance brokerage. 
9. Gamifying aesthetic medicine 
SoYoung is an aesthetic medicine marketplace. Through its Mini Program, users can book appointments, leave reviews, and share experiences of previous cosmetic surgeries.
Tencent led the company's $50M Series C round in 2016. Then, in early 2019, the company went public on Nasdaq.
SoYoung has leveraged WeChat to attract leads and raise brand awareness, such as through its social media-ready games. For example, in SoYoung's "Golden Triangle" game, hosted in WeChat, users can upload pictures of themselves and receive data on how their faces compare to the proportions of the "golden triangle face," the "pear-shaped face," and the perfect "mandibular angle." The "Big Eyes Competition" game analyzes users' eye sizes and shows how they stack up against other users.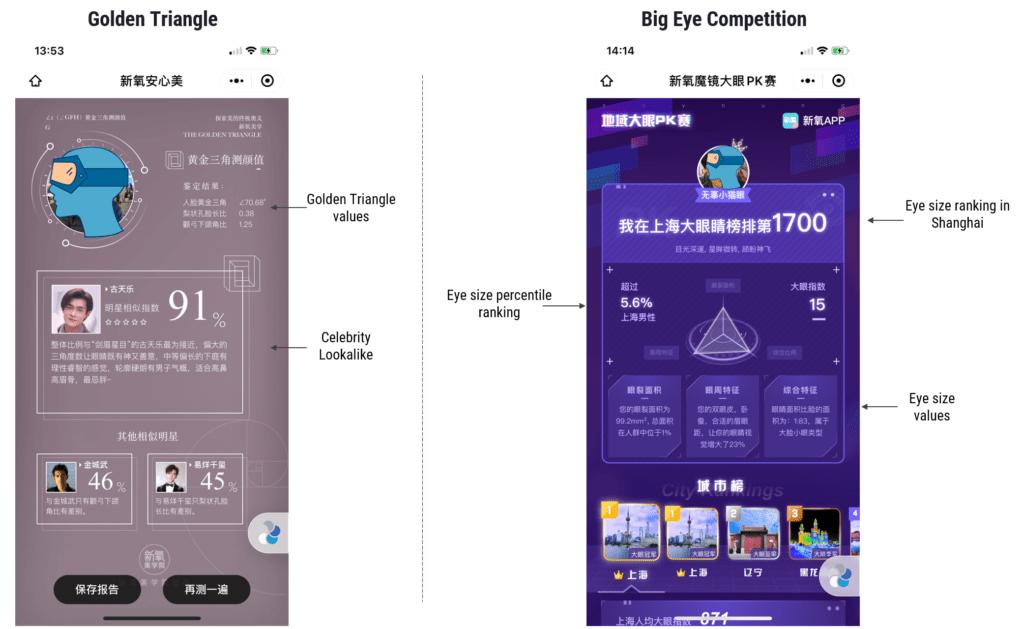 Source: SoYoung Mini Program
Users can easily share these results on their WeChat Moment, a function similar to Facebook's Wall. 
Looking ahead 
We expect to see continued development of WeChat-native healthcare applications from Tencent's owned and partnered healthcare efforts, its portfolio companies, and third-party developers.
Tencent continues to invest in companies that are built on the WeChat ecosystem. In 2019, it bought a 6.7% stake in China Youzan, a Hong Kong Exchange-listed company that helps businesses develop Mini Programs. 
To succeed in China's healthcare system, companies will need to consider how to plug into WeChat's ecosystem to meet customers where they are. They will also need to strategically position their services and products to coexist with Chinese big tech companies, such as Tencent, Alibaba, and Baidu, which are increasingly betting on healthcare as a major growth engine. 
If you aren't already a client, sign up for a free trial to learn more about our platform.