By 2024, the sleep industry is expected to be worth $585B — and wearables are taking center stage as a key tech to help consumers get a better night's rest.
Quality of sleep has an enormous impact on both physical and mental wellbeing — and a lack of proper sleep can lead to poor health outcomes, from high blood pressure, to depression, to heart attacks and strokes. 
DOWNLOAD THE BIG TECH IN HEALTHCARE REPORT
Big tech companies took new steps to increase their market opportunity in healthcare. Download the report to find out their strengths and strategies.
The Covid-19 pandemic has aggravated sleep problems globally, sparking higher levels of stress and anxiety. Studies have found a rise in insomnia rates across the globe, with some terming the effect "coronasomnia."
At the same time, news mentions related to sleep health and wellness have been elevated since March 2020, according to the CB Insights News Mentions Tool.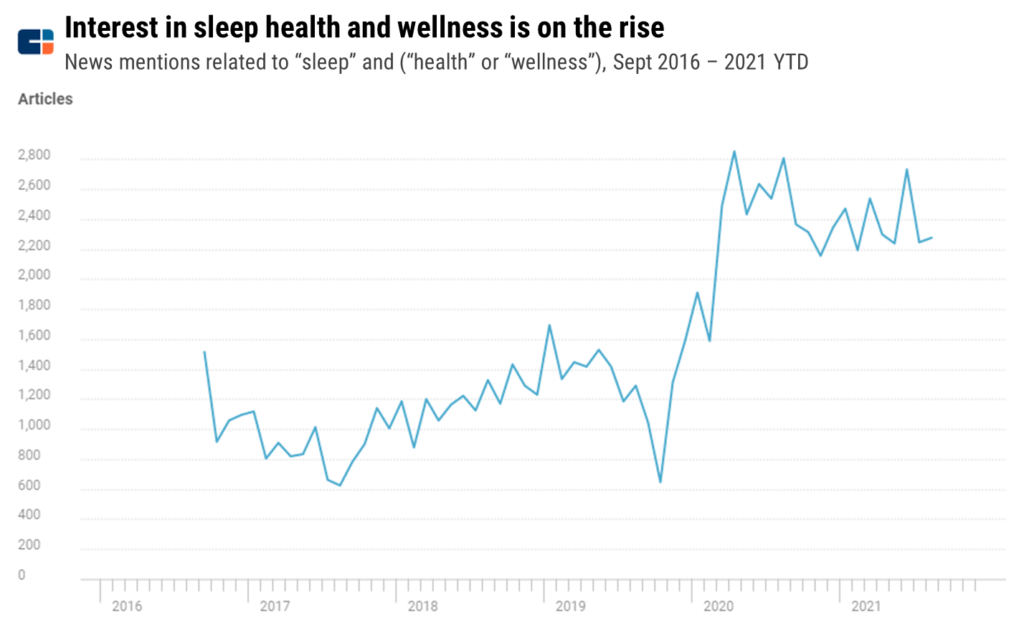 Startups have longed turned to technology to help consumers improve their sleep hygiene — and wearable devices are helping consumers get more insight into their sleep. 
Wearables are becoming increasingly popular and more sophisticated in their sleep tracking features, and everyone from startups to big tech incumbents are getting involved. In Apple's latest quarter, the company's wearables segment was the second-largest category for product revenue, and Apple added sleep tracking to its Apple Watch features in 2020. 
As sleep receives more attention from consumers and manufacturers alike, wearable devices have increased their capabilities to provide more nuanced insights that help users sleep deeply and well. 
Key Takeaways
Optimizing health by maximizing recovery through sleep is a key focus.

From elite athletes to the average consumer, improving overall health and recovery from activity through sleep adjustments is becoming more attainable, as sleep data becomes more accessible through wearables.

Wearables to detect sleep apnea are gaining attention.

Both startups and tech leaders like Google and Amazon are working towards wearables that detect sleep apnea, even seeking FDA clearance for these devices. 

Connections between mental health and sleep tech are rising.

Sleep startups are increasingly connecting improved sleep with mental health benefits like reduced stress. Using wearables to induce lucid dreaming is another emerging focus among early-stage sleep wearable startups.
Why sleep?
More than half of adults globally suffer from insufficient sleep, according to a study by Wakefield Research.
Lack of sleep is a major risk factor for a broad range of serious health conditions, such as heart disease, and it is thought to impose a hefty financial burden on society. In the US, lack of sleep costs $411B per year in lost productivity, according to a 2016 study by RAND.
The national sleep deficit has sparked research interest on the topic: researchers now believe sleep quality could be just as important as quantity when it comes to predicting health outcomes. In 2017, the National Sleep Foundation formally introduced a set of "sleep continuity variables" to quantify sleep quality.
This focus on quality of sleep has spurred a host of new technologies that can detect, measure, and transmit a wide array of sleep-related data points and turn them into therapeutic insights.
Recent technological advances are enabling better treatments for sleep disorders, with companies across industries now combining forces to drive the sleep tech space forward.
On the heels of the Covid-19 pandemic, sleep products stand to gain further attention from consumers looking to fix sleep issues caused by heightened stress, as well as individuals who want to prioritize rest and immune function.
Below, we review 3 ways wearables are tackling the sleep industry.
Tracking recovery