There have been 29 exits in the wealth tech space since 2012. Banks and financial services firms have made some strategic acquisitions.
Wealth tech startups are disrupting personal wealth management and institutional trading, with companies in the space seeing a record 74 deals in 2016. These fintech companies offer an alternative to traditional wealth management firms by offering technology-enabled tools that are advancing the investment and wealth management profession.
To see how M&A and IPO activity has trended in the space, we used CB Insights data to create a timeline showcasing wealth tech first exits between 01/01/12-03/31/17.
Exits trends
Though a relatively nascent subindustry, there have been 29 wealth tech exits since 2012, including 28 mergers and acquisitions (M&A) and 1 IPO. Exit activity surged in 2015, with a record of 11 exits, all of which were from M&A. 2016 lagged 2015 with 8 exits, all of which were also M&As.
2017 is off to a strong start with 3 exits as of Q1'17. This is more than 2012 and 2013 which only saw 2 exits each, and is tied with 2014's total number of exits.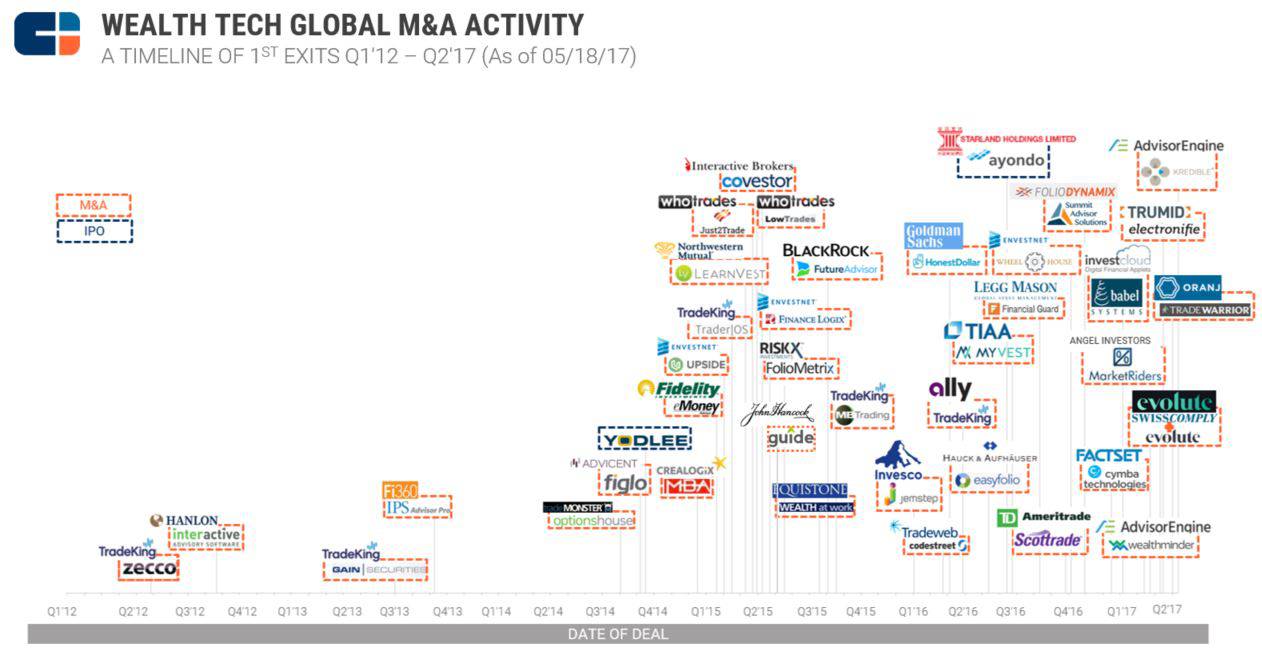 Key takeaways:
Track all the Wealth Tech startups in this brief and many more on our platform
Fintech companies focused on wealth management continue to gain popularity over traditional advisors. Sign up for a free trial and look for Wealth Tech in the Collections tab.
Track Wealth Tech Startups
Banks and financial services providers have also made strategic acquisitions of wealth tech startups to expand their services. This includes Northwestern Mutual's acquisition of financial planning software LearnVest in Q1'15, as well as BlackRock's acquisition of robo-advisory firm FutureAdvisor and Fidelity's acquisition of wealth management software provider eMoney Advisor.
Closing out Q1'17, the latest exit was Trumid's acquisition of Electronifie. Both platforms provide an electronic bond buying intermediary that creates transparency and increases liquidity in the bond market.
Want more data about fintech startups? Log in to CB Insights or sign up for free below.
If you aren't already a client, sign up for a free trial to learn more about our platform.