Wealth tech funding has already set a new annual record in 2020. We dig into the investment trends driving the surge.

Wealth tech companies are transforming the way retail and institutional investors manage wealth. 
Startups in the space aim to help individuals manage their finances and often offer lower-income investors access to historically unavailable asset classes like corporate bonds and real estate. Others develop platforms and tools that help wealth management professionals amp up their services through more effective portfolio management, investment tracking, advising, and more. 
Companies in the space have continued to attract more investor attention amid the Covid-19 pandemic, with wealth tech funding shooting up this year — it's already at $3.7B, a 40% increase compared to 2019's year-end total. 
Below, we analyze recent wealth tech funding trends and look at what's contributing to the space's momentum.
WEALTH TECH FUNDING Has Rebounded this year to SET A NEW RECORD

Wealth tech companies have seen a mostly steady increase in investor attention since 2016.

Funding grew quickly between 2017 and 2018, jumping 51% to reach more than $3B in 2018. This was followed by a dip in financing activity last year, with annual wealth tech funding and deals dropping by 13% and 17%, respectively.
However, wealth tech funding has rebounded significantly in 2020. In fact, year-to-date wealth tech funding has already set a new annual record of $3.7B across 157 deals — an over 50% jump from the $2.4B wealth tech companies had raised this time last year.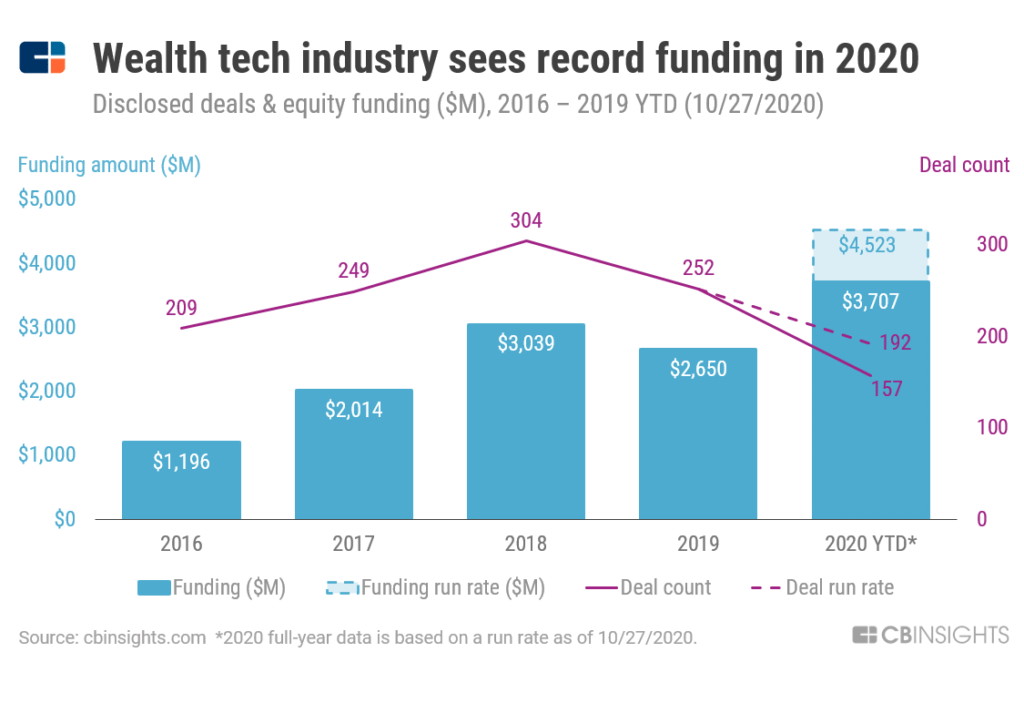 MEGA-ROUNDS Are driving growth IN WEALTH TECH FUNDING IN 2020
Prior to the worldwide spread of the pandemic, funding to wealth tech startups was off to a slow start. Startups in the space received $477M in Q1'20, a 12% dip from the $543M they received at the same time last year. The first quarter also saw only one $100M+ mega-round, a $146M deal raised by alternative asset investment platform iCapital Network.
However, wealth tech funding shot up in the following quarter, reaching a record quarterly high of almost $1.5B across just 39 deals. The same pattern continued in Q3'20, where wealth tech startups raised more than $1.5B across 66 deals. Both of these quarters marked the strongest quarters for wealth tech funding in the last 5 years.