The Post-Covid World
The pandemic has propelled digitization in the wealth management industry. Here's what's next for the space.
Change has been long overdue for the wealth management industry, which is facing growing competition, outdated legacy tech, thinning margins, and an aging client base. As with numerous other industries, the Covid-19 crisis has propelled digitization in the space — with fintechs and financial services incumbents alike.
25 Industries & Technologies That Will Shape The Post-Virus World
Get the free download to learn how industries are using tech to reimagine nearly every facet of their operations.
Despite the pandemic, 2020 has been a record year for wealth tech companies. Quarterly funding has climbed steadily since a low in Q4'19, garnering $1.5B across 62 deals in Q3'20 alone. That quarter, unicorns like Greenlight, Robinhood, and Trumid each raised mega-rounds (deals worth $100M+). Robinhood also claims to have added 3M new accounts in Q1'20.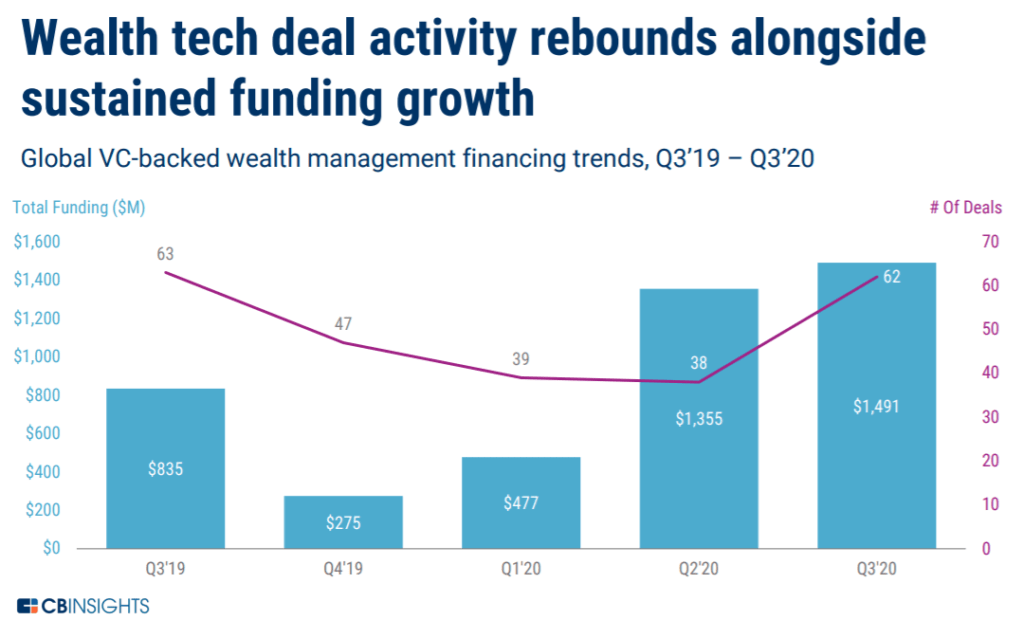 Below, we dig into emerging trends in the wealth tech industry.
1. Hybrid robo-advisory services will Enter The mainstream
Between 2017 and 2060, it's expected that approximately $50T will change hands in what will be the largest aggregated transfer of wealth in history. Digitization will be crucial for wealth managers looking to capture or retain this generation of clients. According to Refinitiv, financial advisors that incorporated digital tools saw a 77% increase in client retention.
The benefits of digitization stretch across client acquisition, client interaction, and advice, whether that be using VR and chatbots to provide better user experience, onboarding new users with self-service workflows, or using AI to rebalance portfolios automatically.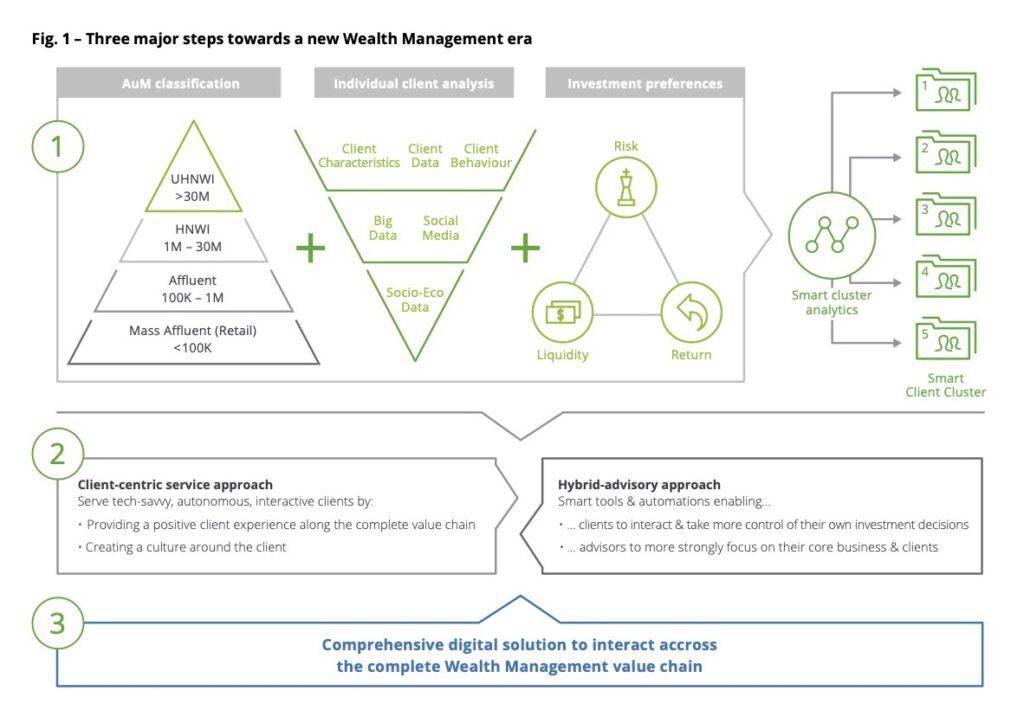 Source: Deloitte
Business-to-consumer (B2C) robo-advisors have come into the mainstream with the rise of fintechs like Betterment and Wealthfront, which leverage algorithms to offer asset management and investment advice to individual investors based on their risk profile. These companies differentiate themselves from traditional human advisors with lower fees, 24-hour automated support, portfolio rebalancing, and tax optimization, which can translate to higher returns for investors in the long run.
However, market volatility is proving that investors still want relationships with human advisors, who remain a critical part of wealth management. Both Betterment and Vanguard saw higher-than-average engagement with human advisors in Q1'20. Post-Covid-19, look for hybrid robo-advisory services — which combine the technological ability of robo-advisors with human expertise — to become more mainstream.
Over time, established players like Fidelity and Charles Schwab, which incorporate more established hybrid advisory services alongside zero-commission models, may see an advantage. More recent entrants like Personal Capital and Betterment also provide hybrid robo-advisory solutions and will have to compete with incumbents on pricing to maintain their respective customer bases.
Expect these hybrid services to also expand into diverse offerings to retain clients. For instance, Betterment launched checking and savings accounts in April 2020, while Wealthfront now provides its customers with the option of connecting with mortgage providers.
2. Consolidation will continue, even between fintech startups
As profits are squeezed by growing regulation and client acquisition costs, the global wealth management industry is seeing increased consolidation. In turn, this is driving revenue for big banks.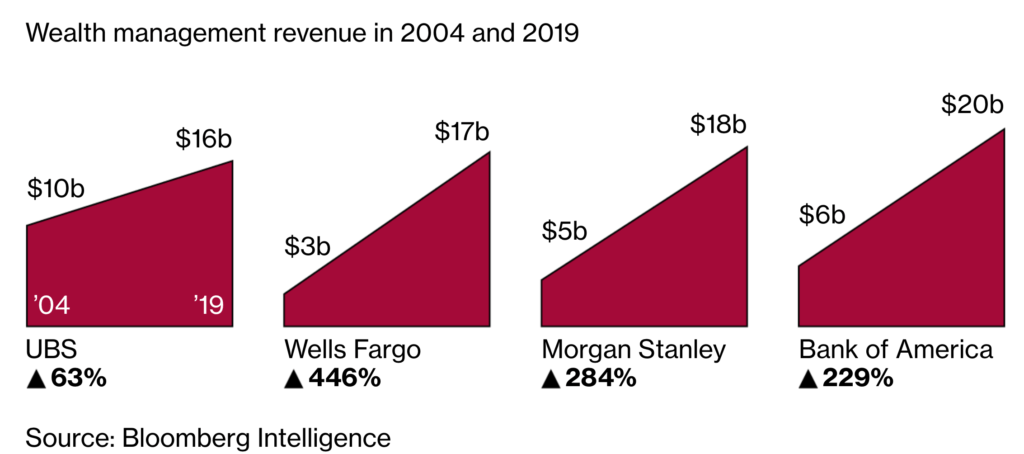 Source: Bloomberg
2019 represented a record year for asset and wealth management M&A deals. Total wealth management deals were up 31% from 2018, according to PwC.
In the earlier months of the pandemic, consolidation accelerated amid market volatility.
In May 2020, asset management firm Franklin Templeton acquired AdvisorEngine, which supplies wealth management technology to 1,200 advisory groups, while Goldman Sachs snapped up Folio, a boutique wealth management tech company that focuses on environmental, social, and governing (ESG) investment strategies.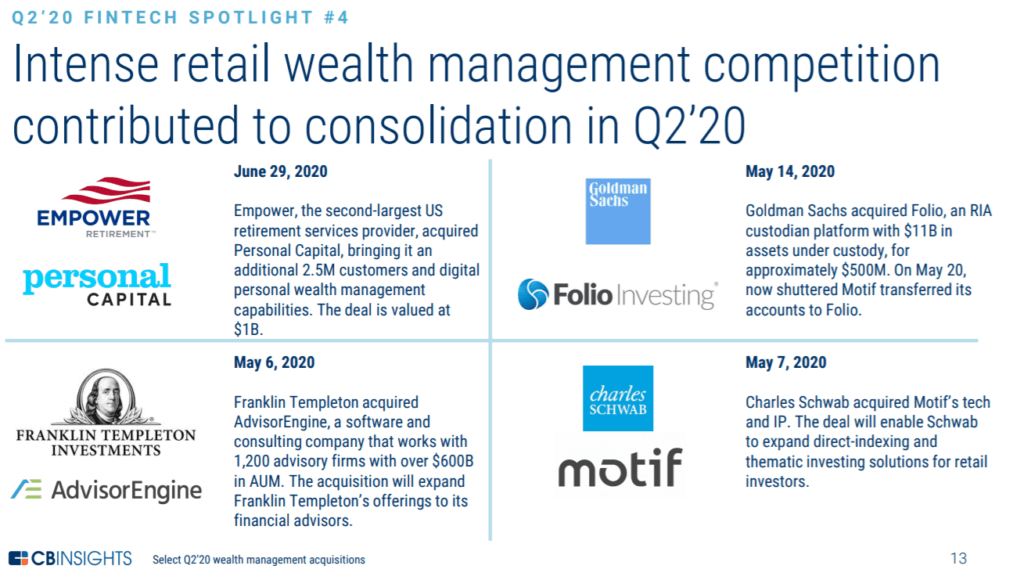 But it's not just incumbents: Personal finance platform SoFi has proved particularly acquisitive as it looks to transform into a broader fintech holding company. In April, it first acquired payments platform Galileo for $1.2B, and then bought Hong Kong-based brokerage 8 Securities for an undisclosed amount.
Looking further out, Covid-19 has increased the need for centrally managed personal finance solutions. Consumers are now saving more — to address this shift in consumer behavior, wealth tech firms should look toward creating millennial-friendly platforms that provide a more holistic suite of services and analytics tools.
What's next?
A new generation of wealth tech platforms has paved the path for many retail investors to dip into wealth management products that weren't previously accessible to them. 
However, beyond the trends of digitization, consolidation, and diversification, wealth management companies should also bear in mind the importance of financial education. In July 2020, for instance, Robinhood came under intense scrutiny following the suicide of a 20-year-old trader who thought he accumulated more than $730,000 in losses.
"The culture in the US is one of independent responsibility," Apex Clearing president Tricia Rothschild said at the recent CB Insights Future of Fintech conference. "[Today], access to engaging financial information is part of the industry's responsibility."

If you aren't already a client, sign up for a free trial to learn more about our platform.