Are brick-and-mortar struggles pushing retail giant Walmart to move their stores into virtual reality?
Instead of getting into your car and driving to a Walmart store, what if you could just slide on a headset and step into one?
Two new patent filings published yesterday reveal that the retail giant may be considering building up virtual reality storefronts.
The patents describe a virtual reality headset paired with sensor-laden gloves that would allow consumers to interact with a Walmart store in a virtual world.
Meanwhile, robots in a remote fulfillment facility would monitor consumers' movements. As shoppers add virtual items to their virtual baskets, the self-driving robots would locate those items in the real warehouse, pick them up using an articulated arm, and deposit them into a container for shipping.
These fulfillment centers would also utilize smart shelves to monitor inventory in real time, according to the patent.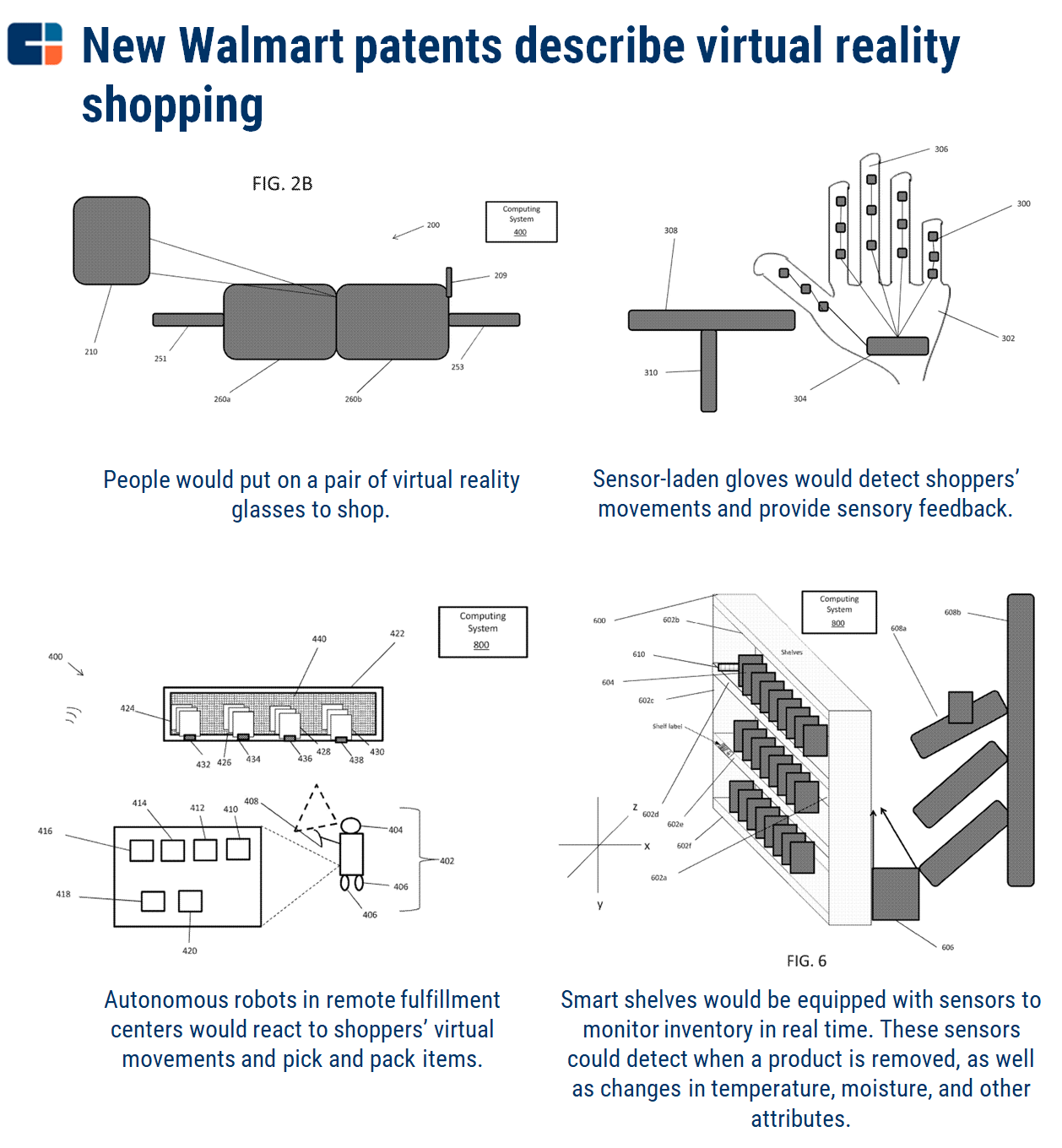 Images assembled from Walmart patent application published Aug. 16, 2018, titled System and Methods for a Virtual Reality Showroom With Autonomous Storage and Retrieval. 
Walmart has been considering virtual reality storefronts for some time.
In Dec'2017, the retailer applied for a patent on a VR system for bridging the gap between e-commerce and brick-and-mortar.
Unlike this week's patent, which lets users shop from home, the December patent describes a network of physical "virtual reality shopping stations" almost like pods, which could be set up in shopping malls, office buildings, campuses, and other areas.
Users would step into the small pod, and face a virtual reality interface that could make it seem like they were inside a full-size Walmart store.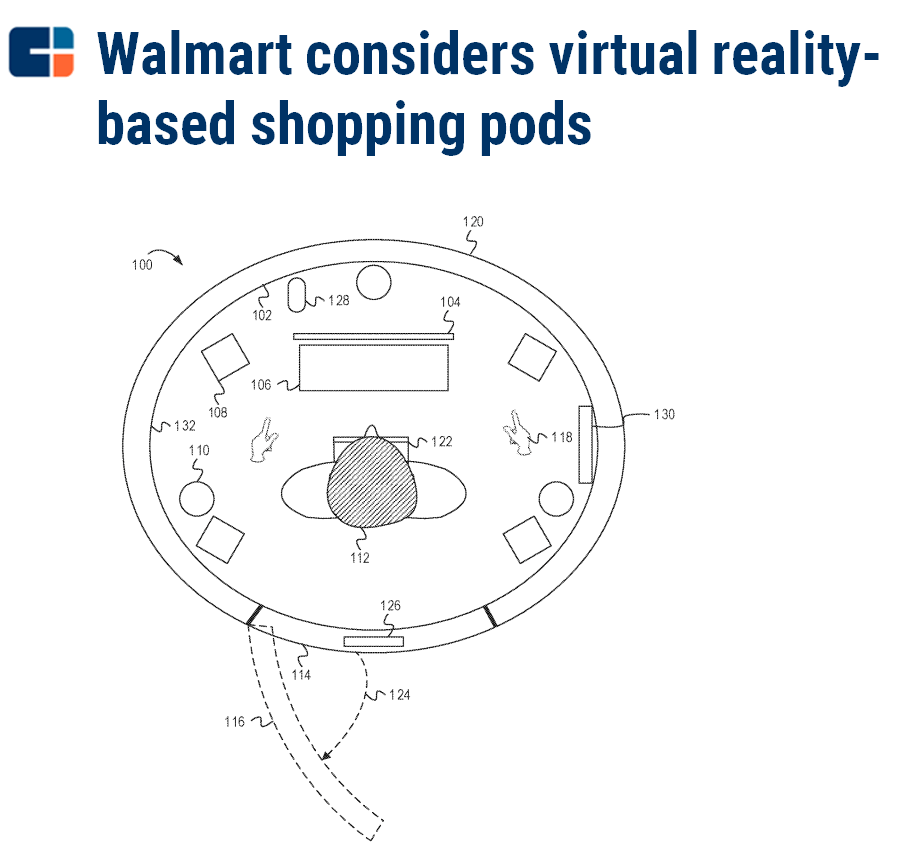 Walmart also notes that some of these "pods" could be sponsored by specific brands — a new revenue stream for Walmart — and that they would gather visual and audio data on shoppers to support personalized marketing.
Another patent application published in May 2018 more fully illustrates how a virtual retail environment might look.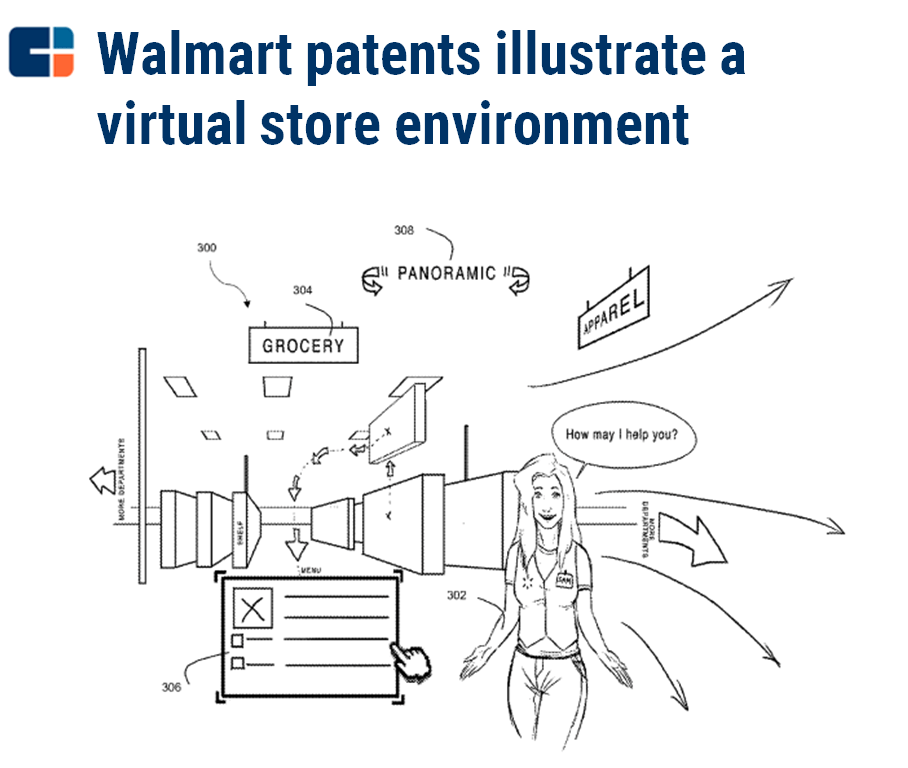 Meanwhile, Walmart's acquisition of virtual reality startup Spatialand in Feb'2018 (through its Store No. 8 incubator) will likely assist the company's VR efforts.
What's in it for Walmart?
Just because Walmart filed these patent applications doesn't mean it will build these features.
However, the consistency of filings since 2017, combined with Walmart's Spatialand acquisition and its own comments about the promise of virtual reality, indicate that VR shopping is a notable theme.
It's no mystery why Walmart's thinking about ways to replace brick-and-mortar stores: the strategy would bring huge savings in real estate, employee salaries, and more. Fully automated warehouses could also bring long-term savings.
Still, Walmart clearly worries that many people feel uncomfortable buying certain products without seeing them. This is why it has also considered solutions such as linking its site to in-store cameras.
Virtual reality can help bridge that gap. In the virtual environments described in these patents, shoppers can get a full 360-degree perspective on apparel, furniture, and other products, and even test out textures using the sensor-laden gloves.
Walmart's idea for pod-based VR stores, however, shows it recognizes the value of maintaining a physical presence. The pods would support impulse purchases, which are trickier to encourage online, and call attention to the Walmart brand in high-traffic areas.
Automated kiosks, in general, are becoming something of a trend: we've previously written about how Cargo, Byte, and other next-gen vending startups are helping brands reach offline shoppers. With virtual reality, Walmart could display all of its products in vending machine-sized space.
Furthermore, as the patent filings mention, once Walmart gets shoppers into pods or VR headsets it can gather new datasets about how people interact with products, where people look, and more.
But virtual reality isn't a silver bullet. So far, Walmart seems to be envisioning virtual environments that look roughly similar to traditional brick-and-mortar stores — offering the same store experience to people at home.
This likely isn't how the technology will grow. With so much freedom in the digital world, why would consumers want to walk through a standard Walmart?
Instead, virtual retailers of the future may focus more on virtual try-ons, interacting with products in various environments, etc., rather than simply replicating store shelves.
It's important that Walmart is investing in new ways to bridge the digital/physical retail gap. As virtual shopping tools catch on, though, we'll likely see more variations in formats, just as we have in e-commerce.
If you aren't already a client, sign up for a free trial to learn more about our platform.