As grocers face unprecedented demand for online grocery, Walmart, Kroger, and Albertsons are making moves in automated microfulfillment.
With demand for e-commerce reaching new highs, retailers are facing acute bottom-line pressure. Grocers in particular are feeling the pain, as their margins are already razor thin. 
In response, grocery retailers are increasingly exploring opportunities in microfulfillment, which involves using small, highly-automated storage facilities in existing grocery stores or in "dark" warehouses that are closer to the end customer — improving delivery speeds while reducing costs through automation. 
The promise behind microfulfillment is substantial, with existing solutions slated to save retailers up to an estimated 75% in costs per order by replacing the manual picking process. 
Given this cost-saving potential, activity in the space is picking up, with grocery leaders such as Walmart, Kroger, and Albertsons increasingly investing in and partnering with microfulfillment providers. Industrial leaders have also placed bets in the space, with Honeywell's venture arm investing in Attabotics and Siemens investing in Dematic. 
This traction can also be seen in earnings call discussions of the topic, with mentions of microfulfillment picking up substantially since the start of the pandemic.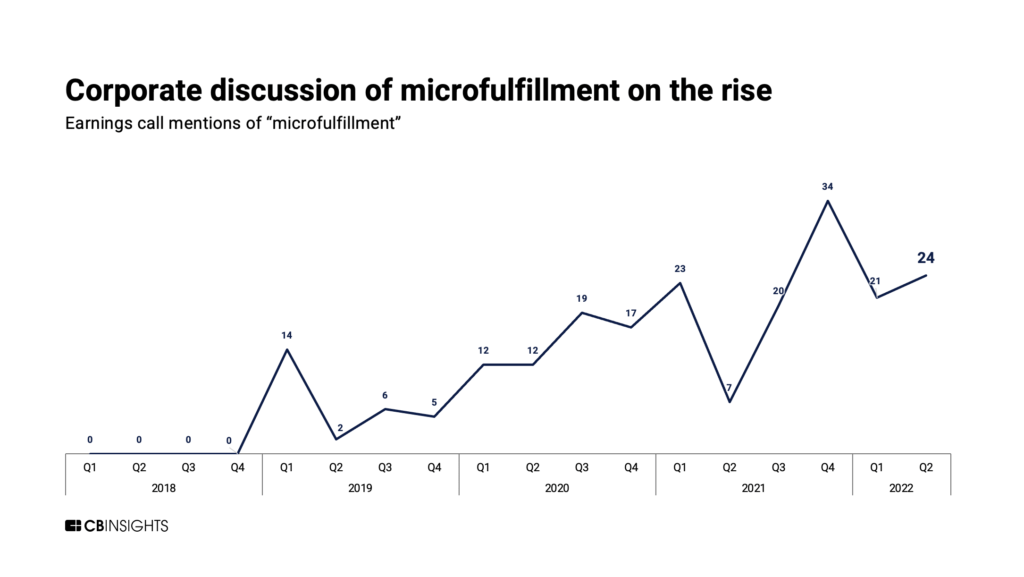 In this brief, we explore what major US grocers Walmart, Kroger, and Albertsons are doing in the space.