Walmart's latest patent eliminates any remaining distance between inventory and consumers.
Walmart's battle against Amazon for e-commerce dominance has been steadily accelerating since Q316, when the retailer acquired Jet.com for more than $3B.
Since then, Walmart has been shrinking the gap between inventory and consumers, from patenting smart-home technology that reorders goods automatically to acquiring startup Parcel for same-day deliveries.
With its newly published patent, Walmart looks to bring the physical store directly into consumers' homes and eliminate delivery gaps entirely.
The patent outlines tools and systems for an "unattended retail storefront" that would live right inside your residence – giving you access to buyable goods from the "retail-access portal" installed in your wall.
The innovation combines the unmanned-store model of an Amazon Go or BingoBox with the automated vending-machine model seen from startups like Bodega.
It would also potentially help the retailer win significant up-sells, by encouraging the kind of casual "touch-and-feel shopping" typical of in-store retail.
If commercialized, Walmart's patent could work in tandem with many of Walmart's other connected home and e-commerce innovations to date.
The patent envisions an end-to-end system for an unattended retail storefront that could be installed in a consumer's home. It would be restocked by a retail establishment or delivery service – or even maybe by a drone, referred to in the patent as an "unmanned motorized transport unit," per the patent illustration below.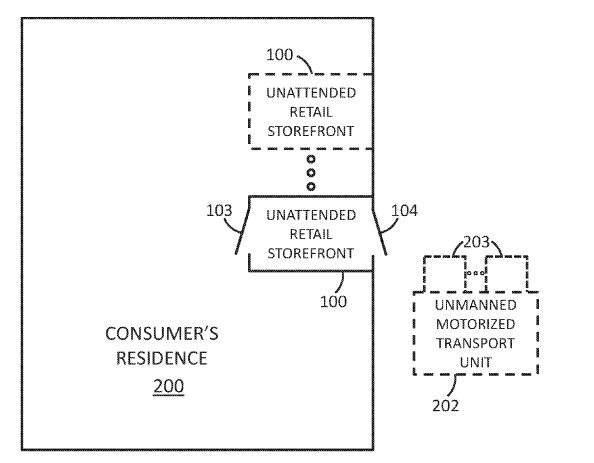 The unmanned storefront itself includes an "unsold product display" and a storage area. One or both areas may be refrigerated, meaning foods and beverages could be stocked in addition to other nonperishable goods.
The patent doesn't note the storefront's dimensions, but it would be a "step-in" structure (not a freestanding vending machine). The customer would gain access to both the product display and storage areas through a "retail-access portal" (103).
Goods would be loaded into the machine from outside the consumer's residence through an "inventory-loading portal" (104).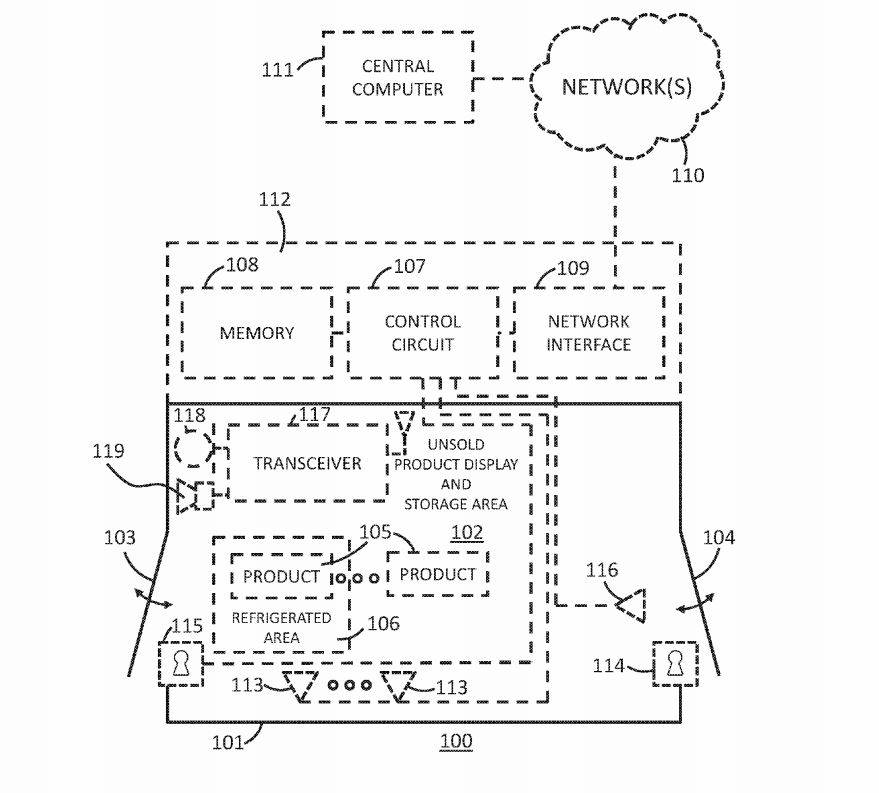 To confirm purchases the unsold product display and storage areas would utilize sensors to detect the presence of products and recognize when they have been removed from a display or storage area.
Once selected, the system would "responsively conduct a retail sale of that particular product." (The sensors themselves could be "weight sensors, ultrasonic transponders, camera-based components, radio-frequency identification (RFID)-tag readers, and so forth.")
And consumers could also returns items by placing unused goods back on the shelf.
The patent covers various safety and security concerns that come with attaching a functioning retail store to your house. It notes that either entry portal could be "lockable as desired," and that the retail-access portal could be configured to auto-lock when the inventory-loading portal is opened.
In-home e-commerce (no delivery required)
The patent envisions a variety of ways Walmart could maintain and optimize the storefront's inventory.
The consumer could submit choice and preference data to the retailer regarding desired goods (likely through a voice-connected system that would link it to a service representative).
Or, the system could take a more data-driven approach: The lineup of goods inside the storefront might change based on previous purchases by a consumer in the residence – regardless of whether the items were bought online, in a physical store location, or in the home-installed storefront.
The above functionalities could leverage AI to analyze and predict future purchases, and pair with a variety of smart home/IoT technologies.
Once the system understands that a family tends to buy pasta, basil, and tomatoes every Tuesday, for example, it could be trained to replenish the ingredients every Monday so their spaghetti-night ingredients are fresh.
Of course, cost and space are an obvious caveat to the patent's commercial potential.
That said, this invention – just like Bodega's far smaller automated vending machines – might have a use case in the lobbies of apartment buildings, dormitories, and the like (though no such applications are mentioned in the patent).
Regardless of whether it is ever commercialized, the unmanned storefront patent shows Walmart is not slowing the pace of its retail tech innovation, since its acquisition of Jet.com in August 2016.
Two months after that acquisition, in October 2016, Walmart applied to patent technology that uses IoT to track products in people's homes and auto-order replenishment products. Now, this innovation means Walmart could look to replenish a stock of desirable inventory without ever clicking a button.
If you aren't already a client, sign up for a free trial to learn more about our platform.