Reports suggest Walmart is looking to Humana for a deeper partnership or an outright buyout as the healthcare consolidation sprees continue. PillPack is another acquisition target for the retail giant. Earnings transcript reports suggest that Walmart held its healthcare ambitions close to its chest while Wall Street appeared to miss the possible connection.
Walmart, which has the third-largest retail pharmacy in the country, is in acquisition talks with health insurer Humana, according to the Wall Street Journal. The news comes as surprise to many, given that the company has made zero investments or acquisitions in healthcare thus far.
Additional reports of Walmart looking to buy PillPack (which we predicted earlier this year) are also creating buzz. In this brief, we examine Walmart's earnings transcripts to find clues about its healthcare ambitions.
why humana?
Humana isn't a random choice for Walmart. The two companies have partnered since October 2010 through a co-branded Medicare Part D prescription drug plan catered to seniors and people with disabilities.
The latest news could help Walmart create a comprehensive health plan for its many rural and senior customers. This could lead to a more streamlined plan that includes both health and drug coverage.
Earnings Transcript Analysis
Using our Earnings Transcript tool, we tracked the number of times Walmart executives or Wall Street analysts mentioned healthcare-related words and phrases — including "pharmacy," "healthcare," "OTC," "over the counter," and "insurance" — during Walmart's earnings calls from the past five years.
The first chart shows the combined instances of these words while the second chart shows the mentions of each individual term.

We saw the highest upticks in healthcare mentions in Q3'14 and Q4'14, referencing employee healthcare costs and overall pharmacy sales. No mentions hinted at possible healthcare investments or acquisitions.
Then, in October 2014, Walmart announced its partnership with DirectHealth.com, a health insurance comparison website and a licensed insurance agency. This partnership led to Healthcare Begins Here, an in-store program providing Walmart customers with information about the different health insurance options with enrollment support.
Retail pharmacy has been a key part of Walmart's healthcare focus, as evidenced by the mentions of "pharmacy" shown in the chart below.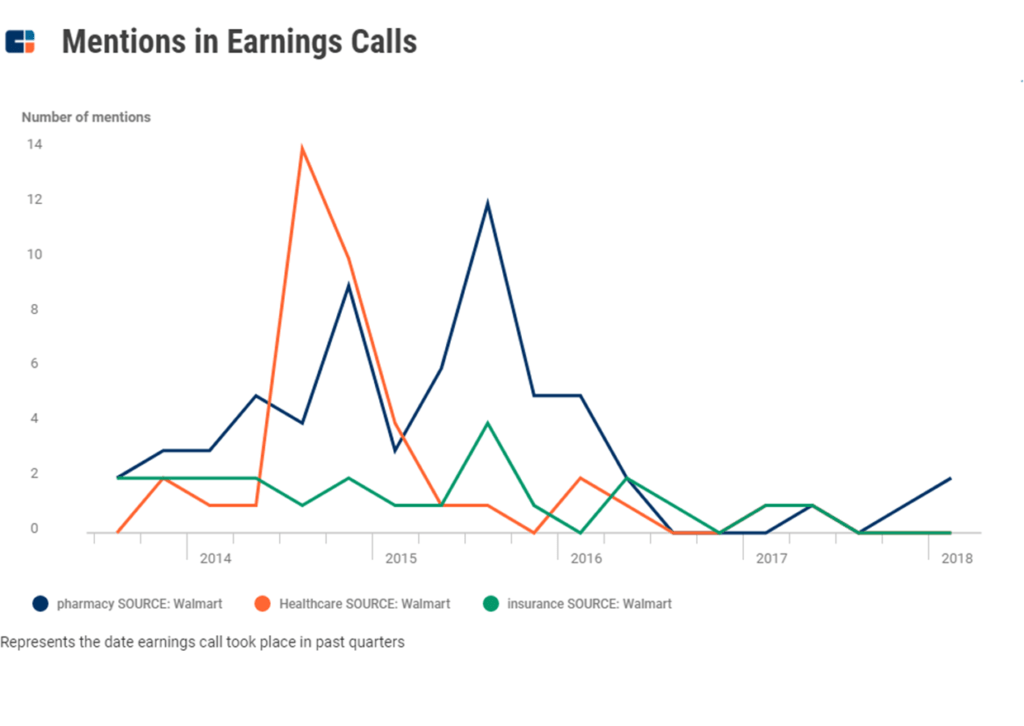 While most of management's mentions of "pharmacy" were related to standard quarterly updates, the company has recently discussed innovations in its pharmacy. CEO Doug McMillon highlighted Walmart's express pharmacy on the Q3'17 call:
"It's also exciting to see how we're removing friction from the customer experience with express pharmacy, an easier money services process, and by expanding pickup options with our automated towers and online grocery."
healthcare PLAYERS are changing strategies
In the past four months, we have seen a significant shift in strategy by healthcare incumbents as well as new, well-funded players. Recent announcements include:
CVS's $69B acquisition of Aetna — December 3
Amazon's health venture with Berkshire Hathaway & JP Morgan — January 30
Cigna's $52B buyout of Express Scripts — March 8
Despite all of the recent activity in the pharma space, healthcare commentary on Walmart's earnings calls has dropped significantly over the past several quarters. Mentions on the February 20th earnings call were minimal, compared to more than 20 mentions during a conference call in 2014.
Was Walmart planning this all along?
Given that Walmart has been keeping mum about its healthcare ambitions, there are two potential theories about the recent M&A and partnership announcements: 1) Walmart played its cards close to its chest and was having ongoing discussions for months, or 2) Walmart reacted to a changing landscape and made some quick moves on a current partner.
Walmart's behavior ahead of a 2016 deal seems to support the first theory. The company didn't say much about the e-commerce space before announcing in August 2016 that it would acquire Jet for $3.3B. The chart below shows that Walmart's mentions of "online" and "e-commerce" fell ahead of the Jet deal announcement.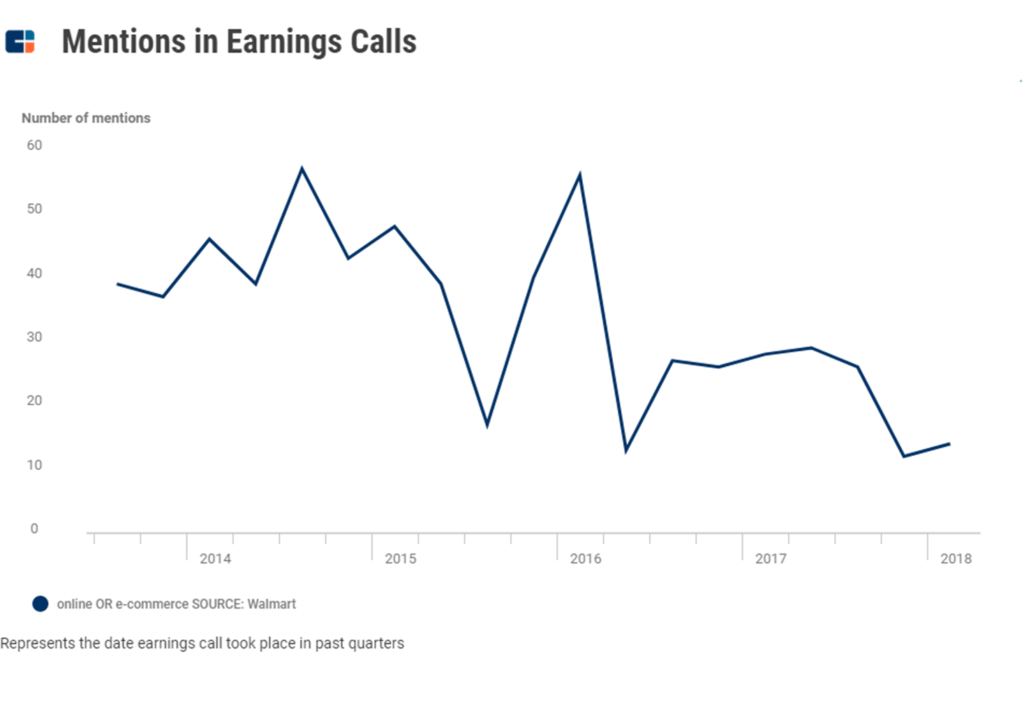 Humana not as tight-lipped
Humana's earnings transcripts may provide stronger evidence that discussions of a deal with Walmart have been on-going.
While Humana management did not discuss a furthering of its Walmart partnership or potential M&A, it is interesting that the company went from zero Walmart mentions for eight straight quarters to three consecutive quarterly mentions starting in Q2'17.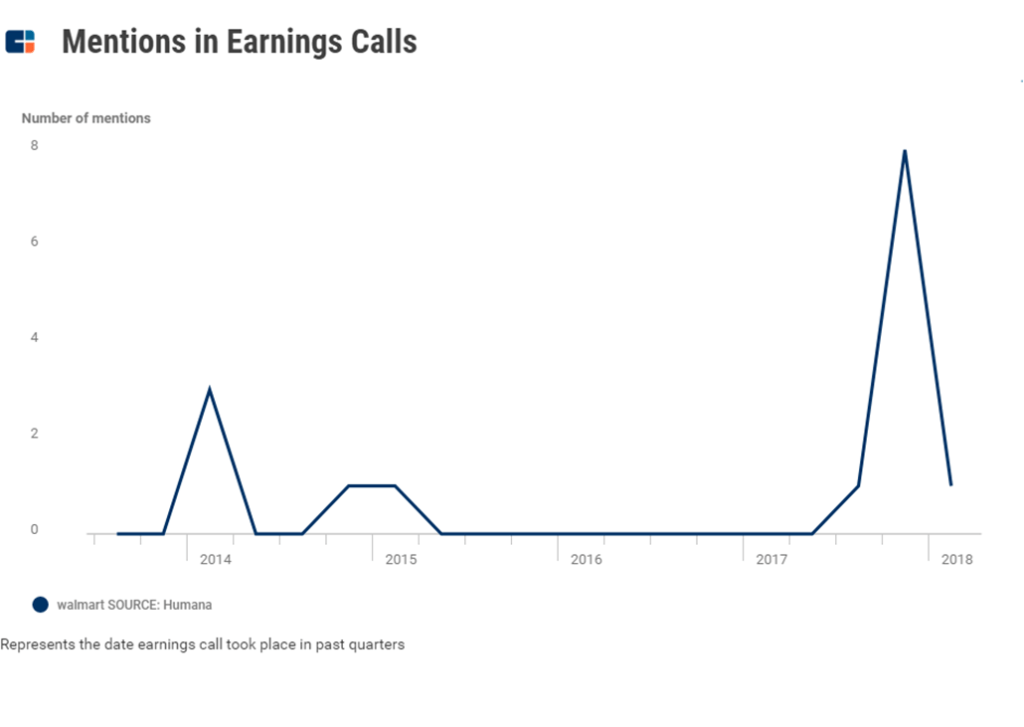 Humana's earnings calls may also shine some light on Walmart's direction going forward. During the Q3'17 earnings call, CEO Brian Kane mentioned the "low-priced Walmart plan" as one of the few bright spots in an otherwise lackluster quarter for Humana's standalone prescription drug plan (PDP) business:
"While we were pleased with our estimated growth in MA, there is some pressure in the competitive stand-alone PDP space for 2018. As you are likely aware, Humana offers three PDP plans, including a Basic Plan that serves, among others, our low-income members, an Enhanced Plan and a low-priced Walmart Plan, whose extraordinary growth has made us the leading individual PDP carrier in the country."
For Q4'17, Brian Kane mentioned that the Walmart plan had the highest mail order usage compared to its other PDP products, but faced stunted growth going forward thanks to competition.
For Walmart, the success of its drug plan and its desire to improve it could be responsible for the PillPack acquisition talk. PillPack's pharmacy sorting and delivery services would better serve Walmart's customers and help streamline its retail pharmacy operations.
In other cases, Humana is more explicit about the kind of acquisition targets it's looking for. These could be areas Walmart looks at going forward, as well.
"From an M&A perspective, we continue to look at strategic acquisitions to build out our capabilities, particularly in the primary care arena, but we also continually look for any other assets that could enhance our Healthcare Services segments. Additionally, we would also have interest in Medicare Advantage assets that increase our presence in underpenetrated markets."
WHERE WAS wall Street DURING all this?
By the time Walmart ran its Q4'17 earnings call, both the CVS and Amazon deals had been announced — but Walmart didn't field a single analyst question about a response to these actions.
Granted, Walmart's earnings missed analyst expectations and shares fell ~10%. But with 17 analysts on the call, it's surprising that not one question about healthcare came up.
This suggests that as larger companies like Walmart, Amazon, and others expand further into healthcare, the typical industry analyst might not be prepared to dig deeply into a new complex vertical.
If you aren't already a client, sign up for a free trial to learn more about our platform.