Walmart is applying for a range of patents using drones to automate farming. The move could support its grocery business and give the giant greater control over its supply chain.
As Walmart goes head to head with Amazon, it is focused on shortening its supply chain and improving its grocery delivery business — including patenting automated storefronts in people's homes and technology that can help improve online food shopping.
Today, we picked up on a signal that Walmart is looking to manage more of its supply chain at the source.
The retail giant applied for a series of 6 patents targeting farm automation. The applications propose using drones to identify pests attacking crops, monitor crop damage, spray pesticides, and pollinate crops.
Why does this matter?
To compete against Amazon, Walmart has been busy building up its grocery business. Last year, Walmart started offering same-day grocery delivery in certain areas. It also acquired delivery startup Parcel and just last month partnered with Instacart to roll out same-day delivery for its Sam's Club business.
Walmart has even piloted a smart lock partnership, so Walmart delivery people could unload grocery orders directly into shoppers' fridges when they're not home.
Amidst all this competition, we also know brands and shoppers are moving toward more natural food products and transparent labeling.
By taking more control over how its produce is grown, Walmart could a) potentially save on costs, by vertically integrating its food supply chain, b) manage crop yields more effectively, and c) increase its emphasis on transparency and sustainability to attract shoppers.
What's in the filings?
To track pests, Walmart describes using machine vision to monitor damage to crops as well as spot and identify the pests themselves. To prevent damage, the drones could shoot targeted sprays of pesticide or simply fly by to shoo off birds, acting as a next-generation of "scarecrows or shiny devices," the patent notes.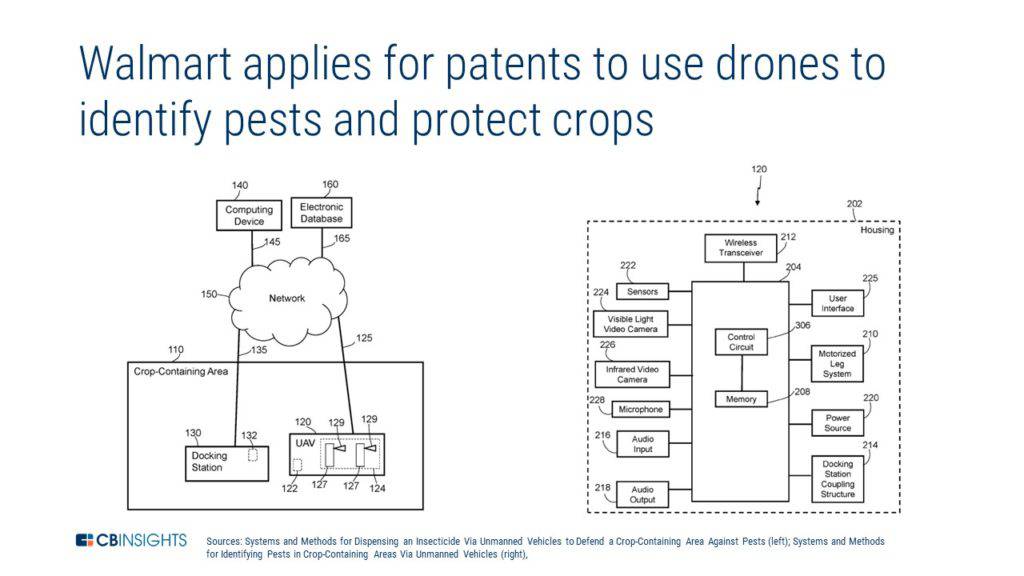 Drones could spray pesticides across a more targeted set of crops, rather than the blanket approach used today. The patent notes that "chemical spraying of crops is expensive and may not be looked upon favorably by some consumers."
Pollination drones, on the other hand, could help offset the loss of bee populations over the past few years. Walmart's "applicators" would carry pollen from one plant to another, and use sensors to verify the transfer was successful.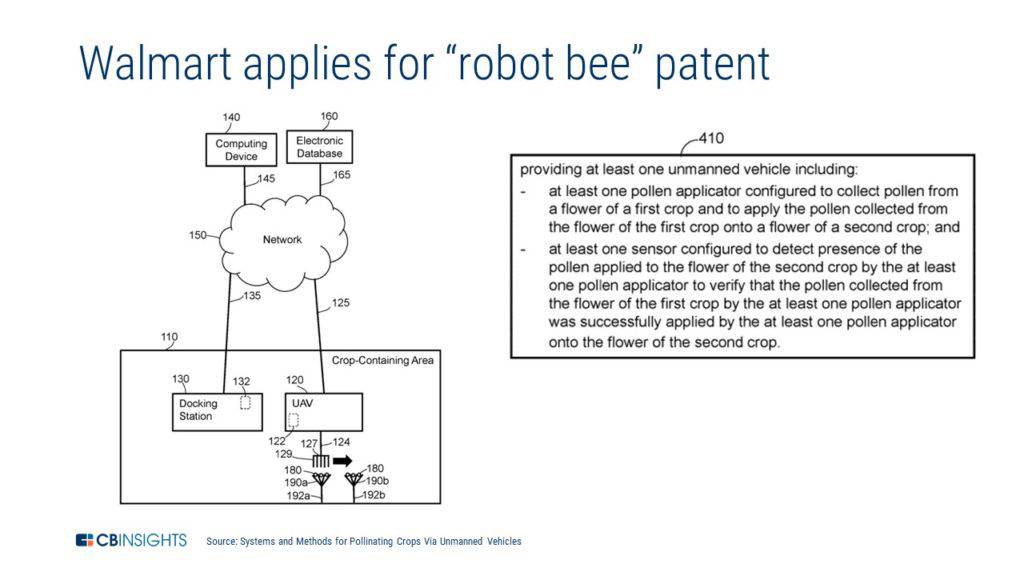 While Walmart may not start fully managing its own farms in the near future, increasing its involvement in agriculture could help the company differentiate its food offerings and increase its focus on transparency and sustainability, as well as help mitigate inconsistent or unpredictable crop yields.
If you aren't already a client, sign up for a free trial to learn more about our platform.