From autonomous trucking to drone delivery to autonomous electric vehicle delivery, Walmart is making an increasing number of varied bets on the future of driverless delivery.
We mined Walmart's vendor, partnership, investment, and M&A relationships using CB Insights data to understand the company's multi-pronged strategy as it looks to a future of driverless/autonomous delivery.
Since 2019, Walmart has built relationships that span both the last mile (to the end customer) and the autonomous middle mile (fulfillment center to stores).
For the numerous players in the delivery space, the prospect of being Walmart's vendor/partner represents a huge opportunity. For reference, autonomous last-mile delivery is expected to be a $41.77B market by 2027 (note: this represents the consensus industry analyst estimate). And this market is just one facet of the broader autonomous delivery market.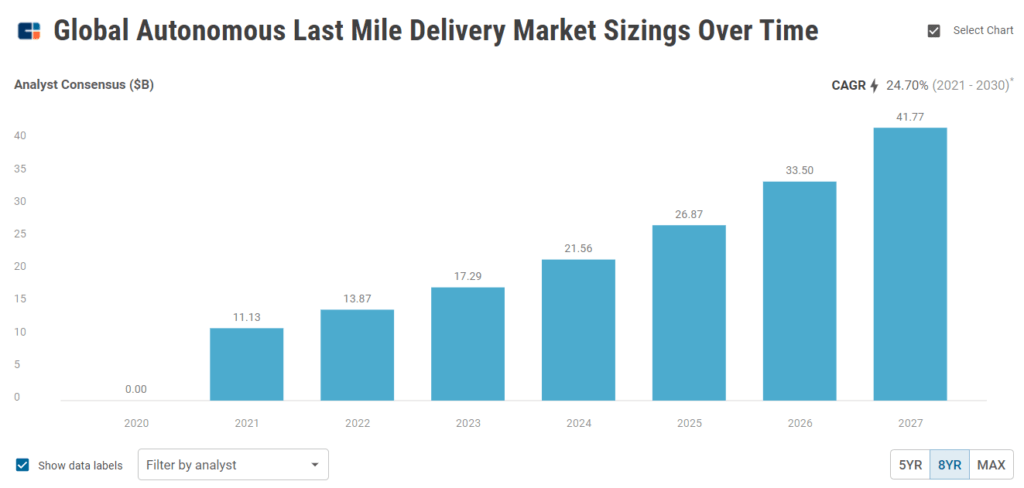 Below, we break down all of Walmart's moves around autonomous delivery and who it's working with — ranging from large tech players such as Baidu, Ford, and Alphabet to a host of emerging technology startups. Walmart also appears to be evaluating the carbon impact of these efforts and these partners given its goal of zero emissions by 2040. As you'll see, electric autonomous delivery is another theme.
To see all the raw data, check out Walmart's investments, business relationships (vendors & partners), and acquisitions.  
If you want to understand the broader landscape of last-mile delivery companies, refer to our market map of 95 startups reshaping last-mile delivery, which includes many of the firms with which Walmart has relationships.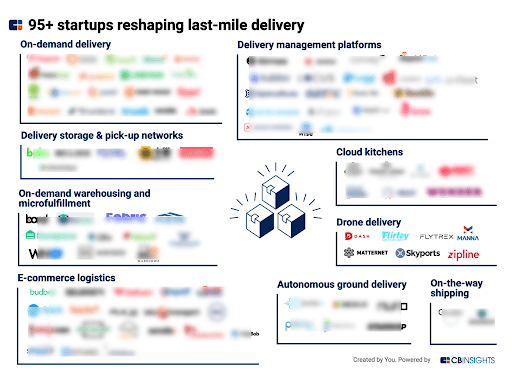 And now on to each of Walmart's relationships.
Announced: July 2019 | expanded December 2020
Type: Partnership / Pilot
Focus: Middle mile
Gatik is one of Walmart's most interesting deals as it is the only announced deal focused on middle-mile logistics. Since 2019, the electric autonomous box truck company has been transporting goods from a Walmart dark store — one that stores products for fulfillment but which isn't open to the public — to a Walmart Neighborhood Market store in the company's HQ city of Bentonville, Arkansas. 
In December 2020, the partnership expanded to a second location in Louisiana. In November 2021, the two companies announced that Gatik has been operating the Arkansas route fully driverless since August 2021. 
We've previously discussed the rise of micro-fulfillment centers and dark stores, and the Gatik x Walmart deal is emblematic of the need to move goods from these micro-fulfillment centers and dark stores to pick-up points, which may be retail stores or other distribution centers. Given the increasingly fierce competition in ultrafast delivery (5x funding growth within the space in just the early part of 2021 as illustrated below), this dark store trend will be an important battleground.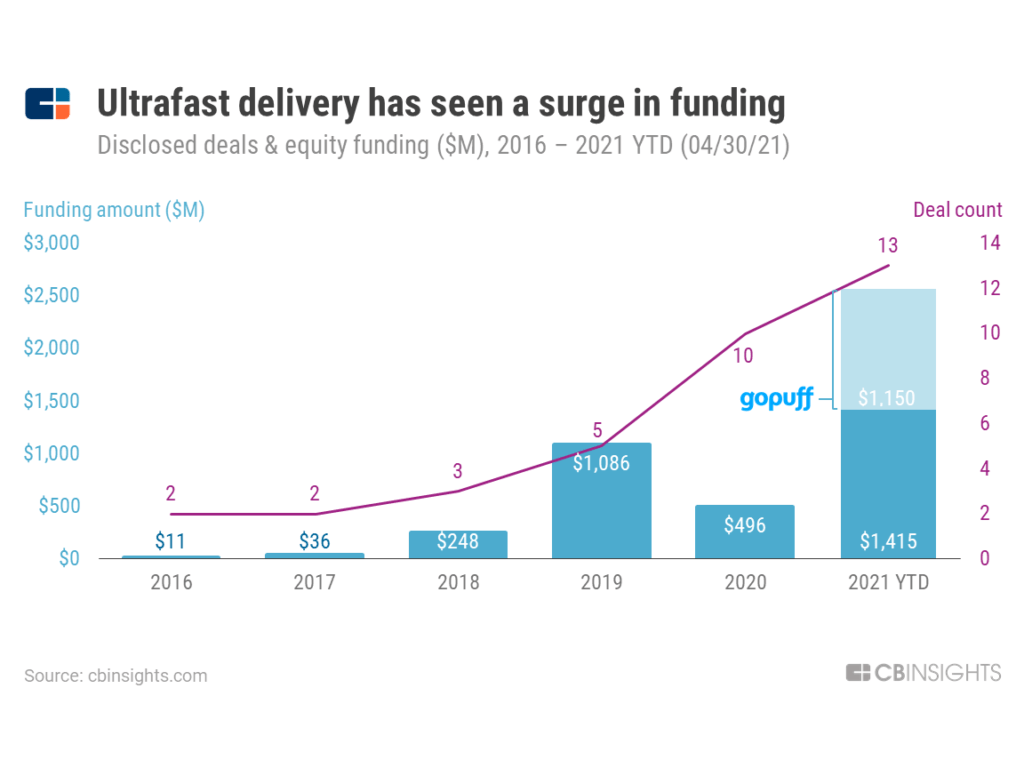 Gatik's competitors in the broader autonomous trucking space — which we broke down here — are plentiful and well capitalized, including the likes of Kodiak Robotics, Embark Trucks, Inceptio, Plus, Nuro (another Walmart partner), and TuSimple among others.