Walmart is forcing all of its leafy greens suppliers onto the blockchain. We explore other retailers and CPG companies leveraging blockchain to improve transparency, increase consumer trust, and save on supply chain costs.
Walmart just announced it's forcing all of its suppliers of leafy greens to the blockchain by September 2019.
Walmart has specifically been working with IBM's Food Trust blockchain platform to improve food tracking and safety. The Food Trust, a partnership between IBM and major food companies, helps reduce the time it takes to track the source of food from days, weeks, or months to only 2.2 seconds via blockchain distributed ledger technology.
The announcement represents a major step forward in the effort to integrate the supply chain onto the blockchain to improve food tracking in the event of contamination.
Walmart is also part of a growing number of retailers and brands that are exploring blockchain technology to help improve general product tracking, verification, and overall supply chain operations.
Below, we explore some of these retail-blockchain initiatives.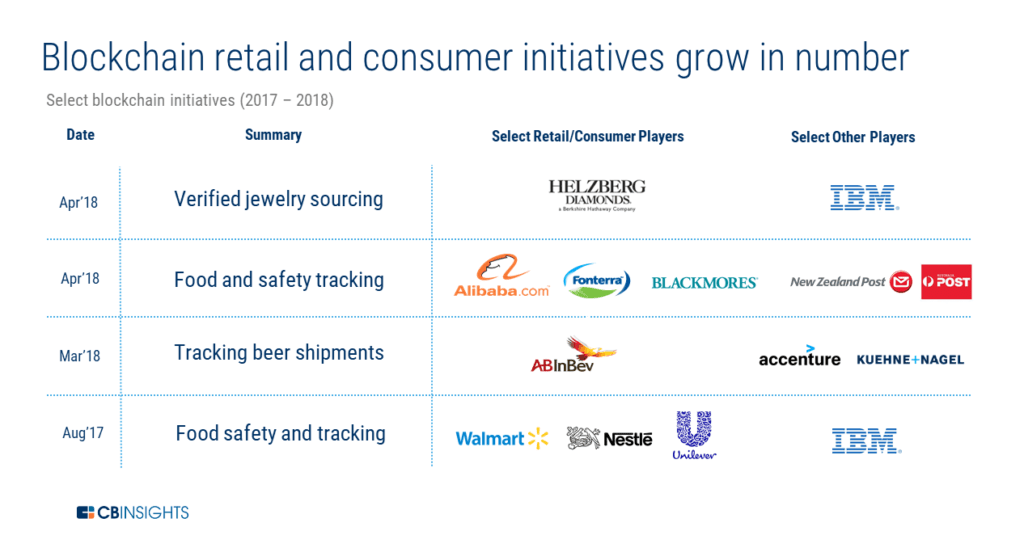 IBM's Jewelry Authentification blockchain
IBM developed a blockchain-powered ethical jewelry sourcing platform "TrustChain" as part of a consortium with jewelry industry players including US jewelry retailer Helzberg Diamonds, metal refiner Asahi Refining, and precious metals supplier LeachGarner, among others.
The goal of the consortium?
To securely track the provenance of jewelry from the mine to the store, providing reliable verification for conflict-free diamonds and precious metals. This helps jewelry retailers more reliably market their products to an increasingly socially-conscious consumer base.
Alibaba creates blockchain food safety consortium
In April 2018 Alibaba launched a blockchain-based food traceability platform to improve food safety (similar to IBM's platform in the US). It worked with PwC to launch the program, and its first partners include New Zealand dairy giant Fonterra and vitamin maker Blackmores. These companies will now sell blockchain-verified products on Tmall in China.
AB InBev tracks beer on the blockchain 
Beer giant Anheuser Busch InBev partnered with Accenture, shipping company APL, and logistics company Kuehne + Nagel to experiment with tracking beer shipments via blockchain. The partnership concluded that blockchain could help reduce operating costs and improve supply chain visibility, according to Accenture.
"[Blockchain] reduces mistakes, digitizes information and improves the supply chain process so we can focus on our core business of brewing the best beers for consumers," – Danillo Figueiredo, Vice President of Logistics for AB InBev.
IBM partners with CPG & food brands
In August 2017, ten of the world's biggest CPG and food companies partnered with IBM to integrate blockchain into their supply chains via the Food Trust, discussed above. The cohort included Walmart, Nestle, Unilever, McCormick, Tyson, Kroger, McLane, Driscoll's, Dole, and Golden State Foods — representing more than half a trillion dollars in aggregate annual global sales. The goal of the Food Trust is to improve overall food safety by reducing the time it takes to track down the source of contaminated food.
Given the increasing adoption of blockchain by supply chain players, as well as macroeconomic factors like tariffs, we will likely continue to see retailers jump on the blockchain bandwagon going forward.
If you aren't already a client, sign up for a free trial to learn more about our platform.