The funding helps VisibleRisk build out features for its newly launched platform. Here are the top-line bullets you need to know.
VisibleRisk, a cybersecurity analysis provider, has raised $25M in Series A funding from Moody's and Team8.
How's the company performing?
Texas-based VisibleRisk is a software platform, that offers security analysis. It is a joint venture of Team8 and Moody's. VisibleRisk combines the expertise of the 2 entities — Moody's risk measurement experience and Team8's cybersecurity expertise — to create solutions for evaluating and minimizing enterprise cyber risk.
Its newly launched Cyber Rating product focuses on cyber risk quantification, which allows businesses to see how their cyber risks compare against their competitors. This tool provides real-time tracking and analysis.
VisibleRisk has 44 employees and serves around 10 customers at present.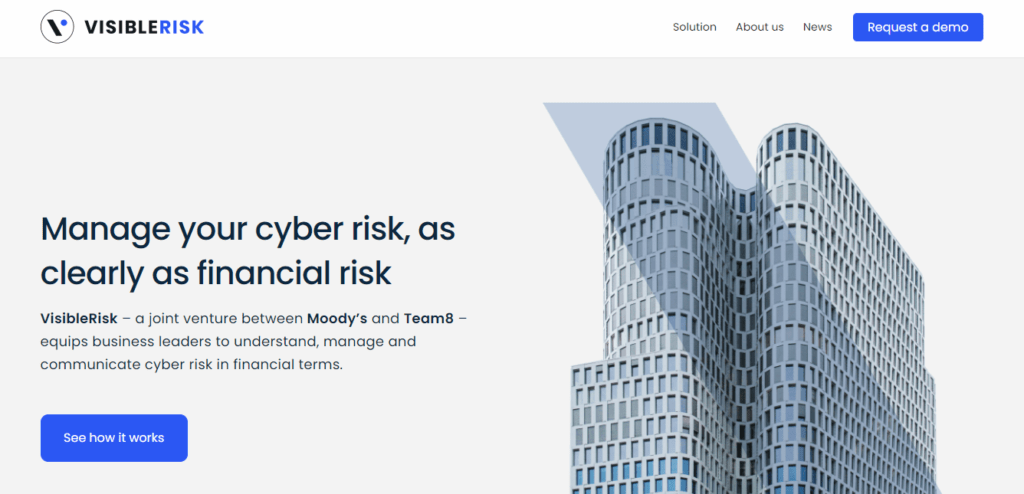 Source: VisibleRisk
Why does the market matter?
The global cybersecurity market is projected to grow at a CAGR of 14.5% and reach a value of $352.3B by 2026, according to Mordor Intelligence.
The growing number of complex cyberattacks and the need for secure networks are fueling the growth of the market.
Companies spent $124B on cybersecurity in 2020.