There is a clear pattern that Visa's relationships data reveals about its M&A strategy. While prior investment by Visa or Visa Ventures is a good indicator, partnerships are where Visa's M&A targets of the future are most evident.
Since 2018, Visa has done 9 M&A deals with several being valued at $1B or greater (see all of Visa's acquisitions and their valuations here). Mining Visa's relationships data highlights a pattern of first partnering and then quickly moving to acquire soon thereafter — what can be dubbed as Visa's "try before you buy" M&A strategy.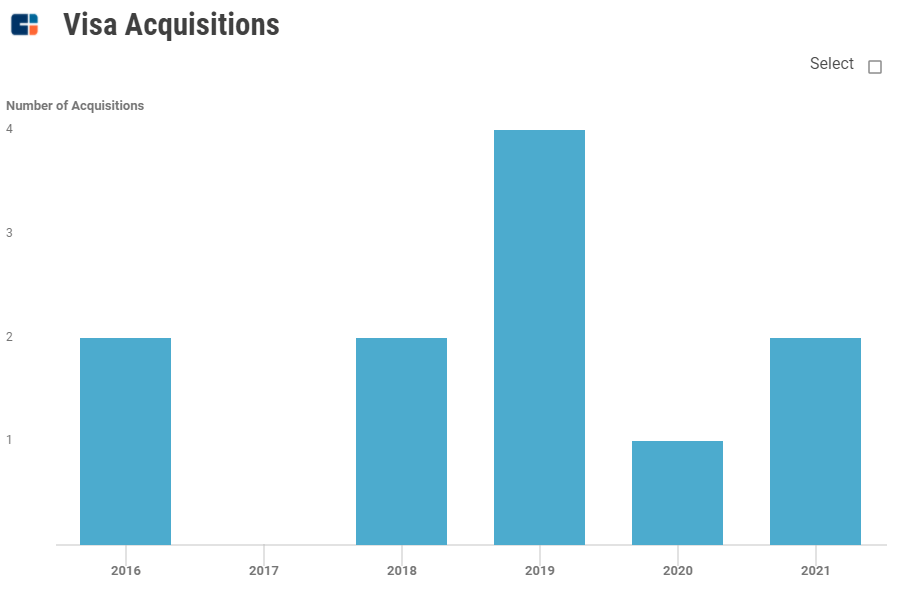 The partnerships that result in M&A deals are business development, joint product release, or product co-creation in nature. Investments by Visa Ventures or Visa directly are also indicators of its M&A targets, but oftentimes partnerships predate investments as well.
Below, we look at Visa's M&A deals since 2018 and highlight how partnerships were a precursor to a majority of its recent M&A deals.
Then, using the signals from Visa's business relationships data (670 relationships and counting), we highlight 3 companies worth keeping an eye on as future Visa M&A targets.
But first, let's take a look back at Visa's M&A deals since 2018 and associated partnership history. In aggregate:
5 of 9 (56%) M&A deals kicked off with an earlier partnership. In the case of Visa's tech company acquisitions, 5 of 8 (63%) began with a partnership.

3 of 9 had a prior disclosed investment by Visa or Visa Ventures. 

The median time between partnership to acquisition is just over 2 years. This suggests that Visa already has some degree of conviction on these companies before the partnership and the "try" period quickly serves to confirm this conviction and move it to buy.

The fastest M&A deals from partnership announcement to M&A deal announcement were 8 months and 14 months later.

The average time from partnership to M&A is nearly 3 years. The average is brought up by a single outlier — Visa's $195M acquisition of Fraedom, which it partnered with nearly 10 years prior.
Below, we dig into each of these M&A deals a bit more.
We then share 3 recent partnerships that appear to be aligned with Visa's strategy and which could be on Visa's corporate development radar in the near future.
Note: We also discussed partnerships as a predictor of M&A in our M&A prediction analysis of Roche.