In Q2'20, US-based startups continued to pick up deals and dollars during the Covid-19 crisis.
Venture capitalists didn't let the global pandemic stunt dealmaking in the second quarter of the year.
Though funding took a hit in Q2'20 both globally and in the US, deal activity recovered compared to Q1'20. However, the extent of Covid-19's impact remained visible when compared to 2019 levels. 
We take a look at how the coronavirus pandemic has shaped venture capital financings in Q2'20.
1. VC deals to US-based startups in Q2'20 saw a quarterly increase but were down compared to last year
In the US, deal activity reversed a 3-quarter decline.
VCs cut 1,374 deals to US-based startups in Q2'20, up from 1,336 in Q1'20. However, despite the quarterly increase, Q2'20 deals were down 18% year-over-year (YoY). 
In terms of funding, US-based startups garnered a collective $26.9B in Q2'20, down less than 1% from the prior quarter.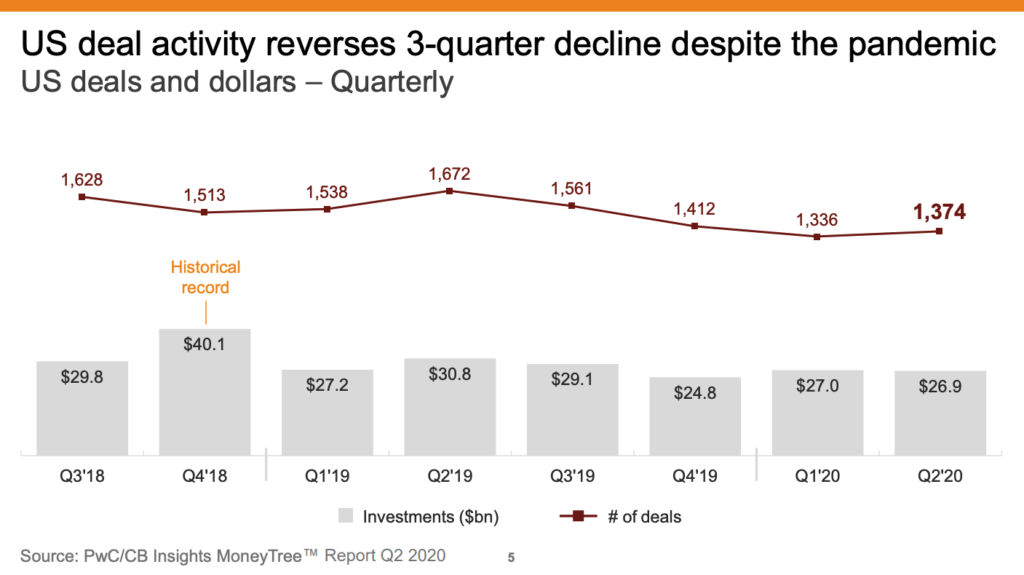 2. The number of quarterly mega-rounds ($100M+) in the US hit a new record in Q2'20
US-based companies raised a record 69 mega-rounds totaling $12.1B in Q2'20. Mega-rounds comprised 45% of the quarter's funding, relatively flat from Q1'20.
Year-to-date, US-based mega-round investments garnered $24.4B, pacing below 2019 levels.
However, there were a number of significant rounds in Q2'20, with Stripe leading the pack with its $600M Series E+ in April. Palantir and Sana Biotechnology followed, raising $500M and $481M respectively.
Rounding out the top 5 were DoorDash with its $400M financing, and Magic Leap, which picked up $350M.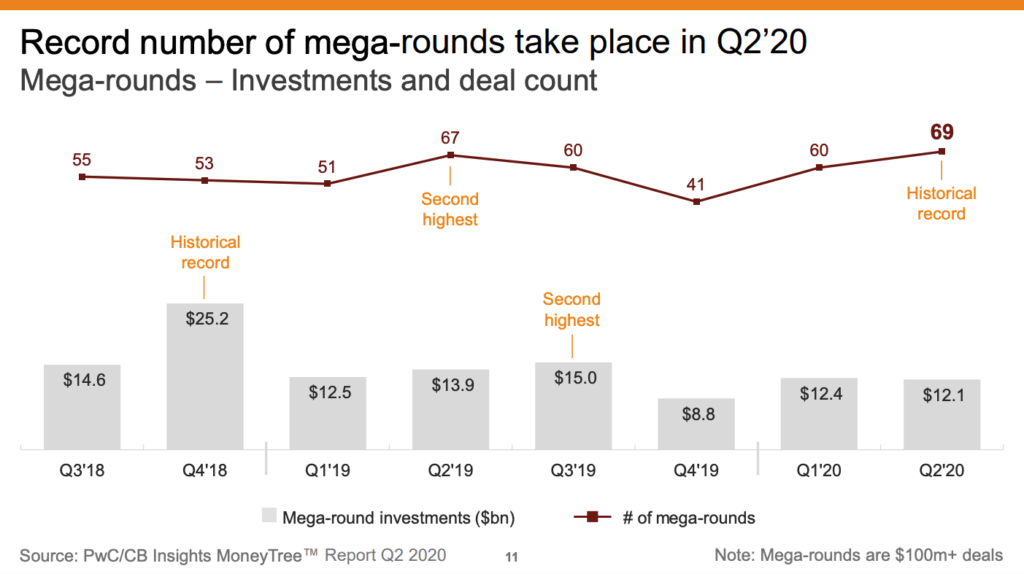 3. Unicorn births declined for the fourth consecutive quarter
The number of new unicorns in the US steadily declined over the past year.
In Q2'20, just 11 new unicorns joined the herd to bring the total US total to 209 — 44% of the global unicorn count. The US aggregate unicorn valuation amounted to $630B, a slight upward tick after 2 quarters of decline. 
Among the highest-valued unicorns in the US were payments processor Stripe ($36B valuation) and space tech company SpaceX ($36B). Following behind were Palantir ($20B), Airbnb ($18B), and DoorDash ($16B).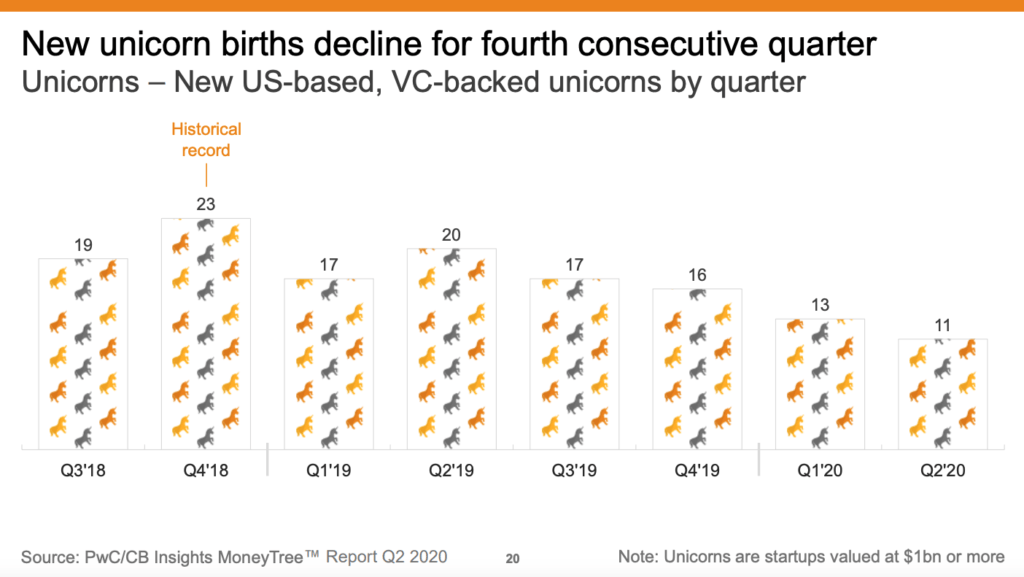 The top-funded companies in the US as of Q2'20 have raised over $2B each. JUUL Labs has remained the most well-funded company, with more than $15B in total disclosed funding. Runner-up Airbnb has garnered $3.6B.
4. In the US, IPO exits jumped while M&A activity fell amid the pandemic
After 3 quarters of declines, IPO activity rebounded, with 24 US-based, VC-backed companies going public in Q2'20, up from 15 in Q1'20. The majority (17) of these IPOs were healthcare companies, but just 2 made the top 5 in terms of valuation: Irvine-based Inari Medical and Cambridge-based Generation Bio.
Meanwhile, M&A activity plunged to an 8-quarter low, with 120 exits in Q2'20 vs. 155 in Q1'20. Three of the top M&A exits in the US were fintech startups, including Galileo Financial Technologies, Personal Capital, and Finicity. 
5. Globally, deals recovered compared to Q1'20 while funding dropped 
Globally, deal activity rebounded in Q2'20 to 3,812 deals, while funding decreased to $50.2B.
Both deals and dollars were down on a YoY basis, with funding down 13% and deals 9%. Asia accounted for the biggest rebound, with quarterly deals rising 20% in Q2'20 as it began to recover from the Covid-19 pandemic.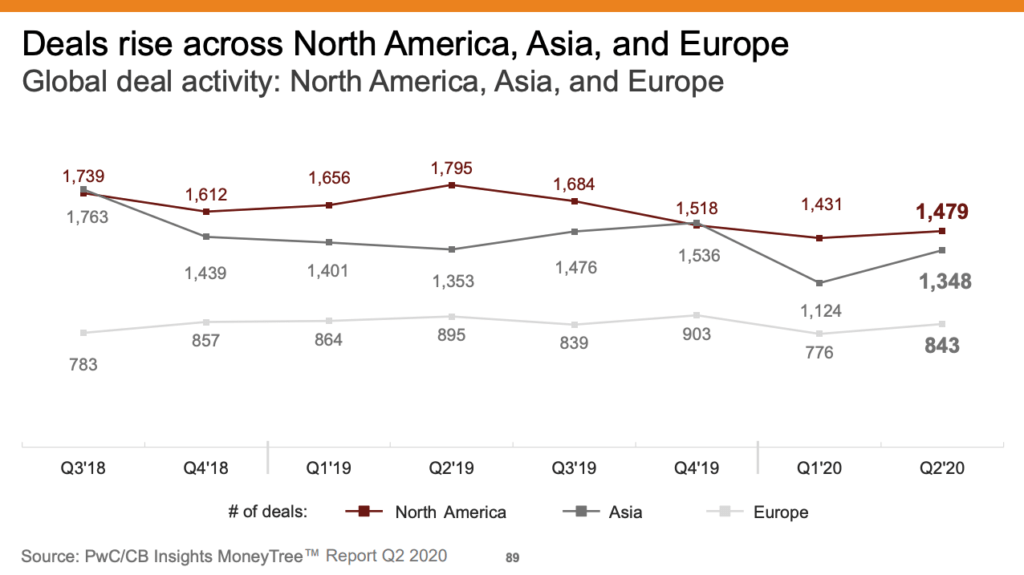 6. Digital health dominated deal activity in the US 
Digital health and medical devices saw an increase in deals in Q2'20, as companies scrambled to develop solutions for the pandemic.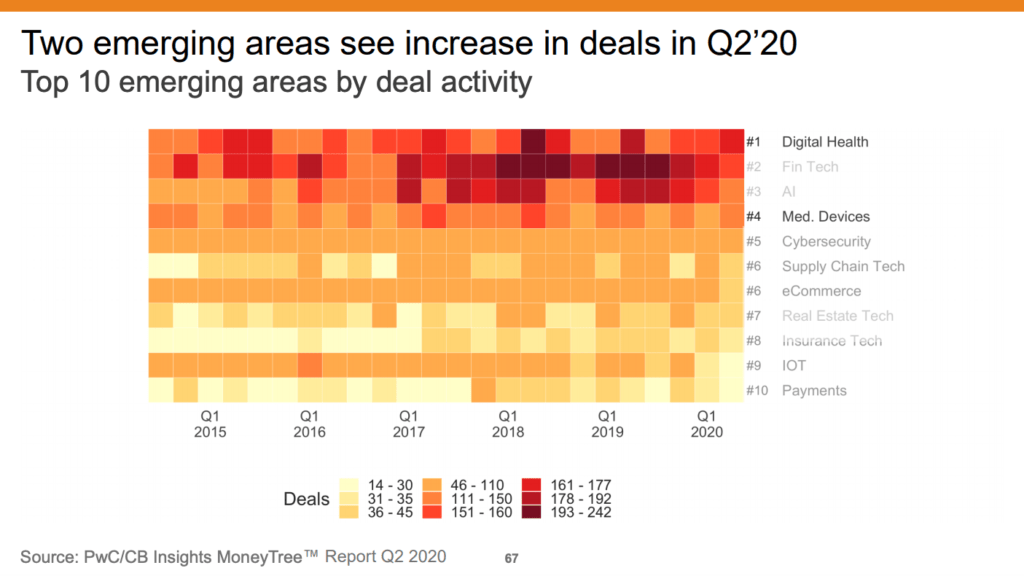 Digital health startups raised $3.1B across 173 deals in Q2'20, the highest number of deals since Q2'19. Expansion-stage (Series B & C) digital health companies picked up a chunk of the financings in Q2'20, raising $613M. 
Take a look at all the underlying data and insights in our PwC and CB Insights' Q2 2020 MoneyTree report. 
If you aren't already a client, sign up for a free trial to learn more about our platform.