Also discussed are how Microsoft is on an acquisition tear, AI companies to watch, and CVCs investing in solar energy.
Today, we discuss vaping on earnings calls, the theater vs. studio battle, CRISPR FOMO, and more, including:
Who in big tobacco is talking vaping on earnings calls?

Did AMC just drive studios to Netflix?

Microsoft dealmaking reaching new highs

 How CVCs invest in the solar energy space 

The CRISPR companies getting the most investor love

Companies to watch (one just got snapped up by Microsoft)
The giant vaping market is killing big tobacco
Tobacco companies are increasingly talking about vaping on earnings calls. As vaping has gained steam, their stock prices have taken a beating.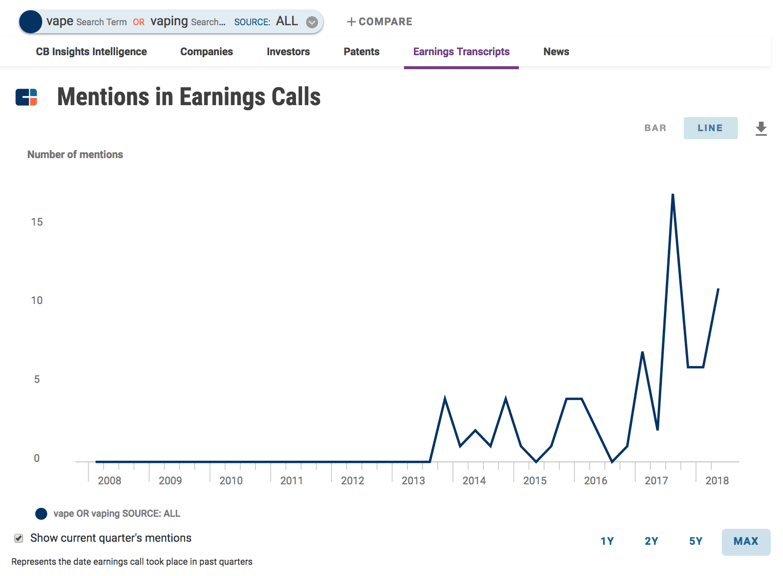 British American Tobacco has been talking about vaping the most on earnings calls (followed by Turning Point Brands, Altria Group, and Reynolds American).  
They should be paying attention, given the projected size of the vaping business. The CBI Analyst Consensus pegs the vaping market at $22B.

Missing the vaping trend has been costly for big tobacco. British Tobacco's 1-year stock chart (below) is downright ugly.
Many tobacco companies have jumped into the vaping business themselves, but the lower-margin vaping business is not a 1-for-1 trade with their higher-margin traditional cigarette business. And they are all behind an insurgent (more on that below) in terms of market share. Yes — the innovator's dilemma, and all that good stuff.