The Vantablack coating makes 3D objects appear photoshopped into absolute blackness. We identified the game-changing applications for super-dark, light-absorbing materials.
The industrial coating Vantablack debuted in 2014 and quickly caught the attention of artists and researchers.
Identified as the world's darkest manmade material, the near-weightless, light absorbing substance is comprised of many millions of microscopic carbon tubes and makes anything it's applied to appear as dark as a black hole.
Vantablack's novel composition fools the eye into seeing essentially a void. And while that may sound like an artistic novelty, it creates both technical and aesthetic value – with applications in space, healthcare, and more.
Vantablack's most high-profile moment is coming soon, when it will be used to create a pitch-black architectural exhibit at the 2018 Winter Games in South Korea. The substance will be applied to a normal building so it appears as nothing more than a slice of outer space.
Yet this ultradark coating can do far more than make buildings disappear.
Vantablack is already seeing application in medical devices, imaging systems, and luxury goods. And new kinds of "superblack" substances are also cropping up – inspiring new applications for non-reflective, ultra-dark materials.
What is Vantablack?
Since Surrey NanoSystems first debuted VantaBlack in 2014, the material has captivated artists, scientists, architects, and tech innovators alike.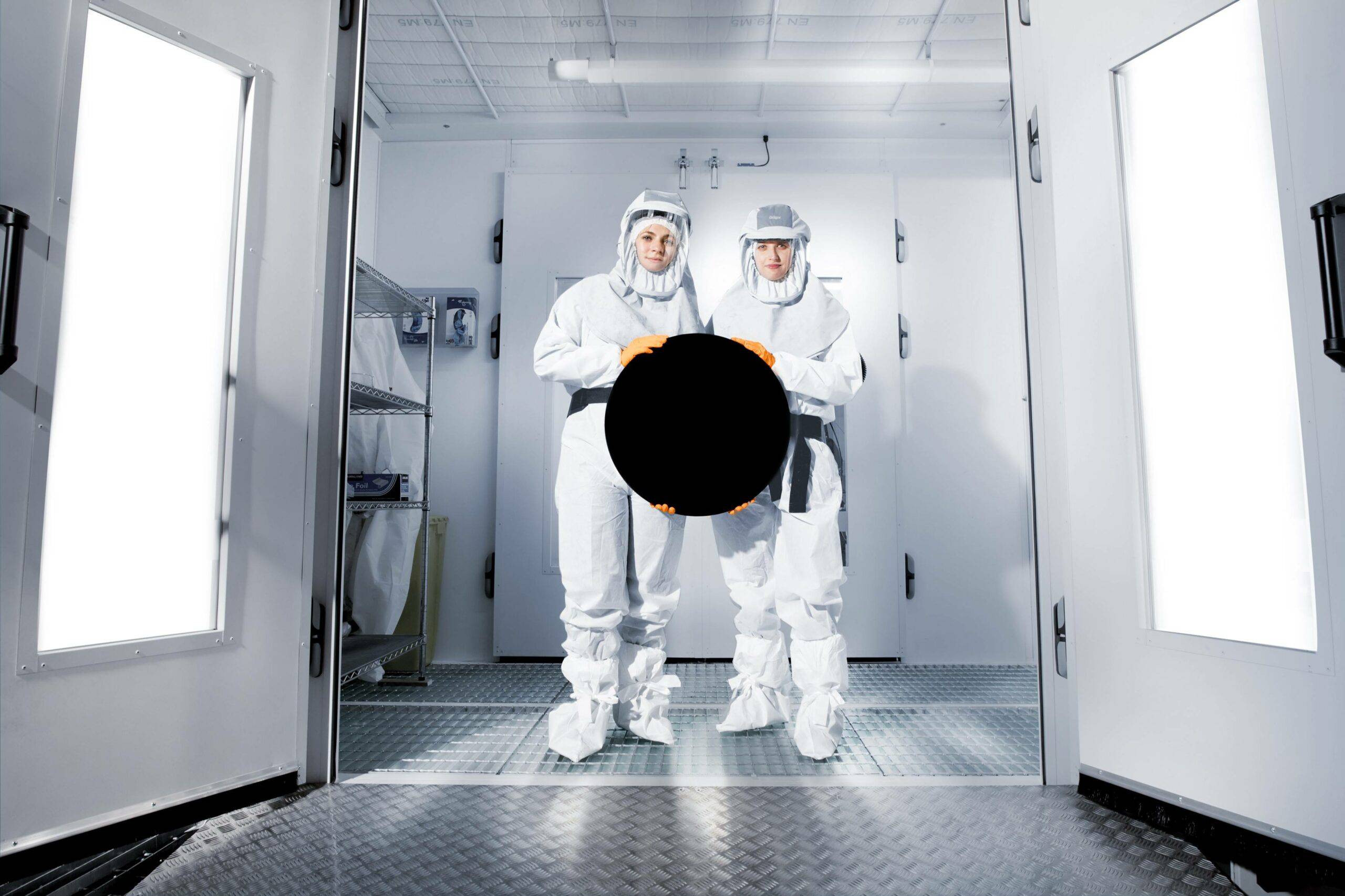 Initially developed for applications in outer space, Vantablack is a coating designed to be as non-reflective as possible. The substance absorbs 99.9% of light, making it even less reflective than charcoal (which absorbs 96%).
As Surrey NanoSystems explains it, Vantablack is not a paint, pigment, or fabric. Rather, it is a "functionalised 'forest' of millions upon millions of incredibly small tubes made of carbon."
Each carbon nanotube is around 20 nanometers in diameter – roughly 3500 times thinner than a human hair. (~1B nanotubes could fit on a single side of one-centimeter sugar cube.)
The nanotubes' thinness is countered by their vastly taller length: Each nanotube is around 14 to 50 microns long. (A micron equals 1000 nanometers.)
The sheer density and volume of nanotubes allow for the near-total lack of "reflectance": As light particles (aka photons) enter the microscopic spaces between the nanotubes, they are rapidly absorbed while bouncing around the carbon "forest" – ultimately turning into heat.
With no light reflected back, your brain can't create a mental image of what  photons would otherwise illuminate. That makes Vantablack "a physical thing that you cannot see," as British sculptor Anish Kapoor has called it.
What is Vantablack used for
Art/novelty
Anish Kapoor knows Vantablack well: The artist secured exclusive rights to utilize the technology in artistic works in early 2016. Kapoor's stranglehold created controversy in the art world and rankled many of his peers.
Yet Kapoor has released just one artistic work using Vantablack to date: A limited-edition watch, called the Sequential One S110 Evo Vantablack, made in collaboration with high-end Swiss watchmaker MCT.
The watch's design was intended to make the hand movements appear as if they were "floating amid nothingness," according to MCT's CEO Pierre Jacques.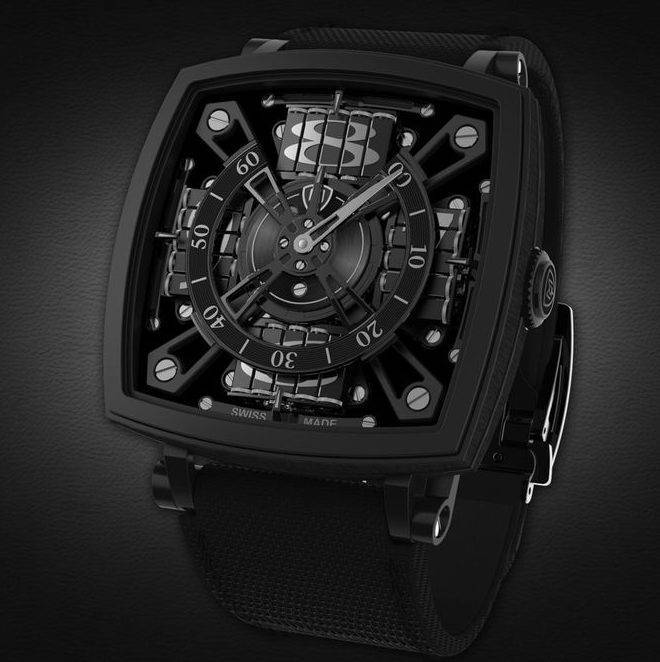 CREDIT: MCT
The watch's $95,000 price tag reflects both MCT's market and Vantablack's inherent limitations: The material is extremely expensive and complex to manufacture – making it more appropriate for industrial or scientific uses than for consumer-facing products.
In fact, Vantablack could only be used on the dial and minute hand of the S110 because it needs to be protected from accidental touching. Like other materials comprised of carbon nanotubes, Vantablack's properties are easily damaged by direct impact or abrasion.
Space
Vantablack can be used for stray light control and energy absorption in a wide range of systems – especially technologies focused on optics and infrared sensing or imaging.
One example lies in Vantablack's use in outer space: The coating was used to enhance the optical efficiency of the Kent Ridge 1, a "star tracking" microsatellite from Berlin Space Technology (BST) that launched into orbit in December 2015.
A star tracker is an optical system that measures the positions of stars using cameras and/or light-detecting sensors. On a small satellite, the tracker can serve as the "eyes" – gathering images and/or orientation information for positioning and control.
Minimizing internal reflections in the optical system provides more accurate data, and improves the satellite's ability to operate in the presence of bright light sources like the sun. Vantablack is darker than other absorbing coatings often used for this purpose.
The below image shows Vantablack applied to one of the "baffles" inside of a star tracker's optical positioning system. Baffles (which exist to restrict the spread of light or sound) are an internal component of many light-sensitive imaging systems.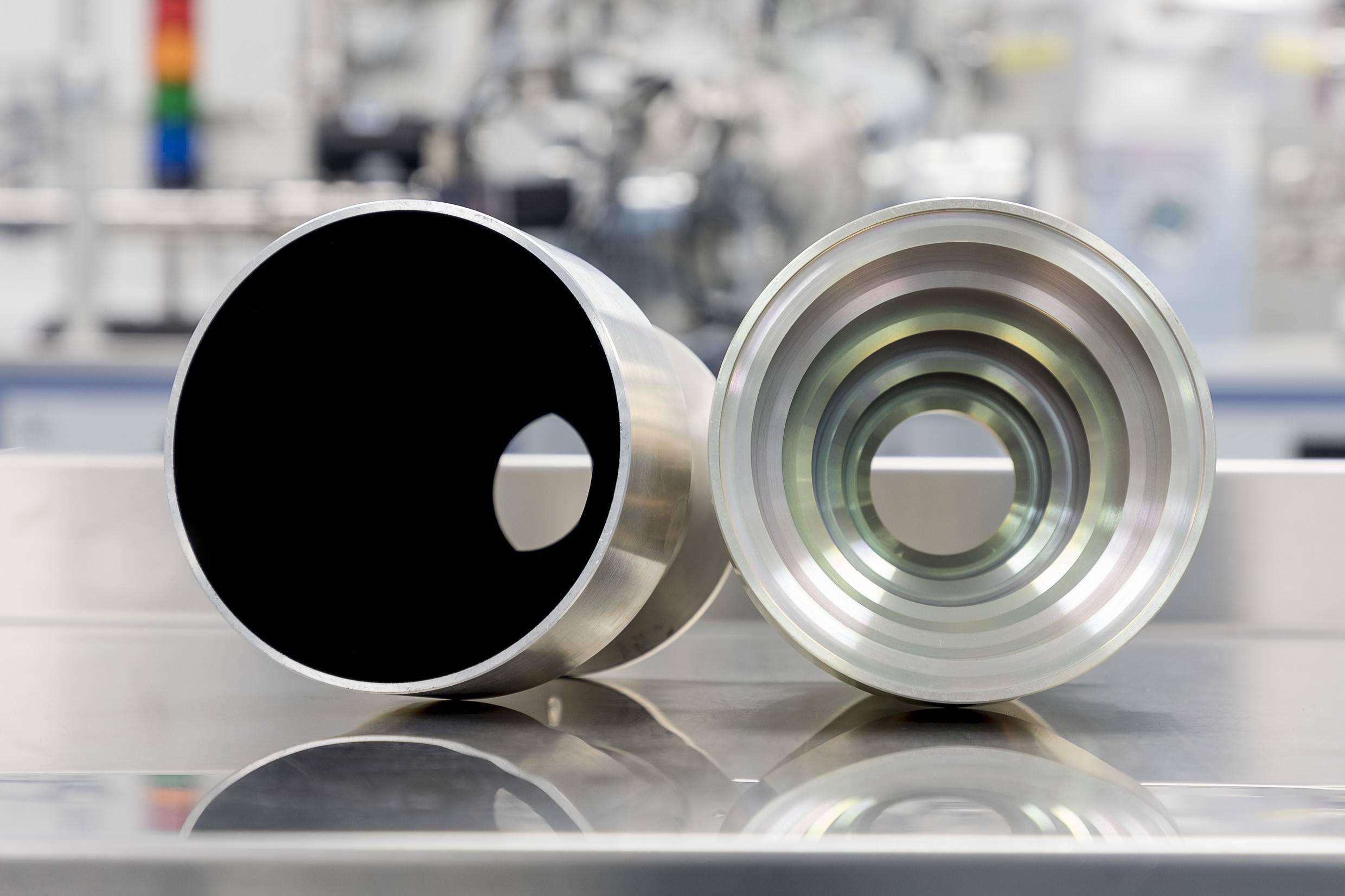 Applying Vantablack to baffles can enhance the ability of satellite systems to capture accurate data in space. Improved satellite function translates to better space data, and thus better weather forecasts, climate predictions, and so on.
Healthcare
Vantablack can make similar enhancements possible for certain medical and scientific devices that utilize spectroscopy to measure or assess light and radiation.
For example, spectroscopic devices and "hyperspectral imaging" can help physicians understand blood-related biomarkers (such as oxygenation in skin or muscle). Reducing stray light in spectroscopic medical devices can thus improve the accuracy of diagnoses, and the effectiveness of tests.
Broadly, Surrey NanoSystems says that using Vantablack in optical components can improve their performance and minimize their size or complexity – ultimately lowering costs. These components may include the apertures that allow light into a photographic lens, or the cold shields that protect sensing systems from unwanted heating by light or thermal radiation.
The company's further examples below show how Vantablack's low mass, cooling and heat-conducting properties, and light-absorbing functionality can provide commercial value across many industries.

But the carbon nanotube-based Vantablack isn't the only superdark material out there, and some of its emerging peers are even more versatile than Vantablack.
These newer super-black materials are achieving high levels of light absorption with fewer limitations than Vantablack around cost, sensitivity, and licensing. As these innovations emerge, they could expand the applications for ultra-dark materials beyond what's been explored so far.
Vantablack's next iterations
Surrey NanoSystems debuted an even darker 2.0 version of Vantablack in March 2016 – a coating so dark it can "eat" lasers, as shown in the video below. Surrey NanoSystems says Vantablack 2.0 is so black that the company's visual spectrometers can't even measure it.
The company has also since released Vantablack S-VIS, a cheaper version of Vantablack 2.0 that behaves more similarly to a paint.
Like Vantablack, the S-VIS product is made of a carbon-nanotube composite, albeit one with a shorter "forest" of tubing.
But whereas Vantablack must be applied to objects in microscopic layers (from inside a low-pressure vacuum chamber), the S-VIS version is a spray-on coating.
And at certain angles, the S-VIS is also even darker than the Vantablack material.
Spray-on coating gives this Vantablack version more utility, but it's still a far cry from a spray-can paint: The nanotube composition means Vantablack S-VIS is still sensitive to damage; it also requires "complex post processing" to achieve its high level of light absorption (shown below).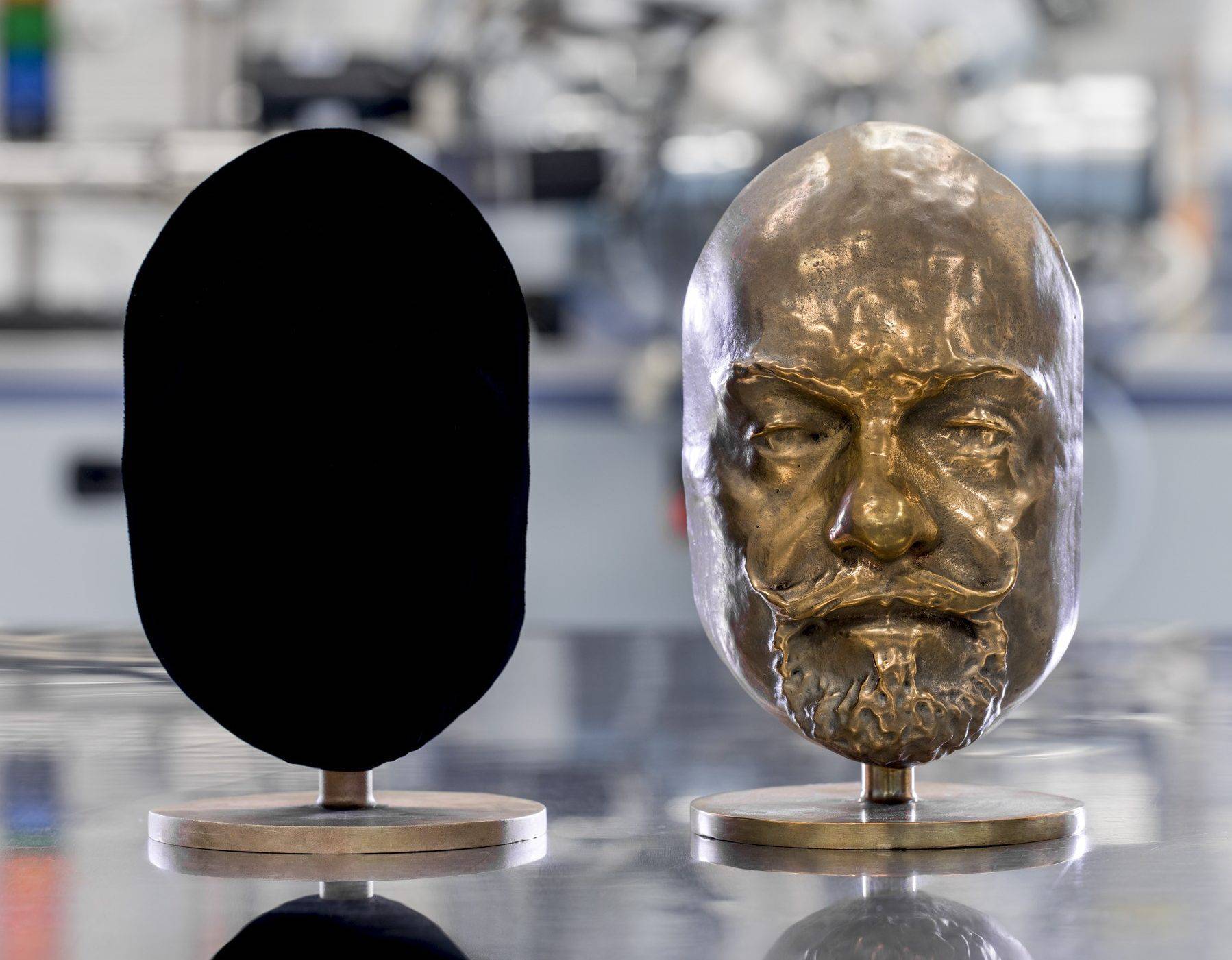 Beyond nanotubes, Surrey NanoSystems has also developed VBx, a line of non-carbon based coatings intended expressly for design and architectural applications. These materials are safer and more environmentally friendly than Vantablack.
The company calls its VBx products "completely new paint technology," though little has been shared about the paints' makeup or mechanical properties.
The VBx1 paint, which has an extremely low level of reflectance (comparable to Vantablack S-VIS, at just .35%) is demonstrated in the video below. VBx2, which has a slightly higher reflectance of 1%, was created for large-area spray applications.
VBx2 also appears to be the version of "Vantablack" that will be used in the Winter Olympics installation mentioned above.
Blackest black beyond 'Vanta'
The Olympics exhibit is a newly announced project for which architect Asif Khan will turn a regular building into a "cloud of blackness."
Khan's involvement with the Olympics project signals that sculptor Anish Kapoor will not have an exclusive artistic claim to Surrey NanoSystems' VBx paints. If true, that's welcome news for the art world and the tech world alike.
Vantablack has inspired some tongue-in-cheek color innovations in the art world already: As part of a running feud over Kapoor's monopoly on the coating, artist Stuart Semple has invented paints like Black 2.0 and Glitteriest Glitter and Pinkest Pink (all of which he has "banned" Kapoor from using).
In addition, NanoLab recently introduced "Singularity Black" – a "nanotube filled, solvent based paint" with especially strong light absorption. Like Vantablack, the substance is primarily intended for use in baffles and the like. (It initially emerged from NanoLab's work on NASA contracts.)
But unlike Vantablack, Singularity Black's artistic applications are not limited by any exclusivity arrangements.
Artist Jason Chase created the first piece of art using Singularity Black paint (called Black Iron Ursa, below) in July 2017. According to NanoLab, Singularity Black has the "lowest visible reflectance of any paint available to the public."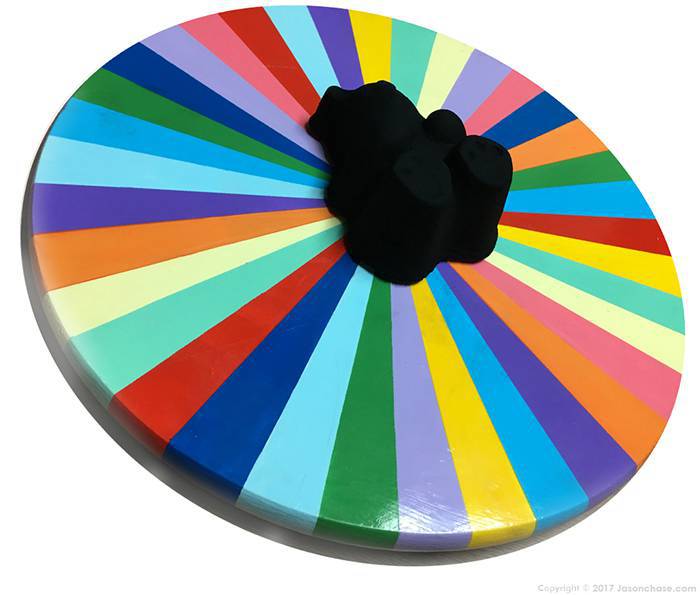 "Artists are always the ones who take new materials and push them to new limits."–Jason Chase
So what "new limits" are coming for Vantablack, Singularity Black, and any future super-dark materials?
Vantablack's use in art and high-end jewelry signals that super-dark substances will infiltrate the luxury goods market fairly soon. As with most tech innovations, we won't see the non-paint coatings in many consumer-facing products until manufacturing costs get much lower.
But the tech will advance as rapidly as its use cases do.
For example, as autonomous vehicles advance, the need for hyper-effective infrared sensing and imaging systems (which benefit from ever-darker light-absorbing coatings) will only grow more significant.
The same goes for the solar energy market: Vantablack can be used to improve the efficiency and performance of solar panels by making them more light-absorbing. As solar panels are further adopted, Vantablack may help make them even more cost-effective.
And as researchers and companies like NVIDIA create ever-more effective microchips, Vantablack may play a role: The almost-weightless substance can be deployed in the wiring of microchips – potentially making them super-light and super-fast, in addition to super black.
If you aren't already a client, sign up for a free trial to learn more about our platform.