From an online platform for luxury jewelry rental to a connected pillow that lets you hear your partner's heartbeat, we rounded up 60+ startups bringing tech to your Valentine's Day plans.
It's Valentine's Day, and the love — and consumer cash — is flowing.
This February 14th, Americans are expected to spend a new record of more than $27B — including an estimated $5.8B on jewelry, $2.4B on candy, and $2.3B on flowers, according to the National Retail Federation.
In honor of the holiday, we rounded up 60+ startups across a range of romantic categories, including flowers, chocolate, sex tech, and more. See the full category breakdown below.
Our market map includes active, private companies only. With the exception of some chocolate companies, all startups below are VC-backed and fall under our tech definition.
Please click to enlarge.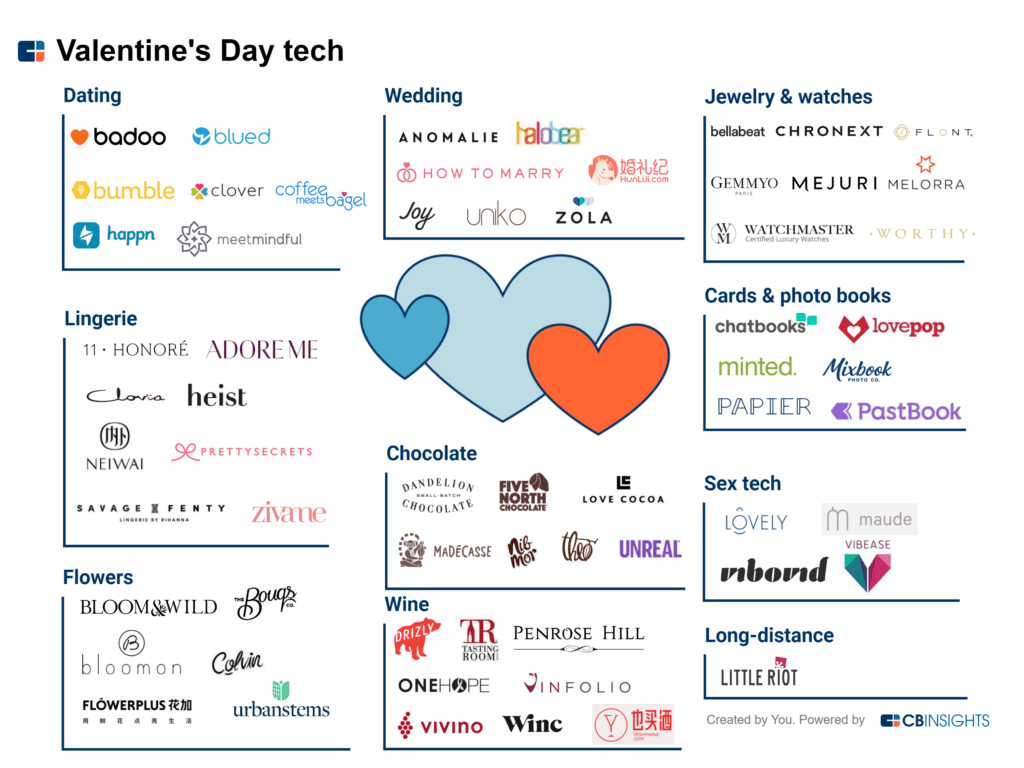 Category Breakdown
Dating — Companies in this category are leveraging tech to help you find your future Valentine. MeetMindful is an online dating community for users focused on wellness and mindfulness, while Happn is a hyperlocalized location-based dating app. Blued, the top-funded company in this category (with $132M in total disclosed funding), is a China-based dating app for men.
Wedding — These wedding platforms help couples plan their weddings, book vendors, register for gifts, send invitations, and more. Anomalie is an online platform for custom-made wedding gowns.
Jewelry & watches — These startups offer jewelry and watches new, used, and on loan. Chronext operates a curated online market for new and secondhand luxury watches; Flont allows members to rent fine jewelry; and Gemmyo sells made-to-order pieces online. Meanwhile, Bellabeat sells connected jewelry and watches that help wearers track health metrics, like sleeping patterns and step count.
(Clients can see more in our brief, 10 Startups Making Jewelry More Accessible, Affordable, And Connected.)
Lingerie — Startups in this category offer online stores for intimate apparel. Adore Me makes fast-fashion lingerie and swimwear, while Heist makes luxury hosiery.
Chocolate — For the romantic with a sweet tooth, these chocolate startups largely focus on making healthier, less-processed chocolate treats sourced through ethical channels. Love Cocoa offers a chocolate subscription service as well as gift delivery.
Cards & photo books — Startups to help you tell your Valentine how you feel. LovePop creates paper pop-up cards, while companies like ChatBooks and PastBook help turn online photo albums (from social media platforms like Facebook and Instagram) into physical books.
Flowers — This category includes online platforms for flower delivery. The Bouqs Company is the most well-funded company in this category ($74M), and focuses on delivering flowers from eco-friendly, sustainable farms. Companies like Bloom & Wild, Bloomon, and FlowerPlus offer subscription models for flower delivery.
Wine — These wine platforms allow wine connoisseurs to purchase, suggest, and gift wines online. Vivino's wine app allows users to rate and discover new wines, while Winc offers a wine subscription.
(For more, clients can see our post, Disrupting The Drinks Menu: 95+ Beverage Brands Taking On The Holidays.)
Sex tech — Companies here are leveraging tech to improve users' sex lives. Lovely offers a connected sex toy and accompanying app with relationship counseling, while Unbound offers a subscription box of erotic goods.
Long-distance — In a long-distance relationship? Little Riot provides a connected pillow that lets users hear their loved one's heartbeat while they sleep.
If you aren't already a client, sign up for a free trial to learn more about our platform.