Funding is pouring into the vacation rentals market as startups look to carve out their niche in a space dominated by Airbnb.
Startups are looking to take on Airbnb, and investors are biting.
Last week, investors poured $180M into the vacation rentals industry: California-based rentals platform Sonder received $85M, while German startup Homelike raised $14M. Vacation rentals manager Evolve raised $80M.
Earlier this year, Turnkey raised $31M in Series D financing, while Lyric raised a $15.5M Series A.
Vacation rentals is one of the most active segments in travel tech this year, and startups are diving in to compete with Airbnb.
But challenging the home sharing behemoth isn't an easy task — with its 5M+ listings, Airbnb is dwarfing its vacation rentals competitors and hotel chains alike.
Using CB Insights data, we take a look at which companies are getting into the vacation rentals space and how they stack up against Airbnb.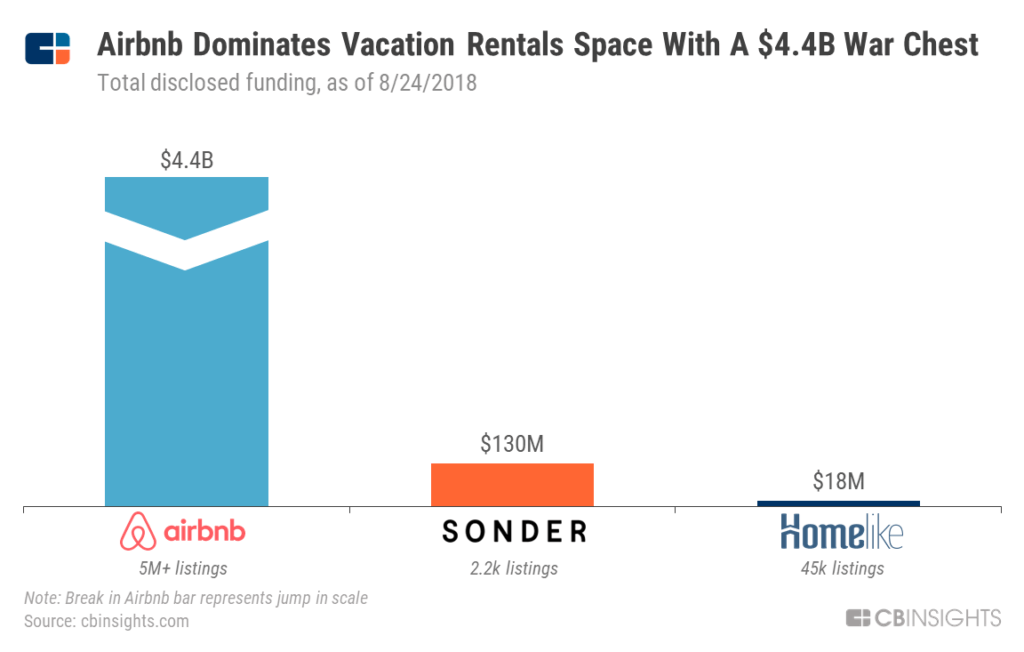 Taking on the home sharing giant
Airbnb generated $2.6B in revenue and $93M in profits in 2017. It also has $4.4B in funding, excluding the potential IPO that could see the now 10-year-old startup add even more to its war chest.
While Airbnb is mostly known for its short-term rentals geared towards travelers, the company has offered long-term rentals since 2011 through its Sublet service.
The company has also partnered with real estate developers to create Airbnb-friendly apartment complexes. The initiative, called "Niido Powered by Airbnb" makes it easier for tenants to rent out their designer furnished apartment on Airbnb, for up to 180 days.

Airbnb expects to open as many as 14 of these home sharing building concepts by 2020.
Hotels Increase home sharing investments — but will they succeed?
Although Airbnb continues to dominate vacation rentals, many players are vying for a piece of the market.
Some of the largest hoteliers have been investing in the space, hoping to tap into the rapid growth of the segment.
This includes Hyatt's investment in luxury rentals startup Oasis, as well French hotel chain AccorHotels' multiple acquisitions and investments in the space.
But both have come across some challenges along the way.
In Q2'18, AccorHotels wrote off a $288M loss from its investments in Onefinestay and John Paul. Hyatt took a $22M hit from Oasis.
"Oasis has underperformed our expectations… The business has consistently experienced shortfalls in operating cash flow, and so, as a consequence, we felt that it was prudent to impair our investment to-date." — Mark Hoplamazian, CEO of Hyatt 
Despite these losses, it remains to be seen whether hotels will benefit from increasing their stake in the vacation rentals market.
Can Sonder and Homelike disrupt the market?
While Airbnb has a hold on the vacation rentals market, both Sonder and Homelike are targeting markets outside of short-term vacation rentals.
Homelike, for example, is focusing on long-term rentals over 30 nights with a strong corporate client base.
Sonder offers a curated list of accommodations with furniture and design matching the neighborhood, but contrary to Airbnb, Sonder isn't a marketplace.
The startup leases or manages properties that are then occupied by its guests directly. It also offers hotel-like services such as toiletries and housekeeping.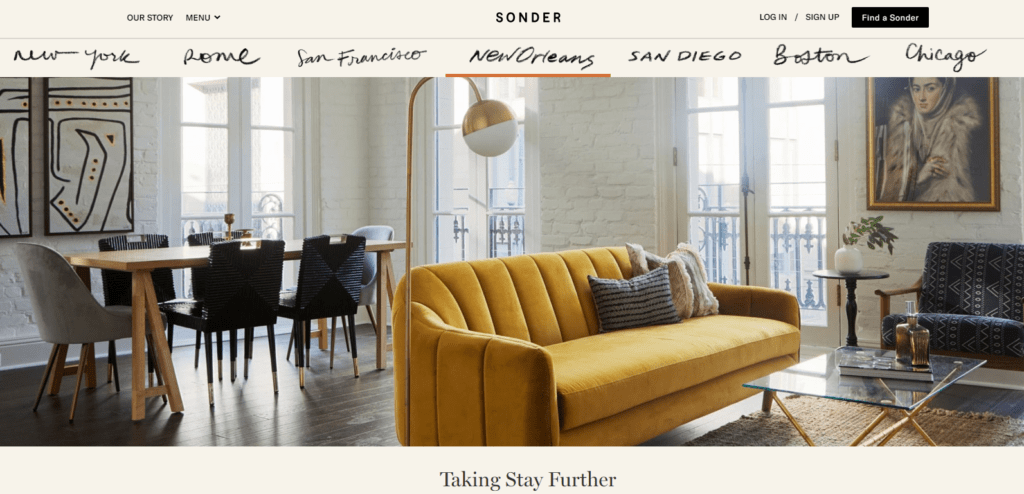 Sonder expects to generate $100M in revenue this year, according to reports.
But as Airbnb continues to expand into luxury, long-term, and other sub-segments of the vacation rentals market, Sonder and other startups may find it challenging to compete.
If you aren't already a client, sign up for a free trial to learn more about our platform.