Last year broke records for private US companies valued at $1B+.
More US startup unicorns were born in Q4'18 than in any other financial quarter in history, capping off the best year on record for unicorn births in the United States.
In 2018, 53 new companies hit a $1B+ unicorn valuation, up 83% from 2017 figures and 26% higher than the previous record in 2015.

As of Q4'18, there are now 140 total unicorns among private US venture-backed startups — more than 5x the unicorn population in 2013.

The cumulative valuations of those unicorns hit $526B in 2018, up 43% year-over-year after remaining stagnant in the 2 years prior. That is the highest aggregate US unicorn valuation since 2013.

One of the possible drivers behind the increased creation of new unicorns is an increase in growth- and later-stage funding rounds, as well as the increased frequency of $100M+ mega-rounds.
VC-backed US companies raised 184 mega-rounds in 2018, up from 2017's record-breaking 120. While fewer seed and early-stage deals are taking place, an increasing volume of large, later-stage deals is bringing yearly funding up and creating more unicorns.

We saw the same mega-round growth internationally, with a record 382 global deals worth $100M+ in 2018, up from 266 in 2017.

Notably, this growth in unicorn births took place during the healthiest year for IPOs since 2014.
In 2018, 87 US-based, VC-backed companies filed for IPO, up from 64 in 2017 and 49 in 2016. Median time to exit dropped to 5.2 years — down from 7.8 the year before.

The companies on the top 5 list of highest-valued US unicorns didn't change between Q3'18 and Q4'18, though there has been some reshuffling.
Since our Q3'18 report, Uber has held strong in the top spot, with a $72B valuation. Meanwhile WeWork has moved up from #4 to claim second place on the list, on the back of $1B in new fundraising from SoftBank that brought WeWork's valuation to $32B.
As a result, Airbnb has fallen from the #2 to the #3 spot, and SpaceX has dropped to #4, with Stripe and Palantir rounding out the bottom of the list.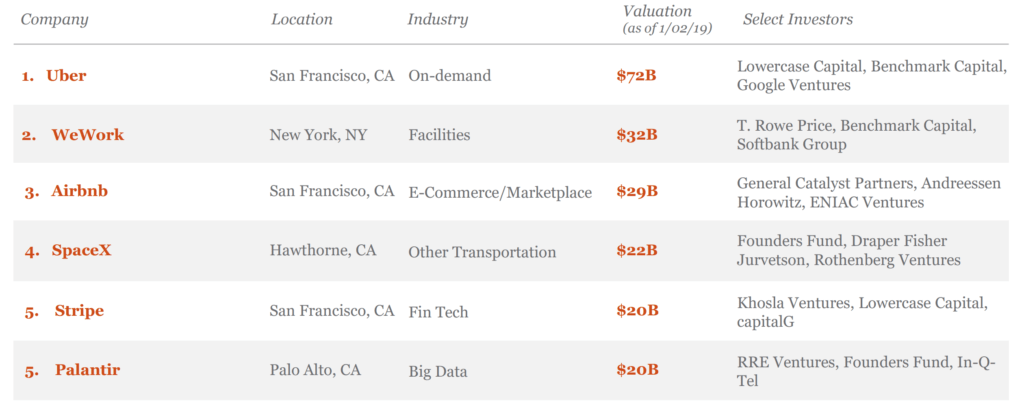 If you aren't already a client, sign up for a free trial to learn more about our platform.