Market Map
Technology is transforming nearly every aspect of commercial and residential real estate, from buying and selling to investing and property management. 
The real estate tech industry is slowly recovering in the wake of the Covid-19 pandemic.
Year-to-date real estate tech funding currently sits at about $6.7B, lagging the $8.9B startups received last year. Despite this drop in funding,  2020 has seen several successful exits in the space, including Ke Holding's $2.1B IPO, Porch's $523M SPAC deal, and OpenDoor Labs' $4.8B SPAC merger.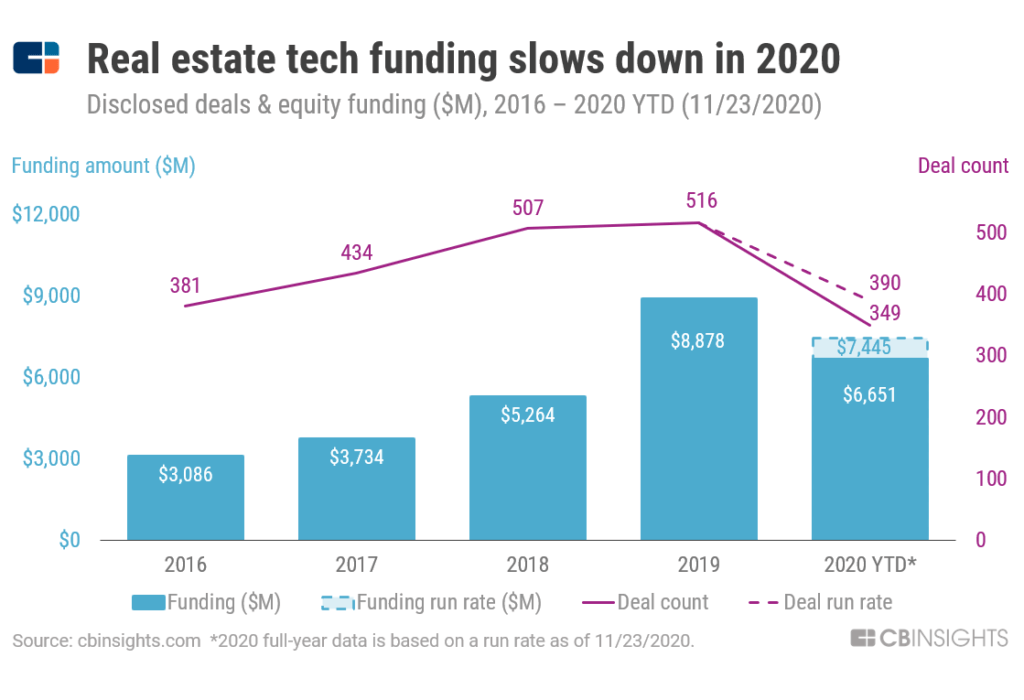 In the broader real estate market, buying and selling activities have picked up in the last few months. Demand for mortgage and insurance services went up, with mortgage and lending startups Blend, Snapdocs, JetClosing, and Till all raising new equity funding rounds since July 2020.
On the insurance side, Hippo, Rhino, and Kin recently raised new funding rounds as well, with Hippo's $150M Series E round in July bumping the company to a $1.5B valuation.
Using CB Insights' Real Estate Tech Collection, we surfaced 120+ private real estate tech companies to watch, sorted across categories from home buying and insurance to property management and investment platforms.
Our definition of real estate tech includes software tools and platforms used by real estate industry participants including brokers, investors, real estate-focused lenders, and mortgage providers, as well as property owners, managers, and buyers. We do not include construction tech, travel rental services, or co-working and co-living companies.
This market map consists of private, active companies only and is not meant to be exhaustive of the space. Companies were selected based on funding activity, valuation, and CB Insights' Mosaic score, among other criteria. Categories are not mutually exclusive, and companies are mapped according to primary use case.
Please click to enlarge.