We mapped the most well-funded fintech startup in each US state. California, New York, Illinois, Georgia, and North Carolina's most well-funded fintech startups are all valued above $1B.
Across the US, well-funded companies are rethinking how the financial system operates.
Following our previous mapping of the most well funded startups in each state and most well funded food & beverage startups in each state, we used CB Insights database to identify the most well-funded private fintech startup in each state.
We excluded companies that have not raised equity funding since 2015 and excluded funding from debt as well as lines of credit. We only included companies with at least $100,000 raised.
Out of the 50 US states, 38 and DC are home to fintech startups that have raised equity funding since 2015 and have more than $100,000 in funding.
There are 5 unicorn companies ($1B+ valuation) included on the map, reflecting the significant amount of money that has been invested in fintech over the past few years.
Unicorns on the map include SoFi in California, Oscar in New York, Avant in Illinois, Kabbage in Georgia, and AvidXchange in North Carolina.
Please click to enlarge.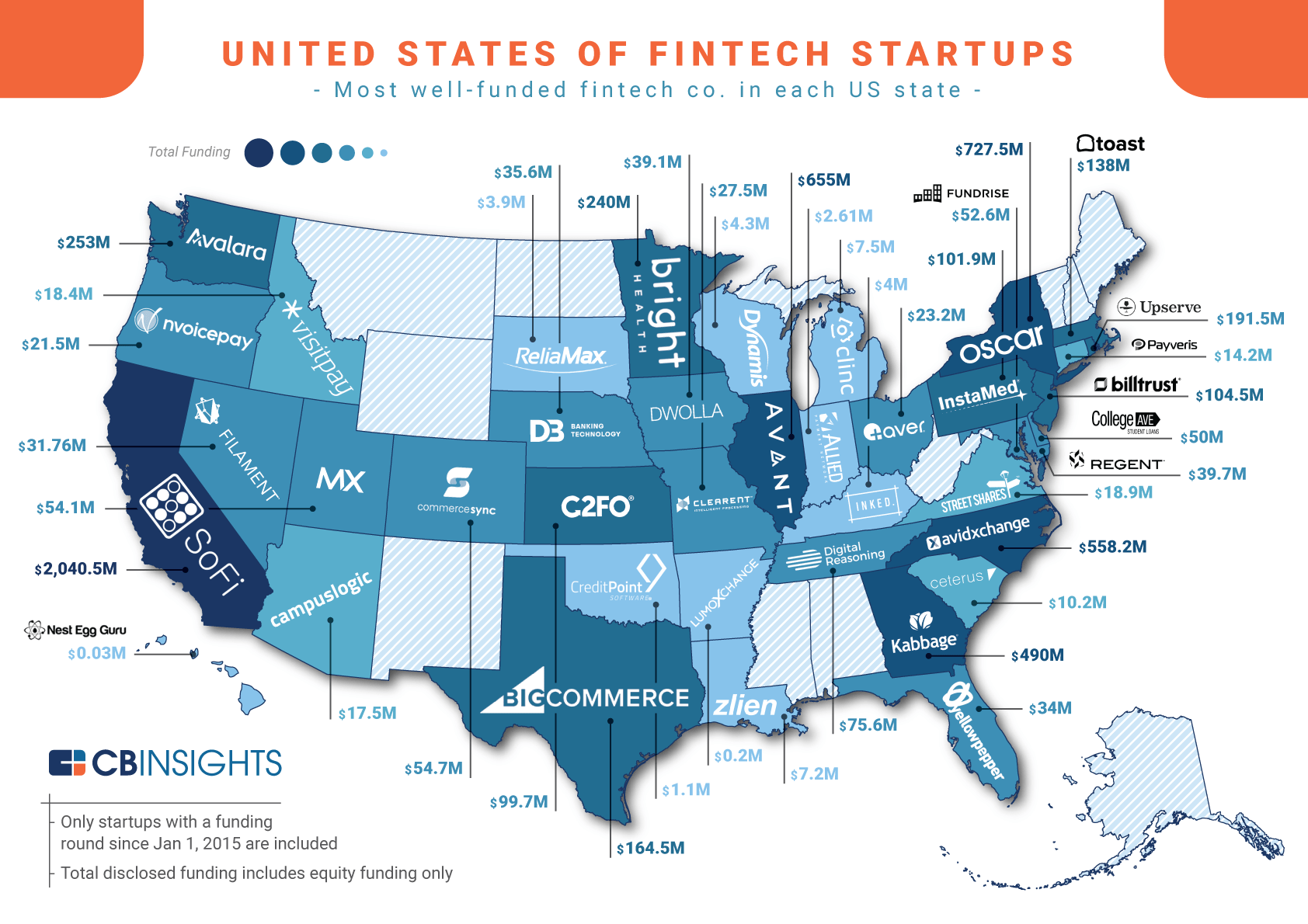 California-based lending unicorn SoFi is the most well funded fintech company with just over $2B raised since 2011. The company was last valued at $4.5B after raising a $500M Series F in Q1'17 and is backed by SoftBank, Silver Lake Partners, and Peter Thiel, among others.
The second most well-funded startup on our map is New York based unicorn Oscar. The health insurance company raised $727.5M since 2013 and has been valued at $2.7B after raising a $400M Series C in Q'16 from investors including General Catalyst, Goldman Sachs, Google Ventures, and Founders Fund, among others.
Illinois-based Avant, a personal loan startup, completes the top 3 with $655M in disclosed equity funding since 2012, and a valuation of $1.9B. Avant's backers include General Atlantic, Tiger Global Managament, Peter Thiel, and RRE Ventures.
On the other end of the spectrum, over half of the companies on our list have raised less than $50M. LumoXchange (Arkansas, $200k raised) and CreditPoint Software (Oklahoma, $1.1M raised) are the least well funded fintech startups on our map.
12 states did not have any fintech startup that met the criteria for inclusion on our map.
If you aren't already a client, sign up for a free trial to learn more about our platform.