Our infographic highlights the top cybersecurity startup by funding in each state, including two unicorns — California's Tanium and Michigan's Duo Security.
Across the country, startups are working to help enterprises boost their cybersecurity systems, from monitoring networks, to authenticating users, to preventing and responding to data breaches.
And the cybersecurity sector is gaining momentum: in 2017, cybersecurity startups raised a record $7.7B across 552 deals, including a record of 10 $100M+ mega-deals. The year also saw more unique investors than ever, as VCs, corporate investors, and other investor types all increased deals to cybersecurity companies.
Using the CB Insights database, we mapped out the top private cybersecurity company in each state, based on total disclosed equity funding through early February.
All companies featured have raised funding since January 1, 2014, and have raised a minimum of $200K in equity financing.
Note that not all states had a cybersecurity startup that met our full criteria. Please click to enlarge.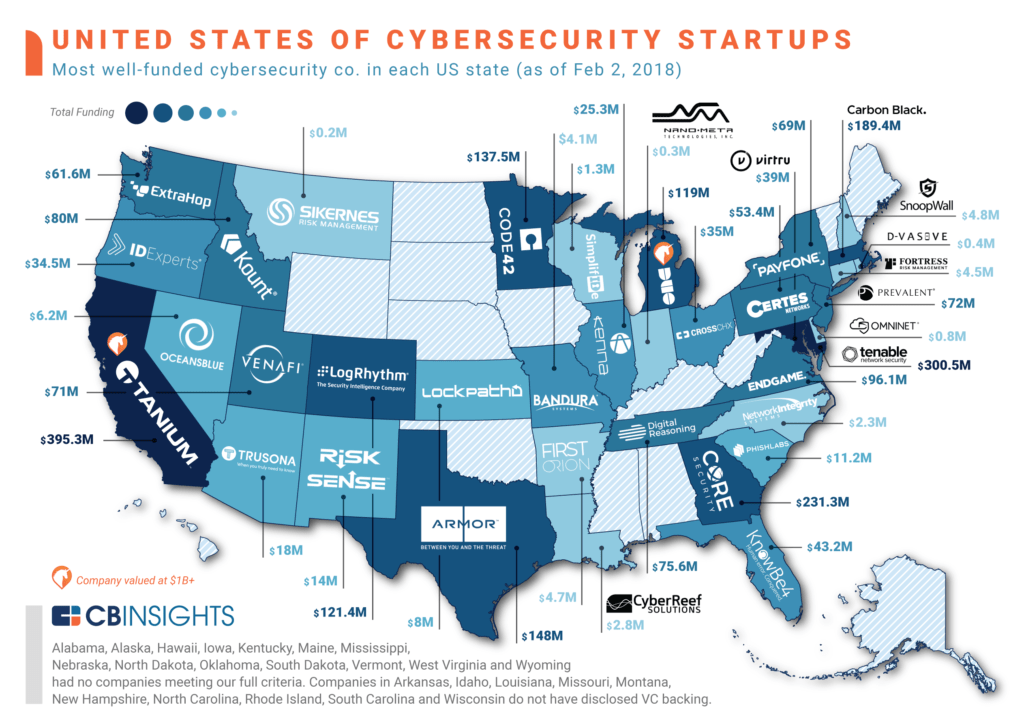 TRACK ALL THE CYBERSECURITY COMPANIES IN THIS BRIEF AND MANY MORE ON OUR PLATFORM
Companies working on cybersecurity are gaining much more visibility as cyber threats increase. Look for Cybersecurity in the Collections tab.
Track cybersecurity companies
California's Tanium is the most well-funded company on our map, with $395.3M in total disclosed equity funding. Tanium's investors include Andreessen Horowitz, Franklin Templeton Investments, Institutional Venture Partners, and TPG Growth, among others.
Maryland's Tenable Network Security ranks second, with $300.5M in total disclosed equity funding, while Georgia's Core Security ranks third with $231.3M.
Notably, both Tanium and Tenable Network Security look to secure enterprise networks, focusing on network and endpoint security. Core Security, meanwhile, focuses on identity, access, and vulnerability management, making it one of several startups on our map geared toward providing identity security (such as anti-fraud and authentication solutions).
This outsized number of well-funded identity security startups is a relatively new trend in cybersecurity, and likely a response to major 2017 data breaches like Equifax, which saw the full suite of its customers' identity data compromised.
Our list also features two unicorn companies: the aforementioned Emeryville, CA-based Tanium, last valued at $3.75B following a growth equity round in Q2'17, and Michigan's Duo Security, which reached a $1.17B valuation in Q4'17.
Of all the investors backing the companies in our graphic, Kleiner Perkins Caufield & Byers has made the most deals, with 14 deals to top cybersecurity startups. The smart money investor has backed multiple rounds to Arizona's Trusona, Virginia's Endgame, and Massachusetts' Carbon Black.
If you aren't already a client, sign up for a free trial to learn more about our platform.