From biosynthesis to greenhouse lighting, cannabis startups across 36 US states are leading the charge toward a greener future.
The cannabis space continues to gain momentum.
2019 saw a double record of $3.23B raised in equity funding across more than 450 deals. The 20% year-over-year funding uptick was driven in part by a record number of mega-rounds, including:
Meanwhile, exit activity reached all-time highs. In 2019, cannabis startups announced 324 M&A deals and 46 IPOs, with exits up 7% from 2018. 
Using the CB Insights database and our Cannabis Collection, we mapped out the top-funded cannabis startup in every US state. Collectively, these startups have raised over $2.2B in equity funding to date.
We broadly define "cannabis" to include technology companies that provide services to the emerging cannabis industry as well as companies that produce, research, or distribute cannabis products themselves. Our analysis looks at equity funding to private cannabis startups that have raised at least $0.5M in equity funding and have raised equity funding since 2015. We exclude funding from debt, loans, and lines of credit.
Please click to enlarge.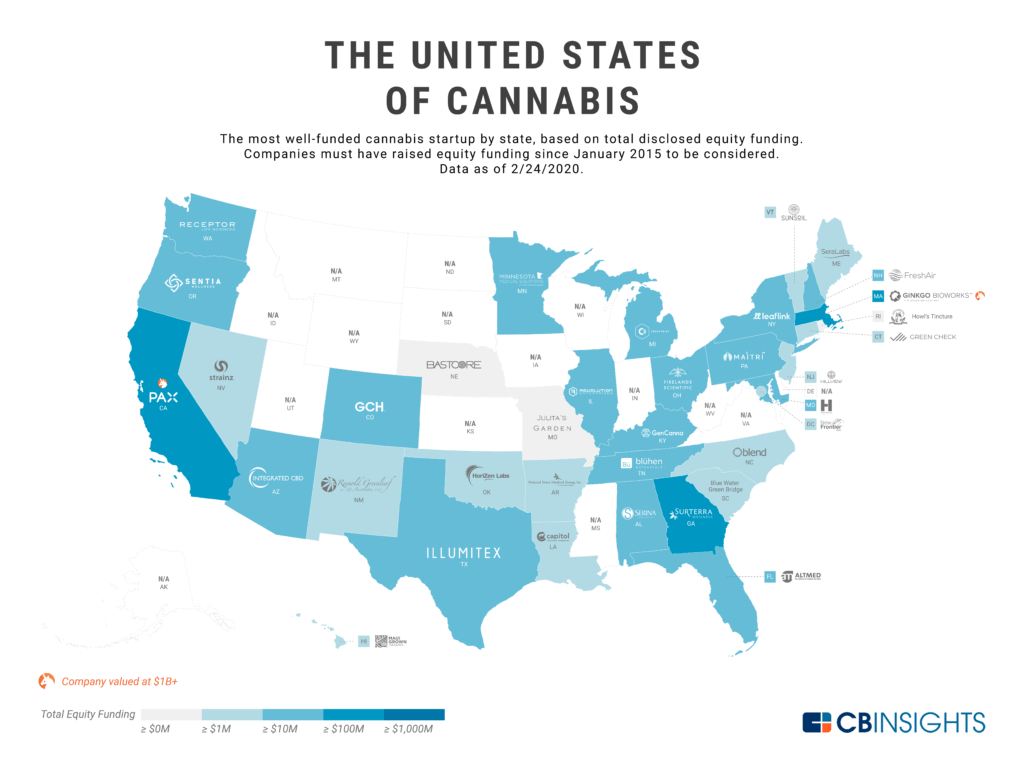 KEY TAKEAWAYS
If you aren't already a client, sign up for a free trial to learn more about our platform.