Our market map visualizes the 500+ private companies with billion-dollar valuations, across artificial intelligence, e-commerce, fintech, and more.
There are 510 private companies around the world valued at $1B+, all featured on our real-time unicorn tracker. These tech startups are collectively worth $1.59T and have raised a combined total of over $370B.
Using the CB Insights database, we mapped all 500+ global unicorn companies valued at $1B or more according to the primary markets in which they operate.
Market Map
Our market map sorts unicorns into 15 categories, from auto & transportation to supply chain & logistics. Our "other" category includes renewable energy, space tech, ad tech, and more.
Categories are not mutually exclusive and companies are sorted by primary use case. Please click to enlarge.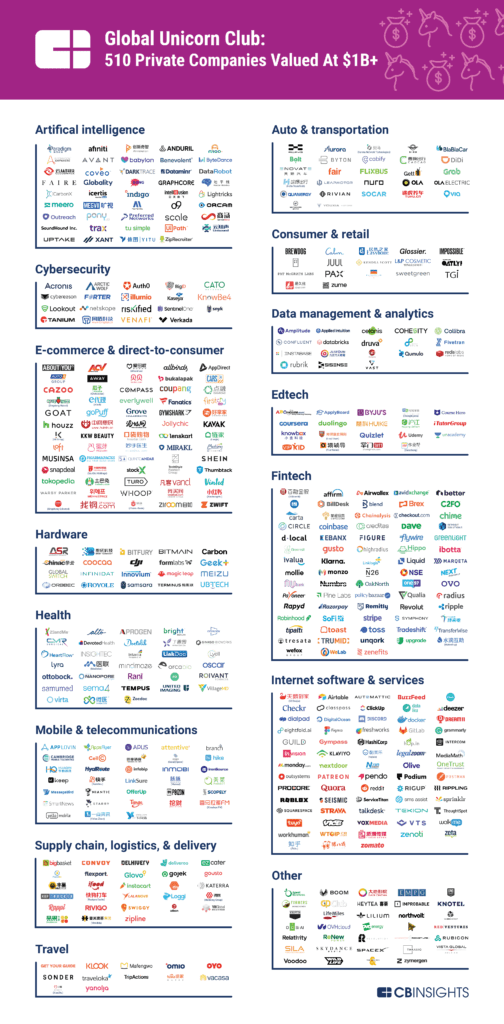 Key takeaways
Most valuable companies
The world's most valuable private company is China-based ByteDance, in the artificial intelligence category. The company, which operates content platforms such as TikTok and Toutiao, reached a $140B valuation following an investment by Tiger Global Management in March 2020.
After ByteDance, ride-hailing company Didi Chuxing ($62B), aerospace manufacturer SpaceX ($46B), payments processor Stripe ($36B), and short video app Kuaishou ($18B) round out the top 5 most valuable private companies.
Trends by category
The largest category in our map is fintech, with 14% of unicorns. It is followed by e-commerce & direct-to-consumer and internet software & services, each with 13%, and then by artificial intelligence, with 9%. 
The most valuable company in the fintech category is payments unicorn Stripe, with a $36B valuation as of April 2020.
In e-commerce & direct-to-consumer, the most valuable company is China-based fast fashion platform SHEIN, at $15B as of August 2020. In internet software & services, US-based communication platform Discord, which is geared specifically toward gamers, leads with a $7B valuation as of December 2020.
Valuation distribution
ByteDance is the only private company considered to be a "hectocorn" (worth $100B+).
Twenty-six private companies (5% of total unicorns) are considered decacorns, worth $10B+.
26% of companies included in the global unicorn club are valued at exactly $1B.
Geographic trends
The US has held a steady lead in share of unicorns (49%) since our last analysis in August 2019. China, in second place, also held its share (24%) in the same time frame.
The UK and India are tied for third place, each with 5% share, or 25 unicorns.
Unicorn club growth
68% of the companies in our market map have joined the unicorn club since 2018. Of those, 121 made the list in 2019, while 108 of these companies have become unicorns in 2020 to date.
Since our last analysis in August 2019, the club has jumped in size from 393 to 510 unicorns.
---
This report was created with data from CB Insights' emerging technology insights platform, which offers clarity into emerging tech and new business strategies through tools like:
If you aren't already a client, sign up for a free trial to learn more about our platform.