The number of new unicorns in tech hit a 6-year low in Q1'23. Our market map visualizes the 1,206 private companies worth $1B+ across artificial intelligence, e-commerce, fintech, and more.
The number of global unicorns (private companies valued at $1B+) may have hit its ceiling.
The list of billion-dollar startups swelled in 2021 and early 2022 — alongside valuations across investment stages — until macro trends like inflation and rising interest rates brought the unicorn parade to a halt.
The number of new unicorn births has tumbled for 5 straight quarters, with just 13 startups reaching the $1B+ mark in Q1'23 — the lowest quarterly figure since 2017.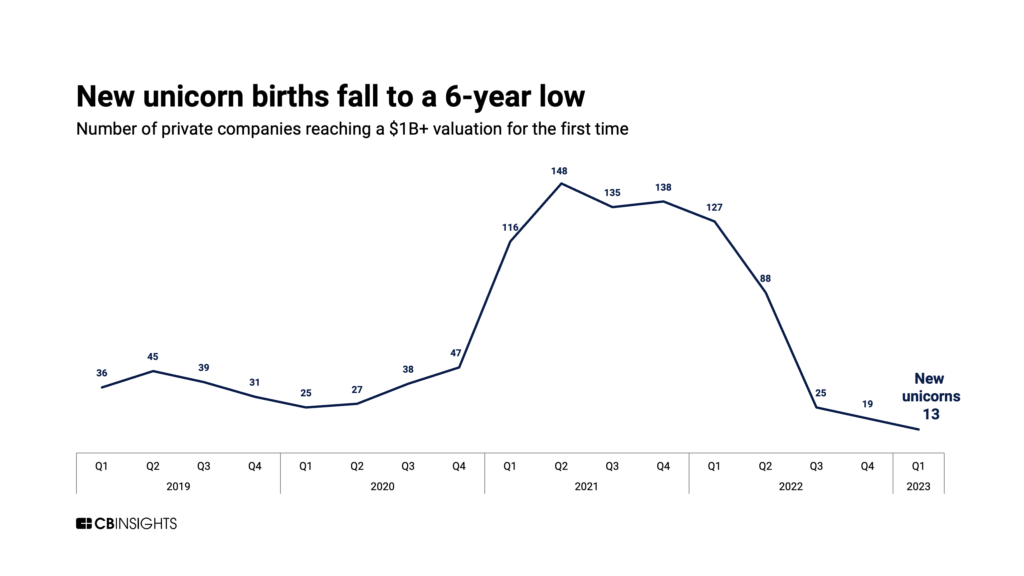 Collectively, the world's unicorns are worth $3.83T. As unicorns leave the list — through an exit or following a down round or bankruptcy — we might even see the total number of unicorns shrink in the coming quarters.
Using the CB Insights database, we mapped all 1,206 global unicorn companies according to the primary markets in which they operate.
Global unicorn club market map
Our market map sorts unicorns into 15 categories, from auto & transportation to supply chain & logistics. Our "Other" category includes renewable energy, space tech, ad tech, and more.
Categories are not mutually exclusive and companies are sorted by primary use case. Data is as of 4/3/2023.
Please click to enlarge.

Key takeaways
Most valuable private companies
The world's most valuable private company is China-based ByteDance, which is in the artificial intelligence category. The TikTok owner is worth $225B as of March 2023, following an investment from investors including AI firm G42.
Rounding out the top 5 most valuable private companies are aerospace manufacturer SpaceX (valued at $137B), fast fashion company Shein ($100B), payments processor Stripe ($50B), and collaborative online design tool Canva ($40B).
Unicorn company trends by category
Fintech is the most highly represented category on our map, accounting for roughly 1 in 5 unicorns (21.2%). It is followed by internet software & services (18.9%), e-commerce & direct-to-consumer (9.0%), and health (8.0%). The most valuable unicorn in each of these categories is:
Fintech: Stripe (valued at $50B in March 2023).
Internet software & services: Canva ($40B, September 2021).
E-commerce & direct-to-consumer: Shein ($100B, April 2022).
Health: Devoted Health ($12.6B, October 2021).
Valuation distribution
Just 3 private companies are considered "hectocorns," meaning they have a valuation of $100B or more: ByteDance, SpaceX, and Shein.
Fifty private companies (4.1% of total unicorns) fall within the next bracket — the "decacorns," worth between $10B and $100B. Meanwhile, more than one-fifth (22.8%) of companies included in the global unicorn club are valued at exactly $1B.
Geographic trends
Globally, a total of 51 countries and regions are represented in the unicorn club.
The US is home to just over half of all unicorns.
The 5 regions with the largest shares of unicorns are:
The US (54.1%)
China (14.0%)
India (5.8%)
The UK (4.1%)
Germany (2.5%)
Unicorn club growth
788 companies on our market map — nearly 2 out of 3 — have joined the unicorn club since the start of 2021.
However, the birth rate has slowed to a relatively glacial pace in recent quarters. The world's billion-dollar startups could be in for even more pain as valuations continue to slip and layoffs intensify.
If you aren't already a client, sign up for a free trial to learn more about our platform.