In the wake of the market downturn, new unicorns have become increasingly rare. Our market map visualizes the 1,205 private companies worth $1B+ across artificial intelligence, e-commerce, fintech, and more.
The number of global unicorns (private companies valued at $1B+) soared in 2021 amid a frothy funding environment.
The momentum continued into 2022 — with the list reaching 1,000 unicorns for the first time in February — until macro trends like inflation, rising interest rates, and geopolitical crises shocked the public markets, putting downward pressure on some of the world's most highly valued companies.
The number of new unicorn births has since tumbled for 4 straight quarters, with just 19 startups reaching the $1B+ mark in Q4'22 — the lowest quarterly figure in over 5 years.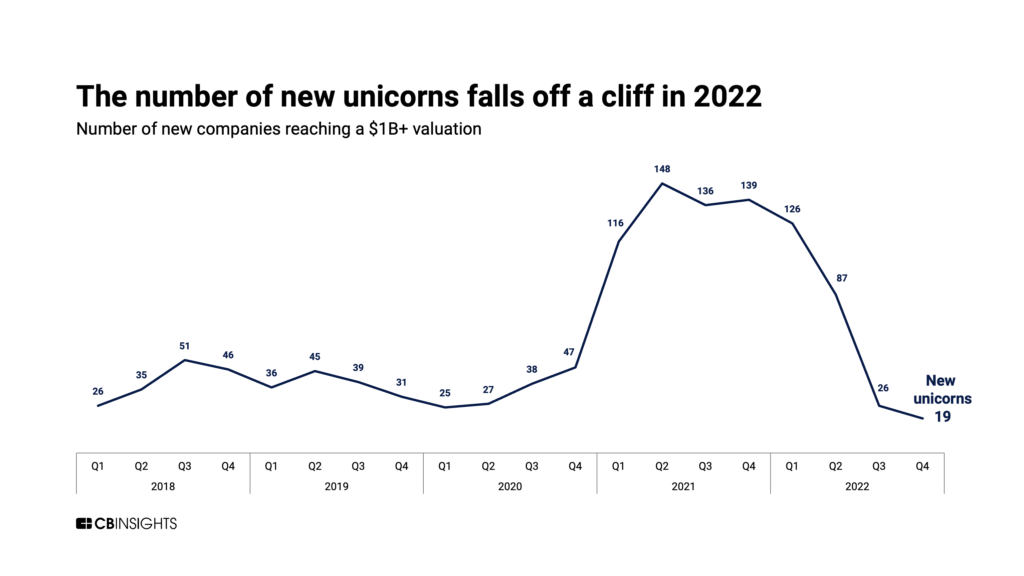 Collectively, the world's unicorns are worth $3.86T.
Using the CB Insights database, we mapped all 1,205 global unicorn companies according to the primary markets in which they operate.
Global unicorn club market map
Our market map sorts unicorns into 15 categories, from auto & transportation to supply chain & logistics. Our "Other" category includes renewable energy, space tech, ad tech, and more.
Categories are not mutually exclusive and companies are sorted by primary use case. Data is as of 1/6/2023.
Please click to enlarge.

Key takeaways
Most valuable private companies
The world's most valuable private company is China-based ByteDance, which is in the artificial intelligence category. The company, which operates content platforms such as TikTok and Toutiao, reached a $140B valuation following an investment from Tiger Global Management in March 2020.
Rounding out the top 5 most valuable private companies are aerospace manufacturer SpaceX (valued at $127B), fast fashion company Shein ($100B), payments processor Stripe ($95B), and collaborative online design tool Canva and payments platform Checkout.com (tied for fifth at $40B).
Unicorn company trends by category
Fintech is the most highly represented category on our map, accounting for roughly 1 in 5 unicorns (20.9%). It is followed by internet software & services (18.9%), e-commerce & direct-to-consumer (9.0%), and health (8.0%). The most valuable unicorns in each of these categories are:
Valuation distribution
After reaching its $140B valuation in March 2020, ByteDance was the only private company considered to be a "hectocorn" worth $100B+ — until October 2021, when Elon Musk-owned rocket company SpaceX eclipsed that mark. Shein has since joined the ranks of the hectocorns as well.
Fifty-one private companies (4.2% of total unicorns) fall within the next bracket — the "decacorns," worth between $10B and $100B. Meanwhile, more than one fifth (22.5%) of companies included in the global unicorn club are valued at exactly $1B.
Geographic trends
Since our last analysis in October 2022, the US has held its leading unicorn share, accounting for slightly more than half of all unicorns (53.9%). China comes in second place with 14.3%.
India claims the third spot at 5.7%, while the UK is home to 4.2% of unicorns.
Globally, a total of 47 countries and regions are represented in the unicorn club.
Unicorn club growth
782 companies in our market map — nearly 2 out of 3 — have joined the unicorn club since the start of 2021.
Since our last analysis in October 2022, the unicorn club has grown in size by 1.2% from 1,191 to 1,205 unicorns — a fraction of the growth rate seen in 2021 and early 2022. Learn more about why the unicorn birth rate has slowed down here.
If you aren't already a client, sign up for a free trial to learn more about our platform.