From small upstarts to billion-dollar companies with formidable consumer brands such as Credit Karma, here are 20+ startups attacking Intuit's personal finance, tax & accounting products.
Founded in 1983, Intuit has built itself into a financial and accounting software giant with a product line catering to individuals, small businesses, and accountants.
But despite a market capitalization of over $37B, Intuit faces the threat of "unbundling" from a host of competitors who are attacking the incumbent in each of its individual product lines and services rather than head on across its entire portfolio.
download the STATE OF FINTECH Q2 2022 report
This includes QuickBooks, the most popular online accounting software for small businesses, TurboTax, Intuit's tax filing and preparation software products, as well as Mint, its software for personal finance management and budgeting.
Intuit has in the past used M&A presciently to stave off future threats. When it acquired Mint in 2009 for $170M, the startup had just over 1M users. Last year, it claimed more than 20M.
On its most recent earnings call, outgoing CFO Neil Williams said,
"As we begin to plan really for the next few years, we've felt like we really needed to put more investment and more focus and more attention around artificial intelligence, machine learning, improving the effectiveness and efficiency of our engineering investment, which as you know is a considerable investment, accelerating our transition to AWS, and then also improving the effectiveness of our marketing in the U.S. and around the world."
In this analysis, we take a look at Intuit's strategy as well as the fintech startups that could pose a real threat to Intuit's various core products.
Core Intuit
Today, Intuit offers over 25 products, from employee time tracking to payroll software to point-of-sales solutions.
Intuit heavily focuses on integrating and cross-marketing its various solutions. In fact, the term "ecosystem" was mentioned 27 times on its last earnings call. Here's how CEO Brad Smith describes its ecosystem strategy as a catalyst for future growth:
"Our One Intuit Ecosystem strategy, as we're calling it … capitalizes on our tens of millions of active customers and the vast amounts of data that we steward on their behalf. When you match that data with our leading technology and our machine-learning capabilities, we are able to deliver deeply personalized experiences through a trusted open platform and create indispensable connections not only between people, but between products."
For the purposes of this analysis, we'll highlight three of Intuit's core products: Mint, TurboTax, and QuickBooks. By integrating products like these with each other, Intuit is able to cross sell these products to the same consumer with cost savings as a value proposition.
Intuit TurboTax: Intuit's tax preparation software for filing state and federal taxes online. Intuit charges $55 per federal filing for its TurboTax Deluxe product, or over $90 if including a state return.
Intuit Mint: Intuit's personal financial management service operates in Canada and the US. Mint's software allows users to track and pay bills, create budgets, track investments, and understand credit scores. Mint also provides financial product recommendations across banking (credit cards, checking savings), investments (401K, brokerage, IRAs), insurance, and lending.
Intuit QuickBooks: Intuit QuickBooks is #1 by market share for small business accounting software, offering software to manage payroll, inventory, sales, and other small business solutions. Intuit's most popular plan for small businesses, QuickBooks Plus, sells at $35 per month.
In Q4'17, Intuit's overall revenue grew 11.7% from the same quarter last year to $842M.
Looking ahead, Intuit is also focusing its efforts on international expansion. International subscribers for QuickBooks Online hit 500,000 in its most recent quarter and Intuit's latest investor presentation cites India, Brazil, and France as emerging markets it is targeting for growth.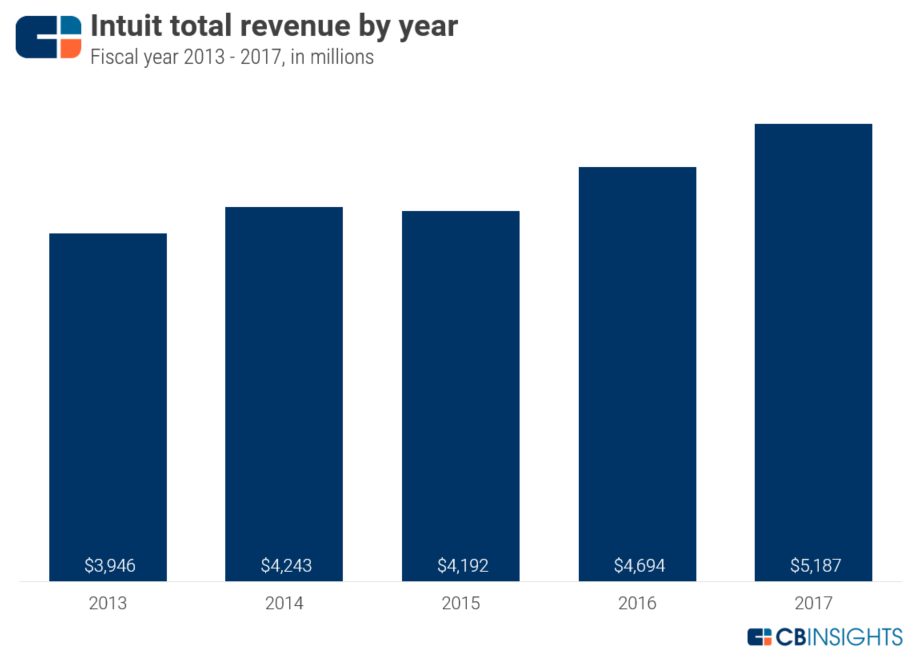 In terms of dealmaking, Intuit has not made any acquisitions in 2017 YTD and has slowed down its M&A pace since hitting an all-time annual high in 2014 with nine acquisitions. Throughout its history, Intuit has disclosed 12 acquisitions at a price of $100M or more including Demandforce, Mint, Check, AisleBuyer, and others.
Its largest acquisition was of Digital Insight, which provides online and mobile banking solutions for mid-market banks and credit unions, for $1.33B in 2007. Digital Insight was subsequently acquired by Thoma Bravo and, later, NCR Corporation for $1.65B.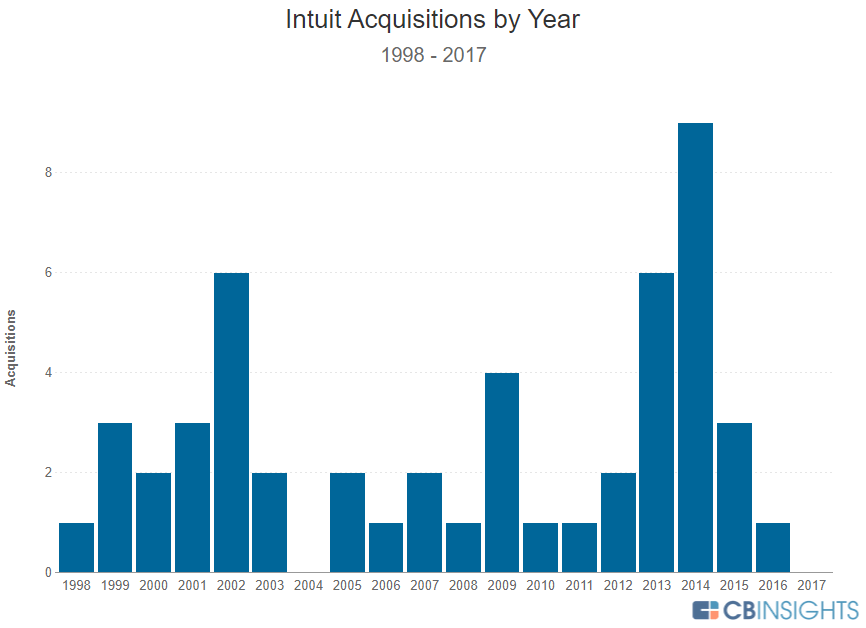 Unbundling Intuit
When we analyze who is unbundling Intuit, highlighted companies run the gamut from small upstarts to billion-dollar companies with formidable consumer brands. The graphic below breaks down 23 companies going after aspects of Mint, TurboTax, and QuickBooks.
This market map is not meant to be exhaustive of companies going after Intuit's product line. Click to enlarge.