Since 2013, the UK and Germany have accounted for 38% and 14% of European fintech deals, respectively.
Fintech companies in Europe are on pace for a record year, for both deals and disclosed equity funding. Year-to-date, European fintech companies have raised close to $2.6B across 295 deals, meaning that at the current run rate 2017 could see 500 deals and $4.5B in total funding by year end. For perspective, funding to European fintech companies is already 30% higher in 2017 YTD than the 2016 total.
We took a deeper look at early-stage fintech financing in the UK and Germany, the two largest fintech hubs in Europe, to get a better sense of where venture investors in the region were pursuing new investments. Since 2013, the UK and Germany have accounted for 38% and 14% of European fintech deals, respectively.
Below, we detail early-stage funding trends as well as early-stage highlights. Early-stage deals include those closed at angel, seed, and Series A stages.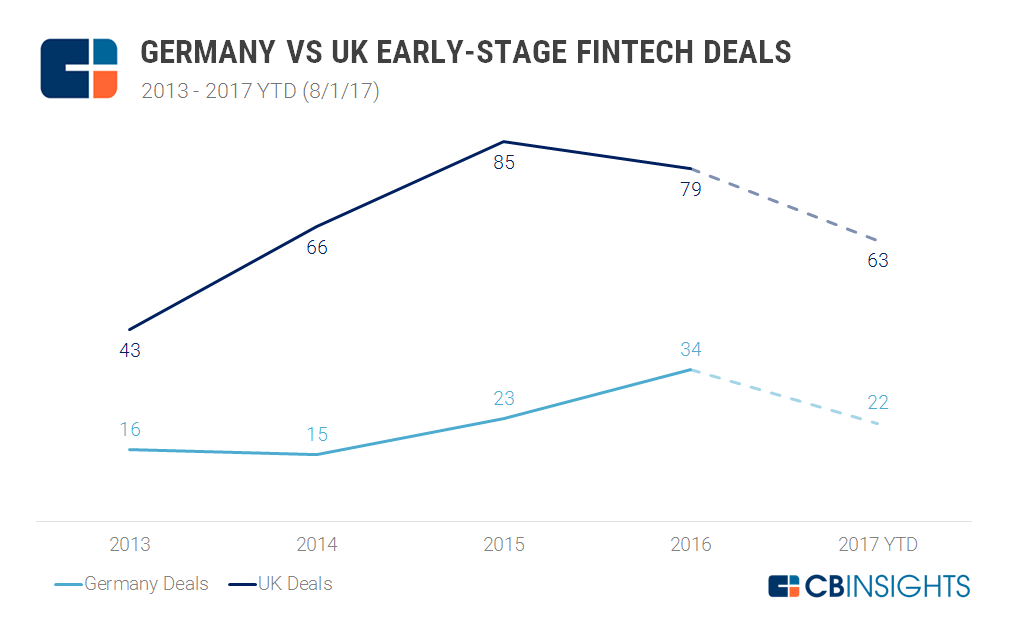 UNITED KINGDOM
UK early-stage fintech financing has remained above 15 deals quarterly since Q2'14. Total disclosed funding has been a bit choppier: at $27M, Q4'16 was the lowest quarter since Q2'14, while the following quarter (Q1'17) saw the third-highest total funding at $81M and the largest number of deals at 33. Most recently, Q2'17 figures fell to $41M across 16 deals.
Top early-stage fintech trends drawing investor attention include personal banking platforms and insurance tech products. EU regulations around "open banking" once allowed for the creation of a number of "digital challenger banks" in the UK, such as Atom Bank, Tandem Bank, Monzo, and Starling. Now new regulatory directives are pushing recent financing to more specific and directed examples within personal banking.
For example, Monese, which provides banking services for immigrants and expats, raised a $10M Series A in Q1'17, while Wirex, which allows for the holding of fiat currencies and cryptocurrencies in a single account on its personal banking platform, raised a $3M Series A in the same quarter.
Insurance has also been a hot area in the UK, with 7 early-stage deals closing in 2017 year-to-date. British startup Zego, which provides pay-as-you-go insurance for sharing economy companies, recently raised $2M in seed funding, while Brolly, which offers customers insurance insights, recently raised $1.3M in a seed round from Valar Ventures.
Insurance is trending up across Europe at large, with more than 20 early-stage deals closing for approximately $50M year-to-date.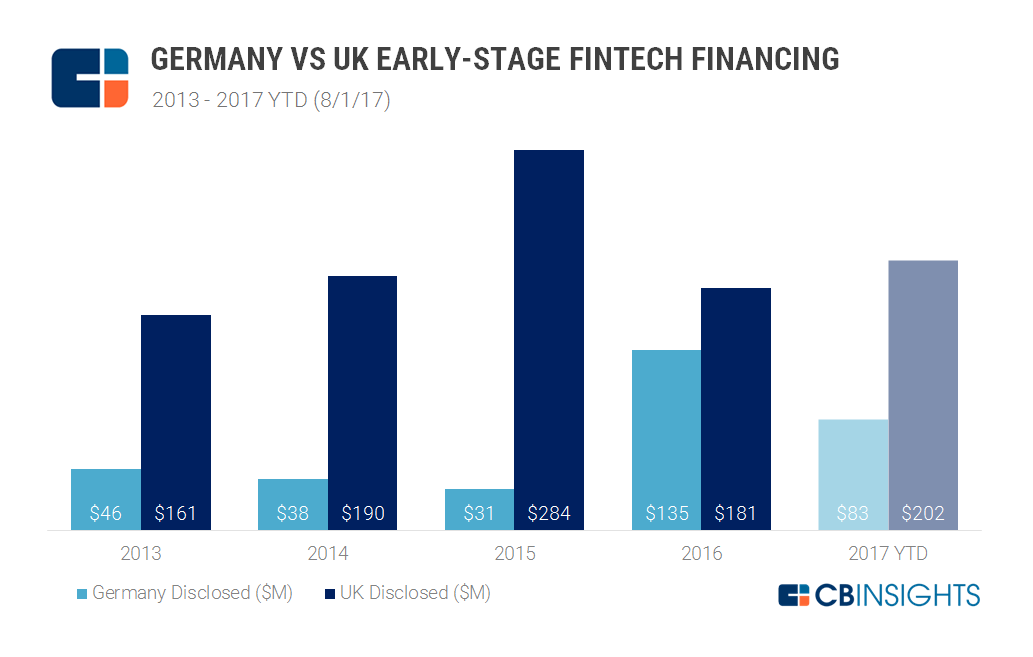 GERMANY
After averaging around 14 early-stage deals from 2012 through 2014, early-stage fintech deals in Germany have jumped in recent years, to 23 in 2015 and up further to 34 in 2016.
Funding hit its peak in 2016 as well, at $135M, well above the previous high-water mark of $46M in 2013 and more than 4X the $31M total for 2015. 2017 is on pace to surpass 2016 early-stage fintech financing figures, with 22 deals and $83M year-to-date.
As in the UK, Germany is seeing lots of early-stage interest in insurtech companies: 8 insurance deals closed in 2016, compared to just 3 deals each in 2014 and 2015. This year looks promising as well, with 4 deals closing in 2017 YTD.
TRACK THE TOP 250 FINTECH COMPANIES AND MANY MORE ON OUR PLATFORM
The financial services industry is being transformed by insurgent startup companies. The Fintech 250 are among the most promising of these companies. Look for The Fintech 250 in the Collections tab.
Track the Fintech 250
German insurance-focused fintech companies that have raised funds this year include Dentolo, a dental insurance platform and cost estimate tool that raised $3.5M in seed funding from Atlantic Labs, among others, and ottonova, a more general digitally-enabled health and supplementary insurance provider, which raised a $16M Series A from Hotlzbrinck Ventures and Tengelmann Ventures, among others.
Germany has also seen an increase in early-stage deals to small business banking and API-focused mobile banking platforms. Financing rounds to this group have increased steadily since 2015, which saw 5 deals close for $17M and was followed by 7 deals in 2016 (for a much smaller $6M).
Notable deals include solarisBank, which raised a $38M Series A in Q1'17 to build out its tech-first and API-enabled banking platform, and Awamo, which raised a $2M seed round in Q2'17 to build a mobile biometric banking platform and credit bureau for microfinance.
If you aren't already a client, sign up for a free trial to learn more about our platform.