Business Model Analysis
Valued at $10.2B, UiPath is one of the fastest-growing and most well-funded RPA companies. We analyze the unicorn's funding, business model, customer acquisition strategy, market size, and competitors.
Robotic process automation (RPA) company UiPath aims to give users the ability to create custom automations for rule-based repetitive tasks, including document processing, HR onboarding, and customer service. Last year, it took the top spot as the fastest-growing tech company in Deloitte's North America Technology Fast 500 — take a look at our Expert Collection to search and filter through the list of winners.
With RPA becoming a greater priority for enterprises, UiPath states it wants to use some of its $1.2B in disclosed equity funding to focus more on emerging tech like AI, increase M&A, and develop its services to cover more use cases. 
We analyze UiPath's:
Funding history
Business model & traction
Customer acquisition strategy
Competitors
Funding history
UiPath has raised $1.2B, mostly since 2018
To date, UiPath has raised over $1.2B, almost all of which has been closed since Q1'18.  
Founded by Daniel Dines in 2005 under the name DeskOver, the company originally focused on outsourcing services and products. It wasn't until 2012 that the company pivoted to working on an RPA platform. 
UiPath raised seed funding in 2015, followed by an Accel-led Series A round in 2017. After its Series A, UiPath moved its headquarters to New York to be closer to its international customers.
The company raised $418M in 2018 — spread across multiple funding rounds, with participating investors including Sequoia, Kleiner Perkins, and CapitalG — and became a unicorn after reaching a valuation of $3B.  
In April 2019, UiPath closed a $568M Series D led by Coatue Ventures — at a $7B valuation — and stated an intent for an IPO in the "medium term" future. Internal investment in AI was cited as a primary driver for raising capital at the time.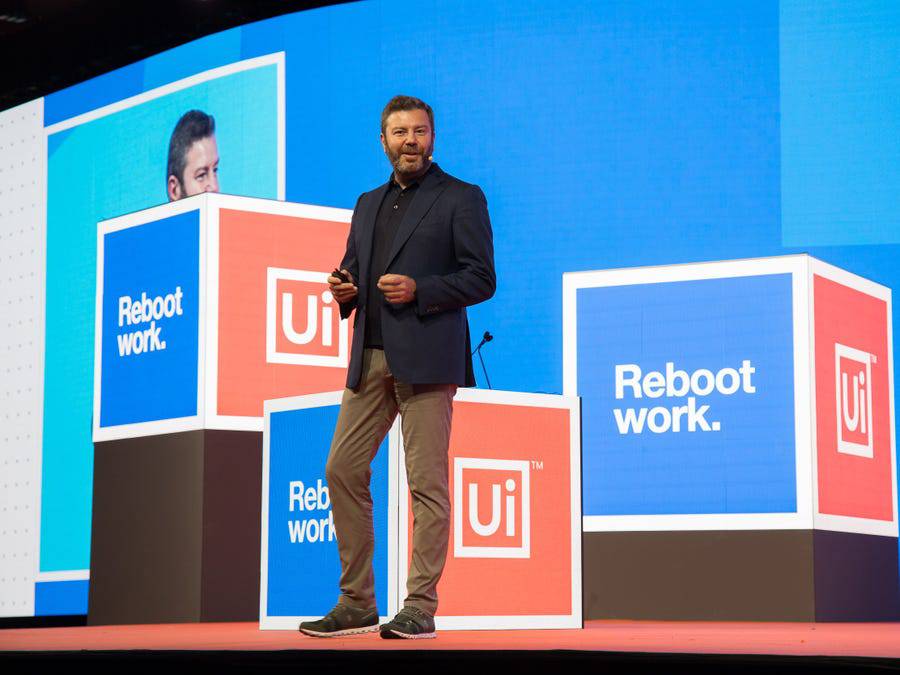 UiPath founder Daniel Dines. Source: Business Insider
In July 2020, UiPath raised a $225M Series E led by Alkeon Capital at a valuation of $10.2B. Dines cited looking at M&A as part of the reason for raising additional capital in 2020. To date, UiPath has made 2 disclosed acquisitions, Process Gold and StepShot, both near the end of 2019. 
Business model & traction
UiPath focuses on customization across verticals and charges by workflow
UiPath is a business-to-business (B2B) company with offerings across verticals and a heavy focus on large enterprises. The company currently claims over 7,000 customers, up from 1,800 near the end of 2018. 
To achieve this breadth, UiPath offers a suite of services to develop, deploy, and monitor automations. This in turn allows for a highly variable pricing structure for clients. 
UiPath licenses out a tool called Studio for developers to create workflows of their specific business processes. The company sees its partner programs and developers as a key way to keep clients engaged and identify areas for product development.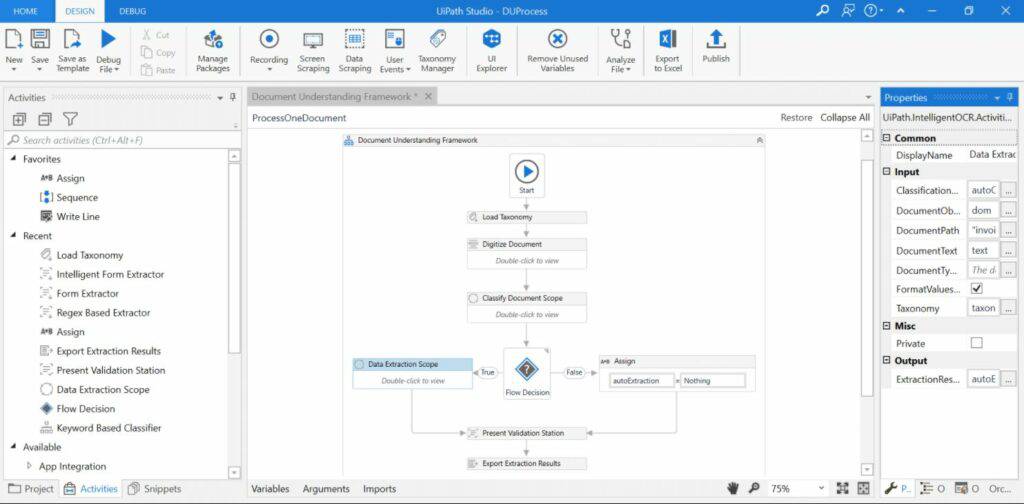 UiPath's Studio software. Source: UiPath
UiPath's platform is mostly intended for rule-based and repetitive processes, although some cognitive process tools like chatbots are being deployed for more challenging tasks like HR onboarding or customer service.